Wednesday, April 22, 2009'♥
Sending her last journey...
It must be my super swollen and puffy eyes that allowed my new boss to gave me three days compassionate leave right on the spot on my first day of work.. Didn't want this to happen, but I'll promised to work extra hard in the future...as long I wouldn't have to go lunch with a group of guys...
Feel so outcasted...
I was packing my clothes just now... when I saw popo's clothes and bags... I broke down again..
It's a painful experience of losing someone close to you...
Kept holding back my tears at work..my contact lense were so dry that I couldn't see the screen clearly...
I still need time... seriously..
Short Note:
Gg back to Batam tmr.. on a short hiatus...
'♥
Tribute to my Po Po....
Independent Learner....
She parted with her family when she was 14 years old only with her sister along with her.
She got to know my grandfather, both of them got married during Japanese Occupation and have to constantly hide so as to avoid the Jap Soldiers.
She learnt sewing all by herself and from then on help people to tailor clothes and do a business all by herself to feed the four kids...
My only popo..........
My first bolster was sewed by her. She loves to make dresses for me and I would be proud of it cause they were really nice, and my other cousins does not have it.
My angpow will be slightly more than others last time. She would give me rupiahs to spend whenever I'm back to buy things I like or to gamble during CNY.
I was a easily jealous kid last time.....
I would often asked her" Who does she dote on?" and she will replied:"All of you"
But yet I would force her to name me the top 3 and made sure I'm inside, that's how jealous I was. I feel happy when she mentioned my name. And I knew she really did dote on me alot alot...
A great cook....
Not only good in tailoring, she cooked nice food too.
From Hakka Yong Tau Foo to Popiah, to Siew Mai, Ngoh Hiang, Mee Soto, Curry Chicken... Begedil (Indonesian's style potato croquette), nonya dumplings, longan tofu... and many many more..
She loves cooking, she dun mind standing at the kitchen for hours just to make dishes for us. And whenever I got cravings, I would just tell her and the next few days I would get to eat it.
She made the nicest Nescafe coffee.. She would often make it for me.
When I'm back she would often filled up the whole bottle of water and keep reminding me to drink water.
That's just her, always dun mind the hardwork and just to make us happy and healthy....
A great friend...
She can be a great friend too... I remembered when I got bullied in school, I would talked to her about it and she would entertained me even though it's late at night.
She would gossiped with me too about relatives cause she know I would help her to keep secrets.
A cute popo....
She loves small teddy bears... I remembred giving her a few of my teddy bears... she would like me talk to them... I even made her hug Dabao...
She's short and have cute little eyes, I would often give her hug when I'm back.
-----------------------------------------------------------------------------------------------
Popo had a bad fall last September, She had to undergo an operation for her leg. Back then, I was still at China doing my internship.
Few days before the operation, I called back and asked her not to worry for the operation, instead she asked me not to worry for her, she's fine and it's not painful anymore.
That's her again... she dun like to be a burden to others, she just so strong...
On the day of operation, I hid myself in the company's toilet in China and cried in the cubicle.. praying that she's fine.
She got out of the operation theatre safely, but yet from then onwards, her mind was not in a very conscious state. Sometimes she would just says things which made no sense and sometimes she would be fine.
Slowly, she became weaker and weaker, her memory's failing and she couldn't eat much. The last time I saw her was in March when I went back wtih my friends. She was so thin and She can't talk much.
Just now, I received news that she passed away.............
Words can't express how I am feeling now, Sad? Devastated?... maybe helpless? Especially when I can't be in Batam now and I'm starting my first day of work tmr which means I can't go back straight away tmr...
Words also can't express how great she was to us too...
Up till now, I still can't believe that she's gone... There's still so much things I want to tell her, I haven't show her my graduation photo and I haven't give her big ang pow for her bd at CNY since I just started working.
I just can't sleep, when I close my eyes, I thought of her, thought of the past.
I know many of my friends asked me to let her go cause it might be a release for her. But tears just kept flowing and I can't stop it.
So I can just write out my thoughts here...
I missed u popo really... I missed u terribly and I love you alot alot.. I'm sorry for the times when you are lonely at home and I'm not free to talk to you.. I'm really sorry.
You're the best popo I ever had, no one can replace you in my heart.. seriously..
Rest in peace Popo and I hope that you will be as happy as ever in Heaven.
Short Note:
This is worse than heart broken.....
Tuesday, April 21, 2009'♥
Pre-Working Depression....
Maybe I've slacked too much, maybe I've adapted to slacking life.. or maybe I'm just hope that I can slack and at the same time have input coming in....
I suddenly have this Pre-working Depression... argggh shucks..so reluctant to start my first day of work tmr... :(
No more Selyn to wrk with me, no more easy job and no more internet to use...
I kept complaining to bf just now that I hope that I don't need to work tmr... hahah FAT HOPE.. I already signed the employment contract..so by hoook or by crook I must at least work for one mth...
HAHA jiayou ba Shirley... maybe the workplace will be fun?? hahahaha..
Well, knowing that I will start work tmr... I packed my days with activites again.....
Yes Steamboat at Xiaohan's house yest... I can't imagine I go all the way to Boon Lay just for steamboat.. yeah we prepared it ourselves... amazing within one hour....
After steamboat it's Wii time again..this time round, we challenged the bowling game..and my arms and shoulder ached so much... faintz... I really ping le.... hahahaha..love that game...
---------------------------------------------------------------------------------------------------
It's Ben & Jerry's Free Cone Day today!! Totally forgot about it until my lousy cousin XH reminded me...
Saw the queue initially thought of giving it up.. but my very determined Cousin die die want to eat so we just queued. I'm amazed actually the queue is quite fast haha...
Yummy Choc Fudge Brownie!!!! So happy it's my first year and I finally got it!!
-------------------------------------------------------------------------------------------------
Bf was kind enough to come to Tampines 1 to meet me for dinner upon hearing how tired I am and how my feet ached. Haha.
We had Kim Gary for dinner.. Yumz
I loved that Mayo Pickled Fries....
We shopped around Tamp 1 and I kept complaining to bf how sian it was to work tmr.. Poor him... and that's not all.. I'm so going to bug him again when he call me later at night hahaha.
Arggghh.. I really hope that I will have nice colleagues and I'll be able to handle the stress hahaha..
For those who happened to be in Tampines Central, please CALL me and I'll be WILLING to meet YOU for LUNCH hahahahaha or DINNER... Yes once again after 4 years I'm back to working at Tampines again... muahahaha
Need to sleep early liaoz... Goodbye moody Tues....
Short Note:
A brand new start once again yawnzz...
Sunday, April 19, 2009'♥
Where my money goes to.....
Yest afternoon, me and X-tin attended the Anna Sui Tea Party at Bugis. The response was overwhelmed.. coz the counter were full with people... too much until that it's abit squeezy with everyone crowding around the counter. To the extent that me and x-tin thought... "That's it, let's go."
The feeling of meeting up ur long-best friend was great. Even though we each had different characters, different problems in life... but yet everytime when we meet, there was no distance at all...we would talk for hours, non-stop with a wide vareity of topics... No matter how long we didn't meet before that, all that does not matter anymore.
(pics courtesy from Ms X-tin)
Darling, please remb our date on 7th of May? I will wait for you at the atm hahaha.. :)
Oh yes, along the way while we were queuing in the toilet.. I met the "dollies" gang which happened to be my dear lousy cousin Xiaohan's friend... What a place to meet haha.. but anyway.. finally i get to see them REAL life... wohoooooo... Hope that next time if we happened to bump again TOILET would not be the place haha...
-------------------------------------------------------------------------------------------------
This afternoon after so much procastination, I finally picked up my lazy bones and did a thorough SPRING cleaning of my wardrobe... I had so much clothes that overflowed everywhere, chairs, boxes and even tables. So you can roughly imagine how jialat it is... I have to lai hui alot of times just to compile them all in the living room... haha..
This may look orite... wait till u see more....
Still ok onli rite?
Tadah!! that's how high it was... and no these are not all.. I still have one big box of it and not to mention those still at the laundry basket hahaha...
When my mama and papa saw it they were like.. "you see, that's where all your money goes to, thousands of dollars." Haha... yes buying clothes is my zhi ming shang.. I simply can't resist it... especially when it's on SALE. Freak man.. I feel like I'm the same as the character in "Confession of a shopaholic" just that the stuffs I bought are very much on the lower end?
I managed to throw away a big bag of clothes... and the rest I decided to sell it away... coz most of the clothes were so new.... some I did not even wear before, it would be so wasteful to throw it away rite?
Thus, I am going to set up a blogshop just to sell away all the clothes... as you know Mrstea is now broke, she needs input... rest assured, the prices will be damn cheap I promised.... starting from $2? haha
So stay tunned for more info... and please if you guys have any plus sized frens roughly my size (ahem) or medium size fren, please intro the blog to them muahahahahaha.
Alright as for now, let me now go work on it...
Short Note:
无能为力
Friday, April 17, 2009'♥
Activities Filled Days...
Ever since last last week, my life is full of activities... reasons being
1. my lousy cousin xiaohan together with me are slackers, cause we both looking for a job rite now...
2. my another lousy cousin cindy is having her school vacation now..
3. xiaohan's sis xiaoyin is very free too on her off days, so she joined us most of the time
So we would often have last minute planning activities.. and I enjoyed everyone of them haha..
Starting for the JB trip two weeks ago....
One fine aftenoon me, xh, xy and her bf we went over to JB for some shoppings and FOODIE...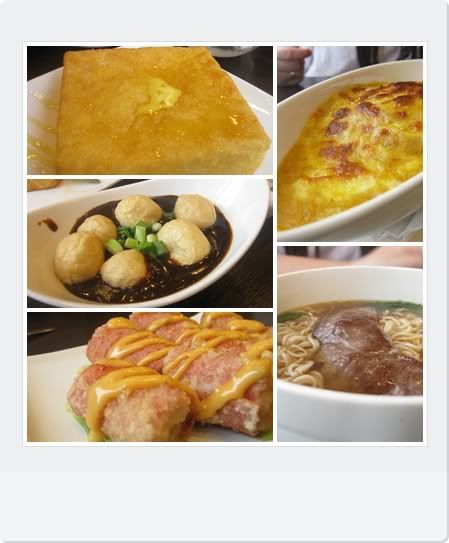 So nice to be shopping there again after so long.. we had our lunch at the other hongkong cafe not kim gary this time... Surprisingly the food was nice too.. and I can't wait to go back again soon for Pokemon Restaurant.
I did bought some necessity which I'm lazy to take photos of it.. With $50sing dollar, I managed to buy a pair of Freshkon contact lense, sunsilk hair mask and serum, lunch, a cardigan from FOS, eyebrow pencil......and snacks.. So worth it rite.. Yeah i love Jb shopping...
------------------------------------------------------------------------------------------------
On Good Friday, it was actually supposed to be a cousin's outing..but then due to unforesen circumstances, the three of us, xh, xy and this time round Bf joined us for some 7hours of KTV at TOP ONE... it was crazy... we were all so tired after the ktv session...haha
Can't deny we are not OLD anymore...
----------------------------------------------------------------------------------------------
The next morning... I treated bf to dim sum buffet at Mirammar's Hotel....yeah the usual one.. Managed to keep it a secret for so long..and bf was surprised at where we are..haha he thought I would be treated him to some bah kut teh hahaha...
We were so damn full after the first round... damn it....hahaha... and pls for those who are gg DUN order the Mee goreng.. NOT NICE at all.. and it's oily haha.. I still prefer the ee-fu mien from the old menu. It's a good thing they change menu often but the mee goreng should be OUT haha..
We caught the show Knowing after that... I thought I would sing praise for this movie.. but... initially it was good, but the ending seriously sucks... haiz.. not worth it...now I'm waiting to catch the show TAKEN....
Supposingly we are going to Dexun's chalet after tat at Sentosa, however due to the heavy rain, the bbq was cancelled... and monster and me came back to Tampines one to see what are there to shop...and hmmm I think so so only..but then the only that I'm happy are.. THERE WILL BE J.Co opening here soon and and and got DP yeahhhhh...loved it...
-----------------------------------------------------------------------------------------------
It was Xiaohan's Bd on Tues.. Happy 24 AUNTIE...
Well so the few of us got together and celebrated for her.. It's a cousin's gathering.. we never brought along our bfs... cause it's a GIRL's NITE yeah haha...
Newly joined members, Ah Leng and Serene which happens to be Ling Ling haha.. our cousin's group are growing in numbersssss....
We celebrated it at Fish n Co at the glass house... there's a live band there and tadah... it's SABO TIME...
and She will hate me when she saw this video... haha ya too bad they only have english song so our Mandarin Pop Queen dunno how to sing... let that lousy maria sing ahahaha...
U think that's all? No way.....
Yes, there's still part 2
Good sabo.. time to enforce it next time haha...
A good evening out with my lovely cousins... laughter filled the air, gossips filled the air...and a sense of kinship filled the air... Love you guys...
------------------------------------------------------------------------------------------------
XiaoHan recently bought a wii, and we were so excited to try it out... It's a last min thing and both me and Cindy went over to stayover.
It was so fun..and really the most tiring game is the BOXING GAME... and my arms are aching so much even until now as I'm blogging.. so u can imagine the power.. and yes of course with so much hardwork, I'm named the BOXING QUEEN cause I won BFFFFFFF hahahaa...
See how everyone is enjoying... she got every gadget u named it she have it.. from Wii to DS Lite to PSP... no one will be bored haha...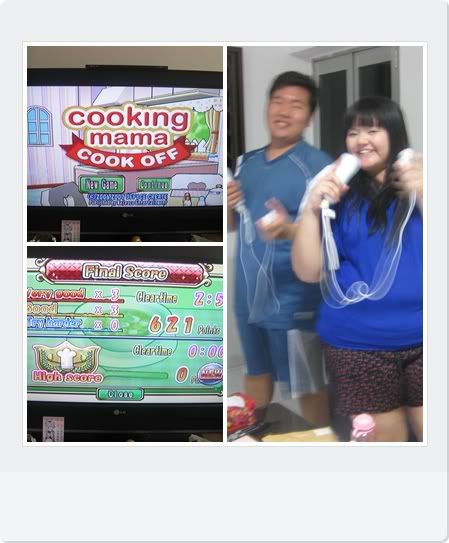 Focus on my fave game Cooking MAMA and not my AH MA shorts hahaha.. oh ya bf was there cause he stays OPPOSITE ONLY.. shiok rite...
A night of fun and laughter.. however ended with my LOUSY cousin CINDY SEE rolling over me at night.. yes it's her NOT ME..and Xiaohan would agreed too... haha....
-----------------------------------------------------------------------------------------------
My new love gotta be this....
Nokia E63....
My old Samsung phone always lost its reception and it's giving me so much inconvenience... with a budget on hand, I tried to search for cheap mobile offers online...and I found this.. at first i tot its E71 the one that my fren is using just that it changed the colour.. however after some research I realized that it's a new phone and it has Wifi too... hahaha It's just like a mini black berry!!!
Of course the specs are not that great compared to E71 and it's thicker.. one thing for sure is the camera is onli 2 mega pixel.. but who cares rite? cause I got a camera too hahaha...
I loved the red one..and xiaohan got the same phone with me on the same day too... MUAHAHA and best of all.. WE PAID $0 hahahaha.. so shiok to be walking out of the shop paying nothing but with a phone on hand...
LOLZ so happy yeah :) Hopefully bf is able to get the blue one together and we will have a COUPLE phone muahahaha... well that' a hope.. cause his contract is still new...
-----------------------------------------------------------------------------------------------
Updates:
* The agency just called me and I got a job offer from A foreign bank yipeee... will start work next week hopefully. I need some input.. been spending so much recently...
* I might be gg to Muar with bf and his family on Labour's day... tentatively.... as long can get out of Singapore.. it's consider a HOLIDAY wohoooo
Short Note:
Well, kinda of miss my slacking days with xh...
Tuesday, April 14, 2009'♥
家
For those who haven't watched this advert, you may want to take a look at it. Good job to MCYS's advert production team... their adverts always nv fails to touch me.
"Little imperfection makes up Perfection"
Saw the chinese version together with daddy and at the end of the advert is showed a
"家"
Below was what daddy said:
Him: "The word
家
got ten strokes, not easy to write, it means that it's really not easy to build up a family."
Yes, a family is really not easy to build up... lots of love, patient and time....
I think right now... I'm still not ready for it...........
Short Note:
Not mentally prepared at least...



Tuesday, April 07, 2009'♥
Shinjuku Incident's Gala Premier...
On the 30th of March, Monster and me was invited to the gala premier of Shinjuku Incident. We actually got the tickets from Kbox, mainly because we took up the package. Besides being able to sing for three hours, we get a finger food free, a jug of water free, a 10bucks kbox voucher, two movie tickets and also the gala premier session whereby we are able to see Jackie Chan and Daniel Wu up close and also a buffet dinner. All at the price of $48 for two pax... Damn worth it!!
So damn good rite... haha jian dao bao le... Actually before we went for the gala premier we thought it would be a small session outside Golden Village at Vivo, but never do we expect that it's actually at the center stage, with red carpet, buffet dinner and within the barricades.
We really did enjoyed ourselves that night... It's Photos time...
Photos time!!!
Notebook....
The tickets were presented in a passport form... so creative...
The red area will be the area that we will be in... nearer to the stars than the public
This is only one quarter of the crowd that day... there were so much people...
That's lao niang at the red carpet....
The stars arrived... so near....
It's Jackie Chan's bd....a mini-celebration for him...
For those who love Daniel Wu...
For those who love Mrstea and her bf.... hahaahaa
The bears were cute seriously...
This lady was really friendly... She asked me to take a photo with her....
And then she requested to take with both our partners... They were real high and happy when they see Jackie Chan...
The food was yummy that night... nice refreshment and after that we proceeded to the movie... Shinjuku Incident was really nice.. even though some parts were real gore(my fave) but I loved the plot. Even though that day after work I'm so tired, but this movie really caught my attention. However in my opinion, I feel that Jackie Chan could be more notorious that this... haha...
Overall, it's a nice and well organized Gala premier, we really did enjoy ourselves that night.
Will be going over to JB tmr morning with Cousin Xiaohan and her Sis... I really need some shopping therapy.
Did I mentioned I hate my hair? It looked so sucky now... seriously..
Short Note:
Maybe I should really do it....
Monday, April 06, 2009'♥
Win 3 Xbox 360 and 15 Microsoft Office 2007 Standard Edition worth S$600 each!

From January 15 - April 15 2009, buy any book from www.mspress.sg and stand a chance to win 3 Xbox 360 and 15 Microsoft Office 2007 Standard Edition worth S$600 each!




*Terms & Conditions apply.

Ads by BLOG2u
Saturday, April 04, 2009'♥
I miss....
The past few days have been slacking at home.. didn't know there's so much things to do at home that I wouldn't feel bored at all... Now who say staying at home is boring? I think it's kinda of relaxing and reflective... allows me to have time for my own, just quietly thinking through matters, listening to songs are enough to take up my whole day.
I was looking through the photos in my lappy and I realized something....
There's a few places that I missed going, few activities that I missed doing it and of course few people that I missed currently....
The top 10 activites and places I missed list....................
1. I miss prawning and fishing.....
2. I miss clubbing (ps: not a chiongster just the live band of DF)
3. I miss playing monopoly (it's kinda of weird huh to be missing this haha, whatsmore i have no siblings to play with at home yawnzz)
4. I miss chilling out at Fisherman (it was at some point my second home haha)
5. I miss Mahjong, Mahjong, Mahjong...(come on it just need four ppl, shufen u heard that?)
6. I miss Bbq and Chalet ( Thank God, I'm attending Charlene's one next week)
7. I miss ktv-ing (Singing my hearts out with crazy ppl)
8. I miss cycling (ok maybe half cycling i mean)
9. I miss picnics ( One fine day... I want to picnic yeah)
10. I miss steamboating with my friends.......
People I missed list............. ( The level of miss not in order)
1. The crazy gang consists of Joyce, Selyn, Vivian, Faa, Yx, Pat....
2. Xtin and sister.....
3. Ah ber Jie, Wendy and Joewyn
4. Chelsia
5. My crazy cousins (Xh, Cindy, Ah leng and Gwen)
6. My god-daughter Charlotte
7. Shufen and Shirley
8. Zhong jin and gang (ya dun always say me aeroplane u all)
9. Mummy..( she went to batam yesterday....) and daddy (who is still at work :()
10. MONSTER... (panic rite nv see ur name on top hahaha muacks)
Of course there are more people.. your name not here doesn't mean I dun miss u all.. just tat it's in my heart... you know who you guys are... you people have once brought happy memories to me but due to some circumstances.......
Alrighty... I am so going to clear the activities one by one as well as people I misssed... I will soon meet up with u all hahaha..ONE BY ONE... dun avoid me hor...lolz...
It's a Sat anyway... go out and enjoy u people.. and finally the slacker will be out to meet her bf.. and best part is.. her bf is COMING to TAMPINES wohooooohooo.. Love u bubu...
Next entry will be on Shinjuku's Incident Gala Premier... I'm just lazy now to upload the pics... wohoooooo...
Short Note:
I need to pamper myself........
Wednesday, April 01, 2009'♥
Happy Apr's Fools....
Initially I thought I wouldn't get fooled at all today... cause normally I would be on my guard on Apr 1...But still, Joyce that aunty managed to fooled me.. with a msg finding people to work at Ochrad for a one day event show... Shiet.. perhaps I'm too desperate for a job that I silly silly go reply.. and got fooled...-_____- haha.. anyway it's fun to get fooled once it awhile lolz..
I find that nowadays I have no motivation to blog..everyday is SL SL SL , restaurant city, Fashion war and of course MONSTER... haha totally have no time to care about other stuffs..
Well well welll, that's the life of a slacker u know... I finally ended my one mth assignment at Cuppage...Totally missed the working place lah.. its fun... but too bad they onli need us for a mth..
Orite enuff of my boring life... now onli weekends i can enjoy cause it's me and monster time yeahhh..
Last Sat we went for a short weekend trip to
Phuket in Thailand...
Nice Scenery rite.. sandy beach... clear blue water....
Another Shot...
See how clear the water is...
A nice place for reflection and relaxation
Love the clear blue water... nice
Then we proceed to have our breakfast in the hotel..........
What the shit? MACCCCCCCCC BREAKFAST? haha.. actually I went to East Coast Park lah.. the reason why I said it's Phuket cause I can't believe how clean ECP is now... the water is so clear and it's free from rubbish... lovely!!!
This uncle is powerful, he can every few seconds catch one ikan kunning... i tink his family don't need to buy fish at all....
Liu Shu....
Dead branches
Time for the zi lian couple....
It's a super hot day... since we are bored.. I asked monster to teach me cycling... I think he must have regretted it...haha
Act cool somemore...lolz
Well u won't get to see my lan bei face of course... what I can say is my ass if Fu**king painful can hahaa.. and we both sweat like mad...
I only managed to master 2/4 of the skills... thank you monster for teaching me so patiently..and now I am craving to go try cycling again...yeah..hopefully i can mastered it soon and..... can go outing with the lousy cousins together haha...
After a hard day's work... we need food man!!
Who can resist this? The prawn is so fresh....
Nice wings...
I liked the food centre at ECP... yummy...
Went to mum's church after that for her Baptism Service....
Congrats mama...
Oh ya before Xiao han said there's something wrong with me.....
tadah I'm back to zi lian again!!!
Short Note:
Blessed :)