Saturday, September 30, 2006'♥
It's been long...
It's freaking 4am in the morning.. I wonder y am i still here blogging..it's way too late from my usual sleeping time....but i'm so awake after a bath...
It's been long since i came back in the wee hours of the morning... Xiang dang nian...its nothing but ever since I've turned 21.. life seems to slow down abit...SUI YUE BU LIU REN....i will get super sleepy if the clock past 2am...and tears will came rolling down...and also not forgetting the continuous yawning...
Went to catch a movie with Ms Dong Dong after cg...i must realli blog abt her...while i went for my cg which is from 7.30-10pm...she was alone waiting for mi at ORCHARD...chilling out alone at MAC CAFE waiting for mi... Where can u find this type of fren?? And somemore she waited for mi to have late dinner lor...realli appreciate her alot lei...tks Ms Dong Dong...
I reached around 10.15 and then we saw a pamphlet that Every Last Friday of the mth...Borders, Scotts, Wisma and some other participating shopping centre will be opening until midnite and oso there would be great offers... Our movie will start at 12.15 so we went Wisma to check it out... it's good to have late night shopping, not so much ppl and Ms Dong Dong bought a bag for 148bucks...rich rich lei...laoniang already passed this part of excessive spending in my life le hahahhaha...so we shop and shop and had our late dinner at Yoshinoya before we proceed to the movie... Guess wad show we watched??
JOHN TUCKER MUST DIE....it's super hilarious lor..esp the THONG part if u had already catch the show muahahahahah... not a bad show...highly recommended....
This weekend gonna be a busy weekend for mi...
Sat: Book the ferry tix for our Batam trip.....hopefully can book...
Rush to Tamp Mall to buy mooncakes to bring back on Sun for Popo
Go back home to store in fridge
Set off to bible study
GO Service
Go Natas Fair...coz MR A say got one package to GENTING 50bucks..anyway
he will be at the fair too...for those who dunno its at EXPO same place
as church lor..wohoooo
Go Steamboat or ktv with BC they all
Sun: Mit 8am at Harbourfront MRT
0940 set off to Batam Centre
Mit my beloved cousin, hopefully he wont forget
Go visit popo
Go lunch
GO shopping, massage, free time
Seafood dinner, or zi cha...depends on financial status of members haha
Shop again
Say bye bye to Batam
Basically that's my two days itinerary...hopefully the BATAM trip will go smoothly... Ms KERIN who is mi will be the tour guide...haha first time lei..so if not good mai hiam la...
Guess who is the mysetry person joining our trip?? MS TUPPERWARE.. cannot imagine rite... she better dun pangseh..if not i make sure she squeeze inside the tupperware
Oh ya.. My company is looking for ppl to work one day 18OCT at the event itself.. pay is not bad...and its at a well -known hotel in Singapore.. i'll be helping out the whole day too.. American Breakfast and Lunch will be provided....pls contact me for more details..so far Ms Selyn and Zhong jin is included..and MS Dong Dong side got two frens oso hahaha.. i need around six ppl... pls come if ur too damn free ok... its onli one day nia...and u can get the money str away on that day....
____________________________________________________________________________
I was at Cine when i saw a group of cars racing by...i remembered the times we were there...and ur wonderful hobby...i wanted so much to sms u..asked if ur there...but i held back... i need to play by the rules.....

Short note:
Would u??? caught up in the middle
Wednesday, September 27, 2006'♥
The Night.....
The night is a contridict of the day...it's longer than the day, it's quieter in the night and perhaps...
It's lonliner than the day....
The night triggers u to think of memories which u would never have give it a thought in the day...
The night makes missing a person so much easier than in the day...
The night makes u realised the idea of having someone by ur side is not a bad idea while the day makes u realised that there is nothing wrong with being independent...
The night errupted ur emotion volcano that have been buried deep inside ur heart....
Even the stars know what i'm thinking about....
听见星星叹息
用寂寞的语气
告诉不眠的云
是否放弃日夜追寻风的动静
心事不停累积
变成脸颊的泪滴
你始终没留意
我特别在乎你
你却像风一样
左顾右盼而行
全世界只有你不懂我爱你
我给的不只是好朋友而已
每个欲言又止浅浅笑容里
难道你没发现我渴望讯息
我应该如何让你知道我爱你
连星星都知道我心中秘密
今夜在你窗前下的一场雨
是我暗示你我有多麽委屈
你还不懂雨永远不会停...

Short note:
irresistible backing out
Monday, September 25, 2006'♥
My Friendship with Dong Dong
Dong Dong is my new fren.. my schoolmates cum colleagues... knew her for a few weeks le.. our characters realli ard the same..and we both super chatty de.. in the whole office we are the Noisiest u know...haha..and i treated her like my little sis.. in case u wonder how she looks like..she looked like.. MS CINDY SEE... seriously hao bu hao..haha.though MS CINDY denies it hahaha...
Well today Dong dong is veri unusual.. then while we are waiting for the bus..she broke down.. i kanna shocked early in the morning...she got some problems with her bf...somehow managed to comfort her..and she's feeling better at the end of the day..back to normal le...but i know she's super affected...
And while i was typing this entry.. Dong dong msged mi...
" Gonggong we broke up le "
I felt sad for her..that guy realli dunno how to cherish her...guessed when it comes to ending a relationship.. humans have a lot of LAME excuses.. eg: I NEED TO CONCENTRATE ON MY STUDIES, where they themseleves still get sucky grades even though they are not in a relationship..come on it depends on ur own de lor.. LAME... OR.... I TINK OUR CHARACTERS ARE DIFFERENT...if u change le just say lor.. dun need to say characters different sibeh lame.. if u love a person...u see his strengths more than his weakness hao bu hao..
Haiz suan le.. wad for crying over a guy who doesn't appreciate u...love u or give u happiness... but no matter what Dong dong, gonggong is here for u de...ok...tmr will gif u half of my ai xing bread de...hehe.. cry all ur hearts out tonite ba...tmr will be a brand new day...
Back to my Monday... Monday bluess seems so far away.. time passes so fast without i realising it's 6pm le.. i love my job alot...it's different from the daily routine job i've had before and i've learnt alot of PR skills from this job.. more than what i've learnt in school..though it's calling up clients to RSVP but its more than that.. as the date of the event approaches, more things to prepare le...
And now my list is to call up those who is CEOs, MDs, Director etc...wow..differnt techniques de ok.. and i could say that most of them are super friendly...and now we are under M and A...they are super nice.. esp M love her alot...me and dongdong treat her like our frens..we often joked with her..and today she treated us tea and snacks...working under her..not stress at all de..but she rather she stressed than us lor...so God I pray that u can give her strength...take away all her worries..Amen
My contract suppose to end soon.. but i decided to renew it..and oso to help out at the actual day of event.. at first tot that we temp staffs they sure wont need our help de..who knws tat day.. M asked us to go alont..wohooo so excited lei... its in a hotel at ORCHARD super high class..and im aiming the BREAKFAST and LUNCH lor..tats the most impt one hao bu hao.. i tink i will bring along my TUPPERWARE..oppps...and most importantly i will get more hands on experience and see those shuai shuai de clients oppppps... hahaha..
Can't wait for this Sun Batam trip with our dear Lena Da jie..and two mysetery person hahaa... well hopefully it will goes on smoothly and my side de mystery person wil be able to apply off on that day...haiz.. will be visting popo..i missed her so much lor.. im going to buy her fave biscuit for her man...
___________________________________________________________________________
Short note:
Orangutan is on medical leave for 21 days...pls dun go to the zoo and visit him...argggghhh qi si wo le..so many days...not FAIR!!!
Saturday, September 23, 2006'♥
Paths....
We were 2 lonely souls who were looking for directions at that phase of our lives.. and our paths crossed unexpectedly.....

At that point of time, we tried to accomodate to each other's direction...but in time to come, we realised our directions are different, the path we will be heading, the route we will be taking, the vision and dreams in our lives beg to differ.....
The game has just started...or had it started long ago?? but the rules were different this time round...
I played by my own rules...while u played by urs...and we thought we had played on the initial stated rules....
To be continued.....
Short note:
The draft is out...and the time is soon to come....
Wednesday, September 20, 2006'♥
How pure am I??
Got this from Ms Lena's blog...hahaha..yuan lai im nt so chun qing as i've thought...oppps hahaha..
But it's quite true la.. opps...
Yst Nite, i had a dream..in that dream..i married a guy...(i forgot who) whom i dun love at all...just for the sake of marrying...I tried hard to accommodate to him, understand him, and most importantly love him....but no matter how hard i've tried...i can't coz the love is not there the first place...
Ppl said before.. love can be nutured... but maybe for my character i can't..the dream seems so real...hopefully it will not happen in reality...cause i find that it's veri unfair to the guy...In the dream the guy is a good guy..he nv gif mi up...he believed that one day his sincerity will touch mi...but before i know what happen to us in the end...My Handphone's alarm rang...time to wake up...y do alarm always ring at the wrong time?? hehehe....
To love or to be loved...which is happier? and which is easier?
Short note:
i dun wanna be ur 7-11
Monday, September 18, 2006'♥
Simple contentment...
What more could u hope for...when u came back home, tired, hungry, sleepy and irritated...and ur two dearest darling showered u with love and care from their heart... I guessed at that moment.. all the tireness, all the fustrations are vaporated into thin air...and i formed a big wide smile on my face...
Darling Weisi drew a painting for mi.. carefully folded into an envelope...though i didn't look tat slim and though i dunno what she is drawing..but im touched u know...she always like to draw things for mi and i could proudly say i kept everyone of them...esp the one she drew on my last birthday....
This is what she drew today....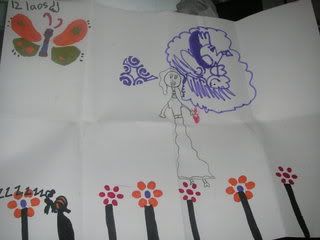 And her sis...though i admit i dote on my baby weisi more.. but as her jie jie grow up.. i find that we can communicate better...and when i asked her to buy something for mi..she would run all her way..and get back within five mins..no no no i didn't threaten her ok....anyway as she grow up she got some pocket money.. on and off she would buy things for mi...like sweets...biscuits all these...Last week she bought harshbrown for mi..but i was nt home yet..so she put it at my computer table...This evening when im back home, i found a small packet of LAYS on my table...and she still remembered my fav flavour, Sour Cream Onion...awwwwwwwww...both of them are so sweet man...i promise when i get my pay i would buy their fav food for them lor...i love them both..my darlings...
In case u forgot how they looked like....

On the left is baby weisi, and the right her jiejie zhiying...posing with my chao ta cookies hahaha....
Back to my life today.... as usual calling up cust... which makes mi after work dun feel like talking much at all...haha...but most of the cust has been friendly today..and i was calling calling..when i saw a familiar name...
Mr CHIN Moon XXX.... at first i just let it pass..then suddenly i remembered someone... MR A!!!!!!!....of coz this is not him...but then its like his name...and i guessed it's his Second brother..coz he told mi before his bro worked as an Regional IT manager of J&J....and i quickly smsed him...and...
It's realli his second brother... mauahhahahaa... so funni lor...when i called his brother up..i tried to refrain from laughing.. i wanted so much to break out laughing, coz both of them their voice is totally so different lor...and not to mention mannerism hahaha.. his brother is so si wen..and him..haiz.. after the call msged him abt his brother..then he said ya la ya la he low class la...haha no la just joking ok... MR A...wohooooo...
Singapore realli so small man....anyway i went to help out V in some admin work..and i was damn busy the whole afternoon..so sorry if i nv reply u in msn...i helped until 6 lor..and im so tired now...haha...
___________________________________________________________________________
Extra Extra read all abt it...
Lao D is back!!!!!....nabeh finally my three days of worrying has come to an end....and guessed what MR PAI KA won the fourth place...i can't believe it man..leg like dat still can get fourth place...anyway oso boh prize sad sad..my commission fly away liaozzzz...lolz...
Haha orite la..lao niang want to go savour my precious potato chips by my darling le...see u guys....im so damn sleepy now and its onli 8.30pm haiz...
Short Note:
Hopefully it won't die down......
Sunday, September 17, 2006'♥
Night Prawning....
Yest after church.. I went to a place... a place that i went for the first time and i tried......... for the first time.....
It's an exciting experience...and im damn addicted to it now.. it's fun and it cultivate my character... taught me to be more patient haha... so by now have u guessed where i went yest nite??
I went......
Prawning....
What is prawning... it means..to fish for a prawn....haha.. i tot of the best word to use is prawning..as u use a fishing rod to fish for the fish and tat is fishing..but this is prawn..so its prawning..whatever hahaha...
Went together with Lena and Jie fu....we reached there ard 10plus... and met the forum members...we didn't joined them for dinner...onli for the prawning session..as i had service before there.. total ard 10 of us went. It's at Pasir Ris and ok im sua khoo lor..i didn't know it's just opposite White Sands..and the place is quite easy to be found...it's my first time prawning ok....
Ya throughout the two hours.. I onli caught three prawns...haha dun laugh hor.. can catch veri good liao hor.. coz there's a few times..where the prawn ate my bait..but i too fast take up liao..resulted in the clever prawn escaping away...and i lost my wormy.. didn't know prawn is so clever de...anyway the biggest winner is kitty.. i tink she caught more than 10 prawns ba hahaha....and Lena not bad oso lei.. ppl is prawn pond..she caught a fish...hahaha.. but tks to MR JIE FU...slippery hand..the fish escape hahaha..too bad...haven't even took photos of the cute fish hahaha...
We ended ard 12.30 and in the end me and Lena brought home four prawns each...haha Breakfast got ZHAO LUO le...mummy cooked mi Udon with my freshly caught prawn this morning...it's damn sweet lor hahahaha...orite orite i know u all eager to see the photos....
Here are the photos of yest nite adventure....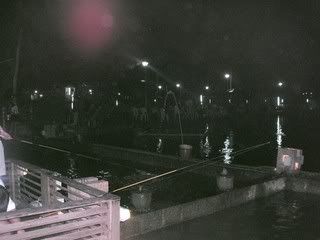 This is the place where all the prawn is hahaha..but too bad it's abit dark lor....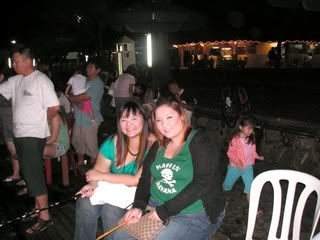 Me and Ms Lena prawning...hahaha..while im taking the photo...i didn't even realise i caught a prawn and the rod is shaking..until Ms Lena and Mr Jie fu told mi so...haha First time ma....paiseh la...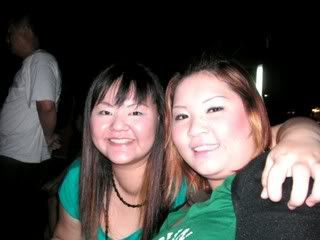 Us again....hehe
Our catch for the day... hehe poor prawn...ur in my stomach now...muahahaa...

Of coz how can I end the post.. without posting up my Zi Lian pic...hahaha..
Hehe it's a pity that i didn't took photos with the forum members..as all of us are busy prawning..and it rained abit yst nite.. But anyway nice outing out with them...and kitty is so into prawning nowadays...haha our next stop when we get pay will be prawning at Jurong..they say there more fun...would like to try it..oh man im getting addicted to it haha..and Ms Joweyn pls join us the next time...kam sia haha...
Short Note:
我找不到我到不了, 你所谓的将来的美好.....
Saturday, September 16, 2006'♥
My Blog new song
I love this song the moment i heard it..though it's quite an old song...
the lyrics are just as nice...and its a five min song..power ba...enjoy everyone....
飘雪
by: 韩雪
忧郁的一片天
飘着纷飞的雪
这一泓伊豆的温泉
竟是我孤单的思念
飘零的一片叶
就像你我的终结
这一泓伊豆的温泉
充满温暖的从前
你的手曾经拥着我的肩
呢喃着爱我直到永远
雪花像绽放的礼花
天地间肆意地飘洒
纵情在一霎那
为何现在只剩下风吹乱我的发
撕开我记忆的伤疤
让往事像雾气慢慢地蒸发
让我知道什么叫放不下
为何我的泪会不停地流下
滑过你曾经亲吻的脸颊
所有的对错在顷刻崩塌

忧郁的一片天
飘着纷飞的雪
这一泓伊豆的温泉
竟是我孤单的思念
飘零的一片叶
就像你我的终结
这一泓伊豆的温泉
充满温暖的从前
你的手曾经拥着我的肩
呢喃着爱我直到永远
雪花像绽放的礼花
天地间肆意地飘洒
纵情在一霎那
为何现在只剩下风吹乱我的发
撕开我记忆的伤疤
让往事像雾气慢慢地蒸发
让我知道什么叫放不下
为何我的泪会不停地流下
滑过你曾经亲吻的脸颊
所有的对错在顷刻崩塌
原来你带走了我生命的暖春盛夏
就连旧的果实也只在梦境里悬挂
原来寻找的是我自己难了的牵挂
这泓伊豆的温泉是天给的惩罚
如果知道结局我们还会相爱吗?
我猜不到你的回答
冰雪中的誓言是真心的吗?
怎么此刻什么也没留下?
现在只剩下风吹乱我的发
雪掩埋记忆的伤疤
往事就像雾气慢慢地蒸发
痛到麻木也许就放得下
就让我的泪不停地去冲刷
冲刷你曾经亲吻的脸颊
伸出手像露珠一样的冰雪
那瞬间的落花仿佛在
记得你和我的爱情童话
'♥
Just another day.....
Friday just went on like these.. time seems to pass by so fast...yest the whole Singapore haf such a heavy downpour...checked the weather forecast showers with thunder in whole Singapore...amazing..and we are freezing to death in the office man....
Finally the long awaited lunch time is here... me and QL were craving for a bowl of hot soup..and here we are in the food court of the FU ZHUO YU YUAN incident haha...and guessed wad i ate? MS Tupperware will faint.. coz for FOUR DAYS.. i've been eating yong tau foo...hahaha..i dunno y i just like the soup lor..damn nice..u all shld come Parkway and try it man..sure got addicted..and somemore its cheap la..two bucks nia haha..
Went back office...with Chachos my fav snacks.. QL bought the whole pkt and we shared...happily muching.. pick up the phone wanted to call the customer..then guessed what.. phone system is down..we waited for one hr..hapily munching and relaxing at the same time..then at three.. my SUPP V...told us that we could go for the day...coz the system is totally down..we stayed oso no use... woohoooo.. of coz we earned two hours less la.. but nvm la..we oso sian to stay in that cold cold office..
So mi and QL..being so free.. we decided to go town for some window shopping haha.. im so happy that i made a new fren..and we were so clicked...spent most of the day in KINOKUNIYA.... reading magazines and stuffs..and we spent one hr reading recipe and the GUINESS BOOK OF WORLD RECORD 2007...wah.. so the world's ugliest dog.. and its realli damn ugly lor.. COCO and JUNIOR both of u are lucky enough to be pretty and handsome....haha..then we ended our trip at 6plus.. QL went home..while i went Cg...
I was in charge of games yest...and we played a veri challenging game..until the whole cg is so enthu abt it..that they wanted to play it again next time..wohooo Thank GOD for annoiting.. suddenly tot of the game while im in the office...
Nowadays.. i got sleepy at 10.30 sharp...and yest i totally knock out in the cab while going home...chel and karen was shocked..coz normally im the most active de ma...wah.. my eyes is full of tears of yawning...help mi.. im getting old man...reached home ard 11plus..and tats it...i lied flat on the bed..until this morning i woke up at 11 power rite...and its still not enough hahaha...
Anyway i was amazed at how childish someone is...He msned mi and said..i know u like the guy who went KL..and i tink there will be an accident in KL...shit him..he was cursing LAO D man.. how childish can he be seriously..my blood is boiling at that time..i can't imagine how insensitive he is..but nevertheless..i heck care him.. dun wanna waste my time arguing with a kid...
Check the weather forecast...and its mostly cloudy at KL some areas raining in afternoon.. hopefully he already finished his competition le.. coz his tyre got no lines de...so if raining cham liao...but i know he will be safe de la haha..
Anyway..do check out the clip below...damn hor chio lor.. xiang dang nian.. i oso got recite these poems in my pager greeting hahahaha..damn malu la hao bu hao haha...

short note:
im reminded of the first day i met u....

Thursday, September 14, 2006'♥
Three days from now....
The reason i've changed my password its becoz... i dun wan unnecessary ppl to view my blog.. i've made a wrong mistake by giving someone whom i just knew not long ago my password...well i tink it's best i just let those who knew mi long enough to gain access to my private life ba...
So here it is... i knew this Someone from Lena..i know she meant it well..and no i didn't blame u.. yao guai jiu guai wo dai sai ba.. always attract the wrong kind of person...hahaha...initially tot he was not a bad guy..so continue chatting...and it's onli one DAY...he told mi he likes me.. i was like.. haha wad a great joke man...then slowly as days passed by... he not onli said he like mi but oso wants to be with mi..which includes..getting married, having child...this and that blah blah blah..being someone who is a failure in relationship i decided..to stay and observed this guy..but who knows..he became more and more possessive though im not his gf....He is taking things too fast..where im abit scared of him though...
He would call mi up and said Dear where are u... Dear i miss u.. faintz.. lor..i not veri shou with him...and the most impt is..both of us are NORTH and SOUTH poles apart.. what i like is pratically what he dun like..and the most most most impt point is..he dislike CHRISTIAN...wakao...forget it lor seriously...so in the end i plucked out my courage and told him actually i got someone in mind le..so dun waste ur effort and time on mi anymore...and i tink he's quite angry or wad...whatever la..i dun care lor.. how can someone be so childish esp a guy somemore...
____________________________________________________________________________
Back to Lao D... i tink he is now on his way to KL le...just now he called mi when i was still working....he was packing his luggage then.. told mi he regretted signing up for the race...but too bad..what he promised he needs to fulfill...
I know hw he feels..and i realli abit worried for him....cause his leg is not showing any improvement...and after he's back from this trip he will go and see a specialist i guessed...and might undergo an operation...haiz..hopefully the weather would be good for the next three days...
Tmr at 9am...he would be trying on the trial run for the race...and on Sat would be the real competition...pray hard that he would be safe..and i told him if he realli feel discomfort..just stop the race ba..better than anything bad happen...hopefully whatever i said will go into his stubborn ears......
*Updates*
Lao D just called mi..
Me: I thought ur at KL le?
D: Ya, going now le lor
Me: Orh...
D: Bye Bye, im started driving le
Me: Then u call mi for wad?
D: Tell u that im going KL le lor
Me: Bo liao leh u...
D: Call u to gen ni shuo yi sheng ma
Me: *damn sweet in the heart liao*, ok la u xiao xin hor
D: Ok i will de....
Omg....i can't believe Lao D will do this kind of thing... last time when i first know him....he where got so sensitive de.. i wonder...is his leg affecting his thinking???
Countdown to three days starts now.....
Short note:
Orang Utan, the Bai Ka Racer...

Goheadbingostan, the Mountain Turtle....
Wednesday, September 13, 2006'♥
Bad Day....
I shld be singing.. David Powter...Bad Day today.... Early in the morning.. my blood was boiling.. a stupid bus driver pissed mi off.. and resulted in 15mins late for my work..damn idiotic lor..
Anyway enough of the bad day.. practically haf no mood to work the whole day..so for 3/4 of the day.. i was pratically literally chatting in msn...QL was the same hahaha.. we are being slack nowadays...Was chatting then suddenly HS msged mi.. "Hey results is out le..u can check liaoz"....faintz...we were informed that results would be out only on 14SEPT but suddenly so early can check liaoz...
Coz of the EARLY Morning dai sai incident..i decided not to check..in case i got another heart attack...QL checked hers though..and for someone always taking Supp paper.. she PASSED ALL SUBs this term...was so happy for her...she said she will go on vegetarian diet for the next one week.. poor mi haf to follow her too hahaha.. and i decided to reward her with two packets of my Precious HOT CHOCOLATE hahaha.. she was beaming from ear to face the whole day.. super high lor..haha..
Finally checked my results when im back home...alot of ppl offered to help mi check but i tink its better for myself to check it...haha tks pals...anyway MR D said im HUM JI...tks lei.. my heartbeat stopped for one moment...
I tot i would failed econs..in the end i didn't and i tink my results was not tat bad...wohoooo.. so happy u know.. and somemore no deadly supp paper.. My dear ah jin..must jia you hao bu hao..for this one week no more playing play doh liao.. wo hui zhi chi ni de...
Chatted with Lao D.. he's going racing tmr...and i tink he's quite sad this time.. coz his gonggong leg haven't recover.. hopefully weather would be good.. if raining i tink the road will be veri slippery..and somemore raining he leg will cramp.. machiam old man...
pray hard that he will win...first prize is 2000bucks...and hopefully i will gain some commission from there..heehe...
Recently i super no life.. reached home after work ard 7.30...slacked awhile and i slept at 10.30..wakao early morning go work.. how boring can my life be man?? pls help to inject some life into my pathetic life..haha..
orite clock is ticking..and its time for bed....good nite my readers...muacks...

Short note:
B is better than A....I just love B...A is turning mi off....
Monday, September 11, 2006'♥
A Day to be missed.....
It's the starting of the week again...dragged myself up out of the bed this morning...i nv missed sleeping so much u know...
Work was fine today.. time seems to pass so quickly...and before we knew it..it's LUNCH TIME.. i know it's all the working ppl fav time of the day.. a time where u can finally go out.. and enjoy the fresh air...
Mi jie and i was discussing what shld we eat..though we both work at different place.. she worked in Tanjongpagar while mi..in another ulu armpit at Parkway hahaa..but nevertheless the thought of having lunch soon realli stirs us up.. and not to mention Ms Tupperware...she is forever hungry hao bu hao haha..
Went for lunch with QL at the food court..ordered fish soup...and there is those Fu Zhou Fishball..if u know me.. tats my fav lor.. go steamboat must haf tat hahaha.. (so Ms LENA if got chance steamboat...ahem ahem) haha.. so here i am happily trying to bite into my fu zhou yu yuan...and guessed wad happen? In that instance...(for those who ate fu zhou yu yuan before u all know that there is juice inside the fishball rite) and today the most powerful thing happen... the juice shoot out of the fishball so high until the auntie sitting two tables away kanna it.. i tell u.. i was damn bloody paiseh lor..
The auntie is damn shocked lor.. I was stunned there lor..and after a few seconds..everyone laughed including the guy and his colleague sitting besides us..walao they laughed the loudest...at that moment i realli hope that there is a hole for mi to hide lor.. wakao...machiam like the MERLION lor.. shoot so far lei...i tell u tmr i sure wont go that food court again damn paiseh i tell u..even when im typing now..i was laughing like mad..coz i will nv forget the poor auntie's expression lor..faintz..
Oh ya talking abt the word FAINTZ>..whenever i gave ppl my blog password.. i dunno y hor.. when i typed the faintz out..they sure tink im joking or wad.. i have to type ten times then they will realised the password is faintz.. am i stupid? or is the password stupid?? hahaha....no ppl seems to get it the first time i told them haha..
Anyway this is a meaningless post on a meaningless monday nite...haha im bored now ok.. pls talk to mi in msn.. oh ya..forgot to complain..stupid kuku msn is down man..the whole world cant access to it..how dumb dumb can it be.. now then i realised i can't live without it...hehe..
____________________________________________________________________________
When i asked u.. it's ur life impt or ur race impt?
You answered me: Race
When i asked u...it's the race impt or ur face impt?
You answered: Face
Ya good ans.. if i have a chance i will slap ur gonggong face man...
U know urself..ur not in ur best form for this race..ur leg is so painful and ur limping practically...and u know urself the risk involved...u know urself hw worried ppl besides u are..but yet...
You chose the race over everything...
U better be alright i tell u...if not...goheadbingostan will realli faintz...
Short note:
On the other note..i do hope what u told mi tis afternoon is the truth before u went for ur beauty piggy sleep
Sunday, September 10, 2006'♥
09/09/09
Been a few days since i've blogged...finally today is a day for mi to catch a breath...
Started my job on Thurs...initially was feeling damn nervous...as i tot of how lonely i am to go lunch alone on the first day... But God is good...When i reached the work place i realised...im not the only one who is working for this project!!! hehe..there is another three of them...and one of them is my schmates from TP...yeah.. so we clicked well haha.. the other two aunties..one of them happened to haf the same name as me...-_- were friendly and helpful too...coz they did the previous project before...
Overall..work is fine...we are supposed to confirm the attendance of the ppl attending the event...i got in touched with alot of CEO, analyst, managers...etc...i tell u its damn fun lor.. most of them are veri friendly..and it's not so boring like admin job....hehe.. and throughout the day.. me and tupperware and oso my cousin mi jie... we were communicating through email.. haha.. i pitited the both of them, they haf no internet access...awwww..how sad hahahaha...anyway we motivate each other esp in the afternoon when we are falling aslp hahaha.. my schmate, QL..she looked so exactly like MS TUPPERWARE lor... we sat face to face and i always nearly call her Cindy hahahaha..
Worked for two days...and its weekend...haha..and for the whole of Sat i have no chance to take a rest.. rushing from here to there...it's Angie matrimony at a church in Serangoon.. oh man..how romantic can that be..I was the usher...therefore need to reach early...and help out with quite a lot of stuffs...Overall the wedding took place smoothly and i felt happy for her and Wenquan too...he is a nice and kind guy...Saw Jasmine there..and i was quite surprise.. totally forgot she know Wenquan haha..reception was delicious..and i loved the fruit tart so much..tat i almost tabao the whole tray haha...
Been with Amos and Matt the whole day.. they nv failed to bring laughter to my life...and Del was so jealous that she said i pangseh hahaha..After the reception, we rushed down to service, Pst preached abt how impt communication is... indeed as one miscommunication will lead to an unforseen consequences...
After the service, we rushed to Changi Airport.. coz BC had vouchers for Sakae Sushi... 40bucks lei.. and we had a great time of fellowhipping..total billed up to 80bucks..and BC who is veri kind... paid the remaning amt..and i did not paid a single cent lei...omg...he is so goood..haha..Took quite alot of pics for yest...and i enjoyed myself alot though im damn tired and lied flat on my bed...haha
Mon again.. monday blues...not abt my job but the wakin up early part..sianz.. but nvm i know MS Tupperware is waiting eagerly for my email tmr.. I sacrifice my sleep for her ba...lolz...
Orite..Time for pictures le.. i know u have been waiting for that rite..hehe..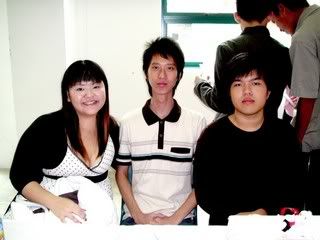 Matt me and Amos... they are forever so LAME hahaa.love them lots!!!!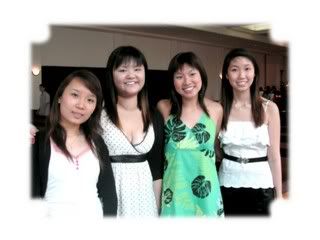 Liyun, Me , Irene and Sharon.. felt so stressed besides them....all chio bu hahaha.. my ex members...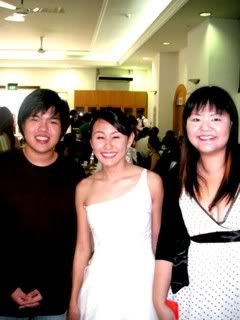 Amos, Angie and me...she looked so young hao bu hao.. but from yest onwards she is MRS LEE hehe...tks Angie for all ur guidance last time..ur my Second Leader...love ya...
Del, Me and YC... we are damn zi lian inside the toilet..more to come haha..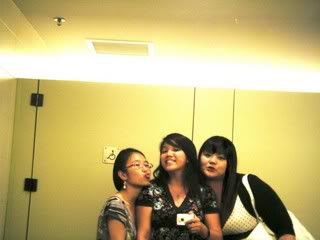 Us again.. told ya.. we are mad yest haha..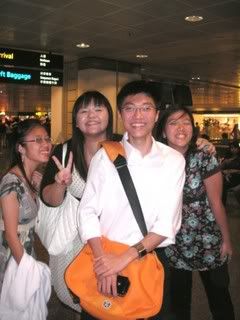 Mai siao siao...Kelvin taking photos with us haha...all the St Marg's gers must be envious of me..that their MR CHUA is taking photo wit us haha..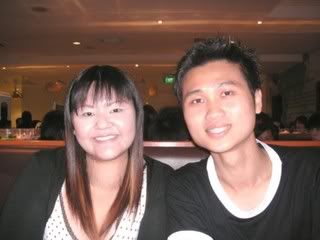 Me and Bc... see his gonggong face..haiz...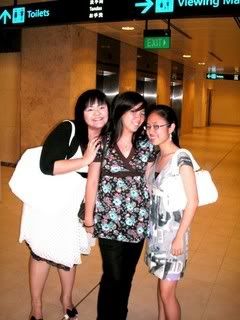 We three mad woman...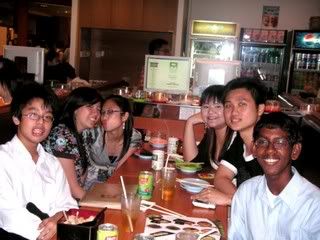 My cg...hehee.. poor chelsia got tummy ache and cant join us...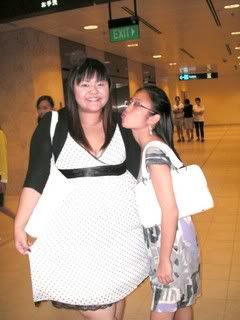 Ya la ya la i look like pregnant woman la..haha...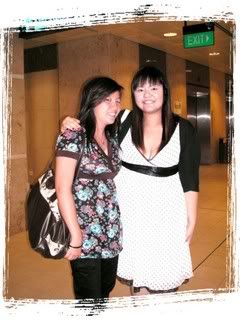 Last but not least DEL AND ME.. i designed her outfit for yest de ok.. from head to toe...haha...
____________________________________________________________________________
Short note: 09/09/09...will tat day ever come true.. let's wait and see....
Wednesday, September 06, 2006'♥
Confession Time.....
I dare Lena Da jie to confess her love for MR LEE..... but she dun dare say out the full name...but anyway hopefully she and her MR LEE can you qing ren zhong cheng juan shu....haha...all the best wor...
anyway... i was thinking....shld i do the same thing????
So here i go.......
I love you MR SEE TIOW EE..................
Oh Shit i realised that's my dad.....typo haha..i try again ba..
I LOVE U........MR WEE
His car la u tink i will show u his face meh? bleh i coward can boh..hahahaahahahaha lalallalalaalalallalala
In case u nv realised... MR WEE = MR D tks...hahahaha
我还在等着你
静静的爱我
只要有你陪我
静静的就足够
你也在等着我
静静的温柔
就这样手牵手
静静的看着天空
永远要记得那天彼此许下的承诺
瞬间点亮的火花
是我们的拥有
静静的手牵手
是最简单的梦
HAHA see Ms LENA.. i more daring than u hao bu hao... u go reflect reflect ba hehehe....
Short note:
Remember what u promise Mr Utan....
Tuesday, September 05, 2006'♥
My TAI TAI DAYS...
Tmr mark the last day of my slacking cum tai tai day... I'm starting my TEMP job on THURS... arggggghhh... kui wo plan hao hao next week de activities le.. there goes my tim sum treat there goes my sentosa outing there goes my gym... but on the other side.. i need the money la..hahaha.. Will be working at PARKWAY PARADE.. at one of the office above..so if ur there.. pls find mi for lunch or dinner ba.. i'll be more than willing de lor hehe...
My whole body is aching mainly caused of the gym session yest...see la seldom exercise huo gai rite? but i tell u hor..the gym has moved to the swimming pool there..and its renovated until SOOOOOOO NICE and professional lor... so many treadmill, cycling machines etc and the view is the swimming pool below so damn nice lor... Me and SHAOMEI spent three hours in there...at the end i burn off 650 calories woohooo...and i weigh myself my weight drop le lei ever since i started back on my medicine and exercise...i will jia you de hahaa...
Been shopping alot recently.. i feel like a tai tai lor.. total i bought two dress, one pair of heels, one top, cosmetics etc.. and delcared BROKE le..haha but its nice shopping.. the feeling is damn shiok lor to get something u like... Went to fix my cam oso.. and there say the charger is spoilt.. have to wait one week hopefully its free lor..
Today mit up with my beloved cousin...we went orchard and shop around...we went to this CENTRAL CAFE.. its hongkong cafe style...and we had instant noodles.. super disappointed lor..i tink i cooked better luncheon meat than them...haha..then we shop around and chatted.. coz my leg sibeh pain buay tahan lor.. SHop until halfway agency called mi to go back office to sign contract... faintz...they are damn efficient.. i just went in the morning and afternoon they found two jobs offer for mi le...i just loved SERENE man haha...
Anyway Ms Han going to her honeymoon with her LAO C tmr....zi dong yi dian..dun gamble so much hor...haha and hopefully u haf an ENJOYABLE holiday..if you know wad i meant hahahhaa..love ya lots..and of coz not to forget our 23 SEP BATAM TRIP... CINDY SEE pls take note of the date tks..
Tmr gonna be another day in town..promise DEL to shop for her white pants for wedding... awwwww i can forseee tired legs....haha.. i tink i need to get some feet massage soon...
HAO BA TIME FOR PHOTOS LE OK.....
Starting from last Sat's KTV photos...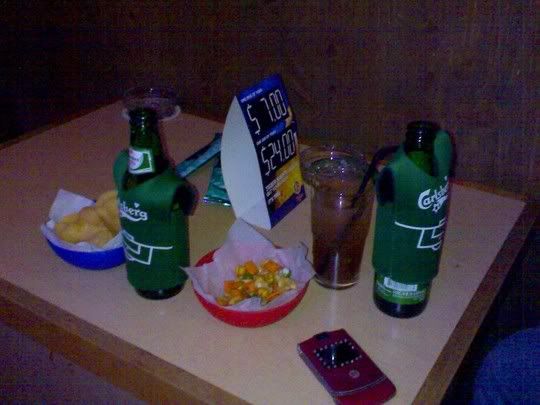 Got see before Heniken Beer wearing Carlsberg shirt boh.. tats one example man...so cute..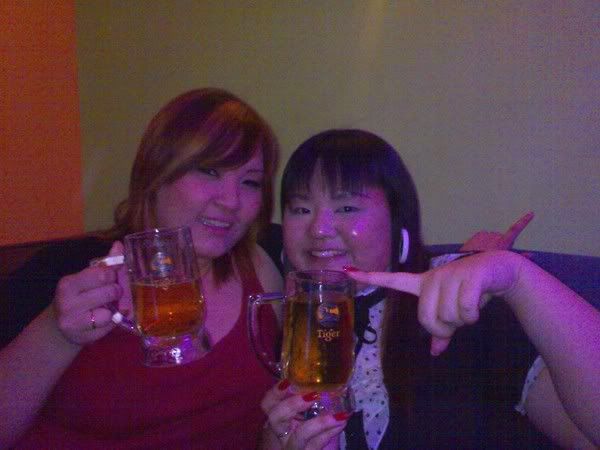 Beer Promoters hehe..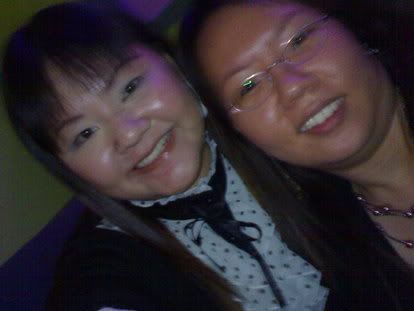 Me and Joewyn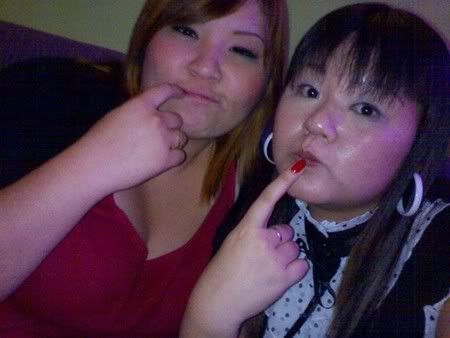 Me and Lena Da jie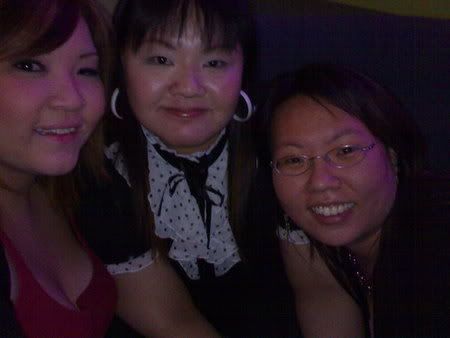 SHE lei...mai siao siao hahaha
MY POLY CLASSMATES.....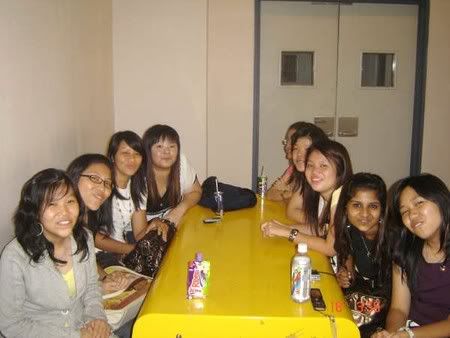 The gers hehe...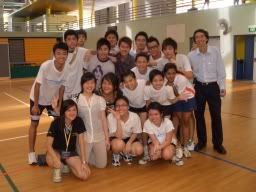 Captain ball match.. and got the third place..hehe..
She is my scandal....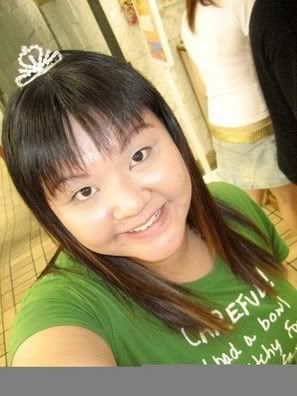 Im a princess for that few seconds hahaha....
Hao le i wan go rest le...so tired man... i got work blues now hahaha....
Short note:
Orang Utan scared of LIZARD.. Goheadbingostan scared of rats...Orang Utan loves honeytalk... Goheadbingostan loves being pampered ...
Sunday, September 03, 2006'♥
I've aged...
Forgot abt my blog the last few days.. coz im simply involved in my own activities.. that always happen when u have finally finished battling the exams...haha.. Last paper was on THUR...and freedom starts right after tat...
Suppose to be back visiting my ITE lecturers with SELYN they all..but rite at the bus stop while im waiting for e bus...Mr R's fren, MR J msged mi and told mi to go down to his co for an interview with his boss..coz previously i told him to look out for any lobangs for mi.. and so i went down..its an admin job..at Caltex House..part time but the slots left are 7-10pm five day work..i rejected it..coz i got cg ma.. haha anyway wanna thank MR R AND MR J...for helping mi..
Fri, spent half of my day EMAILING MS TUPPERWARE..she was at work..and i emailed her at her co's email...so we were chatting most of the day..and then DEL met mi up and off we went to BUGIS village for shopping man...bought quite alot of stuffs for the wedding on next SAT..and im her image consultant haha.. we are going to be the ushers for the wedding..damn excited hao bu hao..but too bad we onli had two hrs coz after tat we went cg...its so fun to go shopping man..even if its onli window shopping...i guessed woman are realli crazy at the word SALE hahaha..nice shopping with DEL and we are going to mit up on WED hopefully..i need to get my dress from the seller...
Sat...which is yest.. went to church as usual...but suddenly tot of singing K...ya ya ya the last time i went is half a yr ago hao bu hao...so long ago..so i mass sms LENA, JOWEYN, AH BER JIE and TRISH....too bad in the end AH BER JIE and TRISH can't join us..but its ok la.. i got time now hahaha...we can always mit up again.. So the three of us went VIOLET...the place which got sad memories..the place when i first got super drunk..the place where in the end make mi quit drinking hard liquour, i lost my whole bag tat time..but anyway tats half a yr ago le...haha
WE reached there ard 10plus...sang and sang until 2 i guessed..ordered beer and the auntie was kind enough to gif us discount..probably becoz we are KENJI's fren....all thanks to him..hehe.. its fun hanging out with them...and of coz there are still 12 pages of songs which we have not sing...so i guessed i need another ktv session soon to satsify my cravings hahaha..
Reached home ard 2plus.. removed my make up , bathe and here i am lying dead on my bed.. i tink i've aged...xiang dang nian i go club until 6am oso not so tired.. now i didn't club onli sing i oso want to die le.. haiz.. SUI YUE BU LIU REN ah.... faintz...i tink i need TONGKAT ALI soon hahahahaaha..
Took some pictures there..but need ms LENA to send mi first.. will post up real soon i promise..there are so many photos which i haf not posted man...hahah i guessed the next entry will be on photoblog haha..
Programmes for this week includes...
Mon: GYM SESSION with SHAO MEI followed by Wedding Rehersals at the CHURCH
Tue: Who can i mit but none other than my cousin, MS Han that ungrateful.. who is interested in getting her top more than miting mi haiz... guess we shld be gg shopping ba
Wed: Either go JB with that SO AND SO...(dun wan say out his name coz he always pang seh mi) or go shopping with DEL then followed by BS at PS....
Thur: Tot of going dim sum with Selyn..must ask her first haha
Fri: CG at TB
Sat: Wedding takes up whole day, then service, then dinner at SAKAE
hopefully the person remember to bring the voucher...110bucks whooohooo
Sun: REST DAY hehehee....
All programmes are subjected to changes and availability of the individual..in case of any emergency..pls contact mi in advance so that i can change my appt..coz u know im a busy person... muahahahah bullshit la..
People..pls ask mi out ok? im a loner.. tks...wo qiu qiu ni meng ba..haha
Short note:
Orang Utan and Goheadbingostan.....wohoooo..