Tuesday, July 29, 2008'♥
Colours of Singapore....
National Day is just next week. 11 Days more to go.
Are you thinking?
Where should you go on that day?


How are you going to celebrate the Nation's Birthday in a meaningful way?


Where can you enjoy yourself with your family on this public holiday?


Where can you spend your public holiday and yet do not need to pay for it?


Well ask yourself the following questions....
Do you.....
Love popcorns?


Enjoy free performance?


Love crowds?


Love Singapore


Love goodie bags?


Love games?


Enjoy exhibitions?


Love Lucky Draws?


If most of the answer are YES? Perhaps you should really scroll down......
Date: 9 August 2008
Time: 10am -5pm
Venue: National Museum of Singapore (behind YMCA @ Dhoby Gaut)
Theme: Colours of Singapore
Admission: FREEEEEEE





Map of National Museum....(click on image to enlarge)

There will be free-flow of popcorns, 1000 Goodie Bags up for grabs, Lucky Draws, Performance, Games, Exhibitions....etc
When was the last time you visited the Museum? Come join us to celebrate this wonderful occasion together.
And most importantly......
YOU CAN SEE ME THERE!!!! haha.....
Quick take out your calendar and mark down the date!!!
More details of the event in the next entry.
Short Note:
The last lap...
Monday, July 28, 2008'♥
"I Miss You"
This was a titled blog post which were set by
X-tin
When X-tin gave me this title to blog about, I thought of who am I missing the most now.
I thought it would be him.
It's been a month... but yet, your memories still lingers.
I went to the ktv last Sat, and sang those songs which you loved.
I heard a familiar ringtone, and I thought you're near.
My friend saw your pic in my hp, and asked me who was that.
My dad borrowed my previous hp, and I saw your msges.
All these, here and there, bits and pieces made me realize are you the one I'm missing right now?
I searched my heart and I thought of all the possible reasons....
No, you're not the one I'm missing the most now.....
Reason being: I've been trained to be independent in the past when I'm with you... I guess I'm doing fine now...
Recently, I've learnt something about women. Why do we always get hurt the most often than man?
The reason is simple:
<<女人最是败的一点就是常常帮男人找解口>>
Gone were the days, of me finding excuses for you.
I think I missed my grandma more than you seriously... at least her love for me is genuine.
Short Note:
you make it easy.....
Saturday, July 26, 2008'♥
Presentation...
to me is a love and hate thing....
I love presentation cause that's when u get the attention of others. It helps to portray a confident self and the feedback session after that (so that I can learn).
I hate presentation cause you need to do preparation work (eg: write ur script on the que cards, memorize your script and make up...), you need to wear formal arrghh think of the climate in Singapore and the anxiety before you present.
Ever since my ITE days till now in Poly... I went through numerous presentation. However, every presentation is different and the anxiety is still there no matter how many times you've been through it.
The best part would be after the presentation.... you can finally heave a sigh of relief...everyone suddenly become very active and happy and better still the reception? hahaha...
Oh well I've just finished my last presentation for this semester last Thursday. Yeah.. now left with an event and another project to complete and main exams.....LAST LAP liao..wohoooo
Some normal school days photos...



In the project room... with Ms Off's Armpit beside me...
He is just trying to act studious.....
Faiz and Reuben... the members from Bi Society Club...
Me and Iyzan... so long ago... I prefer her new fringe now definitely haha....
====================================================================
Photos of the mock media conference ....
We are supposed to hold a mock media conference in our class, there's reporters(tutors pretending to be), and us the panel members. The reporters are supposed to ask us about the event we are co-organizing for..... (will reveal it soon, anyway Uncle Leonard u got it rite the other time haha)
The four of us... in the toilet touch up our makeup...
The whole class.... I'm falling in love more and more each day... puiii this sounded fake haha..nah we are MORE bonded as the time passed by....
Girl's power....
There's no photos of the conference itself... however our tutor has record it down on video...so now we shall wait for her to burn us a copy....
Before the event, I actually act as a emcee for Marcus ("Bi-Society talk) ermm..inside joke haha...
The chairman from Bi-society... he is so gonna kill me if he sees this...
Post-celebration.... Cheese fries and bubble tea yeah our fave snacks from my hse downstairs...
===================================================================
End of in-school attachment presentation....
My team mates for the attachment project....
The three girls....
I thought this angle looks funny.. it makes us look short haha...
Lao niang after presentation...
Me and shorty yx opps...
With our
EVERYONE, SEMUA ORANG,
大家
, LUN ZUN EH LANG
Supervisor..he is forever so funny...working under him was fun...

Awwww... I missed the attachment session in school. Hopefully, my "real" 3 months long attachment in Sept would be that fun too...
====================================================================

Pretty Random....


Ever since the first episode of "Perfect Cut"
《一切完美》
, I've been addicted to it. The songs were nice and also it reflects the reality of beauty. Plastic Surgery.. right or wrong has been a controversial issues for many years. In my opinion, I think it all depends on how you perceive yourself and whether others around you accept you. Haha I love the character of Xiao Li most... Cause I can simply relate to the character haha. I don't deny that I'm fat and I'm thankful that my friends around me they didn't discriminate me and accept me for who I am.
If you did not manage to catch the entire series, you can actually catch it

here.


I am so going to watch the last episode.. funny rite I actually catch ever episode from 1 to 12 and I missed the last episode ARGGhhh all thanks to the chilling out session with Shufen hahaha.



Many may love the main song.. but this is my fave song of the show...

==================================================================
I received this in my email yesterday...

Congratulations!!

You have won a pair of tickets to the MTV Asia Awards 2008 Live Viewing Party at Genting International Showroom (GISR).
Ticket collection details are as follows:
Date : 28th July 2008 (Monday) to 30th July 2008 (Wednesday)
Time : 10.00AM to 12.00PM and 2.00PM to 5.00PM.
Venue : Marketing Department, 23rd Floor, Wisma Genting, Jalan Sultan Ismail, 50250 Kuala Lumpur.
Contact Person : Ms Elaine Ong (Extension 6638)
Please take note that:
1. All winners must present their original IC / Passport as proof when collecting their tickets.
2. Judges' decisions are final and no further correspondence will be entertained.
3. Each winner is entitled to one prize, consisting of 2 tickets to the live viewing party.
4. All prizes are not transferable, exchangeable nor redeemable for cash.
5.
Tickets not collected by the deadline above will be forfeited.


Perhaps I should thank Uncle

Leonard

f

or this...

One fine day, he asked me to vote for him for the contest... So I went ahead and sign up for it, since I can't mimic my idol, I decided to try my luck on the quiz... tadah!! I won it....and so did Uncle Leonard

However, we are still not sure whether accommodation is provided...and the collection whether Shufen are able to collect for us since she's going to KL this week.

So we are still deciding whether to go anot...haha. We shall see what's the reply from the person-in charge first.



===================================================================


Today's short note would be a bit LONGER:




Sometimes when we are too familiar and close with a person...We tend to:
Take the person for granted
Forget about their presence
Hide our feelings towards each other for the fear of offending the person
It's time once again to show our tender, loving, care project to the ones we cherish and love. It's not that we dun care, it's just that we never express it out....

Oh ya lastly... I'm a HAPPPYYYYYYYYYYYYYYYYYYYYY girl today!!!!

Tuesday, July 22, 2008'♥
I have no idea....


Why I'm posting this email up. But when I was reading this just now, I'm laughing my ass off.. Haha.. Super hilarious if you know my supervisor in person.


Remember I'm being attached to this recruit agency in my school for three months? Oh well I've finally completed it. This Thurs, We are actually suppose to give a presentation of our research, that's why there's this email.


Now here it goes.....





Hi Guys,
I have no idea why at this time there are still people asking me about the dress code. I am getting worried because at your age you guys seem to have memory retention problem.
Let me repeat again. EVERYONE, SEMUA ORANG, 大家, LUN ZUN EH LANG, will wear office wear. This will include those also not presenting. Guys, Tie please, Ladies, office skirt preferably.
I will be very disappointed, depressed and angry to see anyone trying to make a bold fashion statement in a official event.
Can you forward to all your KSCC friends please….
Thank you and best regards,
XXX
XXXXXXXXX
Haha... He really makes my day.....LOLZ...
One more presentation to go.....Can't wait for it.. Today's Media Conference was fun. Will upload the video when my tutor burn us a copy.
Short Note: Just for laugh
Sunday, July 20, 2008'♥
I simply love the new cinema!!!
Yesterday evening, I met up with gong gong Shufen after my project discussion, it's been awhile since I've met her.
Blame it on the tonnes of projects...-____-
Anyway we went to this place, and it's my first virgin trip there... Oh man I felt so sua khoo seriously, and I can't believe Ms gong gong Shufen is more familiar with the place than me. yawnz.
Here's where we went yesterday.
Ladies and Gentlemen, may I introduce, the first indoor ferris wheel in Singapore.......
Oh no in case ur wondering... no i nv took it... cause abit kiddish rite? hahaha anyway for those interested its 11.50 for two pax...
http://www.downtowneast.com.sg/shopper/guide.aspx
you can find more info at downtown east website.
It's dinner time... and everywhere was flooded with ppl... it's so difficult to find a place to have dinner without queuing.
So in the end, we just settled for this eatery. Erm.. it focus on healthy food? Which I dun think suits our taste haha. Yeah and I can't even remember the name....
Shufen's spaghetti @$4.80, it must be delicious.. cause she finished it all...
My dumpling noodles@$3.80 , the dumpling made from lettuce and carrots? I only ate the dumpling in the end.....
Oh ya there's this nice bubble tea recommended by Shufen, it's called Cup Walker...and it's really nice...loved the milk tea... Do give it a try if you happen to be there.
I had such a strong craving for movies last week. I also dunno why. Besides
Nuffnang's
free movie screening, I think it's been a long time since I've stepped into a cinema. Lolz.
Of course it's another first time for me to watch movie at Ehub! Do you know what's the most amazing thing I loved about the cinema?
The lecture style
TABLE
... oh man.. I felt like I've entered into a lecture hall. I loved this concept very much... No more holding POPCORN throughout the show!!! Yeah man.. Kudos to Cathay for this nice idea!
And since, it's still early and there's no one in the cinema yet.... The cam-whoring STARTS...haha..
Some disturbing scenes below... BEWARE...*due to my very sickly not enough slp face*
Happy...
Normal...
Smiley...
My forever the same pose...
Kissing... opps.. hopefully her dear dear dun see this haha..
Oh ya.. A puffer fish besides me....
Quirky pose...
And lastly... Yours truly... the sicky version haha...
Oh I realized I totally forgot about the Movie!!!... haha judging from the packaging of the popcorn you would have guess which movie we watched yesterday night.
Yeah.. You got it... it's "THE DARK KNIGHT" With so many raves and good comments about the show, how can I missed it rite.
The show is plot nicely, the batman is "MAN" enough, Heath Ledger really did a great job, a pity that he's gone forever, but I think his character as The Joker will always remain in our hearts. And believed it a not, it's my first time in my entire life watching Batman, before that I can't even bother to know how did Batman exists. haha.
So for those who haven't catch it, do go and watch it and it definitely worth the ticket price.
====================================================================
After eating the flu pills yesterday night, I felt better this morning. Therefore the National Library Book Sales is a MUST GO.....
Met up with Ah Yap and off we went to Expo hoping for some nice books at cheap deals....
The annual National Library Sales starts now....
Many Many Many books.....
Many Many Many people chionging for the books... OH MAN...
While we were digging half way the emcee announced that instead of $2 per book, the offer would be $2 for two books...which meant $1 per book... Oh man...everyone basically went crazy haha
Most of the good books were being dug out by people eons years ago... it's difficult to find books to our liking at the wagon... So me and ah Yap targeted those on the floor or in the basket where ppl dun wan anymore. Yeah sibeh cheapo rite... I also think so but bo bian lei... haha...
Our loots !! We both bought four books each...it's precious to us orite.. so difficult then find good books... Oh ya out of the two books we both bought Cookbooks so stay tunned for some cooking lesson with us haha.
Sad to bid my weekends goodbye... it's gonna be so busy with two presentations, I'm having Monday Serious Blues.....
Short note:
Love on hiatus....
'♥
Stage 2...
I'm old... it's a proven fact...
I ran in the rain yesterday with my classmate as it's supposed to be our final two rounds.
After the run, I felt miserable. I kept wanting to sneeze but nothing came out. Tears kept rolling non-stop like a tap.
Maybe it's due to my low immune system recently... (late nights plus stress) I felt weak.
This afternoon, I went for my project discussion. With the same effect on me, I wasted 1 2 3...... more than 15 tissues? And the best part was...
Marcus was affected by me too. How? maybe he was too near me hahaha...
So the both of us looked stupid with tissues stucked in our nose. For my case worse, one for nose, one for eyes.
The feeling was shit. Lousy...tired.
And now, I'm in stage two where mucus just won't stop flowing...
I just ate my two "flu" pills and I thought before the drowsiness kicks in I better upload my pics into my comp first cause I'll be too tired to do anything tmr....
I hope, I seriously hope I won't be sick or down with fever. It's gonna be a busy week this week. Arghhh..
AND I WANT TO GO TO THE BOOK FAIR AT EXPO tmr's the last day damn damn damn!!!!!!!!!!!!!!!!!!!
SO pls.. my body.. zheng qi yi dian ba......
Alright.. my eyes gonna shut soon...
Good night everyone, stay healthy...and AVOID THE STUPID RAIN!!!!! -____-
Short Note:
Sick Sick go away... dun ever come again
Friday, July 18, 2008'♥
TGIF.....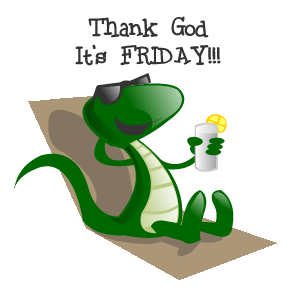 YEAH
Thank GOD it's Friday!!!!!... It's been a long long week and it's gonna be tougher next week and the many weeks ahead.....yawnzz..
Whatever it is. Finally it's Friday.. Weekends are just 24 hours ahead. I am so going to take a breather even though there will be project discussion tmr.....-_____-
No I should be more positive..coz after project I am going to watch MOVIE!!! Yipeee...
I need to get my beauty nap now... going jogging later with my classmate and cousin again...yeah!
Good Nite...
Short Note:
busy helps to eliminate hurt......
Tuesday, July 15, 2008'♥
The last piece was found....





I broke a glass just now; I was shocked at how loud the sound was.


Somehow, it woke me up.


Today's the 7th day.


7 days ago, I've heard the same familiar sound but it was softer.


It came from within me. I searched for the source of the sound and I realized it actually

came from my heart.


I started searching for the broken pieces; pretend that nothing has happened at all.


I might appear to be well but my heart was feeling unwell.


One by one I picked them up and it took me 7 days.


Today, I found the last broken pieces.


This is never the conclusion that I've expected. Don't ask me what happened, cause trust me, I

have the slightest idea of what was going on too.


However, it turns out that I've chosen the wrong tactics.


As for the broken pieces, I would not stick it back together.


I'm sick of the process of searching for the lost pieces cause it's tiring.



And I'm afraid of breaking it again. I really do………
Short Note: Will you cheer me up? A little cheering up will do no harm....
'♥
25 Signs that You're Old....


Read it from a forum just now...

1. You prefer to stay at home more than going out
2. Having sex in a twin bed is out of the question.
3. You keep more food than beer in the fridge.
4. 6:00 am is when you get up, not when you go to bed.
5. You hear your favorite song and it's from an oldies radio station
6. You are concern with news like "Inflation, Bird Flu, etc"
7. Your friends marry and divorce instead of "hook up" and "break up".
8. You go from 130 days of vacation time to 14.
9. Your dressing gets simpler or you don't even bother to
10. You feel disgusted with youngsters and their immature actions
11. Older relatives feel comfortable telling sex jokes around you.
12. You don't know what time does pubs and clubs closes at
13. Your pay remains the same, but your commitments goes up
14. You feel that you need a pet
15. Sleeping on the couch makes your back hurt.
16. You take naps. Constant Naps
17. Dinner and a movie is the whole date instead of the beginning of one.
18. Eating a basket of chicken wings at 3am would severely upset, rather than settle, your
stomach. Indigestion is the word
19. You go restaurants for SET MEAL or those on PROMOTION
20. You feel like running to the word "SALES"
21. You actually tried to be the first to get up the bus every morning
22. "I just can't drink the way I used to" replaces "I'm never going to drink that much again."
23. 90% of time spent in front a computer is for real work.
24. You drink at home to save money before going to a bar.
25. When you find out your friend is pregnant you congratulate them instead of asking, "Oh shit, what the hell happened?"
OH man.... Are u able to relate to all those situations? like MOST of it?
Congrats... Welcome to the "OLDIES CLUB"... no worries I'm in too....haha
Short Note:
Being old might not be a bad thing
'♥
Picture for Thought...
Mr Ah D sent me this photo online just now... Upon looking at it... I can't help but wonder how true is the "TAGLINE" hahaha
Instead of harm it became CHARM.... lolz
Self-deceiving rite?
Short Note:
Not funny though, I need more than this

Sunday, July 13, 2008'♥
Hold Your Cards Well.....
There are so much things in my life right now, that I wish that I could go on a short holiday immediately… Put down all matters and just go on a carefree trip…
But circumstances just don't allow it…
Yesterday my cousin from Batam sent me a comment on my friendster. I realized how much I missed him, his family and not to mention top on my list - my grandma. The missing is so great that I always dreamt of going back Batam in my dreams recently.
Sadly to say I simply can't… I had to even sacrifice my weekends for projects.. Life is just so pathetic isn't it?
Though the road gets tougher…it's how you manage it. I read somewhere before and the saying goes like this "Life consists not in holding good cards but in playing those you hold well."
Instead of being grumpy, I decide to de-stress myself away yesterday….in a small corner of Pasir Ris…
Yesh… u know where it is.. if you know me well enough….
The village where all fisherman's of life gathered. – Fisherman Village (Summer Breeze)…
My tool to de-stress... San Miguel= tough pronounciation some says its pronounced as "San Migail", some says its "San Miger"... Whatever it is...it's still nice...
Me and a very stressed and tired face...Told ya.. I need a break soon...
Calamaris.... good companion for the beer...
The chilling out session didn't end until 3plus in the morning.. I need more of this kind of session in between my hectic life now..
Whatsmore...When you had lots of durians in a week(this is only one third)... plus not enough sleep = HEATY...
If you think that's the end... then you're wrong!!! Went for dinner with Ah D at Botak Jones just now...he actually bought durians after dinner for desserts....and you all should know what happened in the end...
Yes I'm super heaty now... better dun provoke me.. I'll bite your head off!!!
Ps: It took me this ______________________________long to realize the word "friend and rank"
Short Note:
7 Sticks....I need a good laugh

Friday, July 11, 2008'♥
"Better In Time"



It's been the longest winter without you

I didn't know where to turn to

See somehow I can't forget you

After all that we've been through


Going coming thought I heard a knock

Who's there no one

Thinking that I deserve it

Now I realise that I really didn't know

If you didn't notice you mean everything

Quickly I'm learning to love again

All I know is I'm gon' be ok


[Chorus:]

Thought I couldn't live without you

It's gonna hurt when it heals too

It'll all get better in time

And even though I really love you

I'm gonna smile cause I deserve to

It'll all get better in time


I couldn't turn on the TV

Without something there to remaind me

Was it all that easy

To just put aside your feelings


If I'm dreaming don't wanna laugh

Hurt my feelings but that's the path

I believe in

And I know that time will heal it

If you didn't notice boy you meant everything

Quickly I'm learning to love again

All I know is I'm gon' be ok


[Chorus:]

Thought I couldn't live without you

It's gonna hurt when it heals too

It'll all get better in time

And even though I really love you

I'm gonna smile cause I deserve to

It'll all get better in time


Since there's no more you and me

It's time I let you go

So I can be free

And live my life how it should be

No matter how hard it is I'll be fine without you

Yes I will


[Chorus: X2]

Thought I couldn't live without you

It's gonna hurt when it heals too

It'll all get better in time

And even though I really love you

I'm gonna smile cause I deserve to

It'll all get better in time





Short Note:

I will sing it soon...



Wednesday, July 09, 2008'♥
Oh man it's zhun...
I saw this test from Joewyn's blog ... Oh man.. some of the ans are quite zhun... Nothing better to do? Read on...

1、哪种情况你能接受呢?早上醒来后,突然发现...

A、发现自己全身赤裸睡在通往学校的路上。

B、隔壁睡着全身一丝不挂的怪老头。

【解答】∶你对异性的要求

A、你希望他能尊重你心里的感受。当你发生事情需要帮忙时, 他能够在身边守护你、温

柔地对待你。发现你光着身体睡着了,马上帮你披上衣服并温柔地对你说「会着凉唷!

B、你是个很重视外表的人,你希望你喜欢的他懂得如何装扮自己,而且必须很有品味,

跟他走在一起要不失你的面子,



最好大家都能对你露出钦羡的眼光,这样的你小心遇人不淑。

(erm...shit.. got

discovered...)

------------------------------------------------

2、你会选哪一种男女朋友?

A、一年只能与他相会5分钟。

B、一年里他分分秒秒都待在你身边。

【解答】∶

A、你选择了一年只能相聚5分钟的情人,天啊!?你真是如此冷漠的人吗? 其实不然,

你如果喜欢上一个人,会愿意与他一起奋斗,即使再苦也心甘情愿,你是个很重感情的

织女。(maybe I've been trained too well liao ever since I'm with him...)




>B、连上厕所也要心爱的他陪伴在你身旁,外表看来好象感情很浓密,但这其实不过是

表面罢了。当你单恋他时热情如火。但正式交往后热情马上就冷却了,可以说是非常善

变的人。

-------------------------------------------------

3、想成为童话故事中的哪位女主角?

A、大家叫都叫不醒的睡美人。

B、最后被大野狼吃掉的小红帽。


【解答】∶你的失恋型态为何?


A、你的个性相当内向,即使你已经将告白情书写好了,还是不敢寄出去。 结果准备送他

的巧克力都放到过期了。只敢远远地看着他,整天胡思乱想。再不行动的话,真的要失恋

了。 (eh dun see me so talkative.. when it comes to love.. I'm damn shy lah..

it's so trueeeeeeeee)

B、只要你喜欢上某人,绝对会马上告白,而且还整天跟着他,

甚至自告奋勇要照顾他的生活起居。也不管对方对你是何种感觉, 只要自己喜欢就放手

做,这样小心会被对方讨厌。


-------------------------------------------------

4、如果你会选哪一个?

A、吃食人鱼大餐。

B、让食人鱼请客。

【解答】∶遇人不淑的可能性

A、你是个头脑相当清楚,不容易被旁人左右的人。社交能力佳。 个性也非常随和,马上

就能跟任何人打成一片,不过,


你绝对不会让自己掉进危险的环境里,很懂得要如何保护自己。

(Cool I like this!!!)




B、当有异性要追求你时,你的外表也许会故意装成一副有所矜持的样子。但其实你的心


里早已非常雀跃。等对方再灌点迷汤,你就会飘飘然,最后完全忘了自己的立场而任人


摆布。

-------------------------------------------------

5、你宁愿选择以下哪一种情况?


A、每次男朋友只要看着你的脸,就会噗嗤大笑。


B、你只要一看到男朋友的脸,就会忍不住要捧腹大笑。


【解答】∶阻碍恋情的情结

A、你对自己很没有自信,你是不是经常在问自己「怎么可能会是我。 对于爱情的态度相

当消极,就算有喜欢的人也不敢向他告白。其实每个人都有他自己的长处,你要乐观一

点。

B、你是个个性好胜、又自信满满的人,根本不把与你相同年龄的男孩子放在眼里,总觉

得他们很幼稚,其实你有一点恋父情结倾向,会喜欢上老师或学长。将来会和年长男性

谈恋爱。(yeah.. now you all know why I LOVED OLD mans haha.. say bye bye to same

aged guys ba)


-------------------------------------------------

6、你们第一次约会的时候发生了什么事情?

A、他的裤子掉了。

B、你的裙子掉了。

【解答】∶约会时发生的失误状况!

A、你是不是每次约会时,都不知道该穿什么衣服好呢?他喜欢红色但今天你的幸运色

是蓝色....,每次都犹豫半天,还是做不了决定。所以每次约会都迟到,小心哪天他不等你

了。 (ya ya ya so trueeeee.. he always scold me for going down so late haha)


B、你是个相当自我的人,从来不在意他人的感受。明知他喜欢复古的打扮,你却将自己

打扮成庞克女郎赴约,让他觉得好失望。如果你再这样下去的话,他可是会离你远去的

喔~

-------------------------------------------------

7、以下两种情形,你会选择哪一种?

A、一个星期都动弹不得。

B、整整失眠一个星期。

【解答】∶你是自由恋爱派?还是相亲派?

A、你是属于相亲派,因为你很怕麻烦,觉得靠自己找对象不保险,万一被骗了,受伤的

人是自己,透过相亲的话至少能掌握对方的状况与家世背景,遇人不淑的可能性就可降

低。


B、你是标准的自由恋爱派,认为只有自己才最清楚自己喜欢什么样的人,你会努力地寻

找人生伴侣,就连睡觉作梦时也在想这件事。一旦发现理想对象马上展开行动,掳获他

的心。 (now you all know what I dream every night?)

-------------------------------------------------

8、你会选哪个?

A、你上厕所时被他看到了。

B、他上厕所时被你看到了。


【解答】∶找出你的色情程度


A、只要一看到杂志上的色情报导,或是看到电视上的一些亲热镜头。你就会不自觉地脸


红害羞。在异性眼中的你是个纯情派,但其实你早就有过这些亲热体验,只是不说出来


罢了。

B、随着年龄的增长,你对于这方面的事会更加感兴趣。你会看相关杂志、书籍吸收知

识,所以难免会被人误以为你非常好色。但其实你只是知道而已,却从未有过这方面的

经验。

(Shit, this is so damn true.. I'm not horny hor.. I'm just a curious young girl haha)


-------------------------------------------------

9、一定要选其中一个当男朋友的话,你会选谁?


A、身高40公尺的超人。

B。身高15公分的一寸法师。


【解答】∶会跟什么样的人结婚呢?


A、你的未来老公,应该是个值得依赖的人,个性稳重、能保护软弱的你,他的年纪应该


会大你很多,且事业有成,足够让你拥有幸福安稳的生活。

(OH man...same theory.. I loved OLD MAN haha)


B、你的未来老公会是个可爱的大男孩,有点小任性,喜欢向你撒娇,你就象他的妈妈一

般地对他照顾的无微不至,他的年纪应该是比你小。


-------------------------------------------------

10、如果你是一个合成的人,你会选择下列哪一个?


A、大猩猩的脸,藤原纪香的身材。

B。松岛菜菜子的脸,企鹅的身材。


【解答】∶你是个花心的人吗?


A、你是个好色女,当男性追求你时,虽然嘴里说不行,但是你的手却紧紧握着他的手。

就算结婚了,若有人想追求你,还是会移情别恋。


B、在其他异性面前你的态度都是非常自然,可以跟他们谈笑风生,难免会让人以为你是

个花心少女。其实你的心中只有他,不会变心。

(Yes, I not flirt hor.. I just friendly ok...haha)

-------------------------------------------------

11、你会选择下列哪一种录影机?


A、只能快速放映的录影机。

B、只能慢速播放的录影机。


【解答】∶你会在何时结婚?


A、你是超积极的行动派,只要找到意中人,就会马上摒除所有的障碍,只想跟他生活在

一起,很有可能在22岁左右就嫁为人妇了。


B、你是属于小心谨慎派,就算已经有了心上人,也不会马上急着结婚。

你认为必须等到彼此了解后再谈婚事,因此可能会错过好机会。

(haha.. the truth is no one wants to marry me?)



-------------------------------------------------

12、如果一定要给男朋友吃其中一种的药的话,你会让他吃以下哪一种?


A、一吃就会放屁放个不停的药。

B、一吃就会流鼻涕流不停的药。


【解答】∶将来你会是怎样的太太?


A、你是先生的开心果,每天都会为家人制造出许多欢乐,虽然你的个性有点迷糊,不过

会是一个惹人疼爱的好太太。



(woohoooo.. coz he likes to FART, oh ya I'm a clown..got party? engage me ba)




B、你有一点阴险,表面上对先生好象唯命是从,但却经常在背地里骂他是大笨蛋,这样

的你很有可能成为恶妻唷!


-------------------------------------------------

13、你会选择哪一个?


A、被吸血鬼吸血。

B、喝吸血鬼的血。


【解答】∶夫妻吵架是什么状况?


A、你是个相当固执的人,一旦吵架了,就一整个星期都不跟他说话,也不会做饭给他

吃,甚至连正眼也不会看他,就象梅雨季一样,会继续冷战好久好久。

(yeah I love COLD WARS)


B、你们一旦吵架了,家里一定是杯盘满天飞,满地都是碎玻璃,你还会大声对骂,不过

暴风雨马上就过去了。骂完后就将东西收拾一下,就好象没事发生般。



-------------------------------------------------

14、你宁愿选择下列哪一种很糗的情形?


A、站在隔壁班同学的面前大喊「给我麦香鱼和小可!」


B、在麦当劳柜台前大喊「我要台北到高雄的自强号两张!」


【解答】∶你的小孩个性如何?


A、你将来小孩的个性非常的乖巧、服从,不过就是有点太内向了,总是给人软弱好欺负

的感觉。


B、将来你的孩子非常活泼好动,对你来说,教育孩子的工作会相当辛苦,你经常要扯着

喉咙骂他们。(yea scold scold scoldddd)


-------------------------------------------------

15、你会选择哪个游戏玩?


A、在火山岩浆中冲浪。

B、撑遮阳伞从高空降落。


【解答】∶你们的休闲活动是?


A、你们都喜欢运动式的休闲活动,平常会相偕去打打网球、游游泳或开车兜风,很喜欢

做户外的休闲活动。



B、你们两人都喜欢室内休闲活动,假日一到就相偕去听演唱会或音乐会,有空时就一起

去看个午夜场电影。
(ya ya old man loves indoor haha)



Woohooo finally ended the test... for my case i tink its 90% zhun... haha.. Do give it a try if you're as bored as me....
Finally Mid week le...however I don't look forward to this weekend..cause it's PROJECT weekend again...YAWNZZZZZZZZ
I need a some booster in my life........SERIOUSLY...
Short Note:
Don't do that to me....
Monday, July 07, 2008'♥
My darling babies.....
Has really grown up....
Awwwwww.. So sweet...
I felt happy when I saw their smiles.....
I missed them both... really hope baby Charlotte's bd celebration this year will not clash with my Event rehearsal.... *prays hard*....
My bu bu qiao... God ma missed you...
Short Note:
They are just so cute....
'♥
The Waiting Game.....
Out of pure boredom,
Xtin
approached me and asked me to set a topic so that we would both blog about it together.
You know when you're in the midst of the rushing project season, nothing just came out of your mind.. cause you're just too tired to think. So I just told her..."The Waiting Game" which was also my current MSN Nick.
Waiting happens in everyday of our lives isn't it?
The moment you're awake,
you wait to use the toilet
you wait for your breakfast to be served
you wait for the lift
you wait for the bus
you wait for the tutorial to start
you wait you wait and you wait... (even as I'm typing now, I'm waiting for the page to load)....
In a relationship there' s more waiting isn't it?
You wait for your bf to wake up
You wait for your bf to call you
You wait for your bf to sms you
You wait for your bf to ans your call
You wait for your bf to meet you
You wait for your bf to fetch you
You wait for your bf to give you an answer on where to eat dinner
You wait for your bf to give you an opinion
and the list goes on....
It's tiring to wait, it's even tiring to wait for an uncertainty. And playing the waiting game is worse....
So what exactly is the waiting game? In my opinion, it's just simply waiting for the other party...
Not everyone can play it well.. Some quit it the first round, Some persevere on while some succeed in it.
Seriously I hate the feeling of waiting....
The vagueness, the inconsistency, the insecurities, the uncertainty will drive a person crazy...
But somehow or rather, I waited two years for an answer... I dare not say I've succeeded cause even with that answer, I foresee there's more "Waiting" to come...
True enough, the waiting game is going to start a new season soon...
Can I persevere on to the next level? Stay tunned for that....Cause for now...
I dare not think far... the road ahead is dark but I will wait for the fog to clear....
Maybe one day.. I will really find the happiness that I'm waiting for all these while....
Yes i meant MAYBE....
Short Note:
time for some couple confession....
Saturday, July 05, 2008'♥
While waiting....
for him to fetch me... I think I should update my blog abit... it seems that I only update my blog on weekends now....
The past few weeks I was introduced to a few new eateries in Singapore... The food was nice and I think I should not be selfish... Good things must share share share right...
Victor's Kitchen...
I've read about raves on this eatery... they are famous for their steamed XO carrot cake and cantonese tim sum. I didn't literally go and search for this place. We chanced upon this place while we were searching for our project materials...
It's just so qiao... we were lost and saw this plaza...decided to went in...and tadah.. I saw it...
Decided to settle our lunch cum tea break there...
Century Egg Porridge... my fave... the porridge were so smooth and thick...yummy I guessed its $3.
The fresh prawn chee cheong fun... Oh man this was really great...the prawn were fresh and springy..
How can we forget abt my all time favourite.. Ha Kow... and Siew Mai...and the famous steamed XO carrot cake??
The food was really nice..and the photos can't do much justice to it.. We went there on a weekday afternoon and it was somehow packed.
Do give it a try if you're around that area.
Address:
91

Bencoolen Street

#01-21

Sunshine Plaza




It's near the Waterloo temple... Opposite Fortune Plaza I think... we were too lost that time...

====================================================================



Top Table...



This is a restaurant run by the students at the polytechnic's Temasek Culinary Academy.
Lecturers from the Culinary Institute of America teach the students, and local professionals chip in to impart their skills.
With a reasonable pricing of $12.50, you get to enjoy a three-course meal... COOL RIGHT...
In order not to be disappointed, it's best to make reservations beforehand...
The day I went there was three types of cuisine set meal for us to choose from.. I chose the Italy Set Meal...
My starters - Fried Calamari, I loved the sauce.. and I nv regret ordering this..yum yum
With two bucks more.. you can order a mock tail, I had a passion fruit one...nice...Ms Eun loved it alot.
If you afraid it won't be filling... u can eat the complimentary bread provided...
Main course- Chicken Leg...
Dessert - Tiramisu... Did I mentioned I just loved this very very very very much....
We are happy customers...
It is a nice place with classy decor and fancy plates.
Also, there is a dress code (no shorts or bermudas or slippers) for adults to take note of...
Overall, a nice dining experience if you do not have much cash to spare...
Top Table

Temasek Polytechnic
21 Tampines Avenue 1
(S) 529757
====================================================================

Nihon Mura
Went jogging with my cousin and mama yesterday evening...
After that, mama said she wanted to treat me to dinner...WOHOOHOOO..
Where do you go when you've just finished exercise and lazy to walk to the Tampines Mall?
Of course its......Nihon Mura...
Mama... the big boss of the day...yipee..
Sushi at 99cents onli!!!...Chiong ah...
Strawberry Oreo Ice cream at $3.50
It's my first time there after hearing raves from Selyn... Well.. honestly... it's not a bad choice.. compare to other sushi competitors whom have already jacked up their prices.. Nihon Mura is a good place for ppl who had sushi cravings...
Tampines Swimming Complex
Blk 505 Tampines Ave 5 #01-03/04 Singapore 529652
Tel: 6260 8197
Fax: 6260 0767



Sinful indulgence the past few weeks... time to run more hahaha...



4D for you??
Short Note:
zzz finally reached...