Wednesday, June 29, 2005'♥
Everyone has a past..its onli whether the past will make u to become a better person..or someone tat is worst.. Some ppl keep commiting the same mistake and never got to realise how many ppl they have hurt.. its so selfish for them to do so..yet times and times they nv learnt the lesson.. for me, i believe in karma.. wad goes around comes around.. i will sure wait till the day u get ur retribution de..
Today my past came to find mi.. a bad past...i was super angry wit a few ppl.. esp the victim whom i tried to help in the end she ruined it herself.. well all the best to ya.. i called martian and told him abt it..thank GOD he stood by my side.. my bodyguard.. well.. i hope i wont get to hear news of the past again...I dun wan to be involve in this kind of childish act liao.. GROW UP PLS!!!! MR PAST>>>
I cannot believed tat i worked my full shift just like dat..without a single complain.. haha and im not tired at all.. maybe becoz there wasnt alot of customers..and the ppl im working with is fine.. today can say is the last day of FISAH liao.. gave her a hug before she left.. haiz.. new in-charge comin in liao..hopefully not from GIODARNO again.. its being condemened le.. and our ANGELS gang are having lesser and lesser ppl liao..onli left mi, citi, selyn, brent and jocelyn liao.. we must be strong.. haha.. Adah and Aaron came and look for mi.. ya nice seeing them its been so long man.. and hope Aaron can come and worked wit mi.. Mr harry potter lei.. hehe..he is so cute....
Glad to hear tat MR NELSON have been transferred to the normal ward le.. tink he is still trying to act cute there.. and his neighbour is an OLD MAN..and our poor SELYN is soooooo tired these few days..can see from her gong gong face.. coz she need to work and travel to the hospital everyday..so MR NELSON when u discharge liao..know wad to do liao hor.. buy her something la... hahaha.. not LEVIS again pls....
Tmr going out wit Monster liao..finally the day has come.. i hope everthing turns out fine.. and we will enjoy ourself... will update u guys abt our adventure de...
'♥
From now on..i shall have a healthy diet..no more late nite supper..no more snacking on fast food..ROTIBOY..and KFC..all becoz of NELSON.. First thing today is to go visit him wit his precious..SELYN..took a cab down subsidies by selyn dear..reached there le.. but our blur queen forget the bed no..so we asked the nurse there...when we told her his name.. she sadi.."oh..its him huh..bed 4.." diaoz NELSON is so popular there.. firstly dun be mistaken not becoz he veri handsome or humourous...becos he is the youngest there haha.. all the other ICU patients were old ppl..
His mum and her fren was there.. but her fren went out coz too many ppl le ba... then lunch came.. porridge and herbal chicken pieces haha.. so blant..his mum fed him..and Nelson was like a little boi.. haha.. Scared him wit ghost story haha.. and he was like "shirley shud up la.. stop it" muahah im EVIL..lolz.. ICU is so boring..no tv no radio.. just machines and still machines.. so Mr Nelson was so boring, he played wit the monitor which showed his breathing and blood pressure.. to draw different shape.. dun blame him he is too boring le.. muahhaha.. from now on he cant eat anything tat is too oily le.. and tink SELYN will get affected soon.. poor him the doctor said he is the youngest to have a heart attack.. coz his heart is blocked by FATS.. Dear monster did u heard tat?? no more late nite supper le hor.. no more oily food..we shall all have a healthy lifestyle..ok ok..hehe
Today my mood was good..i oso dunno y..maybe becoz there wasnt alot of customers..and there is a new ger..we were all trying to be spy.. wanted to test whether is she from GIORDANO..and to our disappointment she is.. haiz.. she belong to the WITCH GANG... this sunday we r going to have a shop meeting.. can shoot out wad we not happy wit..hmm witch u better treat us better..if not....muahahha.. tomorrow gonna work full shift liao.. hope it will be fun too..and hope i will have the strength..hehe
Selyn got her bd present from AHMAD...a polaroid camera!!!! i oso want lei.. although its quite cheap.. last time i got one but i tink its still wit mei qin..haiz.. tink i wont be able to get it back le la.. sad.. if i got a polaroid cam now..i will sure take alot of pictures wit monster and paste it in my room de.. *hint Hint* who wan to be the kind soul?? lolz.. we took a pic in the store shall upload it when our dear ger finish scanning...
I missed monster again.. two more days and i can mit him liao..already planned our itineary..he is like following mi here and there..sorry hor.. going to gif monster a surprise..!!!!! hahaha.. orite..tired le.. gonna rest early tonite.. but nonetheless i need a monster chat to start my day hehe...
Monday, June 27, 2005'♥
Was browsing through the friendster of my old classmates in ITE..times flies and we have graduated almost a month le.. everyone seems to be leading a different life.. so busy.. hope tat we will have a gathering soon.. i realli missed them..
I worked morning shift today.. witch work half morning..luckily onli see her for a few hours.. felt peace in my heart when she was not around.. things were ok..until SELYN told mi tat NELSON is sick..at first we tot he was joking or faking..but in the end the mum msged her say..they are calling the ambulance.. omg.. we were both like "SHOCK".. in the end manage to find out tat one of the blood vessel of his heart is blocked..and he went through the operation immediately..and now i tink he is in ICU.. SELYN is trying hard to fight back her tears.. she is strong.. but eventually she broke down.. passed her the tissue..tats the least i could help her now..
Eventually i oso cannot tahan liao.. was folding clothes and thinking back how i know NELSON all these.. he is so young.. I pray to GOD he will recover soon..and nothing will happen to him de..Indeed life is fragile..better live life to your fullest.. forgive and forget..
Monster called mi when he fnished sch.. he was sleeping in the bus..and he knocked the window of the bus.. my first reaction was..is the GLASS ok?? tink our MR MONSTER was kinda of shocked to hear tat.. lolz..he is so gong gong de.. but i loved it..haha..
Might visit NELSON later at nite wit SELYN..depends on the number of visitors allowed and the visiting hours..if not i shall accompany her to go tmr.. after all i worked afternoon shift.. SELYN u must be jian qiang ok..im always here for ya de...
Sunday, June 26, 2005'♥
If you could see me rite now.. u would be looking at a pig gorging on a piece of mango cake... lolz..yeah im getting fatter and fatter each day.. die liao.. need to eat medicine liao haha...TKS to mummy who bought it.. argggghhh
Felt veri sick these two days.. got sore throat.. sianz i hate sore throat lor.. Yst after church met Jocelyn.before meeting her..i was stuck in the gong gong mrt dunno for how long lor..tink ard BUGIS there got accident.. sianz.. dunno how lonely i felt there..ppl got frens to talk to...and i had none..so onli can communicate eyes to eyes with the baby sitting in the stroller opposite mi..guess the poor baby will have a nightmare yst nite hahah..
Met her and we went to fill up the application form at ROTIBOY..actually more of accompanying her lor..coz i tink they all know i still working at FOX lor..so paiseh..then went back to FOX to tell WITCH i wanna change OFF day.. now DEAR u know liao la..actually its mi go and change de.. touched ba..then we went to the nearby MAC teach her on her project..ITE grad teaching POLY lei.. li hai ba..lolz.. coz she know i took ENT before ma..so helped her in her MARKET RESEARCH project.. lolz..going to died of LUNG CANCER.. coz there so many ppl smoking.. its like HAZE lor.. but nvm la.. im a good ger ma..help must help all the way lor..hehehhe...
Today worked Afternoon shift..sianz..see witch whole day.. but she ok ok la.. coz i always siam her de..she taught mi how to do display.... haiz then towards closing something happen..dunno how to explain here.. but its not my fault and citi fault lor.. wadever we oso heck care abt her..then when going home le WITCH came and talked to us..like act friendly..say "wow ur nails so nice ah..u go manicure ah.." idiot oso will know its so BLOODY FAKE lor.. pui..
I miss my monster alot.... and too bad thur selyn cannot off le.. actually we are tinking of fetching our bf together de..but haiz..alll witch's fault..lol... going to watch initial D wit monster.. and its been long since i hugged my BIG MONSTER LE>>MONSTER i LOVE YOU>>>>
Saturday, June 25, 2005'♥
Saw this game from the forum..and i tink its cute..give it a try ba...
The LINK (Draw a PIG)...
http://drawapig.desktopcreatures.com/gallery/large.asp?id=541704&p=0&hof=1&q=personality+test

My RESULTS....
Toward the top of the paper, you are positive and optimistic.
Facing left, you believe in tradition, are friendly, and remember dates (birthdays, etc.)
With few details, you are emotional and naive, they care little for details and are a risk-taker.
With less than 4 legs, they are insecure or are living through a period of major change.
The size of the ears indicates how good a listener you are.
The bigger the better. You drew medium sized ears, you are a good listener
The length of the tail indicates the quality of your sex life.
And again more is better! You drew small tail :)
Lastly this is how my PIGGY LOOK LIKE..hahah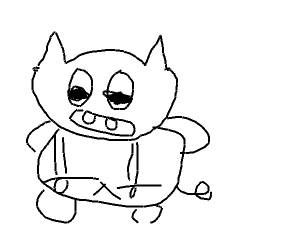 my pig like suffer from depression like dat..so ke lian..haha
'♥
Had a great time working today.. maybe its because Fisah is the incharge these few days..the week just seems to passed veri fast.. stupid lor SUN have to see witch liao..and next week im STUCK WITH HER..Fisah told mi a shocking news today.. is tat SHE WILL BE TRANSFER to BUGIS starting from next month..which is a few days more..OH MAN!!! tats the WORST news ever.. stupid witch told her yst after the meeting..guess witch must be feeling damn shiok now rite?? Still so fake go and ask FISAH..so how are u feeling..will u be sad?? WTF..can she more FAKE?? hate this kind of hypocrite WOMAN..
Tink its time for mi to change job liao.. maybe i will tolerate one more month..but the mean time im looking for jobs.. hate this period of finding and going for interview.. wad to do..MONEY IS IMPORTANT..Hope to find an admin job this time round le.. just now saw KELINE..and she told mi she working as an admin asst.. its like so many working as admin.. if they can do it y not me?? decided to gif it a try and gain some experience..oso the pay would be higher i guess ba.. not confirm yet see how ba..
Im living in confusion now.. so confused abt so many tings.. relationship wise..as wad cindy blogged.. i need a book called.."Book for the dummies GF..100 ways to be an UNDERSTANDING GF"... anyone got this book can lend mi?? tks for the encouragements from all my dear frens.. i love u guys..
Tmr will be a better day... I guess....
Friday, June 24, 2005'♥
Nt a good day for monster yst... not a good day for mi either..
chat wit lao chek on skype yst.. so long nv talk to him liao.. tks for all the advise u given mi.. and most importantly tks for making mi laugh like a mad woman..cant stand u lor..pls be serious and find a GF..so tat u wont be so lonely until siao...haha..and u say wan treat mi go dinner de hor.. so next week hor dun jia jia run away..
Been listening to this song...
别在伤口上洒盐
好久不见 你瘦了一大圈 苦笑的脸忙而累
你说好男人 绝种了 爱一年往往要伤个三五年
你拒绝再看见晴天 却总问离快乐有多远
爱的平衡点 小心拿捏
该醒的时候 你却还想醉 最后只有往幸福门外退
别让昨天在你伤口狂妄的洒盐
一碰就痛 一想就悲 爱一遍教人老了好几十岁
别让昨天在你伤口狂妄的洒盐
冲掉心中爱的余味 再活一遍
那种人不值得留恋 那些爱拖一天错一天
相爱的情歌 你听不厌
相仇的局面 你又躲不远 你步步的往自由门外退
怕寂寞的人在城市中相爱 你要勇敢一点点
Thursday, June 23, 2005'♥
I turned back hoping to see him...many times..., it was onli a false imagination.. i tell myself.. this is wad we call false hope...or is it wad we call longing?? he will nv come....
爱情不能作比较
车子里收音机 空气中还飘着雨
在这个深夜里 你应该在他那里
有多久没再遇见你 房里没了你的气息
而我终于扔掉了你给我的所有东西
* 我刻意填满了 生活里每寸空隙
我知道不容易 但我仍试着继续
听说你比从前开心 我还能有怎样的情绪
除了祝福 我不想再多说一句
# (别再说) 他很好 他多好 这些我并不需要知道
再难忘掉 多狂烈的拥抱 这回忆他怎么给的到
Repeat *
他多好 和我不同的好 最后是谁不重要
因为我不要 你拿他和我作比较
(因为我知道 爱情不能作比较)
就算是 今天还一个人依靠 明天谁又比谁好
爱看不到听不到怎能做比较
Repeat #
希望你知道 爱情不能作比较
'♥
A day just passed by like this.. today had been not a bad day..initially dragging myself to work..
But everything went on fine.. Brent helped mi to buy drink today when he was out for break..after tat wanted to pay him back but he dun wan he say he treat mi.. hehe so good of him..will treat him back when i got money de..Poor him..he's sick and still need to work so long today...Things got better when Jocelyn came..we joked and joked..and she offered to give mi her DOROTHY PERKINS VOUCHER..yeah yeah.. i love it lor.. at first tot she veri ah lian..then i dun like her de..now better liao..coz she came and talk to mi first haha..moral of the story dun judge a book by its cover wor..
Lena came and find mi at my workplace..thks ger.. and she bought a top and a skirt.. tks again.. hope tat she will feel better by going shopping..hey ger dun tink too much k.. things will be better de..and tks to her after she find mi..time seems to pass veri fast..and it was closing time..and as usual we will take all the clothes we wanted to buy and go and try...lolz i tink ive spent too much on clothing this month liao must save save abit...
After work.. was supposed to go home..but to my surprised..FAB came and waited for mi outside my shop which i didnt even know..i got a SHOCK when i saw him..He bought mi a bottle of PINK DOLPHIN..so sweet and thankful to him lei..haha coz he saw it in my blog tat time NELSON is so good to buy mi one..haha He say he wanted to send mi home..but i didnt want so we took a seat at the bus interchange and chatted until 12am then i went home lor..
Been saving money this few days..resulted in waffle for lunch..wanted to save some money..coz i feel dat its gonna be veri stressful for dear.. i feel like a burden to him lor.. coz always he have to pay for mi.. sorry dar..
Anyway im so happy tat tmr i will be working morning.. tks to CITI our poor ger is stuck in JB due to a jam.. but abit sian coz i will be working wit WITCh..arghhh sure cant go home on time de..stupid WITCH...
Tuesday, June 21, 2005'♥
Im abit affected by Jerry's testimonial for mi.. Somehow or rather.. I felt tat i have disappoint him.. maybe i should just wake up and make a decision...
Monday, June 20, 2005'♥
My work schedule simply sux this week.. i will be working afternoon shift almost everyday except my off day and friday...my whole day has been taken liao..cant go out after work..sianz.. actually its ok good la..no need spent so much money..
Nowadays ive been bringing food to work.. if not is i dun eat..need to save money.. haiz..too much debts to clear liao..its been long since ive ate in restaurant liao... slowly adapting my afternoon shift..but ive checked this week i wont be working wit THE WITCH except on sat.. muahahhaha..i loved it man.. go ahead for ur stupid course ba..wanna CONGRAT SELYN on scoring higher marks than the WITCH...jia you jia you.. today we had a great time working.. its fun and there is some incident which mi and huimin cant stop laughing abt. lolz.. its our dark secrets..been feeling veri tired recently.. and my whole body is aching i oso dunno why..
Glad to hear tat Cindy's mum is recovering.. continue to be strong wor MISS CINDY...
ITE sch reopened today.. saw a few juniors..they were surprised to see mi working at FOX..and we talked abt sch.. haiz i missed sch alot..heard tat AH CHUA went back BISHAN to teach and tat STUPID KINGDOM is OUT of the sch..muahahha lucky juniors..not like us kanna toture by this stupid woman..all becoz of her tat we got such lousy grades for ENT..i miss ah heng too..hope the graduation cert will be ready soon.. while working saw alot of ppl today..they r...yao hui (that siao da por wanna act his GOATEE)..haha..KAI SIEW and his gf..YULING, ADRIAN and WENHUI...
Im waiting for monster call now..going to discuss our outing.. hope he wont get kidnapped by ailens this time...
'♥
Im tired...veri tired....
Saturday, June 18, 2005'♥
I had a dream yst... a sweet dream... I dreamt tat i'm getting married in tat dream... trying on the bridal gown.. the smile on my face is so happy.. hehe tink i tink too much le..but i dunno whosse the groom..coz i cant get to see him.. diaoz..anyway wanna congratualte ying ying.. on her marriage wit ROng Hui.. was abit taken aback when i saw their ROM photos.. diaoz.. y so many of my frens marry liao.. im still an old maid...hahahha.. hope tat they will be happy ba..
Did i told u guys i hate lightening?? haha actually is im scared ot it la..ooopz.. today at abt 5am the thunder was so loud.. arggghh i hate it.. therefore im suffering from insomnia again.. going to work soon.. after tat mit dear at clementi and we took bus back to boon lay.. while i go church..guess he must be feeling veri tired and sleepy now.. he woke up at 5am (due to mi) hahaha.. hope he have a good sleep later on....
Friday, June 17, 2005'♥
So fast and its FRIDAY!!!..actually no difference to mi oso la..coz im working too lor..hehe.. just finish chatting with ah zhen.. my sec sch frens..im so excited tat my god daughter is going to come to this world le wor.. her name will be Charlotte Lim..hehe.. when i got my pay im going to buy her winnie the pooh de clothes hehe.. glad tat she is handling well wit her pregnency.. and her..tat husband is still working now..going to find her on tues when im off.. i miss her sooooo much man..
Today working is simply toturing.. cant even see the folding table..coz its always full with clothes...the whole place is so messy..and im the onli one station upstairs.. CITI is sick..and tks to our veri genius WITCH she dun even bother find replacement..Judy came and worked wit mi upstairs.. hehe everytime i see her veri happy..coz she like so carefree de..everyday so happy..good temper.. i see her i wonder when can i be like her so carefree..wont get angry.. so ke ai de...thks to witch so in the end 3 ppl do closing.. poor selyn and huimin.. lucky her mood good let mi off on time.. this morning the witch keep provoking mi until i almost wanted to quit nvm...wo rennnnnn.. let mi find a better job first.. haha.. my cousin mi jie come and find mi..and we chatted veri long.. coz tat time no ppl de..then its chelsia.. she is the best sister i have.. she came all the way down just to pass mi money to take cab.. coz today we r nt suppose to be late for the cg.. so i took a cab from tamp to tiong bahru.. power rite..all thanks to chelsia.. i promise to repay her back when i got my pay.. for five years le.she is always there for mi..and im realli touched..i pray for God's blessings to be upon her...
AH koong oso came and find me.. wooo..with her BF wor.. haha.. ya first time saw him.. at first shy shy de..and keep laughing at little things haha...in the end better le.. can talk talk liao.. heard tat he always came down from his camp to accompany hwee koong when she do project in school..so sweet horz... lolz..ok la.. happy to see tat they are happy together.. i shall gib them my blessings.. jia you wor.. srry today too busy le..cant talk much..we shall go out one day ba.. lolz..
Cg was fun.. keep suaning ban chuan... then after tat went to eat at tiong bahru market.. argghgghhh im growing fatter.. so dear u better oso eat alot hor.. coz yao fei yi qi fei..hahaha..tats our MOTTO.. saw our dear selyn and her bf nelson.. coz she today work afternoon ma..so MR NELSON came and fetch her home.. had a little chat at the bus inter..and tats when i saw eric.. diaoz..gathering in bus inter?? lolz.. haha my bus came first..and its home sweet home le.. tmr working morning shift too.. with Jocelyn and WITCH..y must she be wit mi always?? hhaha.. after tat have to rush to church for service.... diaoz.. like superstar lei rush here and there haha...will be serving gloria jeans.. and sunday working wit selyn yeah!!!!
will u pls stopped msgin mi? its veri irritating... and i realli dun wish to talk to u at all lor.. and dun tell mi u miss mi or wad..coz i dun miss u at all.....
Eagerly counting down 4 days to TUESDAY.. my day out wit monster.. muackz...
Thursday, June 16, 2005'♥
Just reached home and i went to read Cindy's blog.. Anxious to know how her mum was feeling now.. I understand the fear she is going through..the anxiety ..cindy..dun be afraid..lift up ur worries to the LORD.. and i know tat alot of ppl will be with u.. I'll be the first one..if you do feel like toking to someone im here for ya.. Will be praying for ur mum..and ur family.. once u go through this period..everything will be better de..most prob i will visit her on sun or mon ba.. bu hao yi si..coz need to work62
I finally met my monster today le.. although nv say out..but im realli happy tat he came all the way to BUGIS..We went to take neoprint..then press wrongly the frame..but it turned out ok la.. our first neoprint together wor..then went shop shop ard.. found tat those ppl working in FOX BUGIS so shiok de..two ppl working nia..somemore the whole store is like so messy..and still got alot of stocks de.. arggghh i rather worked there lor.haiz..then went to eat at the hawker..two of us share one plate of fried kway teow..alot of store closed liao..somemore veri hot lor..srry la dar all my fault k..lol then we went to OG for the sake of the aircon..shop shop shop.. and last stop MAC for chocolate fudge..after tat is home sweet home.. too bad its onli a short time but i loved the time we r together.. next outing is on TUES hopefully..witch let mi off on tat day..and nv change her mind..
Another day just passed like these..tmr have to work and go for cg.. sat work then go church then do closing for gloria jeans.. my days are so packed..i wonder whether can i take it anymore??
'♥
It's my off day.. i totally forgot abt it..until i going to sign out for work yst.. tink ive been working everyday and got quite used to it liao..so it doesn't matter if i work anot haha..
Yst witch was not in store the whole day..we were like so carefree..except for a few DESTROYER...wad i meant by DESTROYER..they are ppl who came to the shop and gif u tonnes of troubles..they will make u fume wit anger and u want to slap their face but u cant..ONE of the example..is these two sec sch ger..they have been trying their clothes..when im having my break..and they simply hog the fitting room..for abt an hour?? keep trying and trying..in the end we had to seperate them..somemore take the clothes liao just anyhw throw..wa lao..mi and selyn was like cant stand them anymore..in the end oso went off buying nothing..for two days str..tat ger have been giving us trouble.. so now she is CONDEMNED...i will remember her face next time she come..we will close shop haha...
Being in retail line realli mould our patience, our strength (coz stand whole day ma), our teamwork (although onli few of us have la), and our cust svc to customer... quite an experience... and now i tink its ok working there..except for the POLITICS part.. we are going to have a major change in our schedule.. witch came out wit one schedule..while fizah came out too..of coz those with brains will choose fizah de la.. tink she will be fuming mad when she came to shop today..anyway..im OFF hahaha.. see how ba..
Going to mit monster out..finally after so long..tink he veri ke lian..have to bring his laptop along..we simply cant tink of a place to go..coz we r both POOR.. in the end we result in surfing places of interest hahaha..pengz..finally the conclusion is to go BUGIS...at first im worry tat he will be veri tired..somemore come all the way east..but since he say he dun mind..then i can onli say ALL THE BEST le..hehe
Going to the bank later..coz my stupid ATM card is faulty..oso to apply for the debit card...then go to WINGTAI to sign my appt letter..they have been chasing mi...lolz..after tat go mit dar..hope it wont rain so soon.... and hope today will be a good day...
Wednesday, June 15, 2005'♥
The weather is so good..so cooling..and it might rain anytime now.. dun feel like waking up at all..but wad to do do i have a choice?? money more impt wor..im seriously BROKE...asked my grandma to heat up the dinner yst so tat i can bring it to eat at work...coz yst nv eat dinner...bad mood ma..im saving money so as to buy the blouse i saw at ISETAN..been wanting it for so long le.and finally i FOUND it!!!..
My eyes were puffy..yst cried alot..talked out how i felt to my monster..tink he is innocent..oh well depression period..srry dar.. but in the end..we talked out our feelings..and now?? we love each other even more..hehe...from now on i shall play the role of an understanding gf..rite cindy?? tks for talking to mi yst..and im glad tat ur MUM is saved..now onli left ur dad..jia you jia you..!!!!
hao ba hao ba..shall show u guys the picture of the witch..next time see her must stare at her ok??

Tuesday, June 14, 2005'♥
Im F**king Pissed off with tat WITCH today.. srry i know im a Christian and i Shouldn't be so vulgar..oh come on give mi a break.. Christian do have emotion too!!! well im sorry Lord if i sin against you.. I repent rite now..but just let mi continue scolding her for awhile...
I started work today at 8am due to the stupid stock take.. well it was still ok..and by noon we finish everything.. then we opened the shop all tks to WITCH who say if nv open then the sales veri bad.. everyone was like freaking tired and sleepy.. then worked all the way..By 6.30(supposingly we finish at 6.30 everyday if its WITCH's SHIFT) WITCH told huimin to stay until 7pm..she was like damn pissed off too..coz she had wanted to go find her bf de.. so she came and complain to mi.. I went to tell WITCH im going off le. guess wad she told mi..."who say u can go?"...now alot of ppl u stay until 7pm oso(in a bossy manner) Bloody Hell.. cant she say early?? did she even bother to inform mi?? its so last min.. asshole.. so tat means i worked 11hrs?? stupid Bitch..all becoz of her stupid planning of schedule then we had to accomodate to her timing..wtf is this?? simply a moron..
I had my SUPER BLACK FACE on..and after awhile she came and apologise to me.. FUNNY..u tink i care for your stupid apology?? u had ruined my day totally... Huimin's bf was angry with her..oh man cant he be more understanding?? felt like snatching the phone away from her and give him a good scolding..so demanding..eventually she cant take it anymore she CRIED...ALL BECOX OF STUPID WITCH... witch saw it and came and told us we can go liao... trying to act angel now?? srry u totally dun fit to be one.. i said bye bye to everyone.. except WITCH.. from now on my war with WITCH had just begun.. i give myself three months.. if after three months im not happy.. i shall QUIT..and ask WITCH TO F**K off on my last day.. hahha...
Dexun msged mi something today.. and i felt uneasy the whole morning.. was i tinking too much?? or shld i not doubted him?? im srry if i wronged him..im just way too scared of the word LIE anymore...im having mood swing now..today is not a good day for mi..
Nelson bought Pinkdolphin for SELYN and came all the way to our workplace to deliver it to her.., even though she did not tell him abt it.. so SWEET.. sometimes little act of surprise will make a ger's heart melts..it's been long since i felt tat..lolz..It's easy to say but action speaks louder than words..maybe LOVE REALLI NEED ABIT OF SACRIFICE ba..and of coz tks for buying one for mi NEL... I owe u a carton of TIGER ok?? lolz..
Hope tmr will be a better day..afterall WITCH is OFF tmr.. muahahhaa...I just simply love FISA.. oh ya i forgot to mention tat we work in a fariyland...Selyn is Polly Pocket..Zul is Thumberlina.. Huimin is Rapunzel.. Brent is the BIG BAD WOLF in RED RIDING HOOD... and of coz im the queen and Citi is snow white...and not to mention the character tat everyone hates.. SYAH is the WITCH...
Monday, June 13, 2005'♥
It's amazing how human react to different situation... how everyone have differnt characters... some good some bad...
Was kinda of pissed off by my supervisor.. can say tat she is hated by everyone of us..except one person..lol.. she simply have no brains at all..dunno how to plan schedule.. dunno how to communicate with colleagues..i wonder how she become the in-charge de.. Just becoz she worked in Giodarno before?? well whatever..she better not pissed mi off further.. if not i wil show my true colours de...
Was working halfway..suddenly justin msged mi.. "can check results liao" duhz..y he have to remind mi.. arghhh..shared the news wit huimin and selyn..haha wanted them to share this agony wit mi too..oopz..did i mention how EVIL am i?? lolz....actually wads the use of checking?? coz i wont be going poly this yr too..but one thing tat im worried is the GPA..i hope it wont drop.. if dropped i will dropped too..i realli wont be able to take it de.. heard alot of them didnt scored well.. well im crossing my fingers now..so fast and now it realli marks the end of my ITE education.. two yrs just passed by like dat...wanna Thank God for bringing mi through all these while.. no matter wad i will continually praise HIM...
Gonna have a stock take for my outlet tmr.. start at 8am..damn it lor..so early..and we gonna work 10 hrs again tmr.. haiz.. wo rennnnnnn... jess say she wanted to mit mi for dinner.. hmmmm see how haha..i scare i might need to crawl and mit u.. lolz.. wed going to mit my cousin for dinner..and finally thur is my OFF DAY le.. heheehe..im soooo tired lor...
Dar is going to have a hetic week this week, busy wit so many projects..now is 9.04pm le and he is still in sch..poor him.. and he gonna work more days this week due to lack of manpower.. so kelian.. confirm this week nv mit him le.. missed him until no words can express man..hehe so mushy hor..Grandma cooked Nasi Lemak today...once again she asked him to come and eat..i know its impossible de..so nv asked him today..lolz.. anyway dear u missed it..its so yummmy!!!!...
Im going to check my result once the clock strike 10...lolz.. checking it together with hwee koong and selyn.. all the best ba
Sunday, June 12, 2005'♥
Before i start blogging.. wanna send my congrats to HWEE KOONG!!!!.. yeah..coz yst nite she told mi tat she is ATTACHED le.. haha realli happy for her lei.. hey ger hope tat u and ur guy will be together always..stay happy wor..anything im here to listen to ur problems de...
Started working one week liao..can say up till now im quite used to it.. today was a tired day for mi.. maybe becoz i slept at 4plus yst ba..was chatting with my monster.. hehe another zhen xing hua time slot ma.. there was not a lot of customers today.. and with fizah as the in-charge we r quite free to do what we want.. shes better than the other one haha... when the shop closed..we all took the clothes we wanted to go and try.. so far till now ive bought one blouse le.. still got two other being reserved haha..what am i doing man?? go work or shopping?? love siti alot..coz she is so funni..and ahem..im the QUEEN there dun play play hor.. tmr gonna work morning shift tink i tonite need to sleep early le..if not tmr sure PMS de.. will be missing selyn..coz tmr is her offday haiz...
Monster went for a haircut today.. and he mms mi his pic.. woooow its was veri nice wor..he looked younger now.. yaya liao lor..when i get pay i sure go do something abt my hair le..muahha.. Monster went to collect the tickets today at LOT 1.. we r going to a concert at EXPO in JULY wor.. yeah..im so excited abt it.. just simply loved my monster too much le..
Another day had passed...and a brand new begining is starting soon.....
Saturday, June 11, 2005'♥
Today's had been a great day..everything went on quite smoothly.. work for a few hours nia.. forgot abt the changing of timing for the service today.. lucky ban chuan called mi..so end up going to the 5.30 service today with chelsia..
Mum and my grandma came and find mi at my workplace... mum bought mi a top tat i like there..after kanna psycho by mi..lolz..happy lei.. got one more new top le..after tat both of them went to eat at DING TAI FENG..walao without mi man.so sad... after work decided to go find dar..passed him the dumpling that grandma made..meet him behind his shop.. and chatted for awhile nia..miss him so much..coz the day before both of us got some misunderstandings...hehe..but everything is fine now.. wished to give him a hug there..but too many ppl there liao hahah
Im so broke rite now..counting down 18 days to payday..there are so many things i wished to buy:
* A bottle of perfume...Davidoff or Contridiction
* A mascara.. Preferably LOREAL de or ZA Cutie Curls
* A set of bra and undies...preferably from LA SENZA
* Rebond or perm my hair..hey ppl gif mi suggestions pls..
* Many tops and blouse from DP and FOX hahahah
* A pair of heels...
HAHA how i wish Santa Clause is here rite now.. to grant mi all these things... im pratically living on bread everyday.. working life haves too much obligations le..haiz...
'♥
Its been a few days since ive blogged..nothing much happened..except tat im busy working..after working im too lazy to go out..and im sick of this life..hehe
Wanna thanks some buddy who came and accompany..to look for mi..although their main purpose is to LOOK FOR DISCOUNT and buy their clothes haha.. they are..Chelsia, My cousin Mi Jie, Jasmine and trish, wang, kelving and james..time reallli passes veri fast when they came and visit mi lol..
Went for movies wit wang...quite a pretty boring show it is...and after tat go dinner...throughout the movie, i was not myself.. been feeling veri burden abt something... i kept thinking of him...how i wish its we two who are in the movies...
My schedule and he's clashed..when im off he is working if not study until veri late... haiz.. i nv blamed him..coz its not his fault oso...so i tink for the whole week next week i wont be miting him... sad rite?? somemore its our 2 mths anniversary next tue... suan le..i tink if we have faith we can still have other months anniversary rite?? tink my bf is too tired le..he needs some rest...and no matter what u are not lonely..coz u still got mi de... dun bottle up everything to urself k...love ya..
Wednesday, June 08, 2005'♥
How i wished to have a foot reflexlogy session rite now.. arghh.. my feet are aching so much due to the long hours of standing.. but anyway, Tmr is my OFF day!!! yeah finally.. my much long awaited day has arrived.. will be miting dar tmr..
My dar today reached my home at ard 9am.. haiz.. he got lost during the way. and blur mi.. mummy bought breakfast for mi and i dunno.. so in the end.. dar bought two packets of beehoon, one pkt of carrot cake.. and soya bencurd.. duhz.. plus my mum's beehoon.. wow wad a sumptous breakfast we both had.. it lasted till my dinner man.. tks dar for the effort.. after breakfast.. our PC DOCTOR started his work.. wow my PC veri power lei.. got 100plus spyware.. while he fixed my comp.. dunno y i suddenly dozed off.. maybe i too tired le ba.. woke up after awhile...and dar have finished fixing le.. poor him hor.. hahaha...Grandma seems to like dar.. she keep asking him to come tmr to eat the dumpling.. haha..she keep saying tat he look like my cousin KENNY...diaoz... pengs lor..
Went to work with a happy mood.. coz dar sent mi to work.. and of coz today im working with all my good frens wor.. it was fun...now waiting for choo li to join us.. if she were here... it will be more fun.. went dinner with Brent.. he told mi his life-story...wad a complicated background he is from man.. so far other than my frens.. i tink he is the best colleague tat i have there...he nv fails to argue with mi de.. Jo, James and Kelvin came to find mi.. and as usual they brought happiness to mi.. before we knew it.. it was closing time..and they actually wanted to wait for mi.. but i asked them to leave.. coz tmr Jo have to report to his unit le.. hehe.. memories of the past came to my mind.. those times were the happiest when i worked in Happy cup... i surely missed it de... suddenly missed yong shun alot... how good it is if he were there just now too...
Tmr will be going church for the EMERGE conference in the evening.. and i will be serving GLORIA JEANS.. I pray to GOD for strength.. and tat i will not feel sleepy..
Monday, June 06, 2005'♥
Finally manage to gather all my strength and typed this entry... I was sooo tired.. my whole body just cant seems to coordinate...
Yeah i finally started work le.. Worked at FOx Adult.. one of the shops under Wing Tai Holdings.. its located at Tampines Mall...today is my second day..and seriously im damn TIRED le... worked for 10 hours today.. lucky got nice colleagues working together today.. Met Brent for the first time.. he is the one and onli one Male collegue from now on.. Actually got one more guy Darius.. met him for the first and the last time yst.. haha coz he resign.. although this shop is not tat BIG.. but inside got alot of internal conflicts de.. diaoz.. i better stayed out of it man.. recommended huimin and Selyn to work with mi.. haha but the conditions is we must act dunno each other.. today hui min started her first day.. i almost laughed out when i saw her.. but have to act act abit lor.. yeah finally mi and selyn will be working together le.. we will be working till closing tmr yoooohooo.. the job is not bad..except for the standing of long hours.. and oso folding toonnnnnnnes of blouse lor.. coz we have over 3000 diff designs lor.. and when we fold nice nice liao..then those gong gong auntie make it messy again haiz..
Things i like abt this job is tat..im doing what i like.. its not so boring.. can get to mit diff ppl.. got nice music to listen.. when the auntie bought what i recommend i feel a great sense of satisfaction man.. hehe.and most importantly...we full-timers have 5 SHOPPING VOUCHERS of 30% off every month.. so tat means i can shop at DOROTHY PERKINS and TOPSHOP le.. yoooo hoooo.. and oso got staff discount in FOX.. tats my motivation man.. lol.. i would get my first pay at the end of this month.. so no matter what i must continue to jia you wor.. for the sake of money money hehe...
Tmr dar will be coming my house for the first time wor.. poor him have to woke up super early.. he would buy breakfast for mi and my grandma wor.. tink my grandma..will be super happy de..hehe..oso tmr gran will be making rice dumplings le.. those who wan to eat NONYA dumplings.. orders starts now hahah.. yeah dear will be coming to fixed my super infested comp.. haha he sounds so professional just now when he asked mi abt my comp stuff.. lol..love ya dear..tks for sacrificing so much for mi...
Sunday, June 05, 2005'♥
Sad.. my comp is sick again... this time quite seriously ill.. super lag.. wanna open one window and the whole comp is stuck there basically.. so now cant chat in msn le..have to use the web one.. when is my PC doctor MR MONSTER coming to fix my com??
Starting work tmr le.. abit nervous?? abit ba.. coz its not the first time go work le..so abit numb liao.. will be working at FOX MEN and WOMAN..at tampines Mall... so if u guys happen to pop by.. say hi to mi wor.. hope everything turns out well.. sian of finding another job again lei...
Went for the NKF health screening today.. they station in our church carpark.. yeah everything is fine wit mi..except tat im still OVERWEIGHT>>opps... haha and the stupid gong gong nurse.. wrote down my height as 1.57m?? pls lor.. common sense will tell her tat im not rite? somemore i asked her again..and she acted as if im realli tat height.. told the other nurse abt it..and she was shocked to hear tat im 1.57m so she took another reading for mi.. ahhh..now sounds better le.. its 1.68m lor.. tat nurse can go back her kampong le ba...
Read through my planner of last year.. last year this time i was so happily enjoying my holiday although i got attachment but i lived so happily... now?? it seems tat i cant see my future at all.. haiz.. miss monster alot hope tat i wont be working on TUE...coz monster no class tat day.. supposingly to come my hse fixed my com...but now.... haiz..
Lord thank you for the blessing one by one.. i know tat this is the period of testing my patience.. and i shall not waiver or doubt you.. Sorry if i ever do so.. Lord you are my Jehovah Jireh..
Thursday, June 02, 2005'♥
Stomach cramp is driving mi CRAZY.. eeeekss. hate tat time of the month man..anyway today is nt a bad day after all...
Suppose to went for the Shipco Second interview.. but last min.. i rejected it.. coz wads the use if i went down for the second interview in the end i nv got it.. read the newspaper.. and the stupid company didnt put in the URBAN copy into mine.. which is my fav section every THUR lor.. arghh.. saw tat WINGTAI group is hiring sales associates.. yeah.. decided to give it a try wit SELYN..
Wierd building it is.. the lift onli serve 10th floor.. wad a gong gong building..reached there and there is already alot of ppl filing up the application form.. and guess wad Selyn saw her malay classmate.. and after tat i saw my classmate NAHA there.. duhz.. ITE BISHAN GATHERING?? chat abt our lives.. haha great to see old classmates.. The interview was ok.. but too bad i tink they mind tat i need to go church on SAT lor.. but i realli hope to work in DOROTHY PERKINS lei.. den hor.. i can have staff discount to TOPSHOP AND DP.. hehe.. see how ba.. next stop is CAFE CARTEL... the interviewer is a nice lady.. and the timing is flexible..
Went to suntec to find something to eat.. and here i am my third day going to a same place.. went to the arcade and saw my cute little winnie the pooh (refer to ourstory for wad happen).. its stil there.. so in the end i spent another five bucks.. and to our dismay it nearly dropped into the hole.. haiz.. we went to secret recipe for brownies.. yummy..saw kelvin stead..and tks selyn for the treat.. when kelvin's stead presented us the bill both of us were SHOCKED!!! its onli $2.95..duhz.. she so good lei..gif mi discount.. somemore this is the first time i talked to her.. realli thank her for tat.. CAFE CARTEL called us up and told us we are IN!! yeahhhh..tat means im not jobless anymore.. yooohooo.. and we were be working in the same outlet at MARINA.. pls come and duoduo peng chang..hehe.. so excited abt it..
Poor dar something happen to him... must take good care of urself k.. thanks for telling mi whats in ur heart.. even if it means small little things.. love ya alot... and im missing u oredi..its just one day onli..
'♥
Indeed Life is Fragile.. Stay happy and do whatever u want while u can.. dun constraint and refrain urself.. be who you are...and do what u like..
Receive a phone call from Cindy while im on my way home.. She told mi her mum fainted this morning.. I was like.. stunned.. but thank God she is alright now.. She told mi abt her relationship with her two precious.. and i began to tot of mine too... haiz.. A decision like these is realli difficult to make.. I just hope one day.. we can see our two precious together in church.. Hey ger after hearing what u said, i reali feel like crying.. many things are happening in ur life.. and ur still here struggling.. I hope tat u can continue to be so positive.. and bear in mind WAwa and I are always here for u.. if there's anything i can help.. tell mi.. I love ya..
Went out with monster today.. watch Magardasca...oh whatever spelling is that.. its was hilarious.. and we had a good time laughing..but too bad its abit short.. but i still prefer Shrek 2...
For more details abt our adventure.. pls read OUR STORY.. im veri tired now.. seriously.. going to take offering message this Friday.. got discipleship on SAT.. Going for the second interview of the Danish MNC...my schedule is packed tmr again.. been going out everyday until veri late.. coz of all those bo liao interview..anyway im kinda of sian to work in an office now le.. should see how the interview goes on ba.. God I need you to strengthen me.. im realli realli veri veri tired.. i need a good rest..