Thursday, September 29, 2005'♥
HIHI everyone..
Bu hao yi si..lao niang is tmd too busy to update her blog...got alot of pictures wor.. shall update my blog maybe on sun ba....
Or maybe tmr nite or maybe mon nite?? aiyah i dunno la...got too many events le.. anyway hor.. i got a new love lei... hehe dun tell u all..ok la ok la.. mi veri tired le...
Love Kopisoh...
Tuesday, September 27, 2005'♥
MYSELF...
Topic of today is myself.. so pls let mi be self-centred for a day ba...
oh ya before i do so ...let mi post up a pic tat i forgot to do so yst.. pic of mi and two of my best fren....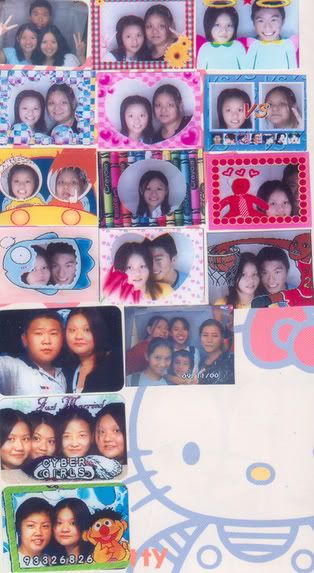 Taken from their neoprint book.. tat was when neoprint machine is still damn popular.. yes ur eyes nv decieve u..there are twins in the pic.. zhen and zhu..one of them got married le.. left we two mi and zhu now still single... we are veri good frens..even now we always contact each other... and this sun we are going out man..yeah cant wait.. zhen brining baby charlotte along.. hahah we are going to take alot of neoprints wor..wit the bubu..hehe...
oh ya. the pic of mi and a guy..is my first bf.. his name is Martian..veri special hor.. up till now still got contact but this guy veri de flirt de..dun see him like dat wor..he got more sex partners then ur fingers and toes add up together.. seriously tat is oso y i broke up wit him...im too young tat time onli stead wit him one week hahahhahaah..but now we still veri good frens wor..
Oh ya totally forgot topic is abt mi and not my fren...hehe.. so now wad do u know abt mi...
"Quoted by one of my ex... no u dun haf any bad pts...."
haha nice try..i did haf just tat u
1. dun dare to say...scared i kick up a fuss
2. too blinded in love
3. sub conciously tink tat im GOD...
haha now lets look at the top five bad pts of mi ba..dun be shocked wor..
1. Stubborn...
2. Petty
3. Moodswing..
4. Sensitive
5. Impatient..depnds whom im wit
STUBBORN...yes i can be one..esp when im rite and ur say im wrong...i can be quite stubborn..i want it my ways sometimes.. expect ppl to accommodate to mi.. maybe coz im an onli ger ba.. but its still nt veri bad yet.. so ppl dun be scared ok..im stil veri loving de..hehe...
PETTY..yeah sometimes too.. but now seldom.. i got go ANGER MANAGEMENT COURSE ma.. lolz.. last time when ppl pang seh mi i wil be angry wit them.. maybe im an onli ger.. so i need attention.. i have lack of security from frens..frens is my everything..
MOODSWING..dun need i say u all oso got kanna before rite... when the smiling face suddenly become the world's most BLACK FACE.. haha but now oso seldom.. wa?? y now all seldom liao.. have i changed to be better?? or is it happening too frequently le haha..
SENSITIVE.. yes this is the most CRITICAL de.. yeah i admit i am veri sensitive..often tink too much le..maybe coz of too many failed relationship..tat i find tat its too difficult to trust a guy.. so u must gif mi a certain security feeling in order tat i wont tink too much..wan to be my bf?? better consider again...hahhaaa...
IMPATIENT...ya to certain ppl.. i cant stand waiting them to slowly strolled by.. go toilet make up so many times... eat one grain of rice at a time.. come on we are living in a fast pace world k???? dun act so slow.. MOVE TAT BUTT OF YOURS PLS!!!!!... this is getting worst.. esp since im working in the bank.. every min is veri precious to mi.. oh no..wad have i become??? a career woman?? hahahah ... when i go toilet i oso must wait until before going lunch..coz im simply too busy at work liao..haaha....
Oh ya dun be afraid of mi k.. im trying my best to change..so far still ok la... im still humourous.. gong gong... ur dear clown... ur entertainer.. a caring and listening ear for ya.. pls dun forget my hp num 24-7 for ya.. heheh...
THE MILK AND CHOCOLATE WAR HAD STARTED... STAY TUNED FOR MORE INFO BA...
Monday, September 26, 2005'♥
Before i blogged.. Let mi warned u before hand..i wil be exposing my childhood pics.. so if u wanna order pls call...1800-iwankopisohphotos thank you.. payment can be made by cheque or account transfer.. orite oso some pics might make u feel nauseous.. so pls refrain urself from vomiting onto the screen..pls run to the toilet..thank you for your co-operation...
<<<
>>>





It all started wit them.. that laoniang came to this world.. how?? i shall not elaborate..if ur realli dunno.. go read abt THE BIRDS AND BEES ba..

well well .. im going to come out le.. so take a deep breath k.....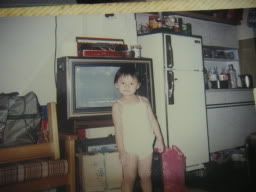 Tada... who say i nv thin before.. neh its mi dun doubt ur eyes..haha all becos of this tat mama was so worried tat she brought mi to see doc.. she scare i got worms in my tummy...and look on to see wad happen...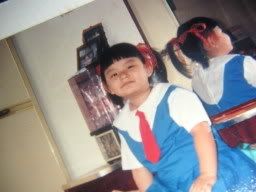 Li hai ba.. totally change figure liao.. tks lei to the doctor..and if my mum got a choice she promised she WONT DO TAT again.. hahahaha.. since then i kept eating and eating... and see wad happen to mi....but i look so cute rite..feel like pinching my cheeks rite.. qu si ba..i hate it last time..hahaha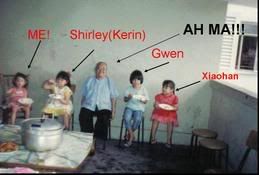 EVEN when i took pics i oso eat eat eat.. i cant stop.. fyi this pic is sent by tupperware so the ME is not mi.. if not u sure faint de..haha.. if u got read tupperware's blog.. u wld know her whole childhood consisted of tearing magazine...wad abt mine?? it consisted of stuffing my mouth full wit food..i always got this mentality tat ppl will snatch my food away from mi.. damn it i tink its the side effect of tat bloody pills..hahahha...

Well well..tupperware lived on the fifth floor while im on the sixth..though we are near we seldom played together..coz she is like a monkey to mi so tiny and skinnny..and last time they always say her buay si tiam one.. so i got my own khakis of frenn.. haha she is so lonely lonely..haha.. and i dun care abt her de..woohooo...as for wawa she is like a gong gong doll sitting at one corner.. i dun like nerds tat time muahahaa....

Grow older liao.. we got contact more.. and all thks to ah de's wedding i tink we got much closer le...we always write letter to one another.. and tat yaya tupperware will yaya her typewritter while im there writing until so xin ku,,tmd hahhaa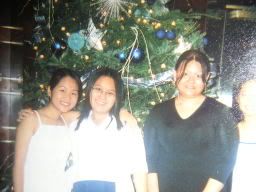 Lol...see la we dun have any dress sense at all.. so er xing.. mind u its Swissotel ok?? seriously need extreme makeover tat time hahaha..

NEXT PLS....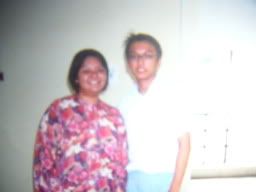 Always hear mi say ah jin ah jin.. tats him lor.. haha of coz i look like an macik beside him.. if u gers wanna know mi.. pls tell mi coz im his jing ji ren.. i tink i will have no more hapy meal from him le..he sure kill mi de hahaha...

Well i went church at 2000 when im onli 16...lets see how i looked like ba....dun faint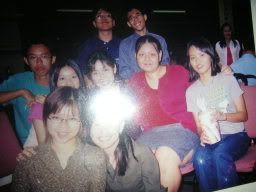 Oh gosh.. i tink i look like 26 tat time lor..tmd old... somemore the face like drug addict like dat.. no wonder nobody jio mi tat time..sob sob...

Another pic...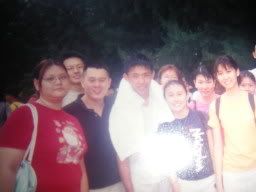 Whose tat obasang in red at sam's Baptism service?? walao eh.. u all better dun order this pic hor hahaa...


Guess u all want to know where i got to know baobei??? tada....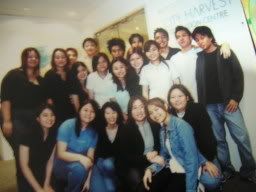 Its at the private sch man.. sure can spot mi rite.so big man.. i tot i paid the photographer to photoshopped all my fats away??? oops secrets out..damn... and y am i not standing near to baobei..ahah coz tat time quarrel lei.. so stupid lor..but dun worry we are still so loving now..muackz..hahahaa.....


Orite..BONUS BONUS.. show u all how i look like wearing sari ba.. this pic onli comes in the package if u order the aboved pics..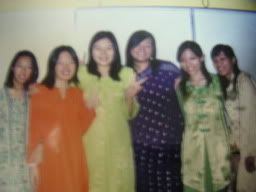 Tats all folks.. if ur from XXX sliming centre and want mi to promote ur co for u.. pls dial.. 1800-plspromotemycom or make ur cheque payable to SOF promote my com...thank you xie xie..all proceeds from the photo ordering session will proceeds to SOF...just in case u forgot..its SHIRLEY's OWN FOUNDATION.. thank you for your generosity....

Saw all these pics all the good memories... and when cindy yst sent mi tat photos..tears are in my eyes.. i want back tat kind of life.. full of fun..carefree and no hurts at all...

But sadly tats life isn't it??

Happiness makes u smile
Sucess makes u glow
Failure makes u humble
Prayer keeps u going...

And i shall say Amen to tat....
Sunday, September 25, 2005'♥
Paiseh WOr now then UPDATE.. anyway i did enjoy myself yst nite wit the SINGLEHOOD GANG...new member BENJAMIN SEE brother of TUPPERWARE SEE joined us yst... and nt to mention the si duo bu yao zou de EX-CHAIRMAN...hahha..so the four of us went to MINDS cafe to conquere the games there...hehe...
Suppose to mit them at 7.30 and 7.45 respectively and THANKS lei..laoniang first time so early then they all LATE!!!!! can u imagine i was at BOON LAY MRT...and there were so many...AHEM U KNOE WAD...keep staring at mi..si bei buay tahan lei..so after wating for exchairman for 20 mins i decided to take the train to JURONG EAST to mit Tupperware first...
Tks lei..once i boarded the train she reacehed.. and tks for TELLING MI the best thing.. She saw him when she went in the train...if onli i were to wait for her 3 more mins... i would have saw him... maybe we realli have no fate le ba... suan le..hehe...but everyone asked mi so wad if u see him...wad can u do...
Ya true..wad can i do.. say hi..act silly smile..how are u?? or go and hug him and say hey i miss u damn much lei tat time (the past)...or take my heels up and knock his head?? (eh u made mi cried so much for u tat time lei) haha hilarious rite... LAME...well wadever it is its all in the past le la....
Reached there ard 8 plus liao...then the whole place was like quite full le...luckily we managed to get a seat..ordered the package..which is 36 buckz..for a lot of things and two hours of fun..there we are started wit the first game...TABOOO
We are supposed to let ppl guess the word by nt saying a few things.. onli mi and wawa were so enthu at first..we were like mad woman.. then tat tupperware and ben becoz they are siblings they have mo qi..so its like they are playing wit themselves..yawns..after a few warm-up its ok le...hahha quite fun.. and we ate while playing.. and tat ben veri funni de.. he let us have the clue so we guess according to the clue..then in the end he say its not relavant de..diaoz.. we laugh like mad woman there..loudest in the cafe i tink..hahaa....
PICS of TABOO...
We still got play a few games like Charades, Lord of the ring monopoly..(onli for one pathetic round..) Halli..A fruit game wit bell but super funii.. ben was like so enthu in this game tat he kept snatching away the bell..punishment is one cup of ice water...lolz...Im the boss...the poor waiter explained so much to us..although its like damn boring but we gei gei entertained him by playing one round..then when he turned his back we faster keep the gamn..hahah i tink he super pissed off man.lloolll... so funni....Jenga..true or dare.. its nt bad game except tat the DARE part is repeating itself..nontheless..our act queen tupperware realli loves to take dare..tink she can enrol in MING XING OU XIANG LE>>two hours passed by veri fast onli managed to play a few games nia haha... but overall its fun...some of the pics...
THE ALTOGETHER PICS...hehe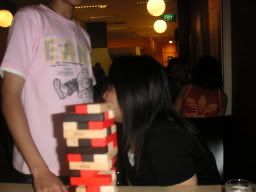 omg wad are they doing.. eee xiaohan got fettish for young boi...haha its a DARE tat she acted our blow wind into someone tummy..u all tink too much le la.. dirty minded freaks hahaha
orite i didnt take much pics..for more info pls refer to xiaohan blog..she gt more pics....
We went home ard 11.30 damn too early for mi le.. somemore i wan to take 65M home..coz it reached directly under my block so can u imagine i waited one whole hr for tat bloody slow bus.. alone in the busstop so sad rite..somemore the bus stop no seats de... called ah jin up and chatted awhile this gong gong enojying himself in bbq shiok lor.. hahaha..then i saw allan..wad the F**K so qiao when i just blogged abt him in the afternoon.. then he appear in front of mi..he just came back from PARKLANE go there play billard..duhz.. then he asked mi to join him for supper wit his frens..eeeekkk dun wan la..all so tiko looking de..hahha somemore all i dunno at all..so i rejceted lor..continue to wait and wait..........
1245 then the gong gong bus came.. sat down alone in the busstop..so lonely..where other gers gt bf to acc them.. haiz.. LONLINESS is an emotion tat Satan used to tempt ppl.. if u fall into it..then a lot of ppl will get hurt... aiyah so chim u all wont understand wad i say de la.. lao niang kan bu qi ni men..hahaha...
reached home took a few photos lor..veri sian lei..ya la ya la..ZI LIAN QUEEN can ma..haha
im so expressive hahaha....
Dun lie to mi hor my eyes will be wit u ...lolz
Lastly mmmemememememeememememememmeem hehe...
chatted wit ah nash on msn.. got to know some truths for him... im so confused now.. but of coz i will find more evidence de... tks nash for being the neutral party....
anyway pls go listen to DUN LIE from BLACK EYE PEAS... its nice and so suitable for PPL WHO LIED>>>>
Saturday, September 24, 2005'♥
<<<<
>>>>


Due to the influence of AH JIN...I'VE been addicted to MAC delivery le... haha..yst nite nv had dinner.. reached home super de hungry... so i picked up my courage and dialed the number haha... before dat i consulted AH JIN on the procedure..its good to have a mastercard..lolz.. i dun wan to eat too much (in fact supper its oredi consider eating alot)haha contridicting rite.. anyway i order a HAPPY MEAL SET...after half an hour of consideration...

so WHY HAPPY MEAL?????

$$ its cheap
$$ its not too full
$$ somemore im still young ma

MOST IMPORTANTLY... GOT FREE TOY>>>yeahhhhhhh where to get such cheap deal u tell mi?? haha of coz onli happy meal provides u wit tat happiness and surprise..hehehe.. abit paiseh la.imagine the operator must have tot this siao eh so old liao still buy happy meal..but who cares hahaa...

waited for ard 30 mins then my meal finally came.. wanted to took photos of it..but before i knew it..i gobbled up all of it liao..onli left the sole survivor... tat is....





Grimace...look at his gong gong face like so bu yuan yi to take photos like dat...but i still FORCED HIM TO TAKE!!!!! do he have a choice?? HELL NO!!!!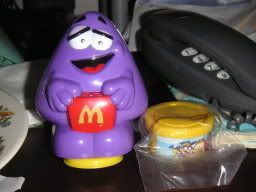 lols... anyway its a play doh thingy.. u put inside his butt there comes the fries out of his hand..damn gross rite..tink it shouldnt be allowed for kids to play.. coz its... ahem..wad if kids took their shit and make to fries??? orite im being LAME here..

Was chatting on msn then ALLAN came and msged mi.. eh y u nv jio mi go momo.. funny qns.. normally i would reply.. hehe forget lor...



but today i reply....


U????? HOW I KNOW U GOT GO MOMO??? u tink I GOT a SCHEDULE OF WHO GOING WHERE MEH!!! wooohooo damn fierce lei.. i tink he got a shock.. y did i response like dat....reason is because...

**** tat time i jio him he pangseh mi....
**** when he got drunk he always say he like mi...
**** veri de yaya got money....

so i came to a conclusion tat y shld i bother to jio him....hahahaaaa...

ORite dun worry its still a good day for mi.. gonna mit ex chairman and tupperware later.. for KSTER session.. we always change plans de la. diaoz.. mititng them at boon lay mrt..better dun be late hor..(always im the one) all my frens knew tat.. but lao niang today will TRY DE...i mean try my best to be early de...jio tat ah jin go..u know wad he say?? i scare i go wit u all i dun have the chance to hold the mic.. orite...well said.. 100 pts to Griffindor... ahhaha ya u wont get a chance seriously..coz we are oredi fighting wit each other.. dun be surprised if u see our pics on the newspapers hahaha...

Lao niang going to go makeup le.. veri vain hor.. hehe.. tats mi.. if u are shocked to see tat.. GO OUT WIT MI MORE BA>>>>

Orite here are the list of frens i missed...

@ SELYN
@ MI JIE
@ YONG SHUN
@ BAOBEI
@ AARON..both harrypotter and jie mei
@ TRICIA


dun worry if ur not in the list.. coz i now stomache want go shit le..so i cant type alot..orite orite..miss u k.. muackz...
'♥
Not going to write so much tired lei..so i shall comment the photos one by one ba...
Ya overall the whole retreat is fun...of coz with the companion of my beloved baobei.. we stil cant get over the fact tat we are leaving..but i tink we shall saved now to make it a monthly affair..oopz did i meant affair?? haha coz its so cheap..the hotel is great... the neighbours are even greater.. haha so i gave 4 over 5 stars man..
Lets keep the drum rolling.....
WHEN WE JUST REACHED>>>>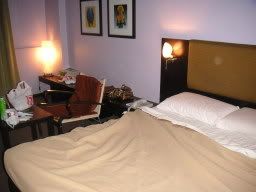 This is our room..haha srry abit luan la..coz hor we were so excited tat we roll here and there on the bed..this room is spacious..actually the hotel staff gave us the wrong room at first...its much prettier..but of coz we both like to snuggle together so we requested for a QUEEN size bedroom haha but its still nt tat bad wor...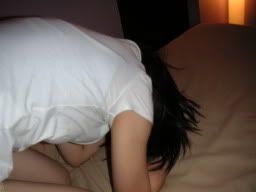 Hmm..the moment she stepped in the room she shouted, screamed, and oso worship the bed.. i tink she is pratically mad.. too bad cam is low batt tat time.. poor neighbours they must have tot we did something immoral there..hahah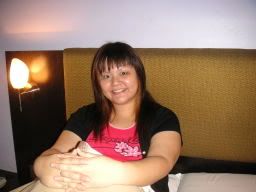 Lao niang on the bed..hehehe

Its pom pom time.. time to get ready for clubbin le..nice hor somemore got bathtub lei..HOTEL 81 dun have at all hehee...
GETTING READY FOR CLUBBING>>>>>

Baobei..COOL RITE>>>>

not to mention LAO NIANG la..hehehe
MOMO TIME>>>>>

mi and Jiwan(STEPH) Baobei's fren....

Three Muskerteers....

WE again.. wooHOOOO...
MOMO was nice...esp the songs.. the whole place is nicely renovated esp the TOILETS...got small cushion for us ladies to sit.. so good lor..imagine wear heels until the feet so painful le.. but the crowd is toooooooo mcuh le yst.. it was so stuffy.. but we did enjoy ourselves la... saw ah ru's fren there.. jocelyn oso got went.. but in the end we lost them..haha.. its so nice to be single..u can know anyone..wit no obligation.. lolz
After clubbin baobei and i rushed back to hotel..coz we buay tahan liaoo so tired.. went 7-11 buy cup noodles.. and in the lift saw one couple.. ard our age..the guy face was so drunk and red.. haha had a little chat then i said bye bye to them... i tink im abit mad too..as if im their fren.. woohoo.. its so nice to step back to hotel.. so cosy and cooling.. Kelvin called mi.. and asked mi hows life in hotel..haha then his fren ah boy..whom i nv knew came and snatched his phone and chatted wit mi for a while..so now i got one more new fren le..haha.. veri de ah beng de...

We are so sad reluctant to know tat are leaving..tat sucidal thoughts are on our mind.. after checkingout we went for our breakfast..then we went our seperate ways..baobei i missed u..hehee.. went home put my stuff.. didnt even had a chance to rest..then i went to mit sufen..she took half day off just to mit mi go shpping.. so i shall not disappoint her.. spare mi of all the typing.. here are the photos haha...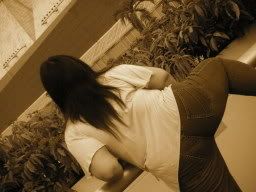 Oh Man.. Bu yao ZHU ZHI wo... haha DEPRESSION LEI>>>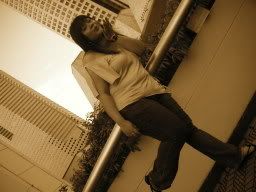 DO i lOOK LIKE OSTRICH?? haha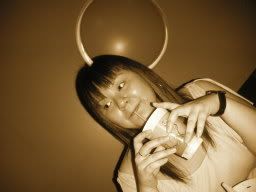 The I DUN GIVE A DAMN LOOK hahahaa....
Mi and SUFEN MUMMY hahaha...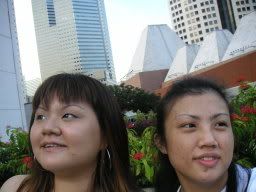 Artisitc hor.. this place gt alot of memories de lei..haha guo qu rang ta guo qu...
ORite la..laoniang tired le.. anyway..tats abt it all.. enojy myself these two days.. how i dragged MONDAY..hehe tmr will be miting cindy tupperware for dinner hopefully tat ex chairman can join us.. hehe..miss u guys...
Wednesday, September 21, 2005'♥
Getting ready for the retreat....
yes ill be flying off at 2pm in the afternoon tmr.. i know we last min change location..so frens out there its ok la..we understand dun need to send us off.. baobei remember to bring ur passports k...oh ya forgot to mention where we will be going.. ya..the new disneyland in HONGKONG..
Ya veri good try rite..haha tats a dream hehe..super excited abt the retreat wit Baobei tmr.. i have yet to pack my stuff man..although u may say its onli for a nite..but i gt tonnes of stuffs to bring u know....
* Underwear...tell mi how to live without it..
* Cosmetic...tell mi how to go out without it..orite im VAIN
* Clothes...i dun need to say u oso know rite...
* Heels...cant be going clubbing in my slippers rite..
* My facial wash..makeup remover...
* My bolster...i might consider smuggling it in..poor baobei..haha
LOLZ.. i tink i will check in first...coz tat baobei needs to work..*cross my finger tat she does not need* so pls pray hard for mi tat the room will be fine....hehe...
Will be miting selyn at chai chee tmr to borrow camera from her.. oopz paiseh lei always ma fan u... tink i need to get one soon... ya miting her for lunch wit choo li too..so long nv go back le.. miss them all too..and oso going to return my access card oso tink i wont be going back to wrk at chai chee le sob sob..geok poh asked mi de haiz...
Guess SU FEN will be boring in office without mi for the next two days..resulted she took half day off on fri hahaha..just to go out wit mi.. my power not bad ba..lolz..she is like my mum..always bring food..provide mi tissue..let mi scold..but on the other hand..she is one of my veri good fren..srry wor i admit sometime im a bit impatient..and fierce to u..trust mi ur one of my best pals too..
Orite gotta go now.. getting tired.. can u imagine..in 7 hrs time im goign to wrk again..haiz..lucky its for half a day onli...
AH nash u better go MOMO tmr hor.. u promise de..orite pics will be up soon..stay in tuned ba...
Monday, September 19, 2005'♥
Im a dumb dumb.. seriously i am.. argggghhh i cant get over the fact tat im such a dumb dumb.. haha.. Bought a top from DP...costed mi 45 buckz.. and this dumb dumb over here didnt remember tat inside her wallet she got tat 20% off voucher,argh... it could have been cheaper...damn it...
orite today have been a super busy day... passbook are piling on my desk..shld have took some pictures.. i almost fainted..and first time in DBS i worked OT until so late... but nonetheless i manage to conquere it hahaha..suppose to mit singlehood members de..but due to some unforseen circumstances of our Ex CHAIRMAN>.the U KNOW WHO.. its cancelled....
Baobei msged mi at 3pm sharp nice timing rite...told mi tat she's free to go down to book the hotel today.. so here i am so tired liao..go all the way to DHOBY GAUT and waited for her for 45 mins... arggghhh but i still love her..hehe
went shopping ard first.. in the end i veri sian liao so stand outside the MRT station.. eating a cookie..then something terrible happened.....
An african guy..big built came to mi...i tot he asking for directions..so i told him where's the toilet..then he asked mi for a drink.. he inisisted but i said i dun wan... then he asked for my number...i said i dun have hp (STUPID LIE)..aiyah too panic liao..then finally baobei called mi and saved mi..i made an excuse to go away.. then run away man.. walao not the first time got Neggro asked mi liao..i tink they prefer..ahem woman like mi..ahem means BIG hahahaa.. scary lor..esp at Plaza Sing tat area...
Yeah we finally booked a room from Strand Hotel le..80 nett lei.. good offer... and the surrounding got so many things to eat.. so after momo got supper hehe..took half day on thur..then i will go check in first i tink ..hehe enjoying my bubble bath first ahaaa... realli looking forward to tat day de dao lai..hehehe... hope baobei wont be working until so late ba..hehe...
After tat we went Plaza SIng got this craving for congee..so we went Crystal Jade and ordered the Scallop Congee and oso Shrimp Dumplings..omg..its HEAVEN!!! yummy..i dint took photos haha..dun wan to tempt u all.. not like DEVIL HAN..haha no la.. got no cam lor..hehehe anyway realli can go the food there is superb..hehe
Well tats my life for a MONDAY WITH BLUES...tmr will be a brand new day,,anyway ah jin is nt my bf...so ppl dun jump to ur conclusion.... GOD STREGTHEN MI !!!!!
Sunday, September 18, 2005'♥
Back from a day of walking...
Met Sufen ard 2.30 then we took 518 down to Orchard... hehe initially dun wan to spend money..but...... its so tempting... haha end up i bought a slipper from TANGS...a spag top from FOX... arghhhhhhhh we were walking the whole orchard..then i saw a top FROM MANGO..and the moment i saw it I LOVE IT... omg so nice..but too bad no size L liao..so we walked the whole orchard Mango to Mango.. oso cant find..damnit..and i ren ming le.. in the end nv buy lor..
Sufen bought a shrug from Isetan..and im realli happy to go shopping wit her.. coz she everytime refrain mi from buying things de..hehe.. tired liao so we went to Scotts Foodcourt for dinner..shit lor kanna cheated from the signboard..the food looks so good but its so little... a few pieces of beef for 6 bucks?? in order to not be pissed further.. we went to Haagen daz for desserts..guess wad we ate??
Yesh!!!! FoNDUE...woohoooooo...after the last time wit Koong.. finally this time got a chance le..its so last min.. and this time i cleverer le.. order one serving onli..and we share so its not tat bad.. yummy.. rich chocolate wit bananana wooohooo..(selyn wont be happy to hear tat) haha
So tired after whole day of walking..went home ard 8plus on the bus my dearest ah jin called mi.... and asked mi to do a secret mission for mi.. and my commission is A home deliverd Macdonald Chicken Macnugget.. wooohooo... and the person who got all the benefits is CINDY SEE.. where i shall not elaborate the details... anyway CINDY SEE oso got a set..and she got an extra cheseburger...first time lei.. got Macdonald delivery to my hse.. Tks ah jin for tat...he must be poor now...hehe... going to book in le..so pls take good care of urself wor...
Hao la..today veri tired le..tmr miting up the singlehood club.. and a EX member for chiiling out at MINDS cafe.... lol.. hope we enjoy ourselves.. yes i love A DATE WIT THE VAMPIRE 3...lolz.. this is gonna be a veri busy week.. GOd pls strengthen mi....
'♥
DunnO wads Wrong wit tat Tze Hwa.. our 8 digits like buay gam de.. always quarrel wit mi de.. wad i do he always sure got something to say.. hahaha but nonetheless its fun.. and tks to CHELSEA.. there's alot of rumours between mi and Tzw Hwa.. we always bicker de...do u tink i will like him..somemore he is a 100% CLEAN FREAK..while im onli 70% hahaha...
NONETHELESS SERVING IS FUN!!!!! for those of u who does not have a ministry JOIN ONE!!!!... u will have great fun in it....
Service was good... Pst Richard Roberts..son of Oral Roberts University came and had a healing svc wit us.. when u see then u will believe... ppl are healed..ppl crying tears of joy...and most importantly salvation..When one is saved the whole heaven rejoiced... Those ppl saw the miracles and they believed Him..Realli..We humans believe wad we see instead of what we hear...If u do not know wad im toking abt... i tink u realli need to join a church or ask ur christian fren abt it... hehe..
Dunno wad to blog le.. anyway im going out wit Sufen tmr..still have not decide where to go.. boring life..hehe
Saturday, September 17, 2005'♥
Sat le... the day which i look forward to so much.. i onli had two days to relax, shop, enjoy.. so i must realli cherish it man..
Went for cg after work...and had a nice chat wit my leader.. he's attached and i find tat he is the first guy who would buy ORCHIDS for his gf.. funni rite.. coz cg was at his gf house.. i saw tat bouquet and i cant help laughing lor..its so gong gong.. he was a good leader..and im realli glad tt we can communicate so well.. then he asked mi when are u going to get attached...(obviously he doesnt know abt my previous relationship..orite im guilty abt it so dun gif mi tat look) then i say not so soon la... he say he wan to help mi find from church.. i was like THANKS LEI.. all so young de..haha...coz i belong to youth svc ma.. so sad tat im not going to be a youth in two months time..haiz...but i hope i can get marry by 09/09/09 tink its so nice man..haha hope onli la.. can dream abit ma...dun gif tat look again ok..hehe...
was chatting to cindy on msn... heard from her she's going to quit her job.. tis gong gong ger dunno how to kai kou...haha so gong gong.. then i gave her a few reasons lor... actually i quite admire her.. after her exams where most ger like her age would go celebrate she went for the job...and when i called her before cg she was tutoring her kid.. omg..so packed.. dun tire up urself ok... who would acc mi her mum to go chemotherapy for 6 days.. she would.. im glad tat wad she did is the spirit of the SEE FAMILY..and im realli happy for her.. I believe GOD will bring her through everything de.. HEY SEE XING LI..JIA YOU...
NOW is the time to scold GEI GAO KING coz i saw cindy blog she like nv bother to publicise abt him.. MR YI***... who was the recent ex of CINDY SEE...when i saw the sms of how u bully my cousin.. i nearly go NP and step on ur face man... where go so gei gao ppl like u..its true she owed u money.. from buyin her text book.. but u dun need to PURPOSLY ask for a receipt rite.. like dun trust a person... if u dun trust her y in the first place lend to her.. just becoz ur blinded by love tat time..and now ur happily wit ur other ger then u remembered in huh?? SI BIAN TAI... i realli must say ALL THE BEST to ur NOW gf.. if he can do tat to CINDY..he can do tat to u TOO>>> all the best hor..wheeeew... now feel better le.. MISS CINDY pls dun let such a JERK bully u.. LIVE FOR URSELF...
orite.. today is going to be a busy day coz im serving GLORIA JEANS again.. hehe im loving it.. by the way baobei if u happen to read this.. call mi..ive found a cheaper and nicer hotel liao..tink its time to book lioa... take care all of u.. miss ya guys.. muacks...
Thursday, September 15, 2005'♥
Guess Im realli getting old liao.. memory failing.. I just found out one thing today..
Miss Frying Pan aka xiaohan who is my cousin de bf Mr Chrisppy aka Chris once went Chinablack wit mi before.. hahah i was browsing thru the friendster then i saw his profile.. hmm veri veri familiar lei..just cant remember where ive saw him...then saw his connection..diao is Nash da ye de peng you...quickly msged Nash to confirm..and true its him wor...
Tat time we went Chinablack wit baobei they all.. then saw Nash then cut queue then Chris came...tink baobei sure still remember de..lolz..and nv say die vickie too..haha then we knew each other...hahah pengs.. tink back i wan to laugh..but anyway i forgot in the end he got treat us one jug ma?? too old liao forgot le.. i tink got ba..anyway tks huh.. Miss Frying Pan so qiao rite..muahahahahahhahahahahahaha so he was once my clubbing khaki lolz..better treat her good good hor if not i sit on him lols...
Today went lunch wit Cheryl and Gek hoon.. wa they veri power lor..go eat at Delifrance Bistro.. so ex man..no choice go ba go ba.. my heart so heartpain..coz now im veri stingy de.. save money for the retreat wit baobei ma..ehehe.. ordered steak..okok la.. not veri nice..still prefer jack's place de..went back office wit a bloated stomach.. then boss came and distribute MOONCAKES!!!!>...i mean mooncake..one onli la.. haha SWENSENS ICE-CREAM MOONCAKE..so xing fu rite.. guess which flavour i chose?? if u got it correct ur my fren.. haha of coz its CHOCOLATE de la.. arbo..hahaha so shiok lei... yummy..so touched lei..boss realli go and give to everyone... oh ya tmr is the DBS lunch.. so we will all be having lunch together... free again.. *tink *tink *tink.. the $$$$ is out hahahaa..
Tat day xiaohan sent mi a sms it looks like these...
Wad kind of drink do u tink i am??'
1 red tea
2 green tea
3 coffee
4 milk
5 coke
6 orange juice
7 soup
8 cocktail
9 water
out of curiousity i sent a few ppl...most of them say im coffee..but onli one.. ONLY ONE person say im COCKTAIL.....
Results...
1 a fren
2 one u love the most
3 one u gt a crush
4 best pal
5 first love
6 one u hope to be wit
7 one u care
8 ONE U WISH TO HAF SEX WIF
9 one who u can depend on
ARGGGGHHH>> and the person who chose this is none other than........
MISS TUPPERWARE..... I KNEW IT !!! she is a LES.. omg.. cant believe it tat she actually fantasise abt mi..omg ..si tupperware li wo yuan yi dian.. ahahahhahah when i saw her reply i was laughing out loud in the office..ppl tot im mad.. i cant help it man.. dun make mi puke pls TUPPERWARE...hahaha
Going to cg tmr..after tat miting kelvin for supper.. eeeeekkkkssss he is making mi FAT..lolz although im fat oops i mean he is making mi FATTER..lolz.. orite nothing much to blog.. for NP student tmr last paper liao hip hip horray.. and miss tupperware and frying pan pls try to avail urself.. one gt wrk one gt BF le.. so pls i say PLS make urself free on sun for a KTV session.. bf is allowed if he wanted to pay for the bill hahaha..actually we dun mind la..if he come.. since tupperware oredi confess she like mi le....
Tuesday, September 13, 2005'♥
Finally back home.. woo hoo long day man...
Work was fun..and im looking forward to it..coz now know more ppl liao.. and got a few of them treat mi veri well.. as we laugh at our jokes..time seems to pass by veri fast...
After work Kelvin came and we went dinner at Changi Village.. still early nowhere to go.. so we went to catch a movie..ONE more Chance at TM..yesh finally watched it..nt bad.. like the Parking AUNTIE..she looked like my supervisor hahahaha.. had a good laugh..at first tot i wld cry when watching..but i did not lei.. so i gave 3 out of five stars ba.. lolz.. nt as much as i expected..
After movie im so tired liao..so ask him sent mi back home. He got a new hp number same as his bike plate.. diaoz how he managed to find de..lolz..tmr going to bet big big on it man..lolz..guess now he shld be in the KTV wit his frens le ba.. kept asking mi to go.. mad ah..if i go tmr i will crawl to work..somemore all GUYS de.. i must be crazy if i go... my bed is better lolz..
:::::::BIG NEWS::::::
Lao Chek aka Fabian is back..just msged mi in msn..woohoo..missed him and his silly joke so much.. after going back Malaysia for one mth..he said he's back coz he wanted to see mi.. wad a good try man..and im so happy to hear from him again..hope he can find a good job here.. and i shall nt curse him anymore lol..
Tmr after wrk will be going to Plaza Sing..and then to YMCA for bible study.. guess this week quite siong for mi.. milk going to take one day leave on next mon..win lor..so busy lor..im going to work like mad cow le..there are all talking abt taking their block leave today..shit lor..i had none.. all talking abt where they're going arggggghhhhh.. nvm baobei..we will enjoy ourselves too de rite?? hehe..
All rite enough of updating le.. gonna go get some beauty slp le.. tmr will be a better day
Monday, September 12, 2005'♥
Just finished watching the news.. SIANZ>> ALL BAD NEWS DE.. If it's nT Abt DenGUe Fever then its abt Katrina Hurricane if not the murder of tat Philippino maid.. Wad is the world coming too?? EVEN a SMALL MOSQUITO can Harm and kILLED someone?? Oh How sad can it be?? Im so worried abt the safety of everyone...keep asking those ppl in the army to wear long-sleeve esp when their out-field..Lian's dad is being hospitalised coz of dengue fever.. oh man.. I will pray for him de.. STUPID MOSQUITO stop being a murderer wont ya!!! DUn Harm the OLD and YOUNG.. get LOST fly all u want to a ULU place and have A MOSQUITO TOWN THERE...
OH ya..did i mention tat im one of the candidate for the SINGLEHOOD CLUB as the CHairman?? COME ON>>dun Deceive urself i can be a GREAT CHAIRMAN..REASON??
* Im single.. and might be for the next few yrs?? unless someone elgible comes along which i doubt so...
* Im the oldest left in the club...
* Im not lao hong....Im air tight...
* I can be responsible in organising the outings.. better than those WHO ARE STUDYING
* Im cutter than the both of them...
Think all these are enough resons for u guys to vote for mi ba..come on cast ur SHEN SHENG de yi piao ba... pls dial 1900-CM TO BE or sms ur vote type in SHIRLEY IS THE CHAIRMAN to *999999...or just simply leave ur vote in the tagboard..every vote will be donated to SOF..Shirley's OWN FOUNDATION.. thank you veri much for ur help..and if im the chairman.. i will provide free outing for single ppl out there de..
LOLZ... Monday is a super busy day for mi.. before i knew it the half of the day is gone..Working wit SHU FEN veri good..coz she kept buying sweets and snacks.. tink we all scare of her liao..everytime a new packet come all siam veri fast..hahaha.. guess we are all going to get diabetes soon.. lolz.. Its raining so heavily just now.. thunders and lightening..arggghhh so scary...guess tonite will be cold ba.. must slp early early le.. coz yst nite watched a date wit a vampire until veri late.. woohoo...
Tat day saw a phone in the newspaper..and im totally in LOVE WIT IT.. It's so cute...I dun care im going to save money to buy it..i love it..it got all the functions tat i need it man... This is how it look likes...
PANASONIC VS2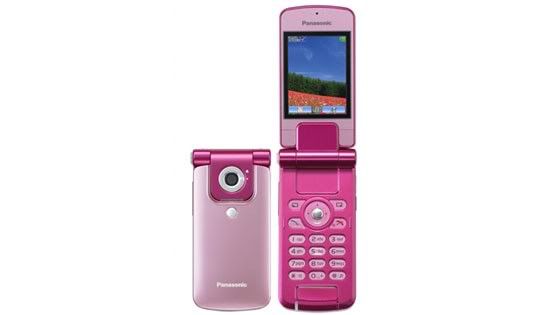 NICE MA?? Who wan to sponser?? One ppl $10 and i need ard 40 ppl.. pls pls donate to SOF more..thank you..ahem btw lao niang 21st bd coming soon..ahemm aheemmm.....
Orite enough of my boring life le.. SHIIIIIIITTTT>>a mosquito just bite mi..could it be?? oh man.. im dead!!! HELLLLLLLLLLLLLLLLPPPPPPPPPPPPPP!!!
Sunday, September 11, 2005'♥
MY FRIST LOVE...
Warning!!!..this entry is going to be a super super long de entry regarding my religion...so if ur not interested, kindly click close on the window...tks for your co-operation....
A conversation btw a mum and her kid on the church bus stir up my heart....
Kid: Mummy how do we see God?
Mum: U need to close ur eyes, believe in Him, Talk to Him and You will see Him
Kid: Then wad will He do??
Mum: He will talk to You, Love you and Be with You Always....
Indeed how busy are we in our daily lives that we didnt set aside a time purely just to seek His presence.. to See Him.. We are often busy wit our own stuffs..that we forgot of our relationship with Him...
6/8/00
Its the first time i went church.. together with lizhu and lizhen.. Mervin invited us for the church's anniversary celebration at Indoor.. was overwhelmed by the number of ppl there.. and tats when i first time get to see Chelsia.. one of my best fren...
A good service.. and Pst Kong gave an altar call for the unsaved.. felt something in my heart..therefore i responded to it and i was saved!! prasie the Lord!!.. Since then, i became so on fire for the LORD.. i went service every week, pray every now and then, went for bible study, powerhouse.. God is so near to mi everyday...God has been answering my prayer..He is so faithful to mi..
Its only until when I failed my O lvls the second time.. tat i wonder.. God where are you?? at tat time in my heart I kept tinking God has forsaken mi.. Slowly slowly i gave up praying.. my faith level dropped.. I was like wearing a mask to church everytime.. acting as though im so excited..i was a sat and sun christian.. during the week im so worldy.. i smoked, i go clubbing and scold vulgarities.. wad a living testimony i am..
I finally cannot take it.. in the end i left church when im wit IVAN.. tats the most foolish decision i have made in my whole life... Of coz i did not have a good ending with him... serve mi rite...:P Eric invited mi back to church last yr in AUG.. after four yrs im saved at the Church 15th anniversary.. there i am back to church.. I reaslied tat all these Trials and Tribulations are there to test my love for God.. but i failed badly..
Had a relationship recently.. and here i am not being accountable to my leader. It's not a godly relationship... therefore God will not bless it.. despite of frens telling mi tat.. and the Holy Spirit prompting mi.. but i simply just ignored and disobeyed.. yes, in the end it did not went well.. and im hurt the first time in my life.. but i thank God tat this time i did forsake Him coz of a relationship.. i endured it through...
There are alot of examples surrounding mi... most of them left church coz of a guy... although they chose not to admit it.. i understand how they feel...at tat time their blinded by love... but they did not look back at their first love.. the One who is always there for them when their down..
Ppl always run to GOD when their down, they need something from Him.. and yet He is always so faithful there... but when we got wad we want.. we forgot abt Him.. All He want is a relationship wit You...
For those of you who are dry now in the spirit.. i admit im one of them.. but not after today.. after Pst preached abt the HEART OF WORSHIP..for those of you who now are in a difficult situation.. for those of you who dare not go church becos of commitment.. Why not give God another chance to be there in ur life?? Tell Him how much tat u love him and find back ur first love....
MY SOURCE
Here is my life LORD JESUS
All i have I give to You
You're my God and my Saviour
You make all things new
My life is on the altar
I give my heart to You
In you I found my Purpose
My reason for living is You
You are my source and my salvation
Nothing compares to You
All of my days I long to know You more
Holy Spirit pour down like water
I'm hungry for Your touch
Each breath I take
I give my all to You
A long entry indeed... finally typed finish wad i feel rite now... yeah serving is great yst.. with Chelsea and Victor.. Oh God!! im surrounded by teenagers rite now.. in cg, in ministry.. haha they are super energetic de.. and childish too sometimes, haha they kept saying tat Tze hwa and Mi shld be together..reason?? just becoz we kept bickering.. i realli wanna THANK THEM lei.. for making both of us SUPER PAISEH.. duhz..
Rite now i onli want to concentrate on my work, church and nothing else matters to mi anymore.. of coz FRENS tooo.. I love you guys...
Heard from Eric tat the person ur down and u run to.. tat is UR FREN FOR LIFE... so tink back who is the person ba.. for me.. its chelsia.. if the whole world is busy.. i know she is always tere for mi.. she always listen to my grumble..and i do admit i have ill-treated her sometimes.. haha and for five yrs we didnt quarrel.. might have times tat we not happy wit each other..but we often hold our hands and pray together.. and tat solves everything..
Hao ba hao ba...shall stopped blogging here.. super long rite.. hehe.. love you guys.. muacks..!!!
'♥
Damn it.. ive blogged a WHOLE CHUNK and its GONE!!!!!!... need alot of effort and tinking one hor.. sob sob..
will continue tmr..time now 3am.. i need a good rest..
I cant imagine..the WHOLE CHUNK is realli GONE!!!>.arrrgggghhhhh
Saturday, September 10, 2005'♥
Sat... finally sat le... tupperware is correct, weekend is the our fav day for working ppl like me... but of mine will be in church..lolz
Im feeling damn freaking tired.. dunno y also.. i just felt like slping and slping the whole day..orite call mi MISS PIGGY ok?? lol
Will be serving today.. haiz..with the kids.. abit reluctant to go.. but nvm im serving for God and not them rite?? shi xue li jia you!!! going to ask Joel or En long to pao the irish cream for mi.. so nice...
Tmr is sunday.. tink im gonna mit selyn for dinner or walk walk ba.. might be miting kelvin after tat not sure.. maybe for movie???
i wish time could passed by faster.. im hoping tat our the poly students can finish their exams faster.. esp tupperware and baobei...i cant wait for our next outing...
im getting used to being single le.. in fact i dun even have any intention to start a relationship rite now.. so peeps kelvin and mi is nothing de.. dun tink too much.. Oh ya Singlehood club is having more members..Welcome Miss Pekhar!!! Ur officially our member if u paid the Overdraft of tat $10..thank u for ur cooperation.. so now let mi count.. one two three ..3 members excluding tat hannie.. oopzz shall not said tat if not she angry ortie so total 4 members.. who wan to join.. we got lots of privileges... guys are welcome too.. pls Tag mi if u wish.. onli for ppl who are SINGLE..yes READ MY LIPS>>SINGLE... lolz...
'♥
A simple day.. work was fun.. The door censored was spoilt.. thus a few ppl was locked outside.. technnician came and repair it at once...
was typing and then someone knocked on the door.. went over and open it.. a guy came and told mi he's here to repair the door.. but cant he see its ok?? hahah veri blurish looking guy.. told him many times its ok le.. but he still insist taking our access card and try and try.. super kiasi...
after 15 mins he finally got out of our office.. we were all gigling..coz he veri bluur bllur de.. and the way he talked veri funni..
thirsty le..wanted to go pantry get some drinks.. GUESS WAD?? he still outside!@!!!!!arggggghhhh.. now testing pantry door.. duhz.. i felt like slapping his face.. haha
after 5 mins got out of the panty.. HE"s STILL THERE>> now testing the main door!!! diaoz.. a veri hardworking staff..or maybe a spy?? lolz.. no la..he need pass to get in.. wadever company he's in.. congrats on having such a great staff haha...
cg was normal... tks karen for buying dinner for mi.. met kelvin up for a chat at one of the coffeeshop near his hse.. coz he lived near my cg place..was super tired so i decided to get home early.. he looked kinda of disappointed.. no choice lao niang..today not veri good mood.. haha..
neighbours quarelling now..son threaten to jump down.. a woman's head was found in a dustbin at ORchard.. wad has the world coming to?? with psychotic ppl who dun cherish life wanting to gain attention?? its amazing how so many ppl wanted to live their life.. while the others dun cherish it at all...
Maybe all these are signs.. signs of the end world coming.. I can sense that He is coming back sooon....
Thursday, September 08, 2005'♥
was doing my mask while typing this entry.. ITE realli taught us good TYPING SKILLS.. haah was typing now with my eyes closd..li hai ba.. for more info pls go to the website..www.ite.edu.sg....
The mask is realli good..tks xiaohan aka the woman in love.. for recommending it to mi.. feel so refreshed after doing it.. i prefer the aloe vera de.. hehe..
Today was Shufen first day of work...hmm nt bad ba.. after work she accompany mi go Bugis..i wanted to buy jeans.. coz my wardrobe de all so baggy liao..if not veri old le.. bought one from dorothy perkins.. wit a belt..lucky i got the dist vouchers..so total up to sixty plus ba..nt bad nt bad.. then i cannot resist the temptation..so went next door to FOX..and got myself a pink long sleeve blouse.. wooohoo.. super happy wor..shopping therapy was good.. hahah.. anyway cant spend more liao..unless i save up le.. my account have reached the red light le. luckily i gave selyn to keep my saving..if not sure bo chun de..
There shall be no genting trip le..coz after some consideration..mi and baobei decided to go and book a hotel in singapore.. and we shall check in in the afternoon..had our dinner.. then go clubbing at MOMO.. then go back sleep again..haha.. after searching high and low..we decided on the Strand HOTEL located at Bugis tere.. nice location..srry xiaowei..urs too ex liao..haha this is onli eighty buckz nia..hahaha.. budget la.. had oredi took my leave just now.. on 22 and 23..so baobei u better last mine dun put aeroplane..if not i sure sit on u de.. i promise.. hehe..
happy tat ah zhu oso got in the company le.. she will be wking wit selyn ba.. so shiok rite.. poor mi stuck down here.. haiz.. nvm la..i quite gotten used to it liao la....tmr will be as usual having cg.. then maybe after tat mit kelvin ba.. not confirm yet..
sat gotta serve in gloria jeans again.. must come and peng chang hor.. hehe..missed tupperware.. must hao hao jia you hor.. we shall got ktv after u finish ur exams..rite frying pan??
and lastly tks lena for helping mi to buy weilian cd.. its so difficult to find nowadays..hehe.tks ah...
Wednesday, September 07, 2005'♥
Im happy, overjoyed, excited, gay... lolz.. today i finally got two stuff strike off my wishlist le.. and they are on the veri top wor..coz i wanted to get it for so long le...
Worked OT while waiting for Selyn....went to Metro to get my powder...then passed by tat GUESS counter.. damn it..so tempting nvm i shall ren.. coz baobei told mi tat her mum who work in DFs could get it cheaper.. i realli had nowhere to go.. so i went into another watch shop..haiz out of stock suan le. maybe i realli shldnt get it.. and here i am in Vincent watch shop.. its just rite in front of mi..the auntie was friendly.. and i realli couldnt decide which to get.. so in the end i was choosing..wawa's design and the ??? design..after long consideration i bought the ??? wan hahaha.. its been one yr le.. loved it so much.. tat time was wit ALVIN and he said he would buy for mi.. argggghhh before tat i broke off wit him le..hahah..anyway i didnt know got 15% dist so its $174..when u budget alittle dist will oso make u veri happy de...haha...
rebonding.. everything have to wait le..and this mth i tried not to take too much off.. want to earn more wor.. must shen shen shen..anyway i have passed $200 to selyn help mi bao guan le..
went to GENKI SUSHI for dinner...again???? yes lor.. i still missed the sushi lei.. woohhoo..this time its cheaper and its realli veri veri cheap onli.. 30 bucks for two.. tat ger hor always eat cheapo stuff de.. imagine go there eat cucumber sushi?? pengs...
LAST stop is FOX.. coz they changed season le. and i saw the display got nice clothes wor.. we shopped like mad woman.. its like we are back to work again.. saw Angeline was surprised tat she actually worked there.. when we both quit le hahaaha.. saw the denim jacket.. wooo so nice.. been wanting to have it since young.. tot i couldnt squeeze in..and its a miracle i managed to squeeze in wor hehe.. but the price was abit ex lor.. $59..then darling angel said she will buy it as an early bd gift for mi..wooohooo..touched touched...reserved a few stuffs..for those of u haven visit FOX..pls go..alot of nice stuff wor..and LENA got all ur fav BLACK TOP alot lor.. hehe.. somemore its got sleeves de wor.. hehe.. went to the counter to pay.. then while chatting realise tat YAP MUIFAng PAY IS in the drawer.. nobody informed her.. so happily she is got her pay and voucher.. and the denim jacket was taken 20% offf yooohooo..at least not so guilty le..hahaha... tks ger for the great gift.. u always buy mi stuff tat i realli love and need it alot tks ...
tired le.. reached home 9plus.. took a bath and here i am..going to orh orh soon le.. anyway BIG NEWS.. our dear frying pan is getting out of SINGLEHOOD CLUB soon le.. from now on she will nt be enttitled to our promotions and discounts...and oso our events..hahah no la.. PLS hand over ur MEMBERSHIP card once ur ATTACHED tks for ur cooperation.. tupperware saw it?? lets hug each other ba... we still got one another hahahaha..
Tmr Shufen coming to work at tam le..yeah finally gt frn join mi here le.. i have total recommend three frens for this job le.. for those who want a job ask mi ba.. hahahah tmr ah zhu will be going selyn's side for interview all the best ba.. dun let my effort go to waste pls heheh..
might be going lao pa sat tmr evening.. wit a few frens for cg gathering..not confirm..i wan go Dorothy perkins lei.... im still waiting for chooli's vintage ADDIDAS SWEATER for mi ahhahahaa...
im a happy ger wor..
Tuesday, September 06, 2005'♥
Haha im i in a dangerous position when i blogged this out.. haha coz if the person saw it sure kill mi de.. lolz..
Going to post up my god daughter pics on her full month celebration.. and her mum which is my best fren.. keep reminding not to show her pic.. if not she sure kill mi.. but....
I DUN CARE HAHAHHAHAHHAAH... i cross my finger tat she wont find out abt this lol..
orite this is my cute little god daughter wit her daddy..(look so much Alike)
She look like indian hor?? hehe so bubu de face...
Now for the dangerous PART... mummy and daughter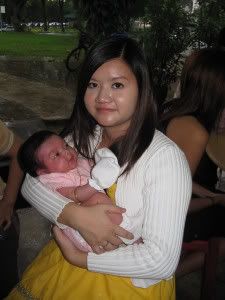 So conclusion she look like who neh?? i seriously tink she look like her daddy do u tink so??
Today was a normal day at work.. been relaxing myself while working..coz too bo liao le.. onli need to key in Earmark.. so happened tat ah zhu called mi so we chatted for half an hour.. recommend her to my co too.. tink i can be an agent myself le.. i have recommend so much ppl tat rose tot tat i have so many frens..hahaha
after work met up wit xiaohan..as usual alot of siao siao thing will happen.. pls refer to her gong gong blog for more details.. we went Genki Sushi for dinner.. the chef have attitude problem..
Then we went To Sasa..bought some mask..old liao must bao yang abit..haha..after tat i dun wan to blog liao..coz its simply to paiseh le..anyway tks xiao han for saving mi.. muazk.. tupperware when u free?? we are waiting for u lei.. everytimg we go out to eat.. will tink of u lei.. tink of u wit all the books infront of u..oooppps so sad.. ahhah how evil am i man?
orite going to do my mask le.. tmr will be a better day.. pay day is three more days to go.. and i will go and shop shop shop...nonnononono i will go and save save save...'
~~~tried to accept but our thinking is realli different~~~~
Monday, September 05, 2005'♥
我们都是泡沫轻轻一碰就破
眼泪是爱的火花
昨天就像飞机穿过我的窗口
我什么都没有 我推开了双手你予取予求
直到你想自由 痛苦的时候我不会闪躲
就像树叶甘心为春风吹落
只是简简单单的爱过
我还是我 简简单单的爱过
我还是我简简单单的疯过
被梦带走 当故事结束之后
心也喜欢一个人寂寞....
Realised tat i like JJ songs nowadays.. his song is so nice.. and depicts a different meaning..
I was super tired today...almost fell aslp while keying in the EARMARK today..went to the toilet and washed up my face..ahhh better le....
Yst nite.. Kelvin called mi.. and he was at my hse downstairs..he didnt told mi beforehand..coz he know tat if he tell mi i sure dun wan come out de.. had a bad quarrel wit my dad yst..so i decided to go and relax myself... he asked mi to bring my passport and there we go..went to JB and fill his petrol.. its been long since i went tere.. the causeway is still veri crowded wit ppl..
reached the Shell station.. fill up his petrol.. and its costed onli 5.50 in Sg dollars.. omg.. half the price here...then we went for dinner.. he ate coz i no mood to eat.. onli drank the soya bean milk..veri nice.. then its home sweet home le.. reached hm ard 12 plus..
For this week i wont be going chai chee le.. haiz.. missed them alot.. esp Ramlee haha.. but my colleagues is better here.. today Ngan Imp nv come so i took her seat.. away from MILK.. haha and we kept laughing and lauhging.. its better to sit wit Gek Hoon they al.. Milk saw we were so happy..she jealous came over and asked mi back.. spoilt our mood..hahaha Company is having a get together lunch on 16Sep... the whole tamp DBS staff is allowed to go.. at first tot i wont be able to go..coz im onli a temp staff ma.... but Cheryl insisted i go.. got three time slots i chose the 1pm de.. haha they say will have alot of shuai ge there.. coz sixth floor is famous for tat.. anyway im onli interested in the free lunch.. yu sheng le yi bi le..hahhaha..hope it will be fun ba..
Wanted to watch the show san ge hao ren..nobody is free to go wit mi..hmmpph sob sob..who want go call mi hor.. as long ur a human will do.. going out wit xiaohan.. to marina for dinner and some shopping hopefully haha.. haiz.. a place to hui yi guo qu.. haha anyway i heard from him tat his brother is going in NS le...how time flies.. tat time when i know him his brother had just finished his exams.. wooooow.. its so scary how time passed by without realising it..
2 mths to my 21st bd (ahem)..
3 mths to Xmas..(my fav event)
4 mths to chinese new yr...
5 mths to valentine day...
6 mths to Poly intake...
Anyway for those who are having exams now.. just wanna tell u guys something.. i have longed forgotten wad is exams le.. muahahah so evil rite.. all the best..study hard ok.. esp SEE FAMILY de... baobei..remember while studying to go book the tix for our Genting trips ok.. i will be calling u everyday to remind u de..mauahha..
Orite.. going to scold my mum le.. for not buying mi a LV bag.. hahahah.. nah going to watch some tv and then catch up wit my beauty slp le..
Im leading a carefree life....
Sunday, September 04, 2005'♥
Behind everyone there is a story.. good or bad.. it depends on the storywriter..
Things make look good on the surface...but it might not be in the inner part..
Hurts maybe healed but not totally healed...
Every family have their woes... past mistakes are often rasied...
If you know wad have i been typing.. then congrats ur the one who understands mi..i guess no one will know ba.. becoz even i myself dun understand myself..wad makes u tink tat u understand mi??
Its through different circumstances tat a person will change.. for better or for worse?? we shall see...
'♥
IT's been more than 24 hrs since i came back home.. had a super tiring weekend.. even now i cant keep my eyes focused as i typed this entry haha.. eyelids are super heavy...
FRIDAY
Went to work as usual except tat MILK is on half day leave.. woohoo so carefree...DBS is having this mooncake bazzar where a few hotels will come here and promote their products.. wanted to go but i have no cash.. so i was a bit sad lor.almost everyone went to buy.. seeing their satisfying smile on their face makes mi feel like going up to them and snatch their mooncake.. conclusion: everyone says that the mooncake from RAFFLES HOTEL is the best..and its the most expensive de.. Cheryl came and help mi in my work..then i asked her y u nv go buy?? then she say she forgot today got the bazzar so she went up..then i say i wanted to but cant.. so in the end guess wad.. she's so nice she bought for mi one box and asked mi to return her the money at a later date.. wow.. She bought the snow skin champagne mooncake for mi.. although i wld prefer the one wit chocolate de..hahah its so heavenly.. the lotus paste so nice..and inside there is this white choco inside wit champagne.. yummmy.. and its onli 25.50 for 8 pieces if ur a DBS staff.. ususal price 38.50.. realli thank her man.. so i asked dad to come inter and passed him the mooncake to bring home..
Went for cg after work.. ban chuan tried to preach veri fast..as i have to rush off for the chalet.. everything is fine..until james and kelvin asked stupid qns for ur info they are 12/13 yrs old.. and im so pissed off wit them.. anyway i met baobei at Tiong Barhu MRT and off we go to the chalet...
Its at ARANDA COUNTRY CLUB..when we reached tere Aaron and his gf was already (almost wanted to bring out my parang knife) haha nini was tere too.. there's a few guys there.. the chalet is so big.. like a house.. so nice and pretty too.. toilet like hotel lor.. Baobei and i were super pissed off by the few guys there, they didnt have any sense of manhood de.. so selfish eat themselves lor..at first tot they bbq for us.. in the end is bring up lor.. and they booked the whole tv lor.. so in the end after bbq we have to sit at dining table and chat lor.. stupid...so sad we got no pics... coz no one bother to bring cam.. first time seven of us was there.. hehe...
In the end we cannot tahan anymore..we went to Siru's room.. and chatted...while siru is out wit that grp of guys and her bf.. so shiok lor.. roll here and there at the bed.. Poor Jingyi broke off wit her bf of 3yrs.. understnad how she feels too.. seems tat now is the season for breaking up.. I love this kind of gathering.. everyone shares their own life..and we can learnt from everyone's mistake in life..we knew each other thru the private sch.. those were the days.. so young and innnocent.. things are different now.. we no longer chat abt wads the exams qns in the 10 yrs series.. we chat abt our target and focus in life.. our career..how to make more money.. lolz.. grow up liao hor.. maybe a few yrs down the road..we will be talking abt where to shop for baby's stuff le hahah..
Jingyi, vickie and nini went home at ard 4 so its mi , baobei and trish staying over.. poor ah ru and her bf slept at the sofa in the living room..ppl like to be cosy ma..haha..so we were so shiok man.. three ppl sleep two bed... of coz trish sure take a bigger place.. she slept like a pig when we were chatting.. its so nice to stay overnight wit baobei..we kept talking and talking.. in the end oso how we end up sleeping..
Kelvin called mi at 5am tot its the alarm.. i almost wanted to get up and go work le..then i realise im in the chalet hahaha...he just got back from JB..he went there to fill up his petrol.. asked mi whether i wanted to go home le ma.he come fetch mi..wads my ans?? of coz not.. my hair was so messy.. and im so sleepy..then he said he wanted to pick mi up in the morning.. diaoz.. i said dun need la.. anyway tats sweet of him to do so..coz he lived at TIONG BARHU lor..get back to slp after tat and we onli woke up at 10.30am..its so nice..
Didnt know the chalet was just opp wild wild wet.. went to the balcony.. the view was so nice.. can see ppl playing at the wild wild wet.. and its still so early, the whole place was oredi so packed le.. went home and change wit baobei after tat.. while waiting for the cab.. two grps of ppl snatched the cab from us..almost wanted go up to them and slapped their bloody face..but nvm we are civilised ppl.. hahaha..bought breakfast home and baobei came my hse... changed everything then she went to her cousin bd at BEDOK while i went CHURCH..so rushed lor...
Today sales was good.. tks to Enlong's Irish Creme Triple SHot tat i able to stay awake for the whole day.. im super tired lor....Tze hwa went to attend a wedding and ta pao the left overs for mi.. wad is this man/? hahah anyway got food attena is out liao..dun care so much le..hahah tks la tks la.. missed his nagging anyway.. anyway he is the in-charge of Gloria jeans.. he is a super clean freak.. i often tell him i pity his future wife.. and he say he pity my future husband.. well we shall see muahahah..sent samantha home first.. and passed my by my primary sch Zhangde... awwww..how i missed pri sch life.. i loved to see the scenery of the CBD area when travlling on ECP its so nice... how i wished im able to work in one of those buildings..
I tink i seriously need to tink abt my future le.. i cant stay stagnant like these.. like wad Jing yi said is true..you gt to know ur focus in life.. single is nothing as long as u found the real purpose of ur focus.. money is the most impt.and by then u wld have a better choices ahead..y tie the string to a kite that dun belongs to u??.... true true.. and i have decided nt to go into relationship le at the moment.. and if i realli do i hope to find a guy tat is matured, responsible, someone who had a stable career, preferably someone from church ba.. muahahhaha.
things tat are in the future i dare not to think so much.. but rite now i know wad i want and i have decided to shut the door behind mi..Goodbye my past....
Thursday, September 01, 2005'♥
CONGRATS to WEILIAN.. Finally BEcome the ProjECT SUPERSTAR Le WOR.. Watched the show since starting.. and i can say KELLY is reali not bad too.. When He was Announced as the Winner I cried..duno lei veri touching wor.. I supported him the first time i heard him singing.. when he sang the korea song at one of the rounds.. tat time still wit him watching together.... haiz out of topic le.. hahaha
There goes to shows there..when there is a willing heart dreams can be fulfilled..
Didnt went anywhere today.. mummy went Thailand.. hmm so fast i oredi miss her naggings le.. and homecooked food is the best.. asked her to buy some LV stuff back for mi..haha she better do..
Asked baobei to look for weilian CD for mi..but its all out of stock so sian lor.. duhz.. no time to buy ma.. those who got dun sell fish lei.. hehe.. anyway tmr will be a super long day.. after work going cg..then rushed to ah ru's chalet.. will be staying overnight.. woo hoo.. sure veri veri tired de.. somemore sat still need to serve whole day lei..wow siong lei..
Read the COMEX fair on Straits TIMES...im so tempted to go..who wan to go?? booking starts now. haha most probably going on SUN coz its the onli free day i got after the baby's celebration.. i wanted to get a digital cam maybe? hahahah sure alot of ppl de..see how ba...