Sunday, October 30, 2005'♥
Decision....
Sometimes in life we are given alot of chances to ponder things through... when we are making a decision.. be it a decision tat will change ur whole life... or just a small decison in life.. although deep in our heart we oredi know wad will be the ending, the consequences... frens had advised us on the matter... but yet... but yet...
The HUMAN NATURE deep inside us told us to gif it a try... to do it.... yes and in the end the ending is quite wad we expected in the first place.. we oredi knew this is going to happen... we grumbled, we complained, we think tat its unfair.. but come to think of it.. we are given ample time to make tat decision.. yet we still go ahead wit it.. so wads the point of regretting??
As wad the bible says... The mind is strong but the FLESH is WEAk... we often give in to temptation... to follow wad we tink its right... but how many times had we FAILED??? how many times have we REGRETTED?? if onli.. if onli...we got a chance.. im sure everyone would want to go back to their past and make some changes.. yes im very SURE everyone will do tat...to start over their life again.....
Haha no worries im not under depression this time round again.. just got this revelation just now when i was tinking of something...
Just got home from ah zhen's place... went out wit her, baby charlotte and shao mei this time round.. hao ming de ah zhu is enjoying herself in HONG KONG NOW...lol....met her to go starhub together to transfer the line to my name.. yeah.. now i can upgrade my phone le.. but i dun tink so soon ba...im so broke liao hehe....
We went to eat at the Hotel Mirammar..abit disappointed lei.. coz just first round and we were all damn full le... and we onli ate for one hr like dat nia.. and soemmore the food standard has dropped le.. sianz... but nvm la..at least i managed to kill the crave of eating HAR KOW lol...
Went Plaza Sing after tat to Starhub... then we walked to John Little... ah zhen brought her baby to show to her colleagues.. just reached tere and all the aunties were saying how come ur sis come wit u?? great... since we are in sec times, alot of ppl says we look alike.... together wit ah zhu la.. diaoz.. maybe its becoz we are always together ba so we looked alike?? haha...then we went to Cineleisure... took some neoprints...and saw this poster outiside a salon.. rebonding at $150......
This is wad we called TEMPTATION.. and yes... mi and ah zhen gave in to tat...so we rebonded our hair.. poor shao mei waited for us wit baby charlotte... in the end she too sian liao..she oso cut her hair.. baby charlotte today veri guai nv cried so much.. she just kept staring at the ceiling the whole day.. lol..while we rebonded our hair.. she is slping so soundly...abit hou hui tat time go and dye my stupid hair..so dry..but now rebonded le still ok..its not so frizzy lor.. anyway they gave us this after care svc within 10days go down they will help us do treatments and stuffs..so still nt tat bad la...
After tat went Cold Storage to get some gong gong stuff for her husband Raymond... diaoz..cant he buy himself? where the COLD STORAGE is just opposite his workplace?? there goes our whole day...sent her back home.. and mi and shao mei took a cab home.. its a WHOLE DAY in CAB again.. .dioaz..seriously broke le... all the best to shao mei tmr sch reopens le..and its her first day in NP... i tink she took Electrical..power rite.. hope she can be an engineer one day ba.. i shall or if i can join u after 6 mths ba..hehe.. but in business sch la..lol...
Congrats to Mei qin.. she ROM last week.. haha she called mi last week and i didnt pick up... called her back she didnt answered... so wang told mi today she married le.. so one more down liao...hahah more and more ppl getting married hor... spoilt the market rate de lei...lol..nt so soon for mi ba...
Ah boy is watching his stupid ONG BAK now.. sianz ah our number nv come out.. so no more Japan liao haha... today he woke up so early to bring his PET BIRD for a morning walk.. at first i tot he sure cannnot wake up de.. but in the end who knows when i called him he's oredi at the park liao.. amazing.. he love his BIRD more than mi..lol...just a casual joke if u cant get it haha... and tat Si Xiao Qi LOng CHeng finally di tou and called mi after one week of COLD WAR wit mi... mad rite.. going to mit them both tmr nite.. hehe
Sian ah..tmr wking.. but nvm la.onli one stupid day..and after tat HOLIDAY le hehe.. GO GO GO AWAY..MONDAY BLUES PLS GO AWAY!!!
Saturday, October 29, 2005'♥
Hmmm nt a veri good day for mi... i woke up wit tears in my eyes.. i tink i have been crying in my dreams.. its so real.. . nthing much the dream is abt my wk place de la... .
Thanks to Hong Jin i slept super late yst... therefore lao niang is super tired the whole day..kept yawning like nobody's business...
Wanted to msged one of my fren.. .found out tat i cant make any calls or sms.. my phone is totally useless... in the end found out tat its the SIM card tat is faulty.. wanted to get a replacement and forgot tat its not under my name...
Called zhen and she like veri reluctant to go down abit pissed off wit her tat time.. haiz.. then luckily she realised its her fault.. so here we are going out on sunday to transfer the name under mine.. it costed $30 u know.. so xing tong..
Was rushing for cg... went to buy a cake for KAREN..who knows on the way kanna block by those insurance agent..shit shit.. then they dun let us go.. kept telling us the stupid policy thing.. wasted 20mins of my precious time.. finally managed to get the cake.. went Starhub to replace my card.. (ps: i typed an authorisation letter and said tat the owner went overseas, clever rite) and after waiting for 15 mins i finally got back my line...wad a day.. but there is still more to go....
cg starts at 7.30 and its 7.20 im still at tam struggling to get a cab during the peak hours... i prayed and prayed... and it started drizzling..haiz..how great can it be... finally the cab came.. and tot i will still be on time onli abit late.. the best came.. . CTE is tmd JAMMED... finally reached the destination... at 7.50..they havent started yet.. and guessed wad... KAREN DIDNT CAME... diaoz... coz she's sick..tks lei.. i so xing ku buy the cake... haiz.. totally sian 1/2 ...they all asked y im so late.. without even knowing the full details im oso lazy to explain... ban chuan tried to tell mi nt to buy the cake but my stupid hp cannot receive incoming calls too..shit.. at that moment of time im FEELING SUPER PEK CHEK... Im TIRED, DRAINED and ANGRY....
Was totally dead during cg... after cg..ban chaun talked to mi.. he tot im angry wit him... finally managed to tell him how i felt.. and he oso apologised to mi.. im actually quite touched tat he cares abt mi... he asked mi whether i gt enough money ma.. i replied: not enough u support mi is it?? then he said: $50 or $100 still can la.... haha $50 or $100?? suan le ba....but anyway i appreciate tat..so far can say he is the most caring leader..
He asked mi to go Rochor eat beancurd.. but mi and chelsia rejected it.. coz got Madeline his gf ma.. ahha dun wan to be light bulb... so mi and chel went tiong bahru market.. took cab home after tat.. bo bian too late liao.. inside the cab mi and chelsia was like sharing our lives.. then i realised something.. my life is blank....
I have nothing to share abt.. except for work... work and still work... My love life is in a blank state now...Even if now got someone like mi or i like him.. i will also dun dare to get into relationship... its the fear ba.. the fear of loss again.....im tired of this game le.. jerry called mi and told mi his problems.. i realli hope he will tink properly lor.. coz after all he's still young...
Nothing much le..did nt realli had a good day.. so i prayed hard for tmr... tat it would be better ba... going to serve in GLORIA JEANS the whole day... oh ya we are moving to EXPO so there wont be any GLORIA JEANS anymore.. i need to look for a new ministry le.. hmm what shld i joined??
I dun asked for much.. but a name to appear on my hp screen...each nite and every nite....
Thursday, October 27, 2005'♥
Im finally back home safely le.. it's raining so big.. then at once i tot i was sitting in a boat... coz the whole singapore simply flooded.....diaoz.. it took mi 45 mins in cab from Orchard back to Tampines...power rite...
ALL THANKS TO XIAOHAN... if not becoz of her singing while we are waiting for the cab.... IT WON'T RAIN so BIG de.. im serious.. once she started singing.. it rained heavier and heavier.. even the guy besides us waiting in the queue saw the MIRACLE...hahha well anyway the queue is damn bloody long.. and i realli THANK GOD... that i hailed a cab faster than xiaohan..at first she wan to yaya she infront of mi in the queue so she sure go first de..who KNOWS...who KNOWS.. a cab came and .... it STATED SIMEI...woohooo.. got one stupid china woman.. wanted to snatch from mi.. FAT HOPE.. ITS MINE....i gave her a stare when i get in the cab... BITCH...and i heard from Xiaohan..tat BLOODY KUKU tmd snatched her cab... she was infront lor.. then tat bitch just got in.. tmd i will surely remeber her KUKU FACE de... haha....
The cab uncle is kind and he's good... he told mi tat.. he is driving a boat now.. and for once we cant even see the road man....and guess wad..the lampost at ECP was down... so its tmd the dark lor.. so scary with Lightening tat is so bright and thunder tat is SO LOUD... haha... tadah.. ah boy called mi.. and we chatted until my hp low batt...diaoz.... hehe if nt sure veri sian de....
Well well updates abt my day ba...Was super busy in the office today.. my shoulder so pain now.. met xiaohan for dinner at ORCHARD... reached there first ting is to go G2000 to get vouchers for Karen's bd tmr...everytime go out wit this woman sure waste money de la...haha.. then we walked waked ard... saw tat TAKA got a LINGERINE fair.. woohoooo... so many things on sale.. and the first thing tat caught my eye is..........
of coz not those sexy de la.. woohoo its a bear bear de pyjamas... so cute.. got green, blue, pink and brown.. guess which colour i bought....see whether u know mi ma.......
Ans: GREEEN wor.... hehe tot of buying pink but the pink too pinkish liao..woohooo..im so excited abt it..tat i psycho xiaohan to buy too..she bought the brown ones...and we promised to take photos of it de wor...anyway LINGERINE FAIR buy PYJAMAS ONLI???of coz not.. haha we shared the Pierre Cardin.. panties..share as in buy 3 for $18 la.. u tink wad share?? haha.. im so happpy.....
Me in pyjamas wor...so cute..too bad u cant see the bear bear....lol..
woohoo so close still cant see rite... if u want to see come my hse i wear for u see lor... nt everyone can hor..lol..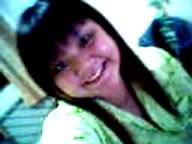 Im so happy..woohoo..then we went to Pepper LUnch for dinner..first time there..and i give it THUMBS UP!!!..nice food wor..and its reasonable.. nice nice.. jap and western together wor... must recommend u know.. i ate the beef and hamburger set..woohooo... yummy...
After eating cfm must walk walk rite.. so we went to this fair at TAKA central square... woow all the branded stuff on SALE lei.. saw my fav BRAND GUESS... walao so shiok man.. but the one i like after dist still $84 lor..suan le.. nt much nice nice de oso..then walk and SAW ADIDAS WATCH wor.. the one Selyn got de... tmd im dun suit this kind of watch if nt i sure buy de.. onli $75 lei..ususal price $95..so under my devilish Persistent psycho Miss Xiaohan gave in and she bought it man.. Dunno who in the first place say I jian Chi dun wan to buy anything..haha bullshit..but its nice la..she bought the green one.. want to see?? go read her blog ba..she sure yaya post it up de la haha..
After tat went ZARA...haiz tooo ex liao la.. then Kino...saw alot of nice books.. but i rennnnnnnn... lol overall i just bought two stuffs.. the one who said dun wan to buy things in the end bought the MOST lor.. haha...
overall enjoyed myself today.. seems like im always miting this siao charbo...where is tat TUPPERWARE..she is always so busy de...hmph.. hmm my dear ah zhu going hk in a few hrs time...must be careful hor.. so shiok rite.. hope it wont rain so much over there.. and MOST IMPT come back safely...coz I WANT MY BAG...hahaha...miss ya....
U asked mi if i loved u ...and i choked on my reply..
Buai buai im going to slp in my nice nice ke ai de pyjamas le....wohoooo
Wednesday, October 26, 2005'♥
Im super tired today..gt tonnes of stuffs to clear at work...
Lazy to blog le.. heard a shocking news from zhen... tat one of the murder case the murderer is related to her.. haiz.. and guessed wad i saw him before.. duhz.. he look so happy tat time.. well lets just say tat.. humans tend to do things out of an act of foolishness....
Wad is the world coming to.... when love become hate...
Tuesday, October 25, 2005'♥
Hmmm today is nt a good day for mi... nt becoz im under depression again..but becoz of alot of stupid customers pissed mi off man..
Coz the Banking Act i cant reveal much... but its all becos of a stupid unreasonable woman.. she veri jialat lei.. i wrk so long first time saw this kind of woman.. feel like going her house and slap her face lor.. but ok la.. the whole office ppl oso buay tahan her.. they said i talked to soft to her le.. ya.. my devil side haven come out lor.. coz i want to bao chi xing xiang hao bu hao..
Today witch was damn malu lor.. she was watching one of the clips from her email.. then suddenly she screamed.. hahah pengs.. i gt a shock out of my life lor.. the whole office oso can hear.. walao diaoz..yuan lai shi suddenly a ghost appear in the screen.. mad lor.. i wan to laugh oso cannot must act nt funni...lolz.. after tat i go pantry wit sufen laugh until like mad woman..imagine she is so paiseh..*yes more paiseh than xiaohan* haha..
ya dun feel like typing so much le...promise i will upload pics rite.. hehe here they are...

Me wearing the denim jacket Selyn bought for mi wor..hehe.nice ma??

TOp view..hehe..selyn i missed u alot.. ni zai na li.. so many months nv see u le.. dun overwork k...

My fav neoprinte.. too bad its turns out to be so small..tmd all becoz of tat we wasted so much money haha.. i love the one xiaohan kissed the beautiful angel de.. woohooo...see the irony in tat sentance??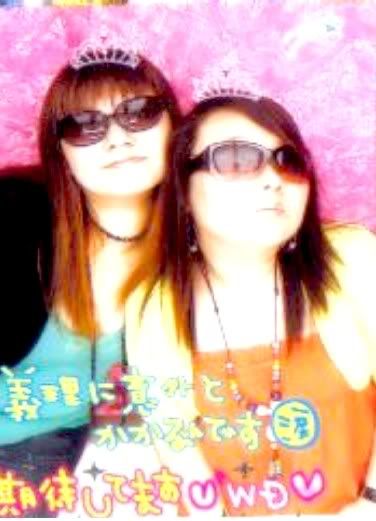 Time for retro queen to deng chang le..woohoo chio boh.. i like this pic alot.. tink xiaohan too rite..hehe...

Even though smelly tofu nv come.. we took this photo in remembrance of HER...lol...
TIME FOR SOME ARTISTIC PHOTOS LE BA....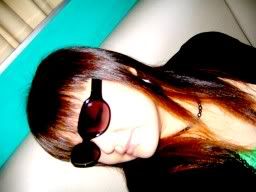 Act lor...haha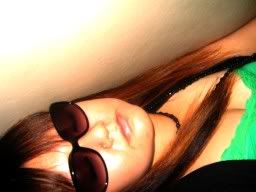 Hear her sing until i wan to.....zzzzz...cool rite...
Buay tahan liao..her songs too much le.. since i got so much free time.. better take more pics..u can see how free i am rite..hahaha
Orite got to slp now le.. super tired lei.. anyway before i sleep.. share one song wit u all ba..tink its been a routine liao.. see the lyrics ba.. gonna sing it at the next ktv outing lol... and make wawa repeat 10 times haha..
Emotions by Destiny Child...
It's over and done
But the heartache lives on inside
And who's the one you're clinging to
Instead of me tonight?
And where are you now,
Now that I need you?
Tears on my pillow
Wherever you go
I'll cry me a river
That leads to your ocean
You never see me fall apart
In the words of a broken heart
It's just emotions taking me over
Tied up in sorrow, lost in my soul
But if you don't come back
Come home to me, darling
Don't you know that there'll be nobody left in this world
To hold me tight
Don't you know that there'll be nobody left in this world
To kiss goodnight
Goodnight, goodnight
Goodnight
I'm there at your side,
I'm part of all the things you are
But you've got a part of someone else
You've got to find your shining star
'♥
I know tat if i nv blog today.. alot of ppl will come sms mi or msn mi de..so i better blog abt my life now.. reason is becoz frens cared for mi..they tot im going to commit suicide anytime.. so i shall blog a long long entry to kill ur anxiety
Well well..good news peeps.. i tink after crying out yst(which i will blog abt it later) i felt better..and i tink im no longer under depression for the time being.. been feeling super moody and pek chek for the past few days...
Just reached home...(time now 12.15am) wad!!! tmr no need work ah...ya how i wished lor..haha..went to Jerry's grandad funeral... well tonite is the last nite.. so i tink i shld go lor..since he is one of my best buddy..no matter how tired i am i still go just now.. met hong jin at 9pm...alot of NS man lor.. (xiaohan ur fave)haha coz one of his uncles is a warrant officer i tink..so all the kha kia came...woohooo.. some not bad wor.. but we nv went in... stayed outside to wait for the others to come.. Matt Lim drove and tks lor.. he anyhow parked de... then followed by stupid hong peng, matt tan...(still say mit 9pm in the end 10pm then reached)..lastly not to mention Jianxiang and Chee yong.. yes lor.. all guys im the onli ger...the whole table surrounded by guys..xing fu rite..haha...the NS guy veri good they helped to serve wor...waited for jerry to finish the chanting ceremony took us one and a half hours..almost fell aslp there lor.. lucky hong peng and matt tell us alot of LAME jokes lor.. to keep us awake..
ONE OF THE JOKES: try to sound funny la..coz u must see their actions its damn funny...haha.. we were chatting then Matt Suddenly stood up.. coz AUNTIE is here.. the carpark auntie la.. so all those in the funeral and matt ran as fast as they could to the carpark.. faster go change coupon.. u can see lor.. nearly half of the ppl ran there... then our dear matt said..eh imagine hor..the priest chant chant then he saw auntie.. guess wad wld he do???
Ans: He would end the prayer by saying.. Amitoufou END...then quickly ran to the carpark.. haiz.. here say u all cant feel it de la.. but its damn funni.. u shld see his reaction...
Jerry joined us for the "SUPPER"...haha nice food..matt tan ate the most lor..then i told him: "eh u like so much ah.. later go take the namecard from the auntie hor, next time can cater when u need it..."hahaha a trick ah boy taught mi...lol..he tmd spit out his food...and said: "siao ah.. not nice at all lei..who say nice" lol... ya so we chatted and chatted and laughed the loudest at the funeral..so rude rite.. haha.. Jerry looked tired..hmmm i tink he oso abit burden la.. anyway srry hor tmr cannot go for the ceremony got to work.. anyway tmr got 90 NS man coming lei..shit man i missed it.. but nvm ask Jerry to help mi take down their numbers le..haha...
Hongjin walked mi home....alot of things to say lor.. tks pal i know u lived veri far..but u still send mi home.. i appreciate it...
Well now let's talk abt the outing wit xiaohan yst...
We actually wanted to go eat the TIM SUM buffet..and this time lao niang veri clever le.. i called one day in advance to book...TO MY DISAPPOINTMENT tmd its FULLY BOOKED again.. SHIT LOR.. im so angry i tink next time must booked three days in advance le.. So we went ORCHARD instead.. met Lena awhile to shop at MILADY...hmm sad the clothes i want all dun have the colour if not its the size i want..haiz.. so bought noting.. then after tat mi and xiaohan carried on our shopping trip.. bought a sunglass.. not say bought la..its kinda of forced to buy..shit lor..we haven say anything the auntie took the glasses to the counter liao..haiz.. but its nice and i loved it alot.. woohoo like superstar lei..hahaa...then we went Heeren for SAKAE sushi... got this waiter like BAE YONG JUN..(i mean abit la) he veri gong gong de..so funni.. and guessed wad a BIG SECRET..while on the way to HEEREN..i asked xiao han to call and book the KTV....its at KBOX PARADIZ CENTRE...and our dear ger go and called up PARTYWORLD to ask for the telephone numbers... diaoz..how blur can she be???
ThE MOST FUNNIEST THING IS...she tried to act as nothing happen tot tat i nv hear lor....haha laugh till pengs sia...we went to take neoprints...and the first one is so nice...BUT>>>>>i tink i pressed wrongly..turned out to be super small lor..shit...so we continued to take and take for three times.. can imagine how much we spent lor...shall upload all the photos other days ba..no time to resize everything... meanwhile u can check out xiaohan's blog ba...after everything we went for our ktv session....
woohoo first time lei..go paradiz de.. the room is veri big lor...so we decided next time go there de...we sang until half..like no mood to sing le..coz i just went the other day ma..so our NV SAY DIE xiaohan continued and continued....last song of the day... of coz i sang the WU BAI...YI SHENG ZUI AI DE REN....tot xiaohan wont like this kind of song de... but due to the meaningful lyrics of this song.. she suddenly tell mi.. eh veri sad lei this song.. i want to hear again... haiz.. so she repeated and repeated for five times i guessed... and i realli cant take it anymore.. i cried...nt those veri jialat one la.. just tears flowed down ba.. coz this song realli veri veri sad de u know... even xiaohan oso kanna the virus now liao... haiz....i tink our neighbours sure think we are mad ppl.. keep singing the same song... first time i cried in ktv room and first time xiaohan repreated a song so many times..so those nv hear before go hear ba...but not for those happily in love now la.. coz u cant feel the lyrics de la...
Went to enquire abt the VIP room charges for KBOX... its 500 buckz.. inclusive of two chivas and i tink some tidbits or wad la.. anything as long u spent to 500 buckz.. hmm i still considering...coz its like abit ex lei... imagine i forked out all myself then i eat shit for the rest of the month?? haha but serangoon garden damn small lei.. dunno la.. si ah jin dunno want to celebrate together wit mi de ma.. if share share still ok lor.. dunno lei still veri luan...
To Hk: if u happen to read this.. ya i guessed im free if not its im going after evening ba.. and im alrite le..just now nv reply ur msn its becoz im rushing out of the hse to the funeral...
Sunday, October 23, 2005'♥
A different Shirley...
(its going to be a boring post.. dun read it if u love the old shirley)
Its raining cats and dogs rite now.. for those who are sleeping..tink its veri comfortable ba..for those who cant slp....its so cold and lonely ba...
Ask mi one thing i fear in life... for those who reali understands mi.. they will know the answer...yes its LONLINESS... perhaps after 21 yrs of being an onli ger.. i longed for companionship... since young..i didnt bought monopoly.. coz there is simply no one to play wit mi.. when im bored.. i talked to my toys.. pretending tat im the doctor they are the patients.. my mum often tot im enjoying myself...actually im not...not at all.. i longed for sibiling..someone to talk to me...when im happy and down.. i hate the responsibilities of being an onli child....im afraid anything will happen to my parents one day.. and ill be alone in this cold world..
Although u might tell mi tat there are frens ard..and i agreed tat i got alot of frens.... maybe same as wad lena said in her blog.. frens often have their own life.. and now i began to wonder...where is all my frens...they all have their own lives.. some mit u for the sake of asking u favour.. some ask u out coz they are bored too.. in simple terms li yong ni ba....i got true and good frens.. but their characters are so much different from mi.. some are so close to their bf...while some dun drink and club... tats mi..the real me... i love to drink..do u all know tat?? i love the feeling of being high..
Saturday nite... i tried to get home as late as i can... did closing for Gloria Jeans... reached home ard 12.30.. and ive been sitting in front of the comp.. until now.. there is nothing for mi to do... no website to surf...no one to talk to ...and worst i cant get to slp... everyday i tried to plan my day... but the moment i reached home.. its the same old feeling again..parents are slping..and i will face the comp until im tired and slp..wake up and its the same old routine...
Im not HAPPY!! seriously im not.. i dunno where's the old cheerful shirley.. maybe she's dead?? i realli dunno.. and frens and colleagues ard mi.. can sense tat.. my colleagues even tot tat im not happy wit her.. NO NO NO...i just dunno y.. i became more quiet nowadays..i dun feel like talking and smiling..i cant remember when is the last time i had a good laugh.. i always gave fake smile in front of ppl..and u know its been so long since i last took a pic of myself wit my hp?? coz i cant smile nicely...*(for those who knew mi..i would always take pics now and then..but now not at all) and i stoned alot.. today at gloria jeans.. tze hwa was calling mi for abt 5 times and i didnt even notice tat...he was just right in front of mi... i dun wan this kind of life... in fact im sick of it.. but wad can i do?? i might go out and enjoy myself... but the moment i get home..things became the same again...
Do u know tat i didnt even had a msg the whole day?? my hp didnt rang at all... except tat i msged xiaohan abt the meeting time tmr and she replied...tats all...ah boy oso didnt call mi today... im so used to him calling mi almost everyday le...but lately coz of my mood, i oso nv talked much to him...wads the use of looking forward to weekend...when its the same as weekdays...some frens called mi but i just dun feel like talking so i nv ans their call.. i veri contridicting rite?? i oso y im like dat.. where is the purpose in my life???
I dun feel like celebrating my bd now.. maybe i would just hide in one corner and wished myself happi bd ba...just like this song Zu Wo Shen Ri Kuai Le by Landy. I dun see the point at all.. after all this yr is nt a good yr for mi at all.. its getting worse every yr... im just a living dead...i have no life.. im under depression... i just wanna find a purpose its tat realli so difficult???
Saturday, October 22, 2005'♥
THE FUCKING ENTRY
Qi si wo le.. tmd pay haven credit to my account yet.. tmd fucking long...pardon mi for using this kind of language..coz im realli fucking pissed off wit the agency.. its oredi four fucking days...and now haven and im going to call them on MONDAY and gif them a good SCOLDING...maybe then they will have MONDAY BLUES together wit mi... jian...
How worst can it be.. no money... and frens keep coming to borrow money from mi.. do i look like im fucking wealthy.. tks lor.. dun borrow say i gei gao.. borrow le then all fucking disappear.. how great can it be man...
Orite enough of those fucking words...i oso dunno why im damn tmd pek chek...nonononono of coz not becoz of wad happen yst.. tink its becoz of PMS...so u all who is going to mit mi.. BETTER BE CAREFUL!!! if not i fuck u upside down...haha tat was suppose to be a joke.. COME ON LAUGH!!!!...
Going to Jerry's grandad funeral i guessed today after Gloria Jean's closing....hmm my condolence.. i know u've been taking care of u for so long le.. so now maybe its a relief for him and u ba.. do take care of urself k..
ALL the best to MISS TUPPERWARE and MR AH JIN's first DATE... hope u all will enjoy urself ba... remember to be more gentleman hor Si AH JIN... and MISS TUPPERWARE..dun throw face by bringing ur SMELLY TUPPERWARE out hor.. haha
Orite got to go le... wad a fucking day it it today...
Friday, October 21, 2005'♥
Today the topic shall be abt LOVE....
What is love..
This was not wad i wanted to post de initially but after some circumstances i cant help but resist to post.. if u are a guy here... pls fuck off...coz this entry will definetely pissed u OFF....
So when a guy wanted to know a ger.. he will call her everyday..chat and chat.. and slowly likes her.. and then become bf and gf...
First one mth.. the sweetest.. tend to mit every now and then.. then chat every nite until wee hours.. hold hands.. kissed... haha everything so wonderful.. He tells u how much he loves u... wanted to marry u.. Ur HIS ONE AND ONLY ONE....UR the onli one he loves.. ur the onli one tat understands him...
Ur heart melts when u heard tat... u sacrifice for him... bought him stuffs..cherish him.. care for him now and then... no matter how far u are he will come to mit u... (depends of indidvidual maybe vice versa) u feel tat ur on top of the world.. ur the most xing fu woman in the whole wide world.. u tell urself well this is the guy i wanted to settle down with... tadah.. ur DEAD.. ur into this LOVE GAME le.. welcome to THE HURTING CLUB....
Few months down the road... the love fade.. slowly u all quarrel, there's a gap in between.. and tadah.. he intiate to break off wit u.. reason of coz is veri wei da de.. EG: I need to concentrate on my studies.. I tink I have no time for you.. I tink we are not suitable.. I tink i cant gif u a good future....U will always be my best friend..(haha veri good try)
Tks lei..after a few months then he tell u all these kinds of wei da reason.. Pooooofffff.. all ur feelings, dreams.. gone in a poooooff... u feel veri miserable.. u cried for him day and nite ..of coz he didnt know tat.. u cant see a sense of remorse in him.. u cant focus on ur work,,while he is out there enjoying his work.. tmd de damn bu gong ping hao bu hao...
U finally managed not tink of him so much after a few months.. although memories still live.. and tks lei.. the worst nitemare came.. HE's ATTACHED....woohoo how great can it be man... So fast..there goes to show.. how TRUE his promises were for u which is JUST A PACK OF LIES...
Well well this shall be the veri last time i blogged abt u..
Im not sad becos he found a new gf(so now he got time for gf le huh?? i tot u said u wont have a gf unless ur stable in life?? so tmd contridicting).. im just feeling foolish.. why last time sacrifice so much.. why last time put in so much effort.. why when i wanted to be serious le..then these kinds of things happen... i mean my impression towards him totally changed.. im realli disappointed.. disappointed wit a guy tat i once love so much.... i didnt know ur is this kind of person..jiang yi tao zuo yi tao..but anyway i wanna THANK GOD tat luckily nv together oso.. if not oso cham la... woohoo... CONCLUSION....
NAN REN DUO SHI JIAN DE...(of coz not all...i do met some good ones.. fabian, ah boy, ban chuan, ah jin..etc...)dun gif promises if u cant fulfill ok.. stop complaining tat gers are hard to woo... coz our HEART IS NUMB!!!! Just asked ard... and u will know how many times this kind of story is repeating itself in everyone's daily life...
不要谈什么分离 我不会因为这样而哭泣
那只是昨夜的一场梦而已 不要说愿不愿意
我不会因为这样而在意 那只是昨夜的一场游戏
那只是一场游戏一场梦 虽然你影子还出现我眼里
在我的歌声中 早已没有你 那只是一场游戏一场梦
不要把残缺的爱留在这里 在两个人的世界里
不该有你 喔 为什么道别离 又说什么在一起
如今虽然没有你 我还是我自己 说什么此情永不渝
说什么我爱你 如今依然没有你 我还是我自己
To my lao chek Fabian.. tks for always there to counsel mi.. although i sometimes heck care u la.. zhao zhi dao last time i choose u better hor.. hahaha.. k la tks anyway.. ur one of the hao nan ren.. at least ur not SO FAKE...
Thursday, October 20, 2005'♥
一生最爱的人
你
用你独特的温柔
狠狠的刺痛了我
证明你已不爱我
你的干脆
你那有心的依偎
普通朋友的相对
以为我都没感觉
答应我 如果要离开我 请一定跟我说
我会祝福 让你走
如果没把握 不要说你爱我 这样是欺骗我
我的心儿好难受
我
没有误会你什么
因为看到你背后
藏着满满的冷漠
你的眼泪
流得那么的虚伪
像电影里的情节
其实你都没所谓
如果说 你还是爱着我
让我俩再从头 我会好好的把握
因为你是我 一生最爱的人
我真的舍不得 看着你 让你走
不要说爱我
不要说爱我
不要说你爱我
不要说
因为你是我 一生最爱的人
This song is by WU BAI.. suddenly like it veri much..due to the influence of AH BOY.. i didnt know the lyrics of this song until i heard it many times..
Nice lyrics.. especially this part...
答应我 如果要离开我 请一定跟我说
我会祝福 让你走 如果没把握 不要说你爱我 这样是欺骗我 我的心儿好难受
i always tell all my bf.. at the starting of a relationship.. tat if one day u dun love mi le.. pls tell mi.. cause i dun like ppl to lie to mi..so far so good most of them tell mi..except for a few.. wads the pt of saying I LOVE YOU if u dun mean it anymore..guys are always guys...
Chatted wit lena at chillicrap...well ger u gotta be strong..nt the end of the world..shi lian onli ma.. i remember wad my cousin told mi.. in this world every min every sec dunno got how many ppl shi lian.. divorce... its not onli you onli..no point holding on to wad is nt urs anymore... i know wad i say rite now.. u might not have the mood to listen.. just remember tat my SOS hotline is 24-7 de....and oso i can be ur CHIVAS khaki hor..hehe..
Copy from LENA's blog....
Ten years ago, I was...
I was 11 yrs old.. just moved to tampines... trf to a new sch..had good fren like shanni, liyi, shihui...all dunno die where le.. haha always go to the library and fight for the "baby sitter and Sweet Valley" books...a gong gong nerd...
Five years ago, I......
I was 17 yrs old then.. chao ah lian.. having o levels.. out of 150 days attendance onli attend 100 days.. wad u tink.. always run away from sch..smoke and smoke and smoke.. failed maths everytime...shit who is my bf then... wait ah i tink...hmmm...i tink dun have lei.. haiz so ke lian rite.. went out wit angel all the time to play pool... chiong sparks..woohoo..hahah those were the days....
One year ago, I......
was in ITE.. projects projects and still projects...but i love the school.. knew IVAN and its the most regrettful relationship i ever had.. backslided for awhile.. and always chiong chinablack wit baobei they all... celebrated my bd wit the seven sisters...sweetzz...went back church.. and stopped smoking le...
Yesterday, I was........
in KTV wit Samson and Shufen.. enojoyed myself alot.. he called mi.. and we chatted... ah boy had a bad day... talked to him until 2plus...
Five snacks I enjoy...(mine are all junk foods..oops)
- Chocolates!
- Cheese Cakes!
- Elcair
- French fries..yummy
- ice cream la of coz
Five songs I know all the words to...
- Yong qi by fish leong..close eyes oso can sing
- Qi qing liu yu by lee le jun...
- Bei ai de nu ren...by coco lee...
- Ai wo de ren he wo ai de ren..another close eyes song haha..
- Ai wo de zi ge..by SHE
Five Things I Would Do With A Million Dollars......
- Buy a car.. BMW SERIES 3 woohoo..
- Buy a CONDO.. for me and my parents to live more comfortably
- Treat my frens to dinner
- Go other country like Maldives, Australia to enjoy
- Save for a rainy day...hehe open a fixed deposit account...buy shares
Five Bad Habits.....
- Spend money like water..haiz. haiz..
- Too sensitive(same as lena..maybe we dun have security??)
- LATE LATE AND LATE....
- Too soft hearted le...
- Like to drink too much...
Five Biggest Joys......
- To be a child of GOD
- To have both my parents with mi..
- To have good cousins...woohoo Cousin rocks
- Still need to say meh.. got good frens who love and care for mi
- Able to not work and still got money.. as if lor...
Five Favourite Toys......
- My Bubu Piglet...
- My bear on my hp
- Piglets still piglets..coz they are all ard my hse...
Five Place I Would Run Away To........
- A retreat to Villa Wellness.. opps i mean to spa la..
- Maldives...
- California
- Taiwan
- My eternal home.. Heaven
Five Fav TV Shows......
- Guess guess guess..
- Shi zi lu kou..so long nv watch le i miss it..
- Yu le bai fen bai....
- no more liao seldom watch tv nowadays.. working is like dat de no life..
Five things I would never wear...
- sleeveless la.. u tink i got small arms ah..
- Tube la.. onli when i slim down le hahha.. fat hope
- Wonder bra..lao niang still need meh..haha.
- Super MINI skirts..nonoonoo
- Veri veri high heels.. hais scare i sprain my back again ahaa...
Five Fictional Characters I Would Date......
- Harry potter la...then i want to take the invisible cloak from him
- Xiao Xin.. and smack his face..for being so naughty
- Oorlando Bloom.. handsome man...omg
- Piglet...wooohoo tell him how much i love him
- Doraemon...take out all the things from his pocket and dump him whahaha
Five people I tag.....
- Tupperware
- Lena
- Xiao han
- Ah jin
- Pekhar
'♥
Had a good ktv session yst... with two frens...Samson and sufen .Samson is my sec sch de ex....soooooooooo long nv saw him le.. he went there to study..woohoo university grad now hor...mai siao siao.. last time we together onli for one or two months.. veri fade memories i cant remember le.. he just got back from States a few days ago...and im surprised tat he actually found my contact number.. on and off we onli wrote to each other a few times nia..time realli pass veri fast...
Well we went to KBOX tampines.. so long nv go KBOX le.. so many songs i wanted to sing.... the moment i reached there.. i started to sing and sing...both of them didnt sing much.. sufen is so shy... and samson forgot how to sing in chinese liao..pengs.. they are just wasting their money... so i sacrifice myself and entertain them lor...whoooo so shiok lei..sing so many songs... i tink they both sing less than 10 songs lor...can u imagine im like having my own concert hahah....lol....
He called mi when im singing qian nian zhi lian.. i was shocked to see his number..coz i have deleted him from my hp le.. anyway i tink the excuse he used to call mi is LAME.. he said ah boy said i got ask him to go for my birthday he wanted to ask if its true.. diaos, si ah boy i nv ask him go lor... want TO HAI wo... since he said like dat.. then i say yes lor.. remember to come hor.. haiz so jia.. then he talked to mi alot of lame stuffs la.. in the end i said hmm here veri noisy la.. talk to u some other days... YESH!!!!! ive done it.. i managed to talk to him just like a normal frens... didnt feel anything at all...woohooo.. congrats shirley...
Didnt went to work today.. im too lazy le ok.. robots oso need some rest..first time i skipped work lei...feeling abit guilty.. well going to gym later.. wit my beloved sufen..woohoo i prey for good weather..
read lena's blog....the below paragraph is dedicated to her....
Dear Lena...
I understand what you're going through.. becoz im a victim of this type of LOVE GAME before.. now i know wad u want is some space for yourself...and the most impt is TIME.. trust mi..time will realli heal your wounds.. during the initial part u will feel damn sad damn xin ku.. u will feel tat the whole world is revolving without u... memories will always be in your mind.. all the things he promised u became LIES...how sad can it be....everything happens too fast... u cant believe tat it actually ended...u will always cry yourself to slp...each morning u wake up u felt a deep sense of loss..like something is taken away from you.....
Hey ger...all these is temporary... yes maybe u need a much longer time to heal but after everything at least at the end u learnt a lesson.. ku gou le zai pa qi lai... nobody cannot live without someone in this world... it took me two to three months to get over my ex.. and im sure u can do it too.. y cry for him when he is out there wit another.. they dun even feel a pinch...y must u show them u cant live without them... hey ger be strong..it makes mi realise one thing after all these incidents.. frens are always there for you..whereas bf is just temporary....frens are the one who lift u up when ur down... and thank God...i got nice frens ard... and im sure u will have too....
I will let u be alone for this period ba.. wont bombard u with qns and stuffs.. but one thing pls dun do anything foolish for him ok??? frens forever..hope tat u will get to read this entry wor..:0
Tuesday, October 18, 2005'♥
Thanks peeps for the care and concern...im feeling better le...
What is meant to be urs will eventually be urs.. no point crying over spilled milk rite??
Well.. today had been not a bad day for mi.. coz chai chee side came over alot of ppl.. coz of the stupid BCP exercise.. saw bennie, cindy, wendy they all.. woohoo and we chatted so long..everyone no mood to work le wor.. and its like going back to chai chee man...how i miss Ramlee, Chitra they all...life in tampines is ok nowdays.. ive gotten used to it le.. and oso the WITCH is treating mi better le...wads the cause of the sudden change?? i oso dunno hahaa.. anyway i no longer drag myself to work everyday ...tats a good sign rite??
Well well i just got back from gym just now.. veri shiok wor.. a good way of releasing stress and unhappiness..was there wit sufen... ya she's a good companion...i tink tmr i will kanna the power of those muscle cramp ba..hehe... anyway i tink i will be able to slp better ba tonite.. hopefully ah boy dun call mi in the middle of the nite and asked mi to send songs to him.. duhz.. tats wad happen yst nite.. i tried so hard to slp.. and after one hr....
AH boy called...duhz.. he asked mi to send him the few songs he wanted veri long liao...wanted to upload to his phone.. i kept telling him how zhou gong wants to chat wit mi..but he dun care..so here i am rite in front of the computer desk helping him to dl the songs..yawns... and i hate those website.. when u dl le..its a differnt song shit them lor..i patiently teached him how to receive songs....how to rename the songs..how to copy to the memory card folder...yes i realli realli veri patiently teached him tat.. coz he didnt had a high education and i know he veri pek chek wit himself oso...causing so much trouble to mi... but nvm la..tats wad frens are for rite...in the end i slept at 3.30...pengs... so if u strike toto liao..si ah boy better dun forget mi hor.....ai dai liam hor...
Well these few days i was tinking of how to celebrate my beloved 21st bd.. u onli live once rite..so might as well celebrate it..although it had not been a really good yr for mi..but suan le la.. move on shirley..
Tadah!!! in the end after some consideration i decided to hold my celebration in KTV...those VIP rooms..told ah boy abt it..and he said he will go de..and will ask "him" along.. then i keep quiet..and he said pls la.u all can still be frens rite??? dun ask mi tat qns i myself oso dunno
anyway ah boy's sis is wking at a ktv in serangoon garden..there the liquour veri cheap de.. but i dunno can hold so many ppl ma..coz i might invite 50ppl...dun get shocked...50 is when i tried to take away alot of ppl liao le... i still dunno the confirmed ppl.. but roughly abt there ba.. shared wit lena abt this..and she is so helpful..help mi to find kbox and partyworld info... ya kbox is not tat bad...saw their room before veri big...onli thing is the liquour part..their chivas veri de ex wor.. i had oredi emailed the manager... hopefully he can gif mi a quotation soon... the best is tat we can bring in our own liquour..then i will go DFS and buy my beloved chivas back hehe...
Hopefully everything turns out well ba...coz the idea is still veri vague...frens who have lobang on cheap and nice ktv must tell mi ok... those who confirm know u will be going de..better help mi in planning hor..hehe..
Gotta slp le..
crossed fingers tat ah boy wont call mi....
and i did a veri stupid thing today... but i nv regret coz u ONLI LIVE ONCE... at least i TRIED....
Monday, October 17, 2005'♥
忘了你,忘了我
当你说要走 我不想挥手的时候 爱情终究是一场空
谁说我俩的过去尽在不言中 别忘了我曾拥有你
你也曾爱过我 当你留给我 我不想接受的伤痛
爱情到头来还是梦 别说我俩的世界有太多不同
就说你已经忘了我 你就要离开我 谁能够告诉我
我是否付出太多 就当我从来没有过
还是消失在我心头 谁曾经提醒我 我的爱没有把握
就当我从来没有过 还是忘了你 忘了我
Sunday, October 16, 2005'♥
The weather depicts my feelings rite now...grey..cold...moody...
Its not a good day... esp a day to go Sentosa for outing...it went on well but the weather is disappointing...our mood was gone...we were stuck in the hut...finally we went off ard evening...
same goes wit mi...im stuck the whole day waiting for just an answer...an answer that solves the mystery of everything... i was distracted the whole day..didnt even enjoyed myself...perturbed by what he said yst nite.. finally i got the answer...disappointing and heartbreaking it might sound..i told myself not to SHED a tear...and i did not..amazed tat im actually so STRONG i went off to bed once i reached home...
A sudden urge of lonliness struck mi.. dad was sleeping..way too early..no ppl chatted wit mi on msn...and i saw his nick which makes it worst...i feel so afraid...afraid of this feeling...which eventually leads mi to tears...i dun like this feeling...in fact i hated it...
i wanted to go out of my hse...run to somewhere and shout...shout out all my unhappiness....shout out all my worries...again the weather disappoint mi..wad i can do now..maybe is to drink a few bottles of beer to get mi to slp... its damn miserable if u cant slp when ur not feeling good...
Dun ask mi wad happen...coz i just wanted to forget all the promises he made for mi...but no matter wad i wanted to thank ah boy...i know u stuck in between...i understand ur difficulties..and we will still be frens de..tks for being my listening ears...tks for consoling mi...
IF ever one day... we'll mit...i'll show u how wrong u made tat decision...
Back to my beer..ITS difficult to find frens who can drink now...all so guai de... I NEED frens who can DRINK CHIVAS wit mi...WHO WHO WHO...pls tell mi...all my frens dun drink de..if not onli a little..i missed BATAM going ktv wit my cousin and his fren..this is wad we call enjoy..
i want to go ktv and DRINK CHIVAS until im drunk..singing tat wu bai and wan fang hokkien song..ai qing jia xi guai.Tat song is oso the first song i sang wit ah boy when im drunk..... i wan to be drunk and merry... i hate the reality....who got this kind of frens to intro?? pls tag mi...
Saturday, October 15, 2005'♥
nan ren bu huai nu ren bu ai... how true is this verse??
All they tink of is their frens...loyalty...unity...wad shit is tat?? its like so cool rite...like those gu huo zai in the movies...i didnt know singapore still got this kind of ppl...grow up lor..
I hate ppl who broke promises...be it intentionally or unintentionally.. the feeling of being lied to is fucking miserable...
Fuck all the man in this world...
'♥
Im busy wit my life..yes i am...am i?? dunno la..just dun have the mood to blog ba...
For frens out there who cares...no worries im alright...esp cindy ah sao..im ok de...maybe tired and busy ba....
Actually i shld be feeling happi rite now...but somehow i felt an uneasy feeling in my heart...y?? i oso dunno....
Its onli a few days...
And im reacting like these?? Giver or Taker?? of coz TAKER..tats wad xiao han told mi...ya ya..taker is better...
srry i tink u all wont understand a single word tat i typed ba... tats for mi to know u guys to find out...
A song tat was intro by him...
a veri nice song...listened to it for a few days liao non stop, for those who want this song msn mi ba, i will send to u de...
醉了吧 反正清醒更断肠 无力去原谅 你背叛 算了吧
反正有你更孤单 你不会知道遗忘有多难
给你的心不要你还 痛不要你偿 陪你走过一段
七情六欲全都品尝 爱你的苦不要你扛
泪不要你挡 七情六欲打翻 笑着哭 哭着笑去想你的模样
走了吗 走到那里都一样 你不肯搬出我心上
断了吗 断了见面想不断 为何我总是为难我的慌
Monday, October 10, 2005'♥
BABY BLUES....
It's not easy looking after a baby..and i seriously agree wit tat...there so much thing u have to gif up when u have a baby...
cant even shopped for a blouse...cant even eat properly...cant even slp properly...all u get is crying from the babies..and worst the baby vomit the milk on u...sob sob....
tats wad i got yst...lol..but dun worry i still love babies...i believe they are God's angels from above to cheer and change our lives...
in my life..i got nothing...except for tonnes and loads of pictures which is taking up my c drive day by day...wo shen me dou mei you...PHOTOS jiu heng duo...haha...anyeay i did enjoy myself yst...although my arms still ached now...
Monday Blues monster failed again today... i finished work early today..coz i got a mission on hand...to pass something by hand to Toa Payoh Central Branch..for once i got lost in that unfamiliar place...but Laoniang shi bu hui fang qi de...i just asked ard and tks koong for talking to mi..if not ill be so loss...haha ...
Ah boy called mi and tell mi long cheng wants to know mi...wad is this a chain letter??
Kelvin-> AH boy-> and NOW!!! LONG CHENG???-> WHO??
Diaoz..i feel like owning a chatline....tks lei buddies...for promoting my newly opened chatline..for gers its free..guys pls trf 20 bucks to my acc and u can start calling it...we have gers from diff age as young as 4yrs old..who is my darling weisi...or the oldest to 60yrs old which is my beloved mum..so im sure surely one of them will meet ur NEEDS de??? tks tks...
Anyway went to Bishan after tat , to do another mission..but cant tell u all..anyway its been five mths since i went back le...realli missed my sch alot..and oso those days.. haiz...shall mit them up soon?? 7 sis?? once again tks koong for sending mi those nicely edited photos of us..BUT...I SAY again BUT..i wont be posting up the pics...coz i LOOK LIKE SHIT in all those photos...ahem.. i know u sure say got diff meh?? hehe..i dun wan to scare my fans man...lolz...
Orite enough of crapping..time for the long-awaited...PHOTOS...TADAH!!!!Lao niang spent some time editing and uploading the photos...i realli pei fu xia xue...her skills are so good somemore she is so patient in editing photos whereas lao niang onli edit a few want to pengs liao...kkkk enjoy viewing ba...
FIRSTLY....the STAR OF THE DAY....BUBU LIM..no I mean Charlotte Lim
Ke ai ba...hao xiang sheng yi ge wo...haha...
OUR MOTIVE of the day....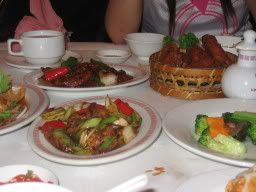 Food not bad..but price sux...realli sux...kanna con de..hehe i still miss my tim sum buffet..selyn if ur reading this..wo zhi cuo le..i shld have went wit u..instead of tat two suay kia..hahahaha
THE BABYSITTER of the day.....

Ignore my half moon face... focus on my baobei..omg she is smiling at mi..so cute rite..wooohoo..every ache is worth it man...oh ya did i mention she vomit the milk rite on mi...smelly milky shirley i am yst...
ITS STILL MI...THE GODMOTHER of THE DAY....woohoo...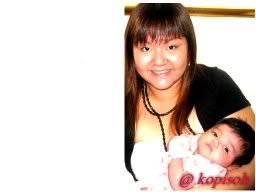 I crop off ah zhu..woohoo so shiok...shhhhh..dun go tell her if not i will be the one kanna cut off liao hahaha...
MUMMY and GAN MA of THE DAY....i look more like a good and caring mum rite..hehe
The baby onli listen to mi hor..when i carry her she just stopped crying..i know veri comfortable ma..wit so much fats cuddling her..wadever the reason is..im the BEST GODMA in this WORLD..coz her mum dun even know how to open the stroller...dun dare to ask for hot water for the milk....shhhh lucky they dunno my blog add..if not i will be the one scalded by hot water...PROMISE hor u all dun tell them hor..shhhhhh....(note: i dun understand y is our MUMMY CHARLOTTE's HEAD on MY BREAST???? i just saw it when i preview the whole post..tks lei..i know its comfortable...but its not for rent...tks ah!!!)
OK now for the AUNTIE of THE DAY....
Useless auntie lai de...she was the one who talk and do nothing the most...onli know how to complain..dunno how to carry baby..onli know how to shout when the milk kanna her...onli know how to shop shop shop and buy bikini at 200 bucks..haiz... tks lei ah zhu...hahhaha....
SOME OF THE NEOPRINTE WE TOOK>>>>CHIO CHIO CHIO..hehe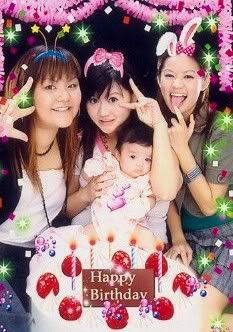 Love this the most....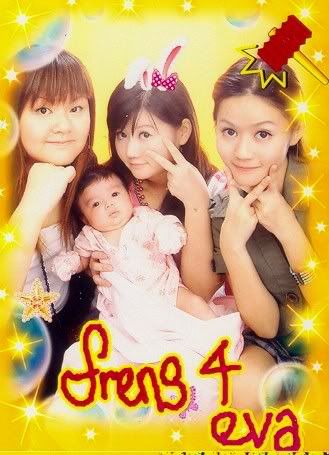 ACT thinking lor....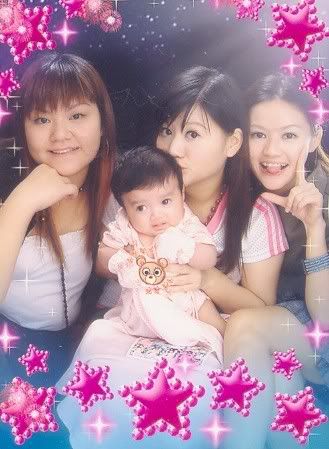 Cant tink of any pose lei..sianz...
Im a rabbit wor...sexy ma?? haha dun puke la...sorry la...dun need to puke on mi rite..hahha...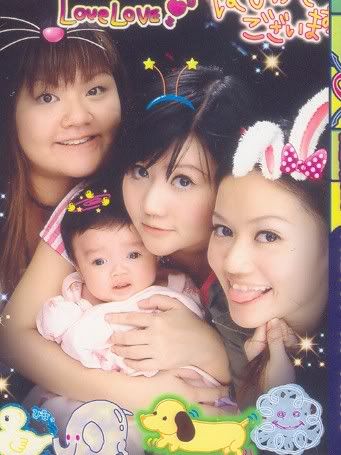 Baby says she cant take it anymore..this three gong gong is torturing mi, im so tired and i want MILK MILK MILK....(Note: the outfit my baby is wearing is i bought de hor..chio boh....mai xiao xiao i change for her in the morning de hor..her mum intend to let her wear some gong gong pyjamas out..lucky Godma Shirley came just in time to rescue her...hehe im mad la..seriously)....
Last but not least....My GUESS WATCH combine wit WAWA GUESS WATCH...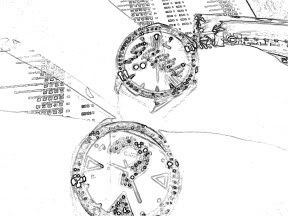 Veri chio rite..too bad tupperware is not in our GUESS GANG..hehe..orite gtg le..tired sleepy liao..tmr is a brand new day...and i prayed for a good day ahead....
Sunday, October 09, 2005'♥
My arms are aching..i feel like vomiting..im tired im shagged..i didnt know tat bringing a baby out will drain out all my energy..
Shall blog tmr...my hands are trembling...my fingers wont listen to my command...
Monday Blues Monster just arrived..oh man...
'♥
Yawns..my eyes are watery... time now 3.32am...
I just reached home...sian look like recently im veri active at nite...my panda eyes are showing up...
Went to watch the movie virgin 40 wadever the name of the show is la...its tmd de funni..laugh until we pengs...its so lame...but lucky its worth the money la..hehe...
We went to Crystal Jade for dinner...woohoo nice porridge u know...and after tat we went shop ard...went to DP and we each bought a white colour tube...sianz lei nothing to buy de...we had another hour to our show..so we went MAC to sit down and chat..both of us were yawning away...tink tats the side effect of a working life ba..used to slp early liao..so u will feel super tired lor..somemore i slept at 5.30 yst morning lei...
Tmd de tired now...tink i better get going..pics will need xiaohan to send mi then upload...tmr miting my beloved fren..zhu and zhen for tim sum buffet...get ready for pics ba...heheh i will have personal morning call from MISS Zhu coz she stayed at her bf house tonite which is just opposite..so i can expect her to knock at my hse door early in the morning...
TO LOVE IS TO TRUST.....
Saturday, October 08, 2005'♥
Im tired...wit beads of sweats on my forehead...coz im baking cookies again...yaya...thou shall nv stop trying...so here we are second time of baking... i feel like a housewives nowadsays..tat day just cooked dinner and now baking...wad will be next??haha
anyway cookies turned out quite well...as for the pics..sorry im too lazy to upload it..will upoload it someother days...ya it turn out well and im happy this time round coz ive improved wor..nanananana si ah jin and tat pekhar..I PROVE U WRONG LE!!!! hahah...gonna bring it to church and let my frens eat...ah jin..u want?? xiang de mei ba..who asked u suan mi tat day..haahaha
I slept at 5.30 this morning...was chatting wit someone...oh yes u dun gif mi tat look..im not going to leave tat club ok?? its been two days it seems like we have endless topics to chat abt..and he always like to scared mi wit stupid stuff like..be careful wor..later u turn on ur tap got blood come out..SUPER LAME..but he realli brightens up my day....
Will be miting my beloved cousin xiao han later, going to catch a movie and dinner...and a stupid thing happen....
tat gong gong xiaohan told mi tat deuce bigalow got preview...so i went to book the tix..every thing done up nicely..we all tot yes today can watch there...and guessed wad when i receive the confirmation tix...the date is 12/10 tmd.... nv check properly we all tot its today de...walao...but nvm i shall mit her on thur again to watch tat...so today we are watch 40yr old virgin..tink its a comedy..better pray hard tat its nice....haha then after tat maybe go chill out or supper ba... wanna welcome xiao han back into the club...
let bygones be bygones ba....we still love u ok....and as for tat ah sao..shall mit up soon k... maybe u go watch movie wit us la...beside still got an empty seat ahhaha...
tmr miting baby charlotte family...so better pray hard tat it happens...i wanna eat my yummy tim sum at mirammar hotel..i tink i have recommmended so many ppl abt this..shiok boh...hehe...
tired le..gonna have a bath and then go church for service le...must put put more concealer to cover my panda eyes..hmmph so sad..hehe
Thursday, October 06, 2005'♥
MY LITTLE HELPERS....
Been feeling veri moody since yst nite.. i oso dunno y.. maybe too stress le ba.. but i tink the main thing is no money... stupid pay haven come yet..tot i can enjoy my ktv session wit the bitches...oopz.. but last min i did not go...
coz im realli broke...haiz...to the extent one farecard two ppl share..wad u tink??? poor shufen is the same stituation as mi..haha nvm tmr will be a better day...guess ill get my pay tmr or sat ba...debtors stay clear from mi hhahaa..no la.. of coz i will clear my debts first haha
Office was freezing cold these few days..i oso dunno y.. damn it.. im so bored the whole day..nothing to do at all.. so i kept msging my cousin...they are so heartless tat they went ktv without mi..hmppppphhh...tmd when lao niang get pay...muahhahaa...suddenly got the urge to bake cookies...so i asked xiao han abt the details...and tada....i bought the cookies mixture after work and slowly started my lonely journey back home....how sad can it be??
Well dun pin too much hope on mi..coz its my first time...and i added too much water..in the end it turns out to be PANCAKE...damn it..hahaha..and oso abit chao ta la..oei my first time hor...
even my darling zhi ying said so..when weisi laughed at the state of my cookies....She said" Aiyah this is her first time ma...next time will be better de." Tks Zhiying now i know how bad is tat weisi le...hmmmpphh...
MY LITTLE HELPERS AS WELL AS GUINEA PIGS hahaha

ZHi ying is the older one..pri 2 this yr..and my baby weisi now K1 woohoo they are my darlings...they are the ones whom my mum looked after..cute hor.. two chiobus hor...they ate alot though i know they are consolling mi...so sweet rite...they keep saying its nice...when actually i oredi knew the ans...tmd de chao da lor...still say nice hahha...
THIS IS HOW THE COOKIES LOOKED LIKE...

Hey you!!! yes you!!! dun gif tat kind of disgusted look hor..didnt u heard wad zhiying said...ITS MY FIRST TIME OK!!!!...i tried my best..saturday going to bake another time..now tat i got the experience i sure do better de hor...dun later i open SHIRLEY's BAKERY then come get my signature hor...
I always tot Zhiying is good at comforting me....until.....
Me: Hehe im going to pack the remaining into the TUPPERWARE(the tupperware here doesnt mean CINDY SEE) and bring it to work....
Zhiying: Huh, you sure anot??
Me: Why not..i eat myself onli lor....
Zhiying: Laugh out LOUD(notice its real LOUD)...u mad ah..even u dun let ppl eat...they see liao tot u eating CHARCOAL...hahahhaaaa...dun throw face la...
Me: totally hurt.. sob sob...
Notice how clever is a pri 2 student nowadays in answering back conversation...they are simply geniuses...when im pri 2 im still drinking from the milk bottle...tmd so throw face meh...
My cookies is great..no matter what they say...WORDS cant bring mi DOWN...

haha...well same goes wit life.. u cant expect the best everytime..so for those who got back ur results today..esp NP students... dear miss tupperware and baobei dun be discouraged k... at least u all managed to scrape through....and now u all can enjoy le...hehe....
I missed selyn...wanted to msg her when she msged mi first..yes miting her next tue...thong yao just called mi when im baking cookies just now.. and im surprised man...so long nv chat le..so im going to call him back later.... for now im going to pak pool wit ah jin le.. damn it he won mi yst nite...he is the TYCO KING...tmd hahah..
Wednesday, October 05, 2005'♥
IM so so so so so angry wit myself now... why must my birthday falls on TUESDAY??? y like dat... its neither here nor there...haiz..so difficult..dunno which day i shld celebrate it...
Its onli one mth away ...and i tink i need to make the necessary arrangements..up till now still dunno how to celebrate...ive checked the website on some of the chalets...sadly to say ALL OF THEM ARE FULL for ALOHA chalet...tks lei..wanted to book Lena's chalet initially coz tat place so shou liao..but its tmd not available..who is the one booking it?? got someone bd on tat day oso meh..haiz..wanted Aranda Country Club..but must see how much first..coz the stupid package 3D2N end at 17 Nov..cant they last 10 more days...haiz..rite now onli left costa sands pasir ris le..210 for two nites?? abit ex lei.. while other chalet at Changi are so ulu..Loyang de is nice..but tmd full again??? NOW TELL MI..who is booking all the chalets man..it was suppose to be A NON PEAK DAY...
My head is getting bigger..can anyone tell mi wad to do...hmmm arbo i open two rooms at Strand Hotel la...hahaha..but then in the end onli a few ppl can turn up onli... while i still got many frens lei..how to squeeze u tell mi?? i tink must 10 rooms hahha...how how...
Another alternative by Ah boy.. open at MOMO good try rite... most of my fren dun chiong de...haha..u wan to drink then say lor...dun jia jia...hmmmm...im still seriously tinking...ktv?? sian lei....haiz..up till now i still cant tink of anything..
Im so tired this morning when i went to work.. kelvin and AH boy came to my hse downstairs for kopi session yst nite.. haiz.. a price to pay lor.. keep yawning away at work... and im supper pissed wit Kelvin now.. he lied to mi abt something for 6 bloody yrs!!!!!! i cannot rong ren lor..going to show him my powers soon...damn it...
Hope tmr i will be able to mit my dearie cousins ba..so much to catch up...hopefully benjamin can go too...a family gathering....
Well i need to slp early tonite le...KELVIN WONG I DUN LIKE U...BLEAH.>>
Tuesday, October 04, 2005'♥
well well well.. i have uploaded some of the pics from lena's chalet...hmm actually stole from her blog la...hahaha nv saw her online ma...
Here they are....
Beloved Jasmine and Lena..the two sisters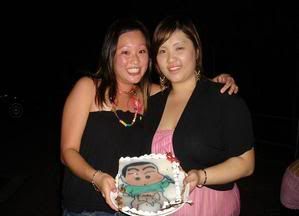 Me and the rumours Nan Zhu Jiao..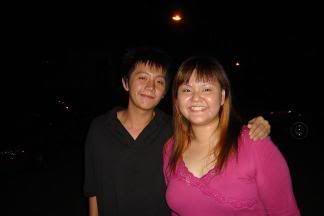 for those of u who saw yongshun before..dun u tink he look like him?? maybe tats y we able to communicate...ahhh i miss yong shun... my beloved god brother....and seriously i nv xiao kian ur brother hor lena...hahhaha
Me and Bah bah aka Collin...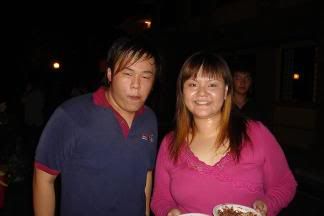 Just saw him again today near my office building..didnt know he worked downstairs at Gaincity man..of coz he nv fails to bicker wit mi when he saw mi...haha next time must jio him for lunch liao....Note( i didnt know lena's brother eyes can glow at the background haha)
Her cakes....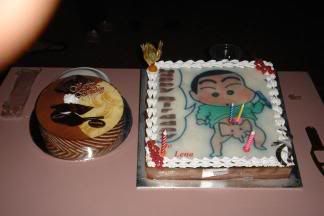 Cute hor.. la pi xiao xin wor.. the cake beside it is the one mi and david shared de...kinda of inferior wor... bu hao yi si so small lei..hahah...
Trish and Lena...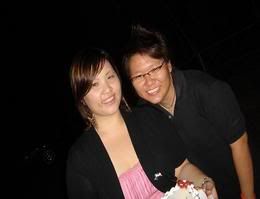 And lastly...Tada...the COUPLE...
Bah Bah told mi something veri funni tat day.. two months ago..Lena and i went to Jenn's chalet....Lena and Kenneth were sitting down there talking and chatting...just know ma...then two months after upgrade liao..stand at centre cut cake liao...hahah i was laughing man...ya indeed fate is veri amazing de... within a short time alot of tings can happen de..who knws two months later i would attend their wedding?? hahahhaa...oopz..
im so tired rite now..actually wanted to slp de..but i just cant break the habbit of going online everyday...
Just came back from watching the show , THE MYTH wit Kelvin and Ah boy.. nice show lei...i seriously loved guys wearing armour man..they look so charming of coz..not Jackie Chan la... i still prefer Oolaando Bloom...woohoo..
Before tat went to pak pool... nice one man... kept losing to ah boy..super li hai de lor...then after movies went for dinner and its home sweet home time lor....
Today at work super slack..hehe basically i kept zo bohing...nothing to do at all... coz of auditing ma... then it doesnt concern mi at all..hope tmr oso like dat hahaha....
Received a 50dollars vouchers from SOO KEE.. coz bd coming le ma.. but must buy the diamond Brilliant ROSE la..who wan to buy for mi...hehehe i tink i will just chuck it there..times like these still buy diamonds/// i dun even have the money to buy jade lor...hahaha...who want can tell mi i gif u ba..
Cant take it anymore im going to slp le..tmr will be going YMCA for bible study....thur might be miting the kitchen ware cousins...fri cg...sat go play pool...sun go bring BABY CHARLOTTE out for tim sum..yoohooo
Monday, October 03, 2005'♥
Continuation from the previous entry..bu hao yi si..my fren waiting veri long le ma...
so lets start from last thur ba...kenny my cousin who is mijie brother came from Batam...
He went to find mi after my work..and then we went to shop shop ard..cause we wanted to wait for mi jie to finish work ma...and my dear cousin is so good he bought a bracelet for mi.. its those 3 for 10dollars de..tks lei..but nvm i still veri touched haha.. we reali have no place to go le..so in the end...an idea struck him...
and there comes my new love...
oh well of coz its not him...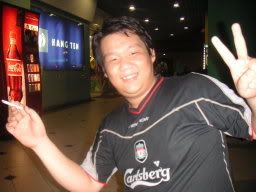 still not him haha....
and now time for my new love le..dun be shocked i know its not veri handsome...
TADA.......
POOL...hahah im addicted to it now....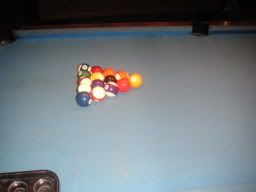 kan lao niang de cue ba..hehe..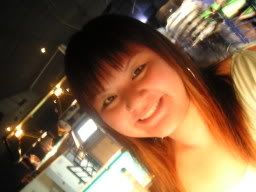 then we proceed to chinatown to look for mi jie...i know she will sue mi but i dun care.. her pics is exposed le muhaha...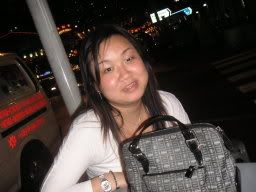 our yummy porridge from chinatown..missed it so much..damn long i nv had it liao..woohooo...tian ji wo lai le..haha..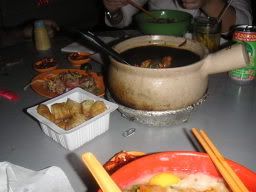 FRIDAY....
woke up and went to work as usual..then suddenly during work my back veri pain..i cant even stand up on my own..have to depend on something..damn it.. called ah jin and complained for 30mins...poor him no more lunch nap le..coz of mi haha..
went cg after wrk as usual..stupid ban chuan..dua mi..nvm i shall nt talked abt it.. then went to clementi and play pool wit kelvin...see i told u im in love wit it liao...haha then chatted wit ah boy while tat kelvin pang seh mi wit his fren... 22yr liao still called ah boy haiz...but he veri funni de..when him and kelvin combined force..woohoo.. kelvin LOSE..hahha..then we went jb after tat... adventurous day hor.. yaya nice try see what happen on sat....
SAT....
Totally cant get out of bed..TOTALLY PARALYSED..tmd must be becoz of the long hours of wearing heels walking here and there... walao after struggling for half an hour..i finally managed to roll down of the bed.. then proceed to see a doc..tmd 34 buckz !!!! arrggghh so ex... but the medicine quite effective lor.imagine i served gloria jeans the whole day after tat....
ya serving is good.. then its the gong gong ah zhu called mi and asked mi to mit her...haiz so sad no pool for today...
SUN...
after ah zhu left i cant slp anymore..tried to blog and i cant.. watch some tv..then david reached my hse downstairs le... we went bugis...oh great..bugis is so tmd packed wit ppl..especially the temple lor...we cant find a parking lot..and we park at somewhere which is tmd far..poor lao niang is sweating like raining liao..haha.. he went and prayed and i went OG to shop..omg...saw a tee at gio offer lei..so i bought it lor..hehe.. then after tat we went bugis junction to look for lena's present....
haha decided to buy her a cake and dp vouchers...cause read her blog she said no cake..who knows...in the end she got two bd cake..but ours oso not bad hor..breadtalk de TIRAMISU cake..yummy... bought the dp vouchers..and im so tempted to shop again.. mr david gave a veri sian look..orite.. no shopping anymore..haha..
then went back to tam mall to buy cake..coz dun wan to buy so early ma...soemmore tat gong gong trish initially asked us to go fetch her oso ma.. went tm awhile and the parking is so ex there..then here we are procceding to the chalet...
whoooo aloha chalet at Changi..veri ulu de..its better if u got transport lor.. when we reached there..alot of forum members oredi reached le...and when they first saw mi..guess wad the first thing they said???
U've slimed down le..ya FAT HOPE...instead they say....
Oei you two together ah..pengs... i nearly fainted on the ground...they always tot we two you yi jiao..nononnoononooo..we are good frens ok...
Saw lena..and she looked so xin fu lor..got tat ai qing de zi run lor...hahaha saw my beloved collin..aka baba..woohoo always bicker wit mi de...and i realli loved to eat his dad de mixed rice...my downstairs onli hor..haha..so yummy..collin veri siao de..but he is good at making ppl laugh.. then jasmine came...yeah lena's sis..centre of attraction..casue she super friendly de...and so happen tat we are same church wor..ahha..and for the first time i saw lena's brother qing fa...and thks lei.. cause nothing to do ma..so we chat chat..and the next rumours came....
By beloved jasimine...wei u like my brother ah... wan to pian xiao didi ah..
omg...why like dat......its tmd paiseh..imgaine they talked so loud..i tink the whole chalet ppl can hear lor...
Uncle david's car plate is my bd lei.. i yst then know..2911. i knew it he is secretly in love wit mi all along..hahah no la..i dun wan anotehr rumours lor..pretend i nv say anything .walao then guess wad..the number jumped in 4d yst..and he condemned mi he say i veri suay..sob sob...
Realli enjoyed myself yst nite.. and it realli makes mi wanna open a chalet lei.. so fun..but then...laoniang is veri lazy de.. if i open i wan to be mei mei..and no work for mi..so who wan to help mi organise??? tot of celebrating wit ah jin together..coz just one day apart..somemore our frens ard the same de...if not he open beside mi lor.. still haven decide yet..how how one more month to go le lei..frens pls gif suggestions hor..hehe...as for the pic yst ehhe lena u know how to zhuo ren le hor...ahem....
i onli got one pic.. her brother sent mi tru his phone..but i wont be so gong gong to post it up de..coz later ren yan ke wei again...hahaha...
chatted wit ah boy until 3plus...topic?? SHIT.....hahaa...i missed him now....
lastly show u guys my desk ba.. im veri clean de hor..not like someone got magazine all these...oooppppsss....haha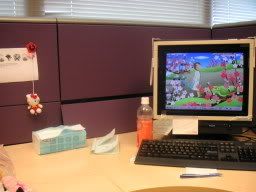 Sunday, October 02, 2005'♥
My new love...
Woke up veri early today.. coz of someone.. wanted to blog then the web is down for maintenace..tks lor..now im going out liao then can blog..wad the...dun care la..let the person wait first lao niang been wanting to blog for so long...tis entry consist of the past few days event..so shld be veri long..ni men hao zi wei zhi ba..haha
woke up early coz of someone...literally means.. that someone woke mi up..who?? siang?? its my dear ah zhu..she yst stay over at my hse first time in our 8 yrs of friendship.. hmmm something happen btw her and her bf..ya my hse is refuge camp and its so happen tat the gong gong bf stayed near mi..so she went and find him but he's NOT AT HOME..well then here comes superwoman shirley..took a cab down from boonlay..luckily its subsidy haha.. and find her at voideck..217 ...reached there midnite liao.. no one was found..beginning to feel eerrie...coz tat block got ppl ahem before..called her cant get her..oh man..wad a fool i am..called charlotte mummy tat charlotte auntie went missing.. then finally she called mi back..tks lei after some communication..its 227...diaos...how blur can she be..so superwoman shirley fly..i mean walk all the way and find her there...and brought her to her cosy home to stay over...
keep complaining my hse hot..come on lor lao niang been staying like dat for past 21 yrs..haiz..so ke lian rite.. too spoilt liao...slap her face then she know...hahha so here we are chatting and chatting.. until 5plus..and at 7plus she went home..hope she's fine now ba....
oh well the car is horning now.. im going down le..fren waiting..so blog again tonite..buay buay
Saturday, October 01, 2005'♥
No matter how busy, how tired i am and of course how lazy i am..i will nv forget abt my beloved cousin de...
Dear Tupperware,
I read ur blog...and it hurts me to see you cry(seriously La)..although i might be joking everytime like a fool.. all of u..yes i mean all my family memebers means much to me... i understand the trials u are going thru..where other ppl of ur age are enjoying their lives like nobody's business... but through all these i believe u will turn to be someone mature and understanding..this might be a good stepping stone for you in the future..
No matter how depressed you are.. We, yes i mean we include wawa and me..are always here for you..feel free to share ur problems wit us.. wan cry all cry together ma...there sure will be a solution.. and by accompanying ur mum at home.. ur are oredi helping her to cure her lonliness..so u are not useless ok???
See now laoniang got backache coz of my new love i still struggled to write to u all these....
Remember all these is ur attitude... ur attitude towards life determines what kind of person u are... and yes u've scored full marks in our heart...
The greatest disability in life is a bad attitude..
Lastly..
"Problems are opportunities for God's miracles..."
Love kopisoh...Ur darling cousin
'♥
BUSY BUSY BUSY...
BLOG under construction...
Real Reason: Owner is damn too LAZY...
FUN FUN FUN...
She is having fun everyday....
LOVE LOVE LOVE...
GUESS GUESS GUESS....