Tuesday, January 31, 2006'♥
Our Own..
Before anything wanna wish everyone a HAPPY DOGGY YEAR.. hope u guys enjoy ur own celebrations and get a great amt of ang pow..
For mi.. i quite enjoy mine... except for some minor issue which totally spoilt my first day of new yr.. but anyway everything is ok now la..
I just got back yst evening.. went home to put my luggage and after a shower i was out again.. coz i promise to go clubbing wit my frens yst nite. But there is some minor misunderstandings.. end up i went MOS wit two of my working colleagues and their frens.. haiz..
Yst nite was RNB and hiphop nite.. the music was great and the crowd was high too.. we went to explore all the rooms there.. i can onli conclude tat onli the RNB room is the best..and if i ever go there again its becoz of RNB onli lor...nv heard the RETRO songs there before..maybe its too RETRO le ba..
Got to know one guy his name is DE YANG.. ya a friendly chap.. and he sent us home after tat.. military police now.. any takers?? reached home around 4am and i was still pondering over tat MATTER.. felt real guilty and i pray tat she realli wont be so pissed off wit mi.. im quite hurt by the SMS she sent mi yst hai hai hai.. suan le.. just pray hard ba..
Just came back from a treat to MEMOIRS OF GEISHA wit MR BULLSHIT.. kaoz.. damn nice lei the movie.. MS SELYN la.. haven passed mi back my book i believe the book wil be nicer lor.. nicenicenice when ithe vcd out i sure rent and watch again de.. i love their eyes tat CONTACT LENSE tmd de nice.. tink im going to find tat shade le...haha..
We went to eat at SAKAE sushi..LONG QUEUE .. coz just finished watching JAP MOVIE ma.. so must eat JAP DINNER..super crap rite haha.. ate alot of stuffs..MR BULLSHIT ORDER like nobody's business.. ate the SUKI dunno was steamboat..welll errrr..except for the beef ...the rest were VEGE lor.. and the soup is SWEET de..argghh.. anyway total ate up to 57bucks.. xing tong rite??? lol tks ah MR BULLSHIT....too tried le so we took a cab home..the uncle drove so fast lor..almost vomit out the food..
Was so full rite now man.. argghh cant slp.. when i tot of tmr i SUPER SIAN LOR.. got to start work le.. arghh boring and tmr sure VERY VERY BUSY de.. i will be like a mad woman in the office again...
PHOTOS will be up soon .. coz there is toooooo much photos le.. it will be a photoblog..so stay tunned ba..
Saturday, January 28, 2006'♥
My Life...
Im back...finally.. frens haf been asking mi.. is it i got depression again.. how am i rite now?? Well.. im fine seriously.. more or less thought tru abt my future le.. and i somehow got the ans in my heart le..
Well for the past few weeks i haf enjoyed myself.. and i cannot imagine in a few more hours time.. i will be going back to Batam for CNY.. its soooooo fast.. just pray tat this yr..everything wil go on smoothly..everyone will be HAPPY ba..
But somehow..the MOOD is still not there yet...went Chinatown last nite wit MS TUPPERWARE.. supponsingly wit MS HAN too.. but due to unforeseen circumstances again.. this time round is her turn le.. she cant make it.. ITs A CURSE!!! hahaha so anyway MS Cindy and i were outside le.. so we both met up..
Finally collected my beautiful bag from my fren's shop le.. veri sweet wor.. We went to this Hong LIM food centre.. wanting to eat the FAMOUSE OUTRUM PARK char kway teo...missed it so much..xiang dang nian when im young always eat de lor..damn shiok.. but since then it MOVED>.. and ive been craving for it.. DAMN reached there i saw the same uncle...BUT HE WAS CLOSING THE STALL .. damn damn damn.. how suay man.shit..no wonder im a member of SHITTY CLUB...so instead we ate the WU XIANG lor..
And we cant wait to start our shopping trip... Walked along the streets..crowded wit people..and we took photos in the midst.. and oso video it.. like a host haha.. the variety of food is almost the same.. everywhere is selling the same ting..and this yr realli nt a lot of ppl lor.. END up in the end i bought 100g of MUAH CHEE.. 200g of mixed sweets haha.. ok la.. and oso a chinese new yr decor complimentary from TUPPERWARE.. u tink she so good meh?? 3 for 2.00 la.. kns hahha .. we walked and walked..till we came to this FAMOUS HINDU TEMPLE.. was tinking and considering whether shld we go in.. then of the auntie said.. "can just go in de..dun need to scare" something like dat..duhz.. so we went in.. without shoes.. quite big..and for the first time in my 21 yrs of living.. i went in a HINDU temple..but we cant take pics too bad.. haha...
Oh ya.. saw this ice cream uncle.. so i wanted to buy one cup.. saw the LONGING LOOK on that TUPPERWARE so i decided to treat her..GUESS wad she did?? She simple throw my face..by asking: " Uncle ke yi gei wo duo yi dian ma" duhz.. so cheapskate lor.. i laughed my way tru.. uncle agreed and she said " XIN NIAN KUAI LE>> GONG XI FA CAI" omg im fainting at that pt of time.. hahaha realli veri cheapskate de lei..haha..
27/01/06
Just came home from LENA's place.. we had our REUNION dinner.. at her house.. a GOOD HOST lor.. so MUCH FOOD LOR..and she cooked all those all BY HERSELF..good housewife..who want to find a wife find her ba??? hahaha
MET up wit WENDY and we went together.. lena's brother gf, gf's sister... trish... jasmine... jeffrey... all were there.. started eating..omg so shiok my fav is CRABMEAT woohoooo.. onli imitation de is nice..haha.. so u know wad to get for mi for vday?? haha.. waited for ah ber.. then we watched the LOVE CONCEIRGE.. wooooo nice show wor..but ending too abrupt le.. had so much fun there.. COCO pee on tRISH.. the MOST FUNNIEST PART..and i decided to name ah ber's junior as SICKO hahha..
After dinner we went to lena's room chat chat awhile.. then SICKO pee on her newly change bedsheet..duhz.. haha.. then we decided to play mahjong..my first attempt ok.. still trying hard to learnt more.. and im the WINNER lei.. haha all tks to ah BER AND UNCLE KENJI...they are my SHI FU wor..
Didnt realli played veri long.. as they had to work tmr.. so mi and wendy left her hse..
Tks lena.. for inviting us to ur house..u r a great host wor..and a great cook.. will cherish the times tat we chilled out together wor.. more this kind of mahjong session pls.. hahha i knw u veri pro la.. lol.. and tks for booking the air ticket for all of us.. and YES we are finally going to BANGKOK in MARCH.. saw the air ticket just now and was so excited.. wohoo..
Orite.. im damn sleepy now.. i haven even packed my clothes.. duhz.. tink i wil be leaving tmr afternoon ba..dun miss mi ok hhaah.. pictures will be uploaded when im back..too tried le..
AND PEEPS remember our outing on MONDAY NITE.. MOS HOR.. dun pang seh hor..and u too MS HAN..and TUPPERWARE pls gooooooooo.. we shall had a great nite together..coz its RNB AND HIPHOP nite..wohoo..see ya guys.. lastly..
XING NIAN KUAI LE>> GONG XI FA CAI....
Wednesday, January 25, 2006'♥
Because Of You
I will not make the same mistakes that you did
I will not let myself
Cause my heart so much misery
I will not break the way you did,
You fell so hard
I've learned the hard way
To never let it get that far
Because of you
I never stray too far from the sidewalk
Because of you
I learned to play on the safe side so I don't get hurt
Because of you
I find it hard to trust not only me, but everyone around me
Because of you
I am afraid
I lose my way
And it's not too long before you point it out
I cannot cry
Because you know that's weakness in your eyes
I'm forced to fake
A smile, a laugh everyday of my life
My heart can't possibly break
When it wasn't even whole to start with
Because of you
I never stray too far from the sidewalk
Because of you
I learned to play on the safe side so I don't get hurt
Because of you
I find it hard to trust not only me, but everyone around me
Because of you
I am afraid
Because of you
I never stray too far from the sidewalk
Because of you
I learned to play on the safe side so I don't get hurt
Because of you
I try my hardest just to forget everything
Because of you
I don't know how to let anyone else in
Because of you
I'm ashamed of my life because it's empty
Because of you
I am afraid
Because of you
Because of you
Sunday, January 22, 2006'♥
Journey by Corrine May
It's a long long journey
Till I know where I'm supposed to be
It's a long long journey
And I don't know if I can believe
When shadows fall and block my eyes
I am lost and know that I must hide
It's a long long journey
Till I find my way home to you

Many days I've spent
Drifting on through empty shores
wondering what's my purpose
wondering how to make me strong

I know I will falter I know Iwill cry
I know you'll be standing by my side
It's a long long journey
And I need to be close to you

Sometimes it feels no one understands
I don't even know why
I do the things I do
When pride builds me up till I can't see my soul
Will you break down these walls and pull me through?

Cause It's a long long journey
Till I feel that I am worth the price
You paid for me on calvary
Beneath those stormy skies

I know I will falter I know I will cry
I know you'll be standing by my side
And I need to be close to you
When Satan mocks and friends turn to foes
It feels like everything is out to make me lose control
Till I find my way home to you...to you
Saturday, January 21, 2006'♥
PAUSE..
Dear peeps..
I will be taking a few days off.. just somehow dun have the mood to blog.. dun ask mi y.. i oso dunno... will return as soon as everything has an answer.. my life.. my future..my religion...


Thank you for all ur support.. meanwhile if u realli damn bo liao no other sites to surf.. u may wish to read thru my archives..
Yours Sincerely..

MANAGEMENT OF MrsTea.blogspot.com
Wednesday, January 18, 2006'♥
Tian Hui..
Have u ever experienced before the sky is so dark tat u dunno whether it will rain anot?? Same as life.. have u ever experienced before.. tat u dun even know wad will ur future be?? what will ur path be?? where u need to make a decision in a mth's time??
Confused is the word.. I dunno whether should i apply for poly this yr?? or whether should i convert to Permanent and continue working and take up private diploma courses...
Why i dun wan to go poly..
* Three yrs.. and i'll be 25 its nt abt e age actually..but at that three yrs i can earn quite alot of money.. instead of studying
* My parents are old.. yupz a few more yrs and its time for them to retire le.. even now they are complaining abt here pain there pain le.. how cruel will i be.. if i still continue to study and not to provide for the family..im their onlu daughter.. im nt like some other ppl they got older sis and brother to support the family.. my parents seriously needs mi to help out..
* How am i going to survive the sch fees?? my parents got not much CPF left..the onli way is to take a loan.. even if i started working at 25 i still need to repay the loan and support family.. i will sure go berserk de..
Why i go poly??
Onli for one reason.. because of the stupid diploma.. its a practical world...even with diploma the pay is onli like $1400 onwards.. everywhere is diploma.. and diploma...
I dunno i realli dunno .. wad shld i do.. of coz if now im much younger i would haf str away go poly and study.. those of u who know mi..u know tats my dreams..but rite now..things are so complicated.. for those who are studying rite now.. STUDY HARD while ur still young ba.. ive made too many mistakes in my life le.. dun be like mi.. up till now want to study still have to consider so many things..
I thought of getting a diploma from BMC.. i went to enquire the course details together wit LENA and Shundy this afternoon.. course fees ard $1700 but there is a subsidy scheme provided i convert to permanent staff.. its Diploma in Marketing.. will be stuyding PR.. Advertising and SALES.. which is wad i always wished to study..
Im still considering..
Anyway shall update u guys on my shopping spreee today ba.. ya current status : SUPER BROKE.. lucky chinese new yr is 10days away.. pls donate some of ur ang pow to mi ba...
Went to this SALES wit LENA and her sis JASMINE.. its near bras basah..and every clothes is selling at $3 per piece.. reached there ard 10.30(sales started at 9.30) u can imagine the amt of ppl in there.. mostly ahem..big sized girls la.. so we quickly chiong to find and dig for our stuffs.. below are the pics..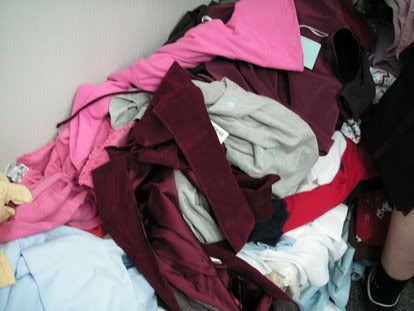 see its so messy the whole place...
Dear jasmine..pls zhu yi ur yi tai.. dun keep digging and digging like an auntie hehe...
The two lovely sisters..in the midst of all the clothes...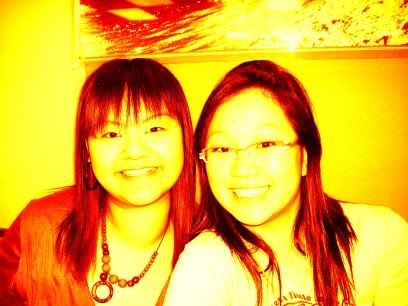 Me wit Jasmine xiao jie
WE found so much stuffs that we used a box to put in our stuffs as our hands is to tired to carry all le.. .mad rite..dun gif us this look.. alot of ppl buy boxes home lor..we onli carry plastic bags hor..
Total..I bought six pieces 18 bucks nia.. two were free coz of the marking..so good rite they gave it for free.. ya quite alot of pyjamas there.. and sportswear..but i manage to dig out a capri pants there..wohoo.. its fun.. coz we gt to know some frens there..and we keep sharing what we dun wan to ppl..vice versa....
I loved this sweater the most lor.. coz its so sweet and the best thing is its $3 nia haha..
My pile of clothes.. oops i didnt know i bought so much pinkish stuffs..arghghh...
After tat went Lena's house coz she bought alot and cant take it out for shopping lor.. first time went her house not bad wor.. saw COCO and JUNIOR.. i screamed..when COCO was near me.. coz im afraid of dogs..and she is super hyper de..she ran so fast and im not prepared haha.. after awhile i got used to it.. haha.. actually they quite cute la.. and PS: LENA stop hiting ur COCO i might report u to SPCA hahhaa...
Lena and her coco...
Laoniang wit COCO.. haha finally nt scared of her le..
Me wit junior..he super cute de.. run here and there..wit the small small tail.. like MOUSSEY.. PS: ah ber pls BATHE HIM !!! he is stinko lor.. so smelly.. two wks nv BATH U KNOW.. hahaa
Then we went to mit SHUNDY.. well well she is the lao baniang of the nice nice strawsbag.. her shop is in BUGIS VILLAGE SECOND FLOOR.. pls go duo duo zhi chi.. loved all her bags there.. we went BMC..coz the both of them enrolling for DIP in ACCOUNTING.. woohoo congrats ah.. finally can study le..LENA JIA YOU JIA YOU..
THen went to ICA and collect my new passports.. let's take a look at the difference ba...
1996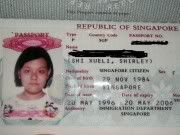 No la this is not ur MARIA from Phillippines la..its LAONIANG when im P6 ok.. tmd chao lao..
2006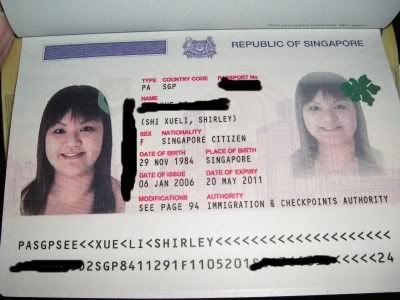 Better liao hor.. i just loved the auntie at LEVEL 5 but our pooor MS HAN she went and auntie on holiday muahhaa..how shit can she be??
Went BUGIS village after tat.. bought a denim skirt and a tube and i loved it alot..tks to LENA good recommendation.. after all had a great day of shopping im so tired man..sian tmr got to wk again..somemore auditors coming..duhz..
PS: LENA jia you jia you.. ni xing de.. be strong ok.. hope the BKK trip will cheer u up.. dun forget frens are always here de...
PS: MS HAN my baby weisi's daddy bought BA KWA for us.. and nv cut to small small pieces hor.. a big square one..so shiok man..im eating it as im typing now.. dun jealous wor.. hahaa...
Tuesday, January 17, 2006'♥
ALMOST...
Yst nite i nearly made a mistake..a big big mistake.. i was on the verge thinking should i or should i not.. Thankfully i got A and P chatting wit mi on msn... They finally talked some sense into mi.. making mi realise tat its WORTHLESS.. realli worthless to take tat step..
And in the end i chatted wit A until 3 in the morning.. i cried and told him all my problems.. which is the REAL truth.. he talked to mi in a way tat i almost cant believe its him..he is my ex for a quite short period last time... to mi he is always a flirt. .someone who is nt serious in relationship de..we broke off becoz i dun haf the sense of security from him but yst nite he told mi the REAL truth of his past...i understand u..and from last time until now.. i realli nv hate u la...
My stomach is soooo BIG now.. inside alot of wind.. baby weisi is the same too.. i dunno wad did we ate.. and its so painful and so uncomfortable.. tmr i will not be going to work.. haha SELF DECLARED holiday.. i tink im gonna see doc abt this.. so irritated by the WIND.. miting up LENA for the SALES wit jasmine and one of her fren.. woohoo hopefully i can get some stuffs ba at the end of the trip.. mind u its $3 per peice ok?? haha.. we are mitng super early..there goes my holiday..will be bringing cam de no worries will show u all the kiasu attitude of everyone de haha..
Im so tired..last nite onli slep three hours plus..tink i need to hibernate now.. take care everyone..
Good nite
Sunday, January 15, 2006'♥
最熟悉的陌生人
After much researching.. i finally got my Creative ZEN NEON from BEST DENKI just now.. went to the Taka Branch wit my best fren ah zhen...
Walked around Orchard..nothing much to buy.. basically coz we dun haf things to shop.. and there are simply too much ppl le.. all rushing to chiong for new year clothes..
We went to the REPUBLIC FOOD COURT at WiSma.. damn it so packed.. but i can say the decor is well done.. got those 60's feeling.. got push cart dim sum.. push cart ice cream etc..and there is a great variety of food there.. too much for us to go store by store to explore.. hope to go there soon again...
I was browsing thru all my files in the comp.. doing some clearing up and tats when i saw this file..
Some ppl call him Giant, Teddy bear... but i call him MONSTER... he might look fierce but in fact he is a GENTLE GIANT.. someone who is caring and loving.. likes to tell LAME JOKES.. which no one will laugh at all....He is often kidnapped by the ailens, so if u want to find him, u have no choice but to bomabard him..

He is hardworking..he slog like a bull so as to pay his sch fees.. and i admire him for tat.. He is a gong gong..he always kanna bullied by others...He loves to take photos.. same as his gf..both of them are photos freak...

Overall he is someone who dotes on his gf...tat includes going out wit her when he is veri veri tired and sleepy.. always kanna stare by his gf.. poor him....

All the best to u and ur gf... must treat her more and more better lei... and ur gf ask mi to tell u tat "SHE LOVES U".... no one can replace u in her heart.. all the best to u and ur gf..

(written by ur laopo translated by ur darling, edited by ur gf, directed by ur kopisoh)
I then remembered i wrote this testimonial for him in frenster.. but i nv got the chance to post it up.. coz after i wrote it le.. we broke up a few days later......
'♥
SAT NITE FEVER
The clocks are ticking now and then.. so far yet another sat just passed by... last week this time im still at Balcony enjoying My Magarita.. yet this week im at home..
Im not used to being at home on a sat nite.. maybe becoz i tink tat we worked for five days..there is bound to be a day for relaxation and enjoying ourselves..im so tempted to go clubbing today.. but no khakis well let it be then.. haha jian jian dan dan de guo yi tian ba...
Nothing much happened these few days.. i brought my god daughter charlotte out the whole day yst and my arms are aching now..she is quite heavy le..so i tink a few more months i realli cant carried her anymore le.. she is soo cute wit her big big de eyes.. when we go out ppl often played wit her..often asked whether her dad is a Eurasian etc..she is a young young superstar hehe..
I finally got my long awaited $700 Best Denki voucher.. bought myself a Konica Minolta digital camera..yeah finally i got one cam le.. now dun need to wait for ppl to upload photos le. can DIY le..hehe.. we went parkway parade for dinner yst..the ever so yummy tom yum steamboat.. its still de same so delicious.. yet CHEAP.. then we took some pics..and off i go to mit MR PAUL..
Suppose to mit mi at my house downstairs for a prata session.. BUT when i reached le..he said he wanted to drink COFFEE BEAN.. duhz..can i gif him a TIGHT TIGHT slap??then we walked from my house to the interchange..thank GOD for the good weather and thank GOD im alive after hearing all his crapiness..haha So in the end he treated mi again..XIE XIE LE.. Ordered the Belgian CHOCO ICE BLENDED ..omg its so yummy.. its the best drink i ever had in COFFEE BEAN..pls go try it.. but abit ex la $6 lei.. we chatted until 12plus nia..both of us quite tired.. and today his frens from malaysia coming so he need to be a tour guide again.. PS: dun get beaten up by ppl again hor..hahahha
Today was a simple day..went church as usual Pst preached abt DE JAVU great great MSG..do u know an average singaporean EARNS $3900 from the statistics shown.. So if ur not earning tat pls go BANG WALL ba..i oredi bang liao..haiz..so much.. lol.. anyway TIME IS MONEY..so earn more money while ur still young ba..da jia jia you ba..
Went for dinner at Ma Lan La Mian..all tks to MR LEE B C.. told him its nt tat nice liao..he die die want eat..ended up its normal lor.. haiz. then i said i wanted to buy MP3 so he drove mi there.. who knows when reached there le.. ITS OUT OF STOCk..suan le ba.. haha then went MAC chill out wit Chelsia.. lol..bought a top from EBASE too..nice nice..omg THE SPENDING SPIRIT is back again haha..
Tmr will be miting who?? still got WHO?? MS han lor..hehe going BUGIS VILLAGE to see got nice bargains ma.. last round of cny shopping hehe.. maybe i will go buy ZEN NEON before tat.. tks to MS Han for influencing mi.. but i wil buy de 512 de nia.. so here goes all my vouchers le hehe.. mummy going for BATAM one day trip wit her colleagues tmr..DUHZ.. i tot she go until sian liao..still need tour meh.. pengs.. haha anyway i instructed her to buy some stuffs back haha..
Oh ya..me and MS HAN will be starting our Yahoo Auction soon..selling powerful stuffs..must support support ok.. its still in the process..and we are discussing on our proposal haha.. Pls stay tuned for more ba...lol
Going to go orh orh le.. pics up tmr ba.. sian to post up now ..hehe..nitex nitexx
Friday, January 13, 2006'♥
My xiao Bu...
Hello my name is Charlotte Lim..im going to be 6 months old soon..so fast hor.. still dunno how to turn but i know how to call papa le wor tat day..hehe maybe he heard wrongly ba.. dunno when can i learnt how to call gan ma.. Gan ma always teached mi how to say but i just cant lor..hee.hee..Anyway nice to meet u all..Gan ma said u all are her fans.. hehe.. anyway let mi tell u all more abt myself ba..*chukle*
Im born in National Day..hehe eager to see fireworks ma.. and i got alot of hair lor.. but daddy said i always perpire so he go cut off my hair lor.. so sad.. alot of ppl call mi AH BOY lei.. im a ger ger u know.. hehe i got BIG BIG eyes like doll hor?? becoz mummy and daddy got BIG BIG eyes oso lor..
So long nv see my gan ma le.. tat time i remember she brought mi to this restaurant and she carry me the whole day..when mummy and ah yi is slacking the whole day poor gan ma hor.. I heard from mummy tat we are going out later today to find gan ma.. then they going to buy fridge for my house and gan ma finally can buy her digital camera le..woohoo then i can pose and pose for them to take wor..
Gan ma said she got a surprise for mi later.. i wonder wad is tat.. hmmmm *think* *think*..ang pow? but gan ma not married yet lei.. i tink she confrim buy pretty pretty clothes for mi ba.. just like the one she bought when im one month old..nice nice winnie the pooh de wor.. tats my onli nicest clothes le..coz mummy seldom buy clothes for mi..so sad.. i hope gan ma buys a dress for mi..so i can be pretty pretty for new yr wor..
And i hope my hair will grow long long.. i dun wan to be ah boy..hmmmmpphhhh
Bye Bye im going to drink my milk milk le.. muacks...
Wednesday, January 11, 2006'♥
Hi Kerin
Is been a long time we haven't chat in msn...! How're u doing? R u working now or studying in poly? If u are studying which poly u are study and wat course r u major at? Hope to hear from u soon, maybe last time i did something or said something that's make u freak out or wat so ever, i would like to ask from u to forgive me... Cos last time i really immature. I really don't want to miss a friend lke u, becos every friends i met is very preious to me included u, Kerin. Hope to hear from u soon in any contact...
Faithfully, Kelvin
I knew him for 8 years...he is the first guy i like in sec sch.. for 2bloody long years.. many things happened.. in the end we are not together..i was devastated i cried and cried i oso dunno y.. maybe becoz it was my first time shi lian ba.. but those were the childish times..
But i just dunno how to relate to him after tat incident..therefore i kept a distance away from him..whenever he called my home.. i would ask my mum to said im nt at home..my mum likes him alot and would always scold mi for not picking up his call.. he bought presents for my birthday..but i did not mit him up.. he called my hp..smsed mi but i did not reply.. i felt bad treating him like dat..but i just cant talk to him like normal frens..
I ran out of topics to talk to him..maybe becoz last time we chatted every nite....ask ah jin and u will now how much i like Kelvin.. i felt like a FOOL arggghhh
Tell mi wad to reply ba.. i realli dunno..anyway im feeling so lethargic the whole day..kept yawning..i guessed i need to go slp soon.. raining again.. how cold will it be?? anyway Happy BIRTHDAY baobei.. see ya soon...
Tuesday, January 10, 2006'♥
After Five....
Yst when i reached my workplace..i almost fainted...210 passbooks waiting for mi.. diaoz..its nt abt the amt of passbooks..its..Y DOES THIS HAPPEN WHEN IM WORKING WIT MISS GAN CHIIONG SPIDER?? duhz.. first time hit so high de record ok.. damn..stress.. and TKS TO MISS GAN CHIONG SPIDER"S suayness.. the printer got stuck.. her com spoilt.. thks seriously.. so it was delay for a moment.. I told her.. "eh how suay can u be (in a jokingly manner)?" She replied "Haiz im always so suay de..everytime i do sure got things happen." Then from then on.. I NAMED HER DAI SAI QUEEN..lolz.. but in the end after the two of us sacrificing our lunch hour.. we manged to finish it on time.. THANK GOD!!1 i dun wanna do OT OK..Lunch was just cup noodles how sad rite..
There is suppose to be an ANNUAL COUSIN's MEETING yst.. BUT>....
DUE TO UNFORSEEN CIRCUMSTANCES
this time nt my fault le..haha Ms Tupperware cant make it.. (PLS GO AND ORGANISE ONE QUICK.. though its CURSED tat we cant mit always) .. but nonetheless..the two of us mi and MS HAN carried on our usual plan.. Coz THE EVE of a holiday is veri precious to WOKING PPL like us.. hehe dun wanna stay at home and rot man..
So we went to CAN CAFE... its a quite vintage kinda of cafe.. there were lots of poster of last time de singers.. and to my disappointment MS HAN CANT RECONGISE MR MICHAEL JACKSON..coz her nian dai de ..all onli see him wearing sunglass and nv show the full face...BUT its so blooody obvious its him.. AFTER HE ahem.. TRANSFIGURE.. tmd she keep wanting to argue wit mi..lao niang ke shi got listen to his songs de ok in the past.. and in order to PROVE how gong she is..and IM NOT LYING TO HER.. lets see how do MICHAEL JACKSON look like in the past..
GOT A SHOCKED LE BA?? hehe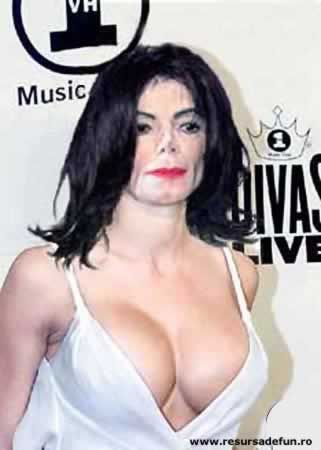 MORE POWER RITE??
So Miss HAN pls transfer one dollar to my account ba ..tks ..hhaa
Anyway.. after can cafe mi jie my cousin msged mi..she asked mi wan to AFTER 5 ma the pub which one of my aunties open de.. so since we had nothing to do...we went.. Before tat saw the porridge stall near there..tmd suddenly got the urge..so we ordered a few dish.. omg Porridge is the best thing to eat when u got hangover...when ur poor.. when u nt veri hungry.. shiok lei..hehe
Reached tere ard 10 plus.. saw most of my cousin yst.. Dajie came to Singapore coz Jovin need to check doctor.. i still haven seen this Biao Niece of mine..saw from the hp..she is so bubu cute.and she shares the same chinese birthday wit mi..hopefully her life will nt be as shit as mine haha.. so i aske da jie.. WHY U CHONG CHU JIANG HU?? then she said no la..i onli XIA SHAN CAI YAO.. (which means long long time comeout walk walk onli) haha.. but the crowd in AFTER 5 yst was abit...erm.OLD??.. coz the last time i went at least better..yst is so crowded.. maybe becoz of one the UNCLE's Birthday..the whole pub celebrated for him...and he gave us his Birthday cake from BREAD TALK..friendly uncle who smiled to everyone..haha
Was telling wawa now u know my family's background so complicated ba.. One side always fight de(my dad's side all my uncles all ah bengs de) another side always Drink de (they drink Chivas like drinking water)...so im neutral haha.. And both of us onli drink green tea yst haha.. though someone was quite tempted to.. but she didnt coz today she needs to wake up early.. Wonder when we are 30 or 40 yrs old will we stil be clubbing like those uncles and aunties...haha i tink maybe lor.. coz they seems so happy like dat.. but anyway coz we nv drink and smoke, we feel like a fool yst haha.. doing nothing except eating tidbits.. and sing two songs onli..coz of the stupid mic.. i tink WAYNE purposly dun let us sing so loud when its our turn hahah.. orite then pics up now..
Me and Da jie.. my fav cousin..hehe too bad now she gt family le..so seldom joined us le..hehhe..
Me and er jie.. da jie's younger sis..they looked alike ma?? and her new bf joined us too..He looked like AH XIn from SHIN haha..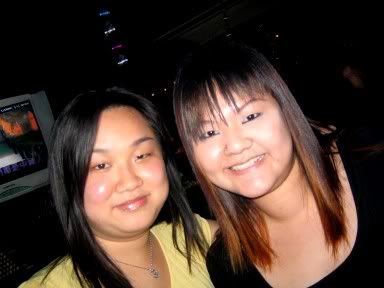 Me and mi jie.. my clubbing khaki..always jio mi here and there de..
Me and u know who liao la.. see oso sian rite the face..so many times haha. she is from my dad's side de...relationship cant be defined haha..
Killer chivas haha.. their plain water.. yucks i cant stand de smell anymore nowadays...
Caught in action liao la.. u see stil wan jia jia strike pose .lol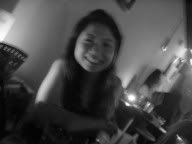 Er jie alone.. chio hor...
Lao niang alone.. hmmm no comments pls haha..
Me and Ms han again.. coz we simply got NOTHING to do there...
Haha anyway glad to see my cousins yst..although still alot nv turned up.. but when i buy digi cam le.. new yr i go back snap snap snap for u all to see ba..hahaha...
sian ah..these few days keep raining.. duhz.. spoilt my mood of going out.. rain rain go away..come again another time..
Lastly..
happy hari raya haji..
Sunday, January 08, 2006'♥
RaiNy SuNDay....
Yoohoo.. wad a cold and nice to sleep sunday.. I slept until 11.30am then wake up.. jealous ba..Miss Han..the weather is so good that i did not want to wake up..It's been raining since yst...i wonder is our reservoirs FULL wit water le ma??
Anyway wanna congratulate AH LENG jie today.. coz its her wedding.. FYI she's my best fren's de da jie.. last time we veri scared of her de.. she did invite mi for da wedding today but..laoniang no money so nv go..hehee..anyway just smsed her my greetings...
Well well well let mi blog abt yst Shopping SPREE wit MISS HAN ba...
We are suppose to mit at 5pm...and one of my new yr resolution is to be PUNCTUAL..so i reached tere ard 4.45pm..called MISS HAN..and guessed wad..SHE JUST BOARDED the train..woooo HOW GREAT..so in the end laoniang went shopping alone.. luckily LIAN came and passed mi the stuffs we ordered for TORRID.. she's going for her hair appt..hehe.tks ger..
Shop halfway finally MISS HAN arrived so we started our shopping spree for new yr's clothes.. actually i still got two more which haven arrived so i dun intend to buy alot yst.. went MILADY and we each bought a BLOUSE.. i like mine wit the flowers de..BUT LATER I ABIT HOU HUI haiz..read on ba..
We happened to pass by this shop and MISS HAN is looking at the coat there..so i just waited for her and browsed thru the stuffs there.. THEN THIS KILLER AUNTIE came and stuff mi wit alot of blouse.. and not to mention the ALI BABA PANTS..tks MISS HAN FOR choosing a shop tat the auntie is so ENTHU...walao all the blouse so er xing lor.. i went to the fitting room without trying any..haha. i onli tired on the ali baba pants.. ok la.. so i bought it...BUT when i went home just now i tried again.. i tink not nice.. so WHO WANT ALI BABA pants..pls TAG mi.. i can sell u at a cheaper price.. duhz.. if nt i wear for sleeping ba..haha..
Finally struggled our way out of the PIRATE shop haha.. then we went shop shop ard.. can u imagine the whole day we were in FAR EAST..duhz.. then went up to level 2..saw a top which is nice..BUT THE FLOWER IS THE SAME AS THE ONE I BOUGHT IN MILADY...hur hur... tried to psycho the auntie to change the flower but she said cannot.. but i realli like the top how?? SO IN THE END LAONIANG bought the TOP and i got one more extra flower..duhs..maybe i shld set up an auction booth in yahoo.. i got so many stuffs to sell..haha i will if i get my digi cam first lol..
Then i bought a bag...Miss HAn bought a pair of sweet heels..(i meant the heels u see)...so tired after one whole day of shopping.. total EXPENSES..
$108!!!!!... arrgghhh.. nvm i tink i will be more hardworking in chinese new yr.. go more house to PAY VISIT haha.. pls ask all ur mama to be at home ok...
We went THE BALCONY at HEEREN..been wanting to go there le since it first opened...woohoo wad i can said its ITS SO NICE..the atmosphere is good, the drinks great and the sofa is so comfy wit big cushion..DIDNT took much pics..coz tat Someone did nt brought her cam haha.. onli used her hp to take some pics..
I ordered Magarita, while she ordered ICED MOCHA..haha budget..the finger food there was nt too bad la..but ex..haha..then we began chatting abt our previous POST..primary sch days..omg.. we were laughing like mad woman in there.. THE LOUDEST Though.. told her my hao wai..which i nv blogged out..tmd paiseh.. then suddenly i tot of MR PAUL aka FABIAN TEO.. so i called him... some ppl veri NO LIFE..slacking at home.. asked him to join us.. and he realli came..
He ordered magarita copy cat..i meant he is a copy cat la..nt there is a drink called magarita copy cat haha.. then we chattted and he nv failed to entertain us wit HIS SHITTY ISSUE too haaha.. so funny.. ya tks ah coming here and entertain us all the way..xin ku ni le..
MR PAUL was hungry so we went CUPPAGE there for supper at a SUPER SWEET TEH TARIK stall..arghh.. miss han made the RIGHT choice of ordering ROTI PRATA..we both orderd shitty stuff.. MAGGIE MEE.. which mama's is still the best..we discussed abt our BANGKOK trip there.. asked him along too.. MAIN PURPOSE is to help us CARRY STUFFS BACK hahah..so jian rite.. hope he will be able to take off ba.. so NOW AHEM MS HAN and I will try our best to save money wohoo..shopping shopping..and hopefully lian and her fren can join us..coz they veri familar wit the place..oh ya if everything turns out well we will be going on 13FEB and spent our VDAY there..REASON..TAO Bi la..still got wad..scared tat when we see couples here we might KILLED them haha..
Sent MS han to take her super long awaited bus.. then both of us took cab home.. tks ah MR PAUL..for sponsoring cab fare..hehe heng we both live near.. poor MS HAN she must be cursing and swearing for living in BOON LAY rite hehe..
ok PHOTOS time..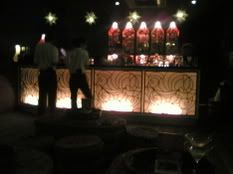 Nice lighting we got at BALCONY...
Using Miss Han's phone.. wit no flash and the lighting sucks haha..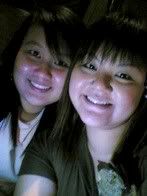 Jiu ming en ren lai le.. he saved us wit his FLASH..haha..
Last pic of the day wohoo..i simply loved balcony...
Yeah ..few more days to my DIGI CAM..and i cant believe it on FRIDAY mi jie asked mi to accompany her for her new yr clothes shopping spree..SHIET@@ thou shall not be tempted hehe..
Sian MON BLUES..and MILK went on leave which leaves me to be wit GAN CHIONG SPIDER..argghh i shrugged at tat thought.. oh ya forgot to thank MILK tat day she sent mi home wit her nicenice Honda civic SIR...wit sunroof wor..orite.orite hope tmr will be a bettter day.. afterall TUES is OFF..whoohoo will be miting 7 sista hopefully for dinner ba..
AND MISS HAN PLS CONFIRM UR ATTENDANCE FOR OUR COUSSIE DINNER WIT MS TUPPERWARE
thank you..so we can RSVP as soon as possible..did i mention MOS is having EVENT again on MON NITE.. damn it
THOU SHALL NT BE TEMPTED..

Saturday, January 07, 2006'♥
THE YOUNG ONES...
After reading what MISS TUPPERWARE blog.. me too..feel quite affected by it.. so i tink i shall blog abt it too.. but mine would be longer coz.. i got TWO PRIMARY schools and a sec sch wor..haha

MY FIRST PRIMARY SCH...
Mama enrolled mi in Pearl's Hill Primary School (does'n exist anymore le..hehe) as its near my hse..take abt 15 mins plus climbing the hill as we need to climb a veri LONG stairs leading up to the hill..power rite..imagine i did tat everyday haha..NOW wo shi da mei nu le..lol..But the very next day.. she opted out of the sch.. in her heart she felt tat the student there all veri naughty and the sch is a veri old sch...and MOST IMPT she will faint everyday climbing the HILL haha..so here i am out of sch..coz the principal said if we wanted to go back she won't gif us a chance le..
CLEVER mama..dunno heard from who.. decided to enrol mi in Zhangde Primary School which is abit far..at Silat Ave there..but its a good sch tat many ppl wanted to enrol...DUE to overwhelming response, the principal haf no choice but to pick lots.. and tats it if i nv get it...i tink i will study at some stupid ulu sch.. BUT WE GOT IT!!! Mama was so happy with herself and i can see the joy in her eyes..to mi was no BIG DEAL AT ALL..
So here i am first day in sch.. brought along my honey water..which leads to alot of ANTS.. i tink everyone is laughing at mi..WAD A GEEK..haha..i forgot who is my pri 1 classmates le..coz mama die die wan mi be in the morning session when pri 2 i suppose to be in afternoon le..so i lost contact wit pri 1 frens..anyway i wld nv forget a GUY..forgot his name..but i tink i told him im going back BATAM..guess wad the next day he bought me a veri nice stationery holder...NICELY WRAPPED hor.. omg..im so touched..but too bad lao niang nv saw him in sch often coz he in afternoon session ma..
Primary 3 onwards i got my own clique of frens le....my best fren is
SUET YUN
whose dad is those TROPHY MAKERS..mama is wking she cant bring mi back from the swimming lesson..and SUET YUN de dad is veri veri good de..he offered to bring mi and suet yun back to the office and we played there..when mama is back from work he would then send mi home..SUPER NICE RITE?? and often he would buy food for mi oso..he nv shows favouritism everyone got the same food.. and suet yun got a veri veri chubby cute sis call SHI MIN..so cute lor..but we nv contact le..after i move to tampines..how sad rite..her family is veri good to mi..if gt a chance i dun mind buying back something to thank them...
Then i got
Jingmin
,
Yiwen
huimin
they all as my good frens..we often wrote letters to each other.. exchanging stickers.. up til now they are in my frenster..managed to got them back..the best is jing ming..even i moved on to tamp..she tries her best to always contact mi..im so touched.. last time i saw her is last yr..wit
EVONNE
who became an ah lian..(u would nv imagine tat..coz she was so sickly and timind when she's young) i nearly fainted righte on the spot..'
CRUSH??
Zhi teng
..i like him since pri 3 lor..he so humourous de..and i tink whole class dunno i like him..he is the most shuai there..BUT rumour spread tat he LIKES
Marilyn
tat bitch..oops..haha dun like this ger..she was tutoring together wit mi..i know she more clever la.. but she alwys yaya de..trying to act good in front of the gong gong teacher..resulted lao niang being called STUPID...arggghh...but actually i did not mix too much wit my pri sch frens..coz i got this whole bunch of neighbour who is my dear frens..we played together since young.. poor tupperware no ones want to play wit her..haha..she anti-social ma..my grp of frens are...
TAN CHEE MENG...LIM CHUI HUA..WEIXIONG, DAVID WONG, SHUI FA, XIANG LIN and after tat AH BEE..(who joined us onli awhile)
..we played as if there is no night and day..and we often tried to do our homework fast..just to play..i feel so fun with them..
THE most witty one was DAVID WONG..mai xiao xiao hor RAFFLES de ok.. then i got a HUGE CRUSH ON AH BEE.. he is three yrs older than mi.. he joined NPCC to mi veri man lor at that time..i often dream myself MARRYING HIM ok.. DREAM la.. then he often ask mi go his house to listen to songs.. relac PURE LISTENING..then SHUI FA MOTHER would always tease mi.. haha...BUT everything ended when the whole building is being demolished and we are forced to move..
Most of them moved to central or west side.. while mi the onli EXTRA moved to EAST..arghh dunno y my mama love TAMP so much.. so i lost contact wit a lot of ppl...so sad.. its so lonely here no frens to play next door..and im enrolled in a stupid sch..due to many sch dun wan mi as i failed my MATHS>..i hate MATHS seriously..


My SECOND PRIMARY SCHOOL
I was in Qiaonan Primary School.. quite near my hse.. when i went in i was already pri 5 duhz.. joined a veri shit class..DUE TO FAILED IN MATHS..all veri naughty de..dun like study de.. damn it i shall nt be influence..so tat yr i got second in class..haha and moved on to a better class.. THE MOST MISCHEVIOUS de is
DANIEL
..we all forsee him as a future ah beng..he likes to pull ppl's hair.. irritate ppl.. i realli hate him when he hid my bag..and assembly was starting.. i was crying like mad lor.. stupid him make mi xian cho... we got this FOUR HEAVENLY KINGS in sch..those were the IN THING huh??
DANIL(Indonesia), CHIEN CHIA(Taiwan), SUTHIPPORN(THAI), GUO something(Taiwan)
de la, dunno him la...guess which one i like??
DANIL la..he most friendly de..and i remember me and
SHARON(SCH FLOWER)
would always take bus purposly one BIG ROUND to see them playing basketball at their hse downstairs.. omg.. so shuai..and u know last time gers are so GAGA over writing autographies rite..DIARY in short..we were pratically queuing up lor.. can u imagine how famous they are..they are in THE BEST CLASS LOR.. haha alot of sia suay thing happen lor..lasttime we alll love to rock the chair rite..teacher always scold but we still bo chap..i was ONE OF THEM.. gei kiang..and i fell lor.so paiseh man.. and at PE jump herdes i always bu gan de..then always fall de.. walao eh.. but i love PRI 6 tats when i got to know a lot of good frens..
XIUFANG
is older than us..so she tot mi what is sex..tks lei.. then
weiling
is veri cute she loves animal so much..always go her home and paint nail polish.. eat maggie..yesh tat was the IN thing too TUPPERWARE..
Got my period at age 12 haha panic lor tat day..but its funni.. sharon helped mi wit it..guiding mi thru at the next door cubicle..woohoo..oops am i supposed to say these out? who cares its my blog lei..
SECONDARY SCH LIFE....
Those were the happy days.. everyday so carefree..onli know how to play and play.. eat and eat.. hhaha..i got my first bf at the age of 14, he was a mad cow.. so er xing le..still wan to flirt wit other gers..Orite i admit i got a bf for the sake of having one tat time.. When i broke off wit him.. he cried and wanted to commit suicide(see u got it TUPPERWARE?? we haf the same FATE, SHIT)...haha so i counseled him until 2 in the morning..and the next day he threatend to kill mi..tks lei..u tink i cared..maisiaosiao hor.. my best fren ELSIE and mi go and mit him alone hor.. WE TALKED SENSE INTO HIS TINY BRAIN.. haha. ELSIE (lizhen then, now lijia) and her twin sis is my best frn tat time they lived in tamp..we are so damn bloody close.. tat i almost stayed at her hse.. MYOJO CHAR MEE is our fav.. we love hello kitty, we love neo prints..My best guy frn is AH JIN..amazing rite..we talked every nite.. nope becoz he LIKES MI..he alawys li yong mi de lor..like this and tat ger..ask mi advice..shi bai lor seriously.. but we had a good platonic relationship..and many ppl are amazed at it la.. and he is a AH BENG oso lor.. hahha..gt the M SHAPED hair oso wit lots of gel lol..
Love HELLO KITTY TO THE EXTENT TAT.. we stole from shops.. BAD GER hais..we were so powerful..tat we did tat everyday after sch for a month or so.. then one day i decided tt i shld turn over a new leaf.. dunno y..sudeenly felt so..so i DIDNT JOIN THEM at TAMP MALL tat DAY.. and guess wad that day THEY GOT CAUGHT..and their parents came and was forced to pay all the stuffs they took..100 hundred plus lor..i knew zhen would kill mi if she saw this haha..Started smoking at sec 3..nt addicted but just wan to ACT STYLO lor.. got my first sunpage pager at 15 too.. would hang alot of bells, greeting message was those techno background then recite those stupid gang poems..omg.. and nt to mention the most impt SHARP COMB..i was an AH LIAN LOR.. haha.super de..they always go and asked mi joined gangs but i did nt haha.. scared i cant crawl out lor...
I still remember the times we went to Jasmine's condo to swim almost every week tat is so fun..when everyone of us wore the same windbreaker...and now two of them had become mummy le..haha...I went to my first disco in sparks when im 16yrs old.. those period was the worst of my life..i club and drink like nobody's business..i changed bf now and then.. the shortest lasted for onli a week..i remember tat this guy his name starts wit G..he is so good to mi..he send mi a package and a bouquet of flowers.The package contains 7 things inside coz its our 7 days together..ahha..good rite.. up till now i dunno i got how many bf/flings..i onli remember those which are quite long de.. but its ok la..coz tat doesn't matter anymore rite..THERE is a few good guys in my life tat period..BUT i dunno how to cherish..see la in the end wad i got..nothing lor..haha..but who do i love the most?? U all shld know the ans rite??
Practically tats my whole pri and sec life...happy>?? hmm quite.. but sad tat i did nt study real hard.. but maybe if i study hard i would missed out all these fun?? in LIFE its fair..
u gain and lose somthing
...Im lucky tat most of my teacher dotes on me.. Esp MR TAN an MR HANDY HANDSOME(handy plast in short)...maybe becoz im chubby and CUTE at THAT time hehhe.. i wonder how are them now.. its been so long since i saw them..and i guess both of them are not teaching in the schools le...
I missed all the memories...if onli we can be like Dumbledore..and collect all our memories in the PENSIVE tat would be great....
Thursday, January 05, 2006'♥
THOUSAND APOLOGIES...
FIRST of all..wanna say SORRY to my DEAR COUSIN.. We are suppose to go COZY CANOPY tonite de.. ke shi..due to UNFORSEEN CIRCUMSTANCES...CLUE: NIGARA WATERFALL...Tat i cant mit them today.. soooooo srry.. but MORE TO TUPPERWARE SEE coz tat XH got mit ppl le.. hehe..anyway i promise promise we will mit out soon k....
Well anyway i took HALF DAY off today.. tgether wit SELYN...coz we are suppose to mit up..both of us so long nv go shop shop together..So we met at 1plus...head str down to ICA... LAONIANG going to get my passport done..its due to expire soon... somemore im going back to BATAM for NEW YR ma...
Its a weekday and ICA is so crowded wit ppl.. NOW do passport got discount onli for $50..can save $10 lei.. but onli for those application send by post.. apply on line...or drop in the box there.. teach u all the steps ba..esp for wawa dun say I NOT GOOD...
STEP 1: GO up to LEVEL 2 and take the application form....
STEP 2: FILL in the form.. READ THE FORM CAREFULLY...
STEP 3: Go and take the photos.. i tink every LEVEL oso got.. BUT tell u all one secret... My informant told mi tat LVL 5 de auntie take the pic veri good.. u can request for SMALLER FACE..oppps.. LEVEL 4 oso business quite good...BUT.. i tink alot of foreigner...its 4 for $5 anyway...and the machine is like NEO-print machine hahaha.. so fun..
STEP 4: Go back to LEVEL 2.. there are alot of kiosk for fill in forms de..go there paste ur gong gong photos on the form....
STEP 5: The kiosk all got NETS machine..just follow the steps on the poster.. press ur pin number..and tadah when its APPROVED, take the red slip and paste it on ur form..keep the blue for verification... TADAH and ur DONE!!! of coz dun forget to drop it inside the BOX la...
ITs so easy rite?? I tink even small kid can do it too.. for those who wanted to make online application.. u need to have a JPEG photos..tat meets the requirement of the govt..so i tink its easier if u go there take and NICER too hehe... somemore u onli need like less than 30mins??
We went suntec after tat.. coz at least need to pei darling selyn to wait for her NELSOn.. anyway we are famished too.. so we went to eat at SAKAE SUSHI...BUFFET.. love it baby.. its so nice...and so much foood.. and we are damn FULL....oh ya...we bought two books from MPH to exchange.. so tat we can read it.. I BOUGHT MEMORIES OF GEISHA..and SELYN bought Are u AFRAID OF THE DARK BY SIDNEY SHELDON..so now got new boooks le..yeah..
We parted when NELSON came.. ya i oso veri long nv see him le..still so shuai la.. then i went to wait for 518 until i felt asleep..seriously YES>..u know how long i waited?? 50MINS lei!!!!! yyyyyy sooo lonnnnggg.. and 518 during peak hours got A AND B.. power rite..i hop on the wrong bus and then luckily i asked the uncle.. if nt i will be now at MOULMEIN ROAD.. HOW GOOD CAN MY DAY BE...well..lucky today nv mit SHOU REN.. if nt they will see how LANG BEI i am..haha...
HAO LA HAO LA..im going to rest le.. lookin forward to my $700 BEST DENKI VOUCHERS>..yippee.e..
PS: wanna thank ALOY for letting mi go dl all his song from his email.. UR SO GOOD..
Wednesday, January 04, 2006'♥
P.M.S
Is it becoz of PMS.. or is it or other stupid things..tat recently so many ppl pissed mi off.. wit their actions...attitude.. Ya who dun haf attitude..ME oso haf ma.. BUT pls dun vent ur ANGER on ME when ur SUPER STRESS..as if im ur granny i shld be there to gif u sweets when u roll on the floor and throw tantrums..Pls dun say sacarstic remarks and act as if THE WHOLE WORLD onli U HAVE THE ACCESS to some CERTAIN info when someone ask u something..
Well ENOUGH.. its the starting of a new yr.. so maybe i shld TAKE A DEEP BREATH>>and count to 20 ...tats wad MISS SELYN is asking mi to do.. when i complain to her tat day.. Well i certainly haf to thank you for being the LAST MIN EXTRA..hehe.. watch ELIZABETH TOWN and its a nice show..simple and sweet...
OH YA did i mention my husband is starring as the MALE LEAD ACTOR? MR BLOOM.. we just had our honeymoon over at STATES and he asked mi to fly back here first.. anyway I LOVE U BLOOM...
Pics are here for the countodwn party at DEVIL"S ..but thks to LAO CHEK fren he deleted some.. or i meant MOST OF IT..due to lack of MEMORY SPACE.. I SWEAR im going to buy a SUPER DUPER BIG mEMORY CARD if i got the CAMERA.. DAMN IT..so we are onli left wit TWO OR THREE PATHETIC SHOTS...arghh..nevertheless.. HERE THEY ARE...
THE FOUR WOMANs...or i shld rephrase MAD WOMAN in DB.. if u happen to see us again in DB.. pls runaway ..we are realli crazy tat nite...
ME and my beloved LAOCHEK.. and his...ermmmmm FREN BRYAN..(im still angry wit the photos thingy)...Pardon us for being SILLY here...
LAST BUT NOT LEAST>> EXTRA EXTRA SEE ALL ABT IT>....
WE caught two gays on the camera at DB tat day.. super disgusted by their actions man..trying to KISS when everyone is there...Shhhh..dun tell anyone we caught them on camera..if nt later they SUE me hor....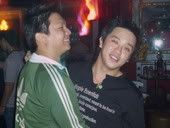 Of couse in order to protect their privacy we had decided to only upload the one they are HUGGING TOGETHER.. if nt my head sure ROLL>.next time no more FREE TREATS liao hehe...
tmr miting the SHITTY CLUB..hopefully we will be able to catch up wit each other..and enjoy..
LET 2006 be a NEW YR.. let every bad thing that happen BE FORGOTTEN AND FORGIVEN....
Sunday, January 01, 2006'♥
NYE CELEBRATION...
Was woke up by my beloved COUSIN MI JIE... -_-...cant sleep le.. so now i might as well blog abt my adventures yst nite...
Our veri FIRST plan is to go MOS.. and enjoy ourselves and watch KING KONG at 4am...BUT DUE TO UNFORSEEN CIRCUMSTANCES....in the end....pls scroll down to see wad happen...warning..LONG LONG POST...
My church service ended at 7.15pm..Sang AULD LANG SYNE even though its nt new yr yet... arggghhh and suddenly Chelsia told mi she and her FREN LIPING wanted to join us too.. and DUE TO LONG TIME NV CLUB...SHE forgot to bring her IC...which is a MUST just in case we got a nasty DOOR BITCH...so we took a cab to her home and she took her passsport.. oh ya.. she lost her IC oso.haha so from there we took a cab down to CLARKE QUAY...my phone was ringing non stop.. ppl haf been telling mi how long is the stupid queue le... they told mi got some idiot started queueing at 6pm..HOW KIASU can they be??
The cab stopped at the traffic light...and we saw the BLOODY QUEUE.. OH MY... its so ridiculous LONG>>>>imagine for Clarke quay to near to Boat QUAY..OMG... got down the cab.. my cousin called mi and ANNOUNCED a STUPID NEWS.. COVER CHARGE is $50 bucks...pengs... me and chelsia was like..$50 u wan my life is it?? so we asked her to check out properly first..while we went LIANG COURT and had our jap dinner..THE JAP curry is damn NICE lor.. didnt know there is a JAP supermarket there..i SWEAR i wan to go there one day and shop...haha my FIRST time step in LIANG COURT after 12 yrs..haha
Then Chelsia fren YIPING came so we chatted awhile and proceed to find our KHAKIS...which is my cousin and FREns..and LAOCHEK.... Confirm liao really is fifty bucks.. and we tmd didnt even knoe tat there is pre sales tix at 35bucks..i mean they nv announced before it lor..Damn.. so we tot of where to go.. while MY BELOVED COUSIn..says her frens die die want go in..(RICH PPL) so we bidded goodbye..with a longing look at the entrance...how sad man..haha
Since we are going to watch movie after dat..so the first place tat came to mi is DEVIL's BAR.. coz near ma..soemmore in ORCHARD oso.. THE WHOLE TRAIN WAS packed wit Foreign WORKERS..i feel like im in INDIA.. Laochek brought along his fren Bryan.. who is SUPER SHY.. and my dear SHUFEN im proud of her.. she KNEW THE WAY FROM CLARK QUAY MRT...tks to YIPING telling her over the phone.. i tink she was overwhelmed by the number of ppl there..coz its her first time go clubbing..nt her even us was OVERWHELMED by the crowd toohaha.. So here we are at DEVILS.. haha no QUEUE at all.. damn shiok...
COVER CHARGE AT $30 nia..consider cheap liao la...anyway super cheap for mi..coz LAO CHEK pay for mi..woohooo..i love him.. so we got party packs..and party hats..and here we are in DB...the place is oredi quite packed le..whooohoo..music was great yst.. we went to the hall wit mixed music..i loved the RETRO man..GUESS wad i onli drank two sips of the vodka ribena..the others drank
VODKA ORANGE
duhz purposly de.. cant tahan them.. I like clubbin wit this grp.. i feel so free wit them.. laochek always makes us laugh with his stupid stunt..and we took some pics wit BRYAN's cam now waiting for lao chek to send me..hehe..I dunno lei..i like the crowd at DB..coz all quite mature de..and no matter who u are just dance de lor..got one SUPER BIG lady oso go up the BAR TOP and dance.. haha as usual i onli went up stage..tat was when the music was damn good.. We had our countdown..and everyone hug and sang AULD LANG SYNE..so touched rite...Got to know one guy ALOYSIUS..he's so man.. but anyway he so happen to be my colleague's the fren so qiao..
Laochek left earlier coz his frens came down from PENANG to find him, and afterwards he msged mi he was kanna attacked by FW and BENGS.. haha forgot to ask him to buy the spray just in case.. poor him..My beloved shufen and yiping cannot take it so they WENT ORCHARD PARADE HOTEL's lobby to rest..left Chelsia and I dancing hahah We left DB at 1plus how sad.. the LIVE BAND just started.. coz rushing for movies ma..
Called Baobei..who is at BAlcony.. but i was shocked tat she told mi she is going home.. i was like i tot we supposed to watch movie together?? But i tink she kanna sprayed oso even in BALCONY or wad.. so nvm lor.. srry baobei at first im abit angry la..but after tat i tot over it le.. im srry oso haha.. So the four gers went to CINELEISURE to watch the MOVIE...
While on the way there..we saw alot of FW oso.. i taught them how to siam in case they sprayed us.. but my 3 disciples take my words for granted still dared to walk near them in the end they all kanna lor..except mi.. i escaped lor..haha long walk lei.. from ORCHARD PARADE HOTEL TO CINE.. LAONIANG veri clever hor..coz at one pt of time i was hiding behind the policeman..hahaha veri boliao lor this ppl.. i saw ppl fighting ..police telling them to stop and spray it all on the dustbin hahah and CINELEISURE management more power..u cant enter unless u EMPTY THE CANS on the floor.. ALL These FW used their hard earned money to buy the stupid cans.. in the end spary finish liao throw.. WHO is the one who pick up all the litter?? who is the one who need to sweep the floor?? ITS THEIR FELLOW FREN OF THE SAME HOMETOWN lor.. y are they making the lives difficult for those of their same race and hometown?? diaos....
WATCH KING KONG AT 2.30..and indeed WE ARE VERI REGRETFUL LOR.. so many ppl says its nice.. the four of us.. take turns and fell asleep lor..shufen was the worst i tink she slept tru the whole show..onli watch some initial part..i need to wake her up when we are going!!! hahaa.... i onli feel the part abt the natives and on the island is nice..the others are LAME lor..and i dun feel its touching at all..tell mi tell mi..which part is the most TOUCHING.. i cant find it at all.. i meant in summary.. its the KING KONG who wants the girl..so he killed T REX.. Ripped off BUILIDNG just to save the ger and find her.. i mean got sense meh?? will the ger love him?? dunno wad to say la..super bo liao jiu tui le... we four super regret.. shld haf went GEYLANG and ate supper instead.. haha...
For those who loved that movie alot..bu hao yi si..personal perception.. haha now got a qn to ask u all..
Q: Why all the DINOSAURS Extinct?
A: King Kong killed them ALL....
Bleh.. orite i enjoy myself yst.. had a good start.. hope this yr will be BETTER.. SHIT SHIT GO AWAY....haha...going out le.. buai buai...
'♥
YR 2006
Happy New YR..FINALLY it came YR 2006...BYE BYE SHITTY 2005 ..haha.. Time now 6.25AM and my eyes were still wide AWAKE....just finish removing my makeup...nt tat sleepy yet though...
In the end the DEVILS won.. hehe...gues wad happen????
Wish all of u enjoy ur countdown yst nite.. Happily singing AULD LANG SYNE rite?? I SANG TWO times lor...haha so i tink SHITTY 2005 will be veri veri far far away from mi...
Shall update more when i woke up from my beauty slp later in the afternoon ba.. wanted to go to METRO WAREHOUSE SALES at EXPO..the good thing abt having church in EXPO is tat.. U CAN just POP by the sales and take a look.. got a book fair too..woohoo HOPE tat MI JIE my beloved COUSIN will nt haf her stupid Hangover and she will go wit mi..SHE PROMISE MI A LUNCH DE...hehehe...
Arggh got the urge to haf carrot cake now.. mummy still slping..guess i'll eat in my dreams ba..
ONCE AGAIN.. I ENJOY MYSELF TODAY.. yipeeeeee.....