Tuesday, August 29, 2006'♥
Weddings...
Received another invitation today...this mth and next mth.. is a mth for wedding... up till now i received four RED BOMBS......arggghhhhhhhh
Angie is my ex leader she is getting married next Sat...and im the usher for the wedding..great... so i have to wake up early to doll up myself.. i guessed i realli need to do shopping next week..Thank God i finished my exams this week...
Chris who is my fren sister call mi yest and tell mi " Jie, im getting married end of the mth." faintz....i watched her grow up.. last time skipped lesson always go her house de..she is Angel's sis...how time flies...and now she OVERTAKE mi....well done haha..
14 Oct.. is my baby bear's wedding...and if nothing goes wrong.. im attending a wedding in KL next mth.. on the 21st....hopefully mi jie is going to.. i haf to go coz im the ah yi... arggghhh one more chance left to be ah yi..cause they say cannot more than three times ma...
COOOOOOOOLLLLL..haha just wanna wish them all have a blissful and happy marriage ba...marriage is a life time commitment.....
I've been overtake dunno how many times.. and i guessed MS HAN and tupperware is going to OVERTAKE mi soon....maybe i shld just migrate and live in a small village called... "OLD MAID VILLAGE" ahhahaha...
Short note:
Like father like son? hopefully not...
Monday, August 28, 2006'♥
3 long days...
Changed my blog song... and i tink it's a nice song...esp this verse..
我只想再哭一下下
把记忆彻底地分化
等哭完我就会回家
眼泪我会替自己擦
Sometimes we fall... we get depressed.. we cried...but the most impt thing is.. after all this dramatic actions...we wiped away our tears and moved on...
Finally one paper down...three more to go.. im going to chong chu jiang hu soon...there are places i want to go... there are things i want to do...the TOP
TEN THINGS
I WANT TO DO
1. Go KTV... i tink the last time i went was before i went BKK..damn it..i must sing to my heart's content man...haha
2. Shopping.. fav pasttime of all... i been so moutain turtle that its been along time since i went town...
3. GYM.. promise Shufen to go with her..and i tink its time to shed away my fats again wohooo...
4. Watch the show Ghost dunno wad tat THAI show..hahaa
5. Go to FISHERMAN or SENTOSA.. somewhere that got the beach...woohooo... i miss HENIKEN man...
6. Go back to BATAM.. this should be in the 2nd place..but i lazy to change placing.. anyway i missed all my little cousins there wohoo..
7. Make Cheesecake or sushi...still got ingredients for sushi.. might most probably be making that soon...
8. Go GLORIA JEANS.. heard from JOWEYN..(spell wrongly paiseh) that they opened a branch.. ive been missing their IRISH CREAM for decades...
9. FIXED my CAMERA...my poor camera has been dead for long..and i went to BEST DENKI they told mi KONICA AND SONY merge...arghhh im so sua khoo...so im gg to the CUST svc man...hope i dun need to pay at all haha..
10. Meet up long time boh mit frens..which includes.. my dear cousins... my outside frens.. u know who u are...hehe...
I think tats abt all...need to go study for my CSA le... arghhh exam venue in Sports Hall tmr.. machiam taking O LVL lei...wohooo..
Short note:
When will he listen to my advice??
Thursday, August 24, 2006'♥
Love of my Life...
Updating now live from a moutain in a ulu island...bleah...It's been days since i've blogged...and it's been days since i last went out of my doorsteps..total count 5days...been mugging for my exams..stress ah...u know i will always wake up in between my sleep....haiz.. anyway..decided to gif myself a break, so here i am typing an entry...
This is gonna be a long entry.. but a interesting one ...hopefully i guessed..
_____________________________________________________________________________
Always got ppl asked mi..."Eh, how many bfs u had before?"... It's a difficult question for mi... becoz i dunno where to start...not becoz i yaya or wad...but if realli want to count i tink got more than 20 ever since im 14. In order not to shock ppl...with their jaws wide open...i decided that.. all the relationships before 19 is deleted...
Reason being...tat time still young bu dong shi...not serious de...i even have a bf for the sake of having one...Of coz i would nv forget which idiot got my first kiss when im 14...his name is STEVEN...a disgusting freak..if i can choose again i would nv gave it to him...puiiiiii from then on ppl called Steven.. no offence but i haf perceptions abt that name...
Well...I always complain that my love life sux rite...the main reason is becoz last time i always lie to guys..So now i got my RETRIBUTION..lol...when i was young.. i got try one time before that i 3 time a guy... i got three bf at a time...hahah jian rite.. i oso tink so... im veri playful..always like to treat guys for granted, one of them is Lee Chong..he is veri good to mi..he cared for mi, wait for mi finish sch everyday..but i lied to him...coz i cant take it..i need freedom..so i broke off with him...and from then on he changed to another person...but anyway he is happily married now with two kids...happy for him too...
I settled down for a serious relationship when i was 19 and he is counted as my first bf....
Contestant No 1: MR I (photo have been blur for safety purposes haha)
He is a rich guy...when i say rich.. real filthy rich hao bu hao..stays at Bt Batok...Went to his house many times before and his mum is nice..NICER than him dunno how many million times...I did had happy times with him..he is humourous but he's temper sux to the core lor.he is my so called FIRST REAL RELATIONSHIP, i admit im too very playful..resulted in quarrels every single day...When he flare up i tell u...he call scold u anything de...tmd jian.. i hate ppl who scold vulagrities...whatsmore..to scold mi with vulagrities when we quarrel...
Life was like living hell tat time...quarrel every nite..i tried to salvage this relationship and i got tired of it...there was once i cried all the way from Tampines to Bishan lor..in the bus..it's seriously those veri qi cham de cry haha.. i tink ppl in the bus tink im mad lor..
Happy Moments
: When i was camping in Sentosa, He came at Mid nite and visit me..*y did all the happy moments happen in Sentosa?* i was touched tat nite...but day after it.. quarrel again...faintz...
The Catalyst
: Although we always quarrel, but the main reason we broke off its becoz..a ger told mi that he tried to two timed mi...yawns..she even sent mi the email he sent her...and he die die deny it..until TODAY..too liao jie him..he is those si ai mian zi wan...so in the end we onli together i tink for a few mths...
Contestant No 2: Mr A
No need mi intro u all also know him rite? haha..Our relationship is a LOVE HATE relationship... Knew him at Yr 2004 thru friendster (yeah i became one of his prey)...Our first date was at Cineleisure.. watching WITHOUT A PADDLE..tat time Ms Tupperware was there with her...AHEM fren oso...Mr A is a veri humourous man...he is veri good at talking de..so if ur not careful...u will fall for him...so i did ...haiz..
First breakoff was during christmas 2004 i tink, coz he too many GERS liao..until i dun haf a sense of security...imagine ur bf...nv acc u for xmas..damn funni rite...so i jitao cheng sim...we nv contact each other for a yr plus...until this yr i tink...
WE chatted again...initially hate him alot..coz he disappoint mi time and time again...then this time round he told mi everything...his past, his problems...so once again...Laoniang fall for him.He was very caring to gf...he treat gers like princess...and he is like an adviser to me..everytime i got problems i would tell him..and he nv fails to cheer mi up...
Happy Moments:
When he came airport to send mi off for my BKK trip and also the Sentosa trip..woohoo..no money to bring mi go other place...so he brought mi to sentosa to fulfill my dream of sitting in a cable car...hahaha enjoyed myself tat day...
The Catalyst:
He is attached le...yet.. i chose to be with him..think its kinda of wrong...so in the end...i gave up...i want someone can be with mi always...haha..
Even though we broke off le....we are still veri good frens...go out for movies etc...and on and off i got ppl coming up to mi..telling mi that they know him..and he actually flirt with them asking mi to be careful...haha..i tink if u want to be his woman..u haf to got used to listen to all these..im numb at all these now liao...coz i know his secrets too much liao tats y im numb haha..
Contestant No 3: Mr E
That day Mr D was asking me.."Who is the guy whom u so far Love the most?" and my answer is HIM...The first guy i truly love....The first guy im serious with....The first guy that i cooked for him many times...also the first guy i brought home..Being with him i feel veri comfortable...i can even dun wear makeup when going out wit him...He is a Mr Nice Guy...seriously...i dunno how to describe the feeling but i just feel at ease when im with him...I even thought of my future with him tat time...haha..I feel veri xin fu that time lolz..
we would always go to ktv and sing sing sing and takes alot of pictures...Sometimes i feel that im the one who bully him more.. if i got PMS i would throw my tantrums at him..and he would be always be so patient to me...awwww...He is veri honest and also with him got sense of security..
Happy Moments:
Too many to be named..But the most memorable one is the day we were at Esplanade...
The Catalyst:
Love at the wrong time..I was working at Fox that time, working hours not flexible while he was studying...resulted that at the latter part we seldom mit and i was always veri tired...and my temper veri bad tat time..slowly got some distance. The main reason was he wants to concentrate on his studies, maybe its just an excuse or wad..but i respect him..i know he needs to study and work at the same time...veri difficult for him too...
The day we broke off... i cried buckets...the first guy i truly love and the first guy i feel loved...it took me a veri long time...i tink half a yr to get over him...but sometimes i still tink of him...and i've learn alot from this relationship...

Contestant No 4: MR ?
Haven't found anyone yet...still searching for Contestant No 4.. although alot of ppl tot it would be MR D...but i guessed we are still floating around...but as the time passed by...im tired...haha
So if u all got MR ? pls intro...esp u.. AH BER JIE... ur lousy mathmaking company hahaha...can be more efficient anot..lol
On and off i did have some flings...relac...onli go out and no commitments tat kind...
They are....*drum rolls*...
MR LC - The one whom i nearly went ROM with haha..coz of a bet...
MR Adrian - He is the one forever saying want to marry me..he even go fortune teller...faintz...and
Mr R, X, D, E......
WELL...so next time if ppl ask mi how many bf i had.....I would say three...Although my previous relationships cant work out..but wanna thank them for the happy memories that they gave me...and quoted from Kim Sam Soon...(oh how i love KimSamSoon)

"Love like you never get hurt before"
Short note:
I've changed
Saturday, August 19, 2006'♥
Healing Process....
A lover.. is not only someone who is there to love or care for u...A lover is also ur best fren...ur team mate...
Both of u have the same direction.... knowing what u want to achieve and along the way helping each other to attain ur goals...There are times ,When u meet failures, when u feel like giving up on ur goals.. the other one give u a pat on the shoulder..and tell u everything is ok.. try again next time..ur lover is always ur listener..Both of U motivate each other and give support when necessary...
Often we misinterpret that love comes from emotion...but the truth is...love comes from ur WILL... If you have a strong will, ur love will never die...
Saw this from Kim Sam Soon...
"When ur in love...both of u will produce a hormone..hormones that makes u feel loved and happy...but the hormone will die away..and tats when ur love die too...No matter how loving u are, ur hormone will die away...Some ppl might have little hormone inside them...so their love ended arubtly, but on the average....it lasted two yrs...if more than three yrs.. u are lucky."
So what will happen if ur hormone die away?.. U shld be alert enough tat before the hormone die away... to create new hormone.. always come up with new things to strengthen ur relationship.....make everyday just like the first day u started dating....the excitement..the sweetness...
Hope it helps.. for those ppl who are in love now... hopefully ur WILL is strong enough ba...
Short note:
It's dead....presence does not matter anymore...

Friday, August 18, 2006'♥
Rumours...
We all know that human haf an inquisite mind.. we are often curious abt wad is happening... but tat does not gif us a chance to spread untrue things abt others.. after all 人言可畏.....
I'm starting to get jumpy over some issues....im getting so sensitive.. that i jump at u at the slightest issue...i guess.....
Oh ya.. i nv went back to Batam in the end.. due to unforeseen circumstances..tis time not my fault...
Anyway i got this from Lena's blog.. wanna thank her for putting up the password thingy too.. she is so pro abt blog nowadays haha...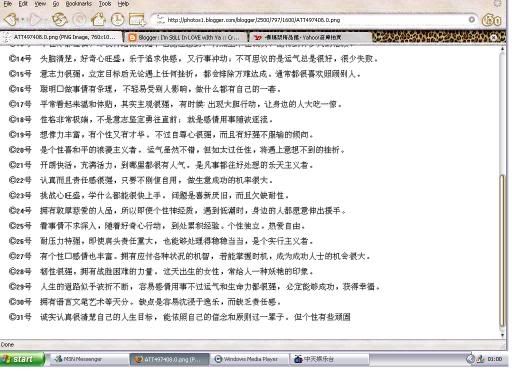 notice the date 29...wakao sibeh zhun lei..haiz...my life if full of ups and downs.. no wonder i so dai sai..haiz..lol..
Short note:
Red Zone
Thursday, August 17, 2006'♥
If i have one million dollars....
Was listening to this song.. Na si wa wu ji pa ban... it's a hokkien song.. kinda of hilarious..will always listen to tis song whenever im broke.. for the hope of cheering myself up...no money at least can fantasize rite? haha
I'm super duper broke... im a chiong shu shen (poor student)...Maybe im used to spending too much le.. tat now even after sch reopen for four months le.. i still haven get used to it...
Reading my past entries.. when im still working.. tat time it's damn shiok lor.. spend what i earn.. nothing to worry abt.. i can buy my Guess watch and bag without worrying at all.. coz the next pay day is always near.. but now.. sobz sobz.. pay day will nv come...haiz.. huo gai rite.. haha.. when u make a decision.. u gain and u lose something... guess this is the sacrificing part becoz i choose to study instead of working in the end..haiz..back to reality..
I decided to find a job.. preferably part time ba.. so tat even after my holidays i can still work... cant try retail line..coz they need weekends..and i need Sat to go church.. hee. so ONE out...i went to JOBSDB and search for jobs.. and i found a job tat is so tempting...
PART TIME MAID... $10/hr...
As long u are honest and reliable
No min qualification
Preferably those staying in the EAST
Able to clean up the house and do ironing
Female working environment
DAMN it.. $10/hr...wad the shit, when tat time i work in the bank its onli $8/hr.. omg.. i am so tempted to click the apply button, when i realised...I dunno how to iron properly...simple can..but what if i kanna a rich man house? i dunno how to iron coats and stuffs... damn it.. i missed a big fish!!!!!! arghhhhhhhhhhh... i tink i shld go and buck up on this area...who knows if i succeed one day i might meet a rich bachelor and get marry and live happily forever...muahahhahaha...
Back to reality... if u guys do haf part time jobs.. DECENT one...pls intro me ba.. if not i will be a fat COUCH POTATO for the next 1.5 mths de.. pls dun ever let me be that coz i just managed to lose 5kg.. muahhahaha (hao lian abit haha)
Excuse me now.. i tink i haf to go transform myself into an economist and tackle my last econs tutorial question...
Short note:
I guessed the situation is clear enough for me to analyse....
Wednesday, August 16, 2006'♥
The Digit 2 Family..
Happy Birthday to my dearest cousin.. Ms Cindy Leticia, Tupperware, Ikan Bilis Sao, Smelly Tofu... it's amaing how long ur name is.. Anyway welcome to the big.. DIGIT 2 FAMILY!!!!...Finally ur 20 le.. muahaha.. after 20 the rest of the years is just past by within a blink...
As the Chairman of the Singlehood club.. i hope that u can get out of this club soon.. i hope that u will grow to be more mature.. and also grow in the HOUSE of the LORD.. stop being so kiasu le hao bu hao..tks okie.. hehe..
Anyway sorry that i cant celebrate ur bd with u today.. due to unforeseen circumstances... hope u did enjoy ur celebration..even though no one dates u out...hahahah..
___________________________________________________________________________
I'm getting lazier and lazier by the day... exams is just two weeks time and im here slacking my days away.. playing mahjong.. even im in sch muahaha..just haf no motivation to study.. faintz..
Anyway im going back to BATAM this weekend with who? but none other my cousin Mi jie...It's her birthday (why are there so many ppl born on AUG??) so we are going back to celebrate.. but my main target is the MOET and CHANDON...wohooo...
Next week is my study week le.. i must realli chiong chiong chiong..hao ba oso nothing much to blog abt.. im damn tired due to the excessive loss of blood.. haha my auntie is here... and i gei kiang go and eat ICE KACANG tis afternoon.. see la i reap wad i sow...damn it... haha

Short note:
I love listening to ur life stories everyday...but i would love it more if i can be one of the characters inside...
Sunday, August 13, 2006'♥
Linger...
This is the fireworks that i watched last Sat.. I only watched one time and i guessed its the nicest...I guessed by now, most of u would have at least watch one fireworks from the FIREWORKS FESTIVAL in Singapore ba...Awwwww.. how i loved fireworks.. we were just basically Wow wow wow during the fireworks session..remembered that Ms Han tats wad we do last yr..and the whole video got our voice ahhaa..Fireworks are just so nice... but too bad good things never last..
The most romantic thing on earth.. is to watch the beautiful fireworks with someone u loved.. of coz that person might not be with u always.. but at that veri moment i tink everything else doesn't matter anymore... i got a chance to watch the fireworks with a guy... but too bad he's not someone i like.. The one i like said that fireworks are bo liao.. he can do nicer sounds by farting... -_- Sibeh LAME tks lei..so i will continue to seek for that RIGHT one haha..
I can't help but to declare..BC is a PAN TU!!!!... he went for steamboat with his frens yest.. kui wo meng looking so eagerly for the feast, he jing ran went yest nite... arggghhh so mi and chel was like so disappointed we zhi hao watch a comedy to lighten our mood...
The three of us.. Chel, wei and me decided to watch CLICK after me pestering them to watch it with me.. been wanting to catch tat show.. for those of u who haven't watch it.. what are u waiting for? Go watch lor.. it's nice.. not those boring comedy.. it's a comdey with meaning...
Yes, I teared during the ending part...another show to teach us the importance of cherishing someone, esp ur family...yes im guilty of that myself too...mama and papa i love u......
A song from the movie...and tis song is so long ago man...but i still loved it alot..
Cranberries
Linger
If you, if you could return
Don't let it burn, don't let it fade
I'm sure i'm not being rude
But it's just your attitude
It's tearing me apart
It's ruining everything
And i swore, i swore i would be true
And honey so did you
So why were you holding her hand
Is that the way we stand
Were you lying all the time
Was it just a game to you
But i'm in so deep
You know i'm such a fool for you
You got me wrapped around your finger
Do you have to let it linger
Do you have to, do you have to
Do you have to let it linger
Oh, i thought the world of you
I thought nothing could go wrong
But i was wrong
I was wrong
If you, if you could get by
Trying not to lie
Things wouldn't be so confused
And i wouldn't feel so used
But you always really knew
I just wanna be with you
And i'm in so deep
You know i'm such a fool for you
You got me wrapped around your finger
Do you have to let it linger
Do you have to. do you have to
Do you have to let it linger
And i'm in so deep
You know i'm such a fool for you
You got me wrapped around your finger
Do you have to let it linger
Do you have to, do you have to
Do you have to let it linger
You know i'm such a fool for you
You got me wrapped around your finger
Do you have to let it linger
Do you have to, do you have to
Do you have to let it linger
Short Note:
Acting like one accord....
Saturday, August 12, 2006'♥
Where are u MR Nice Guy??
Why is all the MR NICE either
A) Attached
B) Married
C) Engaged
Why is it when u thought u found someone nice, someone who cares and understands u, someone whom u thought u can spend ur life with......but it turns out that they are either A, B and C...
This happens so many times, not only to me but to the frens around me. I've read a blog somewhere and it happens to the ger too...While we gers are here weeping our hearts out, they are there with their gfs or wives onli feeling guilt stricken, but what can they do? Just say "sorry, let's be frens?"
Awwwww.... it hurts...Gers are emotional being, some of them might play hard to get, but once they put in their feelings and they found out that the SO called MR NICE are A B and C...shuang chong da ji ok...
So in the end MR Nice are not MR Nice at all huh?? Faintz...so where is all the REAL MR NICE?? I'm still searching high and low for him man.. If you all happen to see him, tell him im looking for him ok? thks...lol
Anyway to those who found ur MR NICE, you know who you are... pls cherish them....if not i will go snatch de.. haha.. coz nowadays MR NICE market value veri high hahaha.. on DEMAND lei..lolz..
Short Note:
Are u Mr Nice or are u MR A B C?
Friday, August 11, 2006'♥
平常心...
A song can have different meaning when u listen at a different time...Some songs depict what u feeling rite now.. some songs reminds u ur memories.. some songs when ur happy u wont understand the real meaning of the sad lyrics...some song u need to listen a few times before u got the real meaning..but nevertheless...
no matter how u feeling happy or sad.. there is always a song just for u...

平常心
张惠妹
街道静的刺耳
夜被路灯染色
趁感伤醒来前
先上车不会不舍
承认我是弱者
不敢再对爱假设
我真的累得不想再拉扯
我寻找的平静
是我将来看电影
带着一颗平常心
不必为谁心碎闭上眼睛
我需要的平静
是敢回头看曾经
那些为爱患得患失的情景
我选择忘记
我不懂得取舍
才让心痛堆着
找得到前些年
的快乐只是偶尔
回忆是个诱饵
是来叫我回去的
要伤能愈合
我非走不可
Just a day to weekend... what will u be doing?? Going for my steamboat feast with BC and Chel after church....i will fight for my prawn de.. BC u got no chance at all man...
Might be meeting MR LAO CHEK later for supper, or i shld say late nite dinner? it sounds better not so sinful haha.. LAME im just deceiving myself man.. He finally bought the things i asked him to buy for mi after half a yr of pestering... finally his guilt strikes him hahahaa....Mei yong de jia huo hahaha...
Oh ya.. I'm so addicted to Mahjong nowadays.. join me on
www.mahjongtime.com
, just create an account and we can play together.. Selyn and Nelson is my victim currently, yest we played quite alot of rounds together ahhaha.. it's fun to play with frens online...lolz...but i still prefer the real thing.. so who wants to invite me for mahjong session?? pls feeel free ahhaaha...
Short note:
We are closer.... but not in heart....
Wednesday, August 09, 2006'♥
Happy Birthday Singapore...
I know i'm not the first to wish Singapore Happy 41st Birthday but i knw im definetely not the last to do so...anyway today is my BABY Charlotte's Birthday..yeah she was the real SINGAPORE's BABY... Godma wishes u kuai gao zhang da and be a good ger ok...
Anyway went for Chalortte's pre-birthday celebration yst nite.. held at a MAC in Bukit Merah.. tweleve yrs ago.. i held mine there too...the place is full of memories man...i realised how time passed.. imagine now im there helping my god daughter with her celebration.. when would it be my daughter's turn?? well tat's kinda of side track isn't it... haha..
Anyway...being a god ma is not easy.. i ended sch at 5, went to Century Square to pick up the cake which is 1.5kg...I smiled when i saw the cake, even the auntie smiled too..its damn cute..and she tot its my daughter..faintz..so many ppl tot its mine..just becoz im fat doesnt mean i gave birth le hao bu hao..dunno happen so many times le..even MR A tot it's my baby picture when i posted it up in frenster...faintz..THE MRT is so full by then...and i stood on the MRT all the way till OUTRUM PARK MRT for 40 mins carrying the heavy cake... my hands almost have no feeling at all too numb...haha..
Met Shao Mei and we proceeded to take BUS 147 to BUKIT MERAH CENTRAL...awwwww i used to take this bus to my pri sch at those times.. i guessed i missed primary sch life the most man....Reached there and onli a few ppl reached...
As the time passed more and more ppl reached i tink total attendance was 16 ppl including baby charlotte, baby julian and dajie's maid... anyway we enjoyed ourselves taking photos, chatting up old times, most of the guy is my best fren ITE's MATE and they were friendly man.. esp got one look like ah niu de.. haha.. and zhu's bf xiao tun is our photographer for the nite...We ended the celebration at 10.15pm.. and WEELEE's bf sent us home.. shiok man.. i tell u..if not we will take bus until butt pain...but on the way back traffic was slow due to fireworks at ESPLANADE yst.. faintz...
Anyway i enjoyed myself yest nite.. and it's good to see WEELEE coz she was always so busy.. glad tat she have changed to become more mature le.. and i cant believe her bf is my sch mate too.. i realised alot of ppl study at TP man..lolz...
Here are some preview of the celebrations.. the rest of the photos was not sent to mi yet.. duhz...
My beautiful present for my BABY CHARLOTTE.. she is just so cute...cant bear to eat her up lolz...
ALL who attended... i just simply love the sisters...lol...
____________________________________________________________________________
Back to National Day... met up with Chelsia to go BUGIS VILLAGE..for some shopping spree... she need to attend a company function tonite..and the dress code is red/white..so we went there to look for suitable blouse.. in the end she bought a victorian blouse..and i bought a white and black polka dot blouse.. omg i loved it so much man...and the blouse is proudly sponsor by MS CHELSIA... cause she know i super broke le...thanks for ur generous investment in Shirley's VALLEY BANK....U will receive ur RETURNS in 3yrs time...
ANYONE intersted in investing on SHIRLEY's VALLEY FUND?? u invest now and u will get ur returns in three yrs time.. doubled....hahaha...think carefully..
its definetely WORTH IT!!!!!
WE went for cg after the shopping...and after tat we went our seperate ways.. she went to the company's function while i met up with zhu zhu for dinner after his soccer match... there goes my NATIONAL DAY.. no fireworks, no crowded scene, no flag, no singing of national anthem.. a simple day.. but i enjoyed it alot...haha...
Back to school tmr sianz....................... u know y so many dots? Coz i really veri sianz.. countdown to exams three weeks time...shit man.. and im going to watch LI SHENG JIE next week in my sch.. jealous? my fav singer lei woohoooo...
Orite back to ACCOUNTING TUTORIAL haiz.....
Short Note:
I wished what he said is wrong..i hope u are safe...
Monday, August 07, 2006'♥
TOKYO DRIFT...
Yeah it's a monday.. starting of a week..but duno since when.. i have lost the feeling of MONDAY BLUES.. coz laoniang always skipped mon lect..anyway today oso is online lect no need go sch.. so dun gif mi tat "eeekk SHIRLEY so AH LIAN SKIPPED CLASS de look?" haha..
Met up with MR A... woohoo.. i tink it's been ard 3-4mths nv see him le...we went for movies..guessed which show we watched? the most talk abt movie in town lor.. Fast and Furious-TOKYO DRIFT...coooooolll.. we kept saying in the movies it's like INITAL D... but INITIAL D is more on the story side.. and TOKYO DRIFT is more on action.. so if u love cars, or ur bf loves car.. u shld watch this show.. damn nice lor..the drift haha...saw the modified cars inside the show.. and i kept tinking of MR D.. cause it's like him lor.. modify here and there de...i tink he will go mad if he watched this show..dunno how much he will spend this time again...
SO after the movie.. we wanted to eat kueh chap at 138 round market..walked all the way there.. then realise the whole hawker is not opened at afternoon... faintz.. first time saw hawker nv open in afternoon de.. normally at least got a few stalls...so we went to the nearby coffeeshop eat xiao guo mian.. hahah MR A keep blaming mi for no kueh chap.. next time ba..u realli no fate with ur stupid kueh chap de..
Anyway tks for coming all the way to TAM to watch the show with mi..and after craving for so long.. i finally ate my Ben & JERRY Cherry Garcia while watching the show.. damn nice hao bu hao.. i feel so xing fu during the show hahaaa...
Tmr is my bu bu zai 1st birthday celebration.. gonna let it be special so i ordered a PHOTO CAKE for her.. i realised alot of ppl dunno what is photo cake...so for the sake of u all.. this is how it looks like...
Nice rite.. i wanted this design more cuter.. but my dear gonggong fren dun wan..SHE WANTED THIS...
Mad de lor..she wanted so big.. we shall see tmr ba..let her haf cakes for breakfast, lunch and dinner.. we ordered 1.5Kg.. and she onli invited less than 10 ppl.. HA HA HA.. wo men den zhe qiao ba.. anyway it costed mi 57bucks for this lor.. but im sharing with shao mei so this will be our gift for my bu bu charlotte.. gan ma ai ni ok...hehe.. looking forward for her party tmr..hopefully she will not keep crying.. we also bought her a TIARA and a gown.. pwoer rite...haha nowadays kids are veri xing fu de lor..
WILL take lots of pics de no worries...might be staying over at their house..coz the day after gonna have cg at TB..after tat is off to MA LA HUO GUO and fireworks le...woohooo.. too bad BC now no car...but nvm de we will survive all the walking de..hehe...
In case im not at home tmr.. .HAPPY NATIONAL DAY to everyone out there...wooohooo..
OFF to finish my red wine le.. buaizzzz...
Short Note:
Are u back??
Sunday, August 06, 2006'♥
Fireworks...
What a busy week out there... finally my project days is over..yippeee..and im so damn happy.. coz its a sense of freedom lor..so now onli waiting for my end sem exams..but u tink i will start study now? ya rite..as if..lol
Went for FOP at Indoor stadium yst nite.. and the whole thing ended around 10plus.. so we took a cab home.. there was simply too much ppl le..and the cab driver is damn funni hao bu hao.. i guessed he is abt 30plus.. and i tried all my ways to ask for a discout.. hahaha jian rite.. so in the end he gave me one dollar off woohooo.. better than no lor..
This afternoon, zhu zhu came to fetch me, then he wanted to eat at Changi Village so we drove there.. i tink i can be a professional driver le.. all the directions i gave de lor..waited for him to eat...coz after tat im gg to Selyn's house play mahjong ma...and she will onli be back at 3plus so we drove around here and there.. at first zhu zhu wanted to play mahjong oso de..but too bad he got to be at the funeral of his fren early to help out.. so around 3 he drove me to inter and i met up with Selyn's and Nelson...
WE three played mahjong.. and Nelson veri happy lor..coz he is the BIG WINNER lor...we two veri gong gong.. and im so addicted to mahjong now.. haha damn fun u know.. too bad i lost ard 4bucks ba..nvm that will be my learning fees...haha when is our next time?? lol
Then rushed down to mit ZHU(notice this zhu and zhuzhu is differnt haha) both of us are going to watch fireworks at Esplande.. coz i was super late..we reached there ard 7plus... and its so JAM PACKED lor..duhz..went for dinner at THAI EXPRESS and the service not veri good maybe coz of too much ppl le.. then at 9, the fireworks started.. today's team is from ITALY.. (u saw it MI jie.. ohhh ur fave ITALY lei)..what i can say is.. IT's DAMN FREAKING nice lor.. omg.. the colours oso veri colourful.. *
Pics will be up sooonnnn
*how i wish the one besides mi is my lover hahaha.. so damn romantic lor..I guessed im going again next weekend.. any takers?? lol.. but THE SHOW FROM FRANCE I WILL CONDEMNED it.. hahhaha dun ask mi go for that..
Getting home is difficult coz so many ppl ma.. so we waited.. went to HAAGEN DAZ for some ice cream before we went back home.. what a tiring but fun day.. i enjoyed myself today..thanks for all my frens who make it happen...lol...
Today is also the day that i broke off with someone.. one yr ago.. i was amazed by hw fast time passed.. Last yr de jin tian.. i was crying myself out at BALACLAVA...and i went to church's anniversary with a SUPER PUFFY EYES... power lor...
TO Whoever u are... time passed by so fast.. i guessed ur living on well too.. the past is the past just hope that u will be happy with what u have now...and i xiang tong le..we can still be good frens ma..dun always see each other online oso nv talk hahaaa..
Tmr's gonna be another busy busy busy day.. might be miting up my long lost gang, mi jie, ying ying's baby birthday, church's anniversary... alot of programs la..but i still tinking to go for which haha.. wish me all the best ba..
Short Note:
THinking of u.. but missing another...
Wednesday, August 02, 2006'♥
Bling Bling Sticker...
My hp was decorated with bling bling diamond sticker on the front..today i realised one of them dropped off..the diamond part dropped off, but not the sticky part... i tried to paste a new one over it but it just wont stick. Then i realised.... it's just the same as love...
If there are still some memories, matters left in ur heart from ur past relationship, no matter how hard u tried to replace it with a new relationship, it just wont work....
Maybe part of ur heart is hardened or part of it is dead... u cant seems to trust a person too much anymore...even if the person said the truth, when it reached u.. ur trying to figure whether it's the truth or is is a lie..but most of the time we chose the latter, we chose to laugh it off, run away from it.. anything but just to face the facts...ur afraid, u have no sense of security, ur worried that history might happen again.. so u chose to be on the safe side of the road... one phrase describe it off... "Once bitten Twice Shy."
I was complained by someone yst nite...he said that im not serious whenever he is talking abt serious stuff... i always laugh and joke abt it.. if not change topic...and i always dunno what i want from a bf...COOOOOOLLL i've learnt something new.. coz if u know mi i always joke ard ma..with frens even with my previous bf...coz always when ppl tell mi serious things i tink they are joking if not they are lying..this is not veri good..dunno since when i become like this..or maybe i adopted it unknowingly...lol..
But thanks to him now i know my weakness le...i will try to change de...i guessed time will prove everything ba.. hopefully i'll be able to paste the new sticker in my relationship soon ba..
____________________________________________________________________________
Long intro lei.. anyway i enjoyed myself today... went for CSA EXCEL TEST.. and i rushed like a mad woman.. i tot the test supposed to start at 2 but heng teacher waited until 2.15 then start...and i SCORED FULL MARKS...yeah yeah..*clap for myself* coz i didn't study yest nite.. u know.. i was drinking my red wine rite ahhaaa...
THEN the 14 of us went to TM to watch LAKEHOUSE...COOOOLLL.. its a fun gathering... we were joking here and there.. guessed i had better relationship with my classmates le ba..
Well abt the show.. its kinda of draggy.. and onli clever ppl will know how to watch it.. coz u need to tink here and there..coz its from two time frame ma..well i'll gif it 3.5/5 mainly coz SANDRA BULLOCK is damn feminine..ahaha..
After tat some of us went for dinner... with most of the guys.. we were laughing at how gay they are.. my class is a gay and les class lol.. too bad we didnt haf time to take pic..
ANYWAY after resting a few days..time to slog away my THUR for ECONS le.. FRI will be presenting it too.. hopefully this weekend can relax abit..oh ya..im gg back to BATAM SOON for my dearest Mi jie's birthday.. we will be drinking MOET&CHANDON omg...typing abt it makes mi drooollzzzz...
Nites everyone...
Short Note:
I knw how much u have done for mi...
Tuesday, August 01, 2006'♥
My wonderful companion..
Typing this entry while im drinking my MERLOT.. well its actually red wine la.. it's has been my wonderful companion for the past two days...i dunno y suddenly im so into it.. (of coz not from FRANCE de)..
It all started yest...
Me and my dear cousin were chatting online.. she was jobless now..(well if u haf a financial job u can intro her, but tats another story haha)..so i skipped my lect as usual on monday..
Then Lao niang said im gg to cook pasta for lunch..then this woman super enthu abt it... maybe coz (pasta=Italy) so she quickly rushed and bath to come my hse.. so i in turn became the MARIA... what i dunno its.. this woman..went to buy red wine.. those 250ML de.. four bottles.. so we each had two...then...we had no kick.. so we went downstairs to buy one another 750ML one while picking my darling weisi..
THAT ONE is SHIRAZ CARBANET (dunno spell correctly boh) i dun like i prefer merlot.. but of coz we both finished the whole bottle.. i tink we are mad le.. weisi say we are JIU GUI diaoz...so she spent the whole day at my hse.. we had fun chatting.. gossipping.. and watching tv not forgetting mac delivery... haha...
Then today.. after sch i went to mit her again..wanted to get something from TAM MALL.. we went shop shop around.. then we went NTUC again.. haha bought another 750ML MERLOT each.. we are both damn addicted to it lor.. haha.. so funni we spend almost two hours wandering around there.. coz some ppl veri indecisive..haha.. damn funni..
So now u all know who influence me hor? haha.. im excited that this SAT LAONIANG gg MS SELYN house for MAHJONG session with her MR NEL...lol better shou xia liu qing hor.. its a busy week for mi.. gg to watch LAKE HOUSE TMR with my classmates..woohoo..
Watched the news about a guy who died caused of the stomache operation...he is my zhu zhu fren..he just told mi yest he went to his funeral.. never expect it will be shown on news..anyway just hope that the wife will be strong coz they onli married for six mths haiz.. life realli is fragile.. i guess if we want to lose weight better dun be lazy exercise ba...oppps..haha..
Hao ba.. see u guys ba..laoniang gg to enjoy my red wine with romantic oldies le..woohooo..
Short note:
Now is better than never..