Friday, June 30, 2006'♥
Fiction or non-fiction...
I dunno why nowadays ppl are getting faker and faker.. until i dunno how to differentiate whether the person is telling the truth or the person is lying...
Some ppl once said before.. look into their eyes and u know whether the person is lying... but i tried to look into the eyes its still the same lei...except for some eye shit... lol
If u haf a great way to know whether the person is lying to u anot pls tell mi... i will appreciate ur help de...hahaha...
Finally it's Friday le... it's damn fast lor this week...just now went to cg and after tat went to Pasar Malam..wakao it's getting boring lor.. all the stalls are duplicated de... then we waited for the gonggong cab for 15 mins...and finally hop on the cab.. then who knows.. MASSIVE JAM at BRADEL causing the whole CTE to jam like mad lor.. wad a shit day man... it's like damn long lor.. heng we gg tampines if go TOA PAYOH then all the best liao..amazing.. anyway after the jam..the CAB DRIVER drove veri fast lor.. wakao machiam INITAL D u know.. i almost vomitted out my TAIWAN xiang chang.. power lor...now i feel so giddy... im srry la uncle i shldn't mention that i wanted to rush home and watch the match...damn...
While i was typing this post.. i heard ppl from the downstairs coffeeshop shouting GOALLLLLLL.. its damn loud u know.. until my room can hear..and i closed my door le lor.. poor mama all the best lor..she can tahan lor..if mi i sleep until half way ppl shout i will get heart attack man.. damn those AH PEK.. need to shout so loud boh....nabeh...
Show u all a car racing video... Guess who is inside the YELLOW car ok?? hahaha
Seems like these few days.. i kannna car sick many times...faints....
____________________________________________________________________________
UPDATES...
Just finished watching GERMANY VS ARGENTINA... so far the longest match.. that they haf to used penalty kick to decide who is the WINNER... everyone was like so tired le..haiz..
Guess who won? GERMANY man!!!... wakao.. i tot Argentina would win.. but too bad their best goalkeeper was injured... The Argentina player cried...there is some commotion after the match..btw GER AND ARG...and i feel so sad for them...realli veri jialat lor... cant imagine if my RONNIE lost..i tink i will cry for days..
Mi jie now i know how u feel le..when ur ITALY lost to SOUTH KOREA four yrs ago..anyway tonite is ur ITALY vs UKARAINE le... all the best ok...dun commit suicide if anythign goes wrong haha..
SO RONNIE... jia you ok.. tmr is the match btw FRANCE liao..damn it..im so nervous lor...hopefully RONNIE WILL SCORE again...

Short note:
be careful tonite....
Thursday, June 29, 2006'♥
Unpredictable Thursday...
Well.. today class ended early... so i went home and do my sushi... and this time round better liao... hahaha but i nv did alot today lol..coz i did it for someone onli...lol
Got back my mid sem test result... onli two papers so far... got an Aand a B+ for this two sub...two more to go..and its the most disatrous de...CSA and ECONS which i dun haf eyes to see.. die liao la.. haiz..
Anyway... i nv realise the days passed by so fast...can u imagine tmr mid nite BRAZIL is playing again lei.. wah damn stress lor i tell u ...
Just reached home from East Coast...tks to whoever who was with mi.. i had a great time chatting with u in the car...and it's damn romantic hao bu hao...coz u took all my songs and burn it into CDs..tks...
anyway got a video to show u all..coz its damn funni.. all tks to MR A...
Short note:
The actions of someone else today will help you take stock in your own life choices. SI beh zhun hao bu hao
Wednesday, June 28, 2006'♥
Ms Dai Sai
From now on my name is change to SEE DAI SAI.. pls do call mi that name when u see mi next time... My life cannot be any better without being dai sai every single day.. esp yst and today....
Remember im suppose to be in FISHERMAN VILLAGE yst nite, watching my beloved BRAZIL match, drinking my fav Heniken, enjoying the sea breeze???? It's so perfect... but things sometimes just wont go the way u want them to be...
We reached there ard 10.30 and the match started at 11pm... so we walked to the stretch of pubs and found the one which has a tv. I was being told by a girl that this pub will show the matches... So we happily settled ourseleves down... and we asked the waiter.. Do they show the matches (the tv is playing dunno wad stupid show from Channel 8)...guessed what the waiter told us..." Sorry we onli show the matches on weekends." Great!!!!!! and it was like 1045 already... so we quickly gathered our informants.. and came to a conclusion that we will go to TAM INTER MAC...our informant told us that there got TV... So we found a cab in the middle of nowhere.. and board it... Uncle was veri nice.. to help us look out for any coffeeshops along the way.. but it's all fully packed... and before i got down the cab...JIN msged mi.. BRAZIL ONE GOAL FROM RONNNIIIIIIEEEE.... arghhh i missed that!!! How could I??? My beloved RONNIE...
Reached Mac...and realised its so damn packed lor.. even MACIK came with their grandchild... damn it... kids should sleep man at that hour.. and let us haf the seats ma... SO WE STOOD THERE FOR like 10 mins... NO SEATS... arggggghhhhhh... in the end we decided to go home.. and watch..stupid rite... u must haf tot y we dun stay at home in the first place... coz watching together is fun... we can comment together.. and hor.. i cant go my cousin house yst nite too..coz today got presentation.. so anyway its damn suay...
Luckily.. .my BRAZIL nv let mi down... they scored 3-0.... lol.. Well done.. but im super stressed lor.. next match is FRANCE lei.. both team got my fav players damn it... so SAT bo business pls dun ask mi out... tks..haha..
SO u tink that's the end of my daisainess?? U ARE ABSOLUTELY WRONG!!!!...
Tis morning.. woke up earlier to prepare for my presentation.. went to bath.. and i got a SHOCK!!!!!!... No water coming out from TAP... damn it.. YYYYYYYYYYYYYYYYYYYYYYYYYYYYYYYYYYY do this happen to mi when im rushing for time???? .. Wakao i nv received any notice lor... so in the end...
I used drinking water to bath.. and its not enough.. damn it.. i feel so sticky lor....arggggghhhhh i tink living in a kampung is better lor.... wakao i realli feel like crying u know.... then i went to change.. and when i was about to go out... THE WATER CAME....Nv did i realised how precious water is until today.. I rushed to bath again... finally went out smelling good.. hahaha..
THEN i cant find my formal pants... searched high and low man... until im so pek chek then i realised my mum put in her cupboard... faintzzzzzzz... wad a day to start with...
Thank God i managed to reach sch on time... and overall presentation is not too bad... coz i haf experience in ITE ma..so dun ever look down on ITE ok... ITE realli helped mi alot in poly... phewwww.. finally one project down..left two more to go...
Met up with Selyn for awhile to pass her her belt then we took the bus together home.. for her to interchange la.. chatted awhile.. it's been long since we met...hehe.. all thanks to projects.. then my classmate Pat oso joined us chat together lol...
Reached home... and i was damn tired le...
AND IM so so so gonna to relaex myself for a few hours.. then do my accouting tutorial...
Long post huh?? Bo bian im too dai sai liao..
Short note:
Mysteries are finally starting to make sense to you; a decision will soon be clear.
Tuesday, June 27, 2006'♥
The Days of Cameralessssss....
If you all know me... U all know that i love to take pics... be it in the toilet, on the road, on the aeroplane, in the ship... i can take pics anywhere, anytime, any place...BUT now....
It's not the same anymore.. SOBSSSSSSSSS... my camera batt is dead... REALLI DEAD... i cant any pics anymore....and for mi without camera is like eating chicken rice without chicken, eating fishball noodles without fishball...eating OR lua without OR... faints... i miss my camera....pls bring it back to life man...damn it...haha
Today for the first time.. i did SUSHI hahaha..... filling is sweet egg omelete and crabstick... woke up super early lor.. so result in mi dozing off during POM haha... anyway i SUCCEEDED... i brough ard eight to school and they ate all finish.. say it's nice and mama loves it too... she called mi when im in class.. asking whether she can eat anot.. duhz.. of coz rite.. if not i put in fridge for wad.. lol.. wanna thank zhen for teaching mi.. realli can save money lor.. i eat ard five and it lasted mi until dinner lor.. woohoo...
BUT one bad thing is... its not veri nice la..the Shape.. coz some of them is big while some is small..anyway i will improve on it haha..
AND im going to zhen's house on THUR.. ask her do nice nice de.. for mi.. and at the same time learn more... coz THUR de sushi is special de....it's gonna be a love shape sushi... heeeeeeeeeeeeeeeeeeeeeeeeeeeeeeeeeeeeeeeeee
Tmr having my presentation le.. gonna wear formal.. u see.. no camera again.. arggghhhhhhh.. faintz...
Today i wore my BRAZIL jersey to sch.. guess wad.. stupid Dennis said my RONNIE is FATTY RON.. argghhhhh im so so so angry... at least ZI HAN better support my BRAZIL.. haha DENNIS said ENGLAND is going to be in the final.. hmmmmph we shall see.. seriously i hate them so if u like them we are enemies le hahaha...
Going to my fav place FIsherman Village to watch my BRAZIL's match with my beloved cousin... we sure haf a lot to say hahaha.. better pray hard the TV there wont spoil lor...and BRAZIL better win if not i'll jump down the sea str away from there lols....
Going out le... see u guys...will update on my presentation de...all the best to mi ba....
ANYWAY listen to this song ba.. i posted the lyrics yst.. NI NA ME AI TA... it's damn nice lor hahaha...
Short note:
It's coming and will ur promises be fulfilled on that day?
Monday, June 26, 2006'♥
The Process...
你那么爱她
李圣杰/林隆璇
直到爱消失你才懂珍惜
身边每个风景只是它早已离去
直到你想通他早已再对你留恋
最后的你开始了一段挣扎
你那么爱她为什么不把她留下
为什么不说心里话
你深爱她这是每个人都知道啊
你那么爱她为什么不把她留下
是不是你有深爱的两个她
所以你不想再让自己无法自拔
This is what my daily horoscope says about today...
All signs may be pointing to go, but right now is not the time to move ahead....
Which i tink is quite zhun... haha.. Sianz start sch again le.. stress is coming again liaoz... Going to get sushi ingredient after sch today.. im gg to make sushi on thur ..whoohoo.. first come first serve basis.. pls reserved early to avoid disappointment haha...
Anyway thanks to those who asked abt BABY CHARLOTTE...She is better le.. tat day sent her to A&E.. i was so worried abt her that i cant sleep the whole nite.. She got dunno wad virus infection.. so nowadays virus is veri deadly.. her fever shot up to 40degrees.. but now her fever has gone down le.. THANK GOD for healing... :)
These few days i have discovered alot of "truths"..... some disappoint mi, some gave mi a shock while some hurts mi.. reminding mi of the past.. BUT i strongly believe.. "THE TRUTH SHALL SET U FREE"....This leads mi to protect myself even more.. and not to trust anyone easily...I pray that i will not fall into another FALSE TRUTH again....
Short note:
The 3 questions...is it another yet to found out truth?
Sunday, June 25, 2006'♥
Charlotte
Baby Charlotte has a veri high fever...39.5degree...im so so worried for her.. and her gonggong mummy is at MALAYSIA shopping.. im so damn pissed with her man.. even though she's my best fren.. at times must haf some responsibilty for her baby oso ma...
Charlotte must be strong ok.. Godmum will be praying for u de...
GOD i pray that Charlotte will be fine... pls heal her now..
Short note:
realli realli mei jiu le...
Saturday, June 24, 2006'♥
Goals...
Though it's a simple goal.. but without goals in life we will PERISH!!...Everyone needs to set a goal for themselves be it a small one or a big one...
Why do i touch on this topic? Yst my best fren callled mi..she was feeling so depressed abt her divorce...so i chatted with her... she is a simple minded ger.. often regretting her actions...coz she is easily influenced by ppl...and after two hours.. im glad she finally thought thru abt was she wants in life.. step by step into a better future...
Before that call I was feeling shitty myself too.. and im glad that thru this phone call we both got comfort.. see this is how a phone call is so impt rite? A simple phone call can help to strengthen ur frenship.. if u haf not been calling up ur fren..or even smsing..i tink u shld start doing it now...
I chose my CDS subject le... and to my horror.. the sub is so limited haiz.. nothing much to choose from.. and thats my choices..
* Psychology
* Hospitality Management
* French
* Sociology
* Music appreciation
Pengs.. i realli hope to get psychology and french.. and i can say BonJour to u guys next time hahahha...
My eyes is swollen..and its damn painful lor..
Hao le.. gg out soon.. and im glad that after rushing the proj for so many days.. we finally finished CSA le..phew... more to come.. i feel so stressed up this week.. and finally its over.. next week will be a better week ba i guessed...
Short note:
wee hours... is that a sign??
Friday, June 23, 2006'♥
The BEACH...
Today Shaomei, Zhen came my house.. and we three become pastry chef... bought the stuffs for making cookies and cheesecake and it cost 20over bucks thanks to zhen sponsoring us.. haha...
My house is in a mess.. and finally in the end our cookies and OREO cheesecake is a success...YIPEE!!!
But too bad my CAMERA is SPOILT!!!!... arggh so no pics to show u guys...sobs sobs...
Anyway after nuaing for the next few hours.. we decided to go to FISHERMAN VILLAGE for dinner...
Went to the beach first... and i realli love going there... makes mi feel kinda of relax... cant help to admit but im stress up nowadays... becoz of wad?? WC, love, school, money.. blah blah blah...so gg to the beach makes my mood better...
Then we had Stingray, chk wings, fried Udon... i didn't ate much coz im on pills...and suddenly i gt the craving for OR LUA...and my best fren is damn good...she not onli treated mi, she went to buy for mi even though her slippers snapped half way.. damn touched u know boh...and i declared im BROKE le...today most of them is they treat mi de.. so u know frens are always there for u... who needs MAN? haha...
The atmo there veri nice.. they are playing OLDIES there.. omg...i love OLDIES u know? went home ard 9 plus coz my zhen haf to go fetch her baby from the nanny le...
Though its a simple day for us.. but i truely enjoyed myself... i know tat nowadays my temper haf not been good.. coz of the pills but im glad tat they understand mi and nv got angry wit mi...tks zhen... i know u urself got lots of problems on ur mind..but yet.. u choose to share it with mi...and remembered what i told u on msn just now ok?? let's strive together for a better future ba... mauahaha..
Kinda of boring post hor.. no choice lei.. no camera = no photos, and nowadays lao niang always little bit pekchek..so if u want to go out wit mi..think twice.. before u got a shock haha...
Oh ya.. i just killed a croakcoach i saw in the kitchen...and i decided to kill it...oh ya BYGONE is my best fren...and i feel brave with BYGONE around.. haha.
Going to register for my CDS courses tmr morning.. duhz.. haf to wake up so early..soemmore Tonite BRAZIL IS playing lor..at 3am.. my RONNIE is here again.. lol.. RONNIE MUST WIN SUSHI OK? so which course should i choose? Sociology, Psychology, French, Event management, music appreciation? realli at a loss now.. haiz...
GG to stay overnight tmr at my cousin house again... lol.. its like my second home for this mth..and we are catching SCARY MOVIE 4 tmr woohohoo.. hopefully everthing turns on smoothly ba...
Got to watch my KANG XI LAI LE.. zai jian le...
Short note:
Are u? Do u? Have u? Should u?
Thursday, June 22, 2006'♥
Heart jumping...
I dunno whether what u told mi just now is it the truth or is it just making mi happi..but im realli happy u know? It's been long since i felt that way..
Anyway everything is not concluded yet.. let time proves everything ba...
Project is killing mi nuts.. esp that CSA so many things to do... i almost went Hougang for the past few days.. (the armpit of Singapore) hahaaha.. no la.. that's wad my classmates said..coz its neither east nor north ahha...went to HOUGANG MALL the first time in my life.. haha.and tks to Bullshit i did not get lost my way there lol..
Still got some bits and pieces yet to finish.. so Friday will haf to go back to sch to settle it once and for all...haiz.. so tiring lor..
Finally tmr will haf one day off from project.. Zhen and Shaomei coming my house to do cookies and cheesecakes.. haah hopefully everything will go on smoothly then..YOU will haf kou fu le...but too bad u gg to JB on Fri..lalalallala...
Hao le tats basically my boring life.. gg to sleep le.. haf been rushing my project like mad these few days...and i certainly look like a giant panda..lol...
Short note:
Taohuay, Tofu and honey water is on the list....dun drive too fast...
Tuesday, June 20, 2006'♥
Secret Message..
Everyone of us had that special Someone in our hearts.. If u lucky the person will still be with u...when u need them.. but someone of us are not..we did not for once cherish the person.. and let them go....
Whatever done cannot be undone...and they said..loving a person does not necessary need to be with them...just secretly loving them..as long u know in ur heart u still got that person...
Secretly wishing the best for that person.. secretly hoping one day.. that person will come back.. secretly thinking abt the past u had... secretly asking abt the news of that someone...
想念你的歌
是否曾经后悔过
那时候扶起说走就走
是否偶尔想过我
所以埋怨我
每当听你的下落
逞强常常让人无法负荷
躲起来边哭边说 i miss you
还舍不得把你封锁
星光闪烁如何拥有
站在远方才看见星空的轮廓
虽然有时候会寂寞
墙上时钟停格
你说放开手才会快乐
用半生的脉搏写成想念你的歌
该怎么才能让你懂呢
谁对谁错已经模糊了忘记了
我们都处理得有点笨拙
已经从来没有像这一次如此爱过
想念常让我无法负荷
常常只有一个念头 i miss you
我的爱情从来没有死掉过
星光闪烁如何拥有
站在远方才看见星空的轮廓
虽然有时候会寂寞
墙上时钟停格
你说放开手才会快乐
用半生的脉搏写成想念你的歌

Short note:
The cry of my heart...
Sunday, June 18, 2006'♥
Well DONE SUN...
何耀珊
还是会想他
在夜里失眠
在白天沉睡
摆脱回忆跟随
你给我安慰
为我擦干眼泪
不问为何伤悲
哦我问我自己
心中还藏着谁
你越温柔我就越后悔
我还是会想他
想听他笑我傻
虽然此刻心里充满挣扎
还会心乱如麻
我承认我还没忘了他
我问我自己
你有他的单纯
也有他的复杂
你的一切让我觉得像他
而我只能装傻
至少你的拥抱很像他
还会想他
他笑我傻
充满挣扎
心乱如麻
Short note:
There is no more..
Saturday, June 17, 2006'♥
Sweet.. Dream... Dreamt...
Together
MPV
Front-seater
Void-deck
BOB
Their Gfs
Three girls
Related
Lunch
Malay Couple
Intoduction
Eating
Fiti Islands
Courses
Happy
The life i wanted
Fortunate
_____________________________________________________________________________________
Went out shopping with MS HAN.. but most of the time is she shopping.. coz Laoniang bankrupt le...
A simple shopping outing.. but im happy.. though my feet hurts haha.. tks MS Han for ur companion...
Took 518 home.. passsed by a lot of places...with memories.. John Little, OG, Ps...etc..
Found a place where Mi Jie and i can watched Soccer next week..but its veri dangerous.. coz alot of "Hidden Danger" there...
Reached home watched Argentina vs Serbia.... Happy with the match.. better than France match.. which is basically wasting my time.. Mood got abit better after tat match...
Camera Batt is spoilt.. tink it was on too long..tried to charge it but cant'... why do this happen when im BROKE..haiz..
E asked mi abt my prediction on Holland vs Ivory Coast...I told him total three goals.. watched first half... 2-1.. and i felt guilty of making him losing money..
Went to sleep.. 2am E msged mi.. HE won... second half no goals at all.... so total goals 3.... He happy but I feel i veri dai sai.. duhz....so wasted...
Anyway.. Czech vs Ghana tonite.. nice match.. hopefully i wont be so dai sai...
Going out le... BYE BYE...
THIS IS A SUPER BORING POST... I FEEL LIKE SLEEPING WHEN IM TYPING THIS.. TOO BAD.. COZ IM BORING NOWADAYS...

Short note:
If onli i can read ppl's mind...
Wednesday, June 14, 2006'♥
How do u know...
How do u know if u are falling in love?
How do u know if the guy loves you?
How do u know whether its just purely crush?
How do u know if he is serious?
How do u know whether is it one-sided?
How do u know if he truely cares?
How do u know whether he did that just to gain favour from you?
How do u know whether if he have some feelings for you?
_____________________________________________________________________________________
Some say when he is willing to spend his time for you
Some say when he forsake his frens just to mit you
Some say when he bought u the things u always wanted
Some say through the way he look and talk to you
Some say through little actions he did for you
Some say when he drove all the way to mit u
_____________________________________________________________________________________
But all these are assumption.. there is no definition as to know whether the guy realli loves you.. and the guessing part is the most tiring part...
It depends much on the fate of you two isn't it?
BEAUTIFUL LOVE
I Love this song to the core rite now... too bad cant download it..who got can send mi ma?? hehe
Short note:
the three questions..
Tuesday, June 13, 2006'♥
Soccer News...
Hi Hi welcome to the
SOCCER FIESTA
once again.. This is Shirley here reporting live from her Tampines flat...
Yst we had three matches..
Australia vs Japan
USA vs Czech Republic
Italy vs Ghana
and all of them are veri exciting ESP the FIRST MATCH...
Australia Vs Japan
Y is it in BOLD?? Becoz i almost got a heart attack from that match.. U know y? Coz Me supported Japan.. and during the first half of the match.. Jap was leading by 1-0...even during the initial part of the second half.. Ms Shirley already tot of wad time she is going to take her money...until...at the 84th min of the game.. The AUSSIE goal on goal.. Ms Shirley sighed a heave of relief.. all rite not so bad.. at least still got some left.. BUTTTTTTTTTTTTT... after a few mins.. one or two mins to be precise.. AUSSIE SCORED 2 more GOALS... amazing rite.. WAH... MS Shirley almost fainted..anyway from now on
i HATE KANGAROOS
...
Her best coussie Mi Jie oso fainted... i tink alot of ppl fainted yst....
All rite back to the topic..
For the Czech match.. Poor Koller was injured at his hemstring... did u see his face of agony?? omg but when Ms Shirley interviewed him.. he said he will be alrite soon.. let's pray that he will be up and ready for the next match which is four days later ba...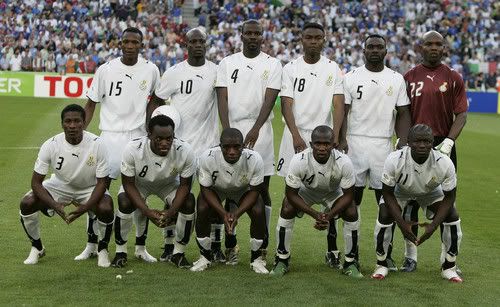 ITALY vs Ghana guessed not many ppl would get heart attack ba.. coz its predicted that ITALY would win... did u see all the handsome guys on the field?? Thank GOD Ghana wore white jerssey if not we wont be able to see cleary who is who.. correct mi jie?? haha...
Today we will have three more exciting matches.. my partner, Mr ah jin, aka mr coward aka mr lazybones will be reporting live from his Simei home tmr..
THE matches for today are:
Korea vs Togo
France vs Switzerland
Brazil vs Croatia
Did u see the bold match?? its my fav Team BRAZIL.. i waited and waited finally they are going to kick off tonite at 3am... so that means....
Brazil kick off = shirley's watching = Shirley nt at home= shirley no sleep = shirley old!!!...
Well its ok.. its worth it..coz it happens once every four yrs.. one mth later i can use SK3 haha...
Anyway Reporter Shirley would nt be at home tonite.. she will be gg to stay overnight at one of her cousin's place.. wearing her brazil jersey...lol.. so please stay tunned to mrstea blog or SOCCER FIESTA (onli for this mth) for more live actions...
Meanwhile since alot of ppl are predicting the score of the match
Laoniang oso want...
Korea vs Togo 2-0
France vs Switzerland 2-1
Brazil vs Croatia 4-1
If not zhun pls dun scold mi im onli a small fry reporter ok...
Ok got to prepare to li jia chu zou le.. seems like this mth lao niang always run away from home haha...anyway wanna thank my partner in action MR COWARD aka Mr LAZY aka Mr AH JIN, he left mi a testimonial which left mi smiling hahah... fyi we everyday discuss who will win.. but some ppl dun dare to act on it.. oppps.. i nv mention who rite..haha
I might go back Batam this weekend again.. Im totally addicted there...at least im not so stress over there.. love my cousins and dun worry im not isolating myself ok.. hehe..
Take care ba everyone
Short note:
Mr JIN, pls spell my name correctly.. forever de.. its SHIRLEY no SHIRELY..kam sia ur cooperation is apprecitated...
Monday, June 12, 2006'♥
GO GO GO GO GO GO
Yooohoooo... Im back finally... Reached Singapore at 11.45pm.. too tired le..so took a cab str home.. Home is still the best.. hehe... Just stepped into the cab..received a sms.. "Hey Shirley i tink Jas got msg u..tmr we will be doing our CSA and Econs project at 12 in sch,pls reply ok?"..walao pengs..i just come back lei...holiday is always the best..but coming back is so sianz ..arrgggghhhhh still haf to do stupid projects.. arghhh ECONS...*Pull my hair*
Anyway I feel so happy during these few days... of coz i missed my parents 4days nv see them le... Last thur went to stay over at Charlotte's mummy house.. and we had lots of fun making sushi, chatting... but the onli thing is.. I SWEAR i dun wan to slp with SHAO MEI anymore.. she veri power de lei.. her legs and hands always over mi de.. until i nearly suffocate hahaha wah tell u hor..tat nite LAO NIANG totally bo koon u know... haha..
Fri afternoon.. Went to FILA to get some Soccer Tee.. and we chose here and there i tink the GUY is veri good..he veri patient lor.and throughout something funni happen and i shall not mention here.. tmd so throw face haha..and i can said IM REALLI VERI DAI SAI lor!!!!...if i got the GEMS card i will realli gif it to that guy lor..haha after tat Mi jie and I went to the Harry's pub haf some drinks first before we go back.. and we are nearly LATE for the Ferry... sibeh gan chiong lor...haha..
First nite: We went to CITY CAFE.. BATAM version of BALCONY haha.. there got a big screen for socceer.. everyone was so excited.. but the crowd onli ard 25ppl nia... our table is the most front one.. Germany vs Costa Rica.. nt a bad start for GERMANY.. but i can say Costa tried veri hard oso.. drank my fav Heineken beer..and i had a good nite sleep man...
Second Day: Stayed at home in the afternoon..watched a few DvDs... Election 2, When a Stranger Calls, House of Wax...and i nv expected ELECTION 2 to be so gross de hahaa...wanted to watch Brokeback moutain but tat gonggong Mi jie says its stupid and slow lol...Mi, DA sao, Mi Jie and Ah Qing we FOUR GERS go CITY CAFE and watch the match ENGLAND vs Paraguay.Power rite..all gers lei.. . alot of ENGLAND's fans been waiting for this match..and i got onli one word to describe this match.. sucks lor.. haha.. if not becoz of the Paraguay guy tyco ball they wont win de lor.. and i can say alot of ENGLAND's fans was veri disappointed coz i tink they can do better than this lor.. haiz.. but nvm i always nv support ENGLAND de..haha.. so im still ok la..
Third Day: Da sao brought us to Mega Mall.. and we had Pizza at Pizzahut in the afternoon. Then we went to the HYPERMART and get some stuffs..guess wad i bought? MANDI LUR LUR.. Xh u must be veri happy rite? but i onli bought two bu hao yi si ma.. they paying for mi haha..then we went A&W get desserts ...oh how i missed A&W man... At nite we had western food at home then we all watched Holland vs Serbia... nt a bad match and Robben realli tried veri hard and i can say he realli RUN veri veri fast..good goal man hahah...
Overall i enjoyed myself these few days.. its a good BREAK for mi.. and i realli nv tot of anything except to eat sleep and lead a carefree life these few days lol... and i dreamt of someone yst nite..which i tink its impossible to happen in reality de..lol..
Anyway tonite match is AUSTRALIA VS JAPAN, USA vs CZECH, ITALY VS GHANA.... wooohoo all nice nice match..and JAPAN must win or draw cause whether i can buy the MASK kao ta le..hahaha and the best is
TMR match.. my BRAZIL vs CROATIA... omg ive been waiting for so long.....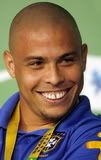 RONALDO must win ok? haha..
Oh..y do i feel like my blog is all abt SOCCER?? paiseh u all tolerate for one mth ba.. hahahahaha..
Short note:
Wad is it telling mi??
Thursday, June 08, 2006'♥
Stress is over....
Haha finally Finished my MID SEM TEST le.. wohooo and now im typing this entry at my best fren house.. going to stay overnight here with my baby Charlotte..
Today paper Computer System SUCKS... seriously... walao but since its the last paper everyone bo chap le.. just faster do finish then go home haha.. feel so relaxed after tat man...
Met ShaoMei... We went to Orchard together haf lunch then waited for Baby charlotte's mummy to come... so the three of us like the old times went shopping.. bought quite alot of stuff and i swear im going to get the overnight mask from Laniege..(the new korean brand)..tis tmd good....then we went to look at the baby gift set.. wanted to get a baby gift set for Zhen's older sister Ah Leng jie.. coz she just gave birth to a babby boy..woohoo.. still dunno wad name wanted to gib him
We went to Glenegas hospital.. in case u dunno.. im BORN there too haha.. then we gave her our present and i will upload the baby pic soon..so cute like LA BI XIAO XIN lor... when i come back from Batam
Will be going str to Harbourfront tmr from here...so u all dun miss mi ok..haha..
Ok hao le Lao niang wanted to go and play with my BABY CHARLOTTE LE...wohoo..bubuzai.
Short note:
You are Not There
Monday, June 05, 2006'♥
I know I know...
I know..i shouldn't be typing this entry here.. I know i should be burying myself in piles of notes... BUT I SERIOUSLY NEED A BREAK MAN!!!.. going crazy soon...been studying for the past few days..SUPER NO LIFE...ppl sms, MSN mi go out... AND I CANT GOOOOOOOOOO!!!!! sibeh PEKCHEK u know...
Anyway Today is the first paper.. ECONS...and i seriously feel like hanging myself after tat... NOT A GOOD START u know? One hr paper... they expect us to draw graph.. analyse, read.. u tink possible? somemore all 10 marks qns.. they expect us to write how short? walao.. i tell u everyone chiong like mad.. when the time's up.. Everyone sighed coz all cant finish on time.. for mi i manage to finish.. BUT at the last one min i SPOTTED A MISTAKE.. I was dumbfounded..shld i erase the graph and draw another one.. while i was struggling.. TIME's UP PUT DOWN UR PEN...i realli felt like killing myself tat time...
WELL SUAN LE.. ITS OVER MAN.. tmr's ACCOUNTING papers..and its at the LECT theatre.. u TELL mi how to do at such a small table? veri genius of them to set LECT hall as EXAM VENUE man.. shiet..
Was chatting on msn with one of my best fren..She decided to get a divorce( this time real one) as wad she said.. but while tallking to her i sensed tat this time THAT MR HEARTLESS realli hurt her too much le...her heart is dead... tell mi who want to haf a FAILED in their MARRIAGE CERTIFICATE?? i know she's been tru alot.. and this time she nv tell anyone of us the REAL REASON so i guessed she must be feeling miserable ba..
Feeling quite guilty i cant be with her during this period coz of my stupid exam and im glad she understands it.. anyway after thur last paper im going to her house to stay over with her.. then i will lend her my shoulders and maybe she can lend hers to me too.( i might break down at the last paper lol) whatever it is... BABY Is innnocent de...(she even mentioned she dun want the bb le..said she wants to gif mi...OH HOW I WISHED LOR)...
Anyway lets talked abt something happy ba...Remember lao niang is gg for holiday on FRI?? Yes i tink most of u know where i gg le.. GOING back to BATAM this FRI until next mon...wohooooo...i missed my realtives and cousins there...not to mention BABY JOLYN and BABY DOMINIC woohoo...and oso that XIAO DA REN MS TIFFANY lol..
Couting down to
WORLD CUP 2006 4 Days 2 hours 30 Mins 20 Secs
OMG It's COMING !!!!! Preparation haf to start now... let's see wad we need....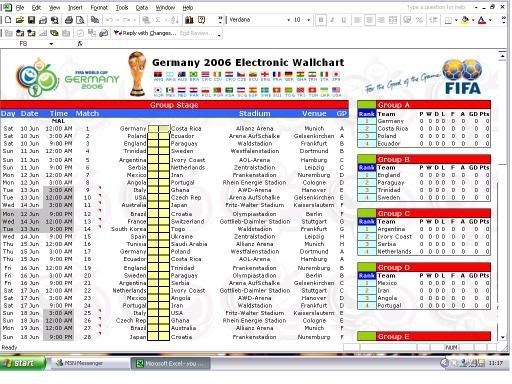 U need to haf a chart that tells u wad is the time for all the matches.. u NEED TO MANAGE UR TIME WELL MAN.. oso u haf to know when to take MC rite..hahaha..
NEXT we have...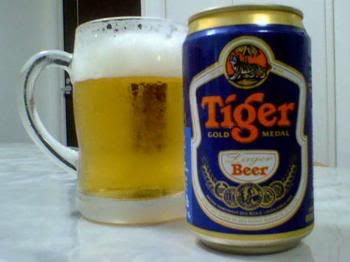 How can u watch a Soccer MATCH with no BEER? its like eating Chicken rice without Chicken lor.. duhz... i guessed my cousins at BATAM haf stock up le ba.. THEY SUPPORT TIGER de... if u wan free flow pls go back when CNY time with mi.. u drink till u drop lor.. no need money de THE BEER THERE...
Haha NEXT ON THE LIST we haf...

Peanuts and BEER is like Mickey and Minnie mouse.. they are COMPLEMENTS.. the demand is the same(damn shiet y am i talking abt ECONS again shiet shiet shiet) haha...
LASTLY not to forget...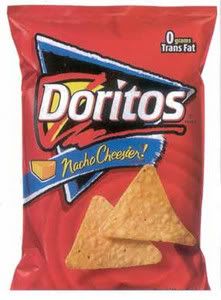 CHips, any flavour and oso if the best got CHICKEN DRUMLETS omg..that will be HEAVEN man..hahaha They go well with the BEER...lol
Last but not least
JERSEYS.. of the team u support.. mine still not here yet.. haf to wait for LAO CHEK to buy first.. LAO CHEK can u HURRY UP???? Onli 4 DAYS more lei..hahaha..later near the date le the price goes up, the demand increase and the SUPPLY is lesser how(SHIET ECONS IS DRIVING MI CRAZY) haha im going to be ECONS SIAO SOOOOONNNN>...
WANT TO KNOW WHO I SUPPORT??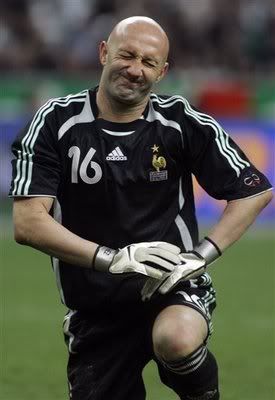 Of coz BRAZIL la... support them since i fourteen ok... MAI SIAO SIAO but hor i love BARTHEZ from FRANCE..he is so cute...u know... haha....SRRY Mi Jie wo shi bu hui support ur ITALY de hahaha...
GO GO GO...
Haiz haf to go back and study no dreaming anymore le.. jia you jia you...FIGHTING!!! wooohooo..
Short note
:
Dun be too greedy ok...