Tuesday, February 28, 2006'♥
LOR MEE.....
Im so tired now.. super tired.. as im typing this blog i was pratically closing my eyes... Thank God that ITE learn Keyboarding skills..
Im so tired tat im so lazy to pack my luggage...haiz..dunno la tmr then pack la..argggghhh.. finally dragged my feet to TM so as to change money.. tmd.. the best offer i can get is 23.9 thai baht.. so MR A kao ni le.. pls dun throw face hor..
I soooooosoosososososoosos feel like eating Lor Mee these few days.. damn it.. chai chee doesnt have nice LOR MEE.. sobs sobs.. whoever who buy Lor Mee for mi.. i will marry him..
Dunno wad shit im typing le.. hao le.. i got to go reflect wall le..byez..
Monday, February 27, 2006'♥
My onli happiness..

THE onli thing tat makes mi smile today is...
Dear See Xue Li Shirley,

We wish to inform you that your application status has changed as follows;

* Your application form has been received
* We will notify you of the outcome of your application by post.
(for ITE qualifications - Mar 15; for SPM/STPM - end Mar)

For JPAE application enquiry, please contact your first choice Polytechnic


Thank you,

JPAE Administrator
I know its onli a simple email.. but i just feel happy lor.. at least they tell mi they receive my application..and not LOST IT.. aiyah u all wont understand de la.. 15 MARCH..My future depends on that.. Whether u will see mi on this earth anymore depends on that day..haiz..
Want to ask mi how is my first day at CHAI CHEE??
Great.. first day of work.. in a totally new environment.. totally like a new staff.. totally confused of wad to do.. tats my FIRST DAY AT CHAI CHEE today..
Didnt get to eat my breakfast.. went home at 7.30.. wanted to go trim eyebrow.. but the shop closed.. having gastric pain.. hungry.. TAT goes to show HOW GREAT IS MY DAY today..
Actually put it in simple terms.. one word to summarise the whole day.. SUCKS!!!.. ppl there dun communicate.. too many restrictions.. like to push blame to others.. and most importantly EXCEPT PPL TO WORK OT for the first day.. marvellous rite.. Sk and i were dumbfounded.. SHOCKED.. by the amt of work we had to do.. BUT the others were happily chatting around.. fooling ard.. NOW we KNEW y there is so much backlog to clear.. Was so busy tat i didnt even realise its time to go home.. my breakfast is still in my bag.. veri exaggerating hor? u come and u will know..
I super look forward to my SHORT VACATION on THUR.. cant wait to get out of here.. but at the same time.. i surely will miss someone.. well some of u gave mi the ans for the quiz.. but too bad tats not the ANSWER.. try again ba..
Anyway.. forget abt SENTOSA.. yst wanted to go..but due to someone who is veri daisai.. the weather was like going to rain.. so we cancelled it off..and went TOWN shopping instead..
I bought a watch for myself.. and i loved it so much..onli 9.90 nia so dun gif mi tat " U SPEND ALOT LOOK" thanks.. Went to Lucky Plaza to change THAI BAHT.. all thanks to SOMEONE recommnedation tat tat place rates nt bad.. IN THE END its the worst in the whole ORCHARD lor..tks lei.. both of us brought cam so we took a total of 150plus photos..can u imagine?? oh i realli hope no one will find our cam or steal them..if nt we sure get famous over the net as "PHOTOBITCH" hahaha..
Went to my fav chill out place.. BALCONY.. so nice.. but i itchy hand go order TEQUILLA SUNRISE.. instead of my usual MAGARITTA.. see la.. in the end the drink sux.. reminds mi of VODKA ORANGE.. PUIIIII... i onli drank on e sip.. and i said bye bye to it.. damn!!!!!..
Laoniang super shag le.. so let mi now award u wit our photos yst.. of coz not all la.. u MAD AH??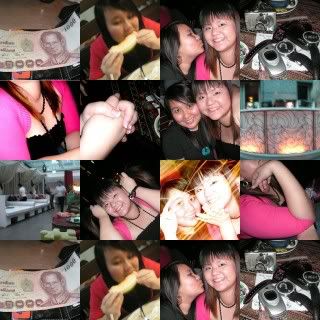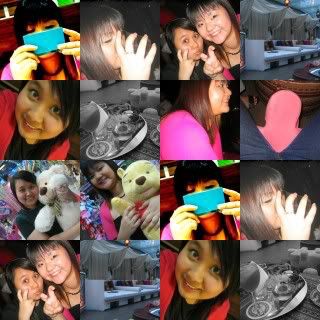 Short note: Whenever im down.. angry i will look at him.. and smile.. he nv fails to make mi smile...He is so powerful..there is nothing that he cant do..


Complete wit this song it will be the MOST perfect Stress Killer on EARTh...LAUGH BA>>>>KAi XING de Xiao Ba...
Sunday, February 26, 2006'♥
GETAWAY...
Having an outing wit Shitty Club member, MS Han in less than 24 hours..onli the two of us.. its a last min thingy.. we decided not to go to the usual Orchard, Suntec for shopping.. coz we might not be able to control our spending habits..
Wanted to go to a place which can save money.. take loads of pictures and fun...
We cracked our brains.. thought of places like the beach.. but its like too far for her.. then neighbourhood shopping malls...whcih is like damn sian.. then.... SUDDENLY.. i tot of a place..
Which is in the Central
Can take super nice pictures there
Have the SEA....
Can wear our sunglasses there
Able to relax and enjoy...
And the place is none other than....
SENTOSA.... yeah man.. Shirley is so clever hor?? been so long since i last went there.. think its at OCT or Sept ba.. anyway.. this time round will be diff.. coz i always go there by car ma.. this time round i requested.....

YESH CABLE CAR.. tell u all one secret hor.. laoniang for the past 22yrs nv sit on CABLE CAR before hor.. nt becoz i scare it will spoilt la.. no chance la.. haha.. TMD so exicted..sure take the scenery de wohoooo...This yr is realli a yr for BREAKTHROUGH man... haha but y so romantic de things i always with the WRONG COMPANY?? lol...
YESH i cant wait man.. think laoniang going to get some beauty slp and get prepared for the adventure tmr le...whooohoo... SENTOSA wo lai le...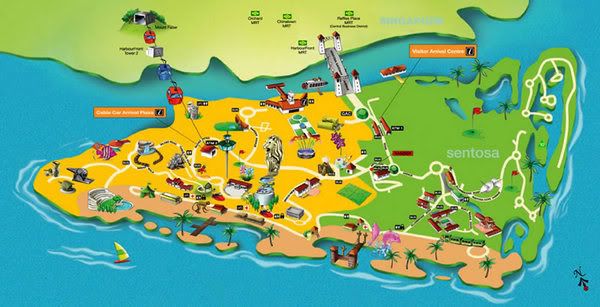 PS: GOD pls dun let it rain tmr.. Xie Xie!!!!!
Saturday, February 25, 2006'♥
每一个人, 不管你是谁, 不管你的长相。。。在这个是界的某一个角落。。。总会
有一个默默深爱着你的人。。。
你找到了那个人了吗?? 又或许你已经失去了那个爱你的人??
Great i have a good news to announce.. that is..
IM TRANSFEERING TO CHAI CHEE for two weeks... good news for zhu, Selyn, Chitra, Bennie.. but not for mi sobz sobz...
Sian... heard that that SIDE super STRESS de.. somemore gt so much politics.. argggh.. haven even start work.. and Im asked whether i can do OT ma.. faintz... im so used to:
Painting my nails
Reading newspaper
Listening to Mp3
sharing food wit my colleaugues..
my gong gong colleagues
my desk and minnie mouse mug
my view of TAM MALL from my window
cant help but THE great variety of food in tam
every morning chatting wit security guards..
DUhZ.. two bloody whole weeks!!! can i survive tru it?? damn im too used to the GOOD LIFE in tamp.. serves u RIGHT hahahah.. (the devil twins inside me)
Let's pray that its realli onli for two weeks.. and the BEST PART is SELYN is leaving after one week.. argghhhh so im left wit zhu ...
NVM lucky laoniang already apply leave for Bangkok which leaves mi wit onli 8 days ...
Cant wait for my Bangkok trip..
Meanwhile let mi enjoy my weekend first ba.. Pls pray hard for mi.. i want to get out of there sooooooooon....
This songs makes mi soooooosooo soooo feeel like going clubbing.. tmd when will the time comes??
Short note:

I miss someone... and his gong gong voice.. whose that??

winners will get a bar of

TOBELONE

free..

Submit ur ans before 28 FEB and u stand to win that!!! specially flown from BANGKOK...
Thursday, February 23, 2006'♥
Im in a veri moody state rite now... Might becoz of my Aunite coming to visit mi..im super suay the whole day today.. which i dun feel like toking anymore.. SHIT SHIT SHIT...
All By Myself
When I was young
I never needed anyone
And making love was just for fun
Those days are gone
Living alone
I think of all the friends I've known
When I dial the telephone
Nobody's home
All by myself
Don't wanna be
All by myself
Anymore
Hard to be sure...
Sometimes I feel so insecure
And loves so distant and obscure
Remains the cure
All by myself
Don't wanna be
All by myself
Anymore
All by myself
Don't wanna live
All by myself
Anymore
When I was young
I never needed anyone
Making love was just for fun
Those days are gone
All by myself
Don't wanna be
All by myself
Anymore
All by myself
Don't wanna live
Oh
Don't wanna live
By myself, by myself
Anymore
By myself
Anymore
Oh
All by myself
Don't wanna live
And never, never, never
Needed anyone
Tuesday, February 21, 2006'♥
Kids??
INCIDENT ONE..
I was listening to Kelly's Pan jiali's new song.. AI WU LI..
When Baby Weisi came in to my room, humming together with the song.. i asked her y u know how to sing?? I nearly fainted at her reply....
Me: Wei y u know how to sing?

Baby: Aiyah, tv got show so many times...

Baby: U know hor, this song about Kelly broke up wit her bf so she sing lor..

Me: U sure anot..

Baby: Yes la.. i even saw the advertisement ..she wear blue colour the raincoat..(MTV cos she dunno wad is it)ni do bu zhi dao ah.. aiyooo..sua khoo


INCIDENT 2
I was browsing my fren's wedding phots where.. Baby Weisi came in again..
Baby: wa ur fren got married ah?

Me: Yalor..

Baby: Y all ur fren get married le? (she saw a few of my fren's wedding photos before)

Me: How i know? they happy can liao lor...

Baby: *Gives me a sacarstic look* Then y u haven married? Ur fren all married le lei.. Faster go marry if not u old old liao.. even uncle oso dun wan u...

Me: Totally Stunned at the reply

Tell mi.. is that wad a 5 1/2 kid should be talking abt? When im her age.. i onli know how to colour my colouring book.. damn..kids nowadays.. ARE TOOO CLEVER LE... i sank into the realm of depression after talking to my baby.. sobz sobz
Sunday, February 19, 2006'♥
Left with no choice...
How do u know if u love a person? How do u know whether he still loves u? How do u know whether u both are together for the sake of being together.. instead of loving each other more and more each day?? How do u know when ur relationship have come to an end?
Together becoz ur used to each other? Together becoz u are tired of starting everything all over again? Together becoz u cant bear to hurt his/her heart? Together becoz ur afraid of lonliness?
But given a chance.. wad choice would u made?
18 Feb 2006
Firstly wanna say sorry to sock fang.. srry for not attending ur ROM Ceremony yst.. got to work in the morning.. then church ended quite late..bu hao yi si.. Wish u xing fu always ba...
After church ard 9plus Chel and i went to Fisherman Village.. our lao di fang.. i missed there so much...
Had our dinner there.. followed by two jugs of beer.. we sat down and chat. The atmosphere there was so nice.. the wind was so big...and most importantly.. the music was nice..
I looked on the left and looked on the right..damnit...Y is Chel beside mi..and not the one i love?? haha spoilt the atmo there..lol.. but i swear i will bring my date there if i got a chance.. Took some pics..but becoz of the big wind..i tink my hair sucks.. haha forget it ba..
Went home around 12plus.. was quite moody.. chatted wit MR A..but ppl so busy.. Then Bullshit called mi.. he was outside wit his fren celebrating his bd.. and his fren even talked to mi.. this scenario reminds mi of AH BOY and Long Cheng they all haiz.. they asked mi go Chomp Chomp..mad is it.. i just reached home.. of coz i didnt agreed to their gong gong request...
This morning.. thanks to MR BULLSHIT he wake mi up early in the morning..coz he going dentist for followup.. then i went church for prayer meeting..
I wept..and kneel down during worship.. i realise that recently im abit dry.. did not realli pray..I thank God for the prayer meeting today.. I realise He is still there for mi.. i cried out all my problems to Him.. and i believe God, You will answer my prayers soon..
when was the last time u kneel down and cried out to God.. Abba I love you?? We are often so busy in life..that we forgot abt our God..we neglected Him.. But when we are in need..we look for Him.. Is that realli the right way??
Tell that to yourself.....
Saturday, February 18, 2006'♥
Fisherman Village...
I so so so so so so want to go to Fisherman Village.. It's been so long since i went there, the last time was with mijie.. i just broke up wit HIM then.. tmd so fast oredi seven mths le.. For those sua khoo out there.. oops i mean.. those who dun live near here.. Fisherman Village is located at Pasir Ris Park.. its beside the sea.. there is a whole stretch of chill out places.. lighted wit candles.. so romantic hor..and not to mention nice nice songs.. I loved there..last time when i bad mood.. always go there.. but dunno y.. since i worked i seldom go there le.. SOOOOO i wished to go there tonite..with who??? with my ai ren la.. the one who is so siao of fisherman oso.. CHELSIA CHAN hahaha...
Who say i got no flowers for V-day?? haha no flowers but i got JING SHA...lol.. Tks to whoever who gave mi tat.. sweet.....haha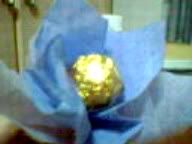 I remembered that day i posted abt this:
If you ever know the ending.. would u start in the first place? If you ever know the consequences, would u ever commit the same mistakes??
Below is wad Ms Han post:
My ans to her qns :


I would start even if knew the ending in da first place. What matters to me is the process of being together. not the ending. =D
Sometimes, we tend to think too deep into some situations. ending is what we cant predict nor planned. So why not relax and enjoy the time being together?

If i had known the consequences earlier, who would wan to commit the same mistakes again? sighs. we are afterall human beings. Stubborn creatures.. =X

To MS Han..

No wonder we are cousins.. haha our thinking are abt the same lol...
Well i tink i owed u guys an answer ba..
My ans would be....
If i ever know the ending.. i would still start in the first place.. same as wad Ms Han had said.. its the process.. if i'm happy throughout the process.. y not?? Afterall.. isn't life all about being happy?? U onli lived once.. even though the ending might not be pleasant.. but at least ur happy before rite?? Im those ppl who bu zai hu tian chang di jiu.. zhi zai hu cen jing yong you.. My motto in life is:
"Do what ur happy with and nv regret."


Regarding the second part.. well if i ever know the consequences would i still make the same mistakes?" Yes humans are stubborn.. sometimes we already know what would happen yet..we still commit the same mistakes.. its seems that the effects of the consequences suddenly blinded our eyes and minds.. foolishness ba.. if tats wad ur tinking off..
But after all.. which human doesn't make mistakes.. its abt how u manage to get out of the situation and get up to live ur life again....
Conclusion: Life is short.. live ur life wit no regrets.. do not be afraid to make mistakes... and most importantly.. kai xing jiu hao.....

Im happy are u??
'♥
MILKSHAKE...
Got a jing bao news for u all.. finally MAC Milk Shake is back.. after around ten yrs of waiting.. tmd im so damn happy.. since young i loved it alot lor..so guys who want to make mi happy buy CHOC MILK SHAKE FOR MI ..and i WILL LOVE U LOTS LOTS hahah..
Was telling all my colleagues abt it.. then i said i felt like drinking today.. suddenly two of my colleagues bought tat for mi after their lunch.. so i got two milkshake damn touched lei..i onli say say nia..
Had my first breakthrough today.. i LED worship in Cellgroup.. omg i was damn nervous.. until i left out one whole stanza for the first song...Thank GOD.. second song was better.. lol..but it was a good experience..and u realli need to coordinate wit the guitarist veri well.. thanks JAMES for the encouragement..haha...
Tmr is Sockfang's ROM..gongxi gongxi.. but i tink i cant be attending ur ROM bu hao yi si.. i need to go back office clear some stuffs.. but i wish u eternal happy wit ur qing ai de laogong...
ALSO.. HAPPY BIRTHDAY to MR BULLSHIT.. 25 years old liao lei...PLS dun be so ji duan anymore hehe
Show u the GUESS watch i aiming now.. but then i tink not so soon la.. or maybe never.. might need to buy hp first.. coz my hp super lao ya now.. haiz.. money again... sianz..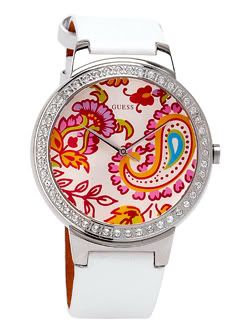 Swee boh.. i fell in love when i first saw it..damn.. looking for sponsors now.. pls dial my hotline to donate to my FUND.. thank you for your cooperation.. of coz u buy for mi i will LOVE U MORE MORE than the MILKSHAKE hahaha..
Thursday, February 16, 2006'♥
Never Ending...
If u ever know the ending.. would u start in the first place?? If you ever know the consequences will u still commit the same mistakes???


远远在一起
多一秒世界就会被淹没
你还像个巨人紧紧拥抱找
离开你变得渺小的自我
很想从此就卑微的渡过
失去真爱
只剩快乐残骸
已感觉不到任何的存在
还是爱着你
只是我们之间有了距离
远远爱着你
就算不能够在靠近
同样的天空下总会有你
站在时间面前没法撤退
我们像两颗告别的尘灰
记得拥抱时天地有多美
记得没有谁能将这摧毁
寻觅真爱
跌进人山人海
才发现没有线索可倚赖
不管我们之间什么距离
就算不能够再靠近
ha……
就算在不同国度里
有你
Wednesday, February 15, 2006'♥
LIARS!!!!
I'm angry rite now.. angry with who?? READ on..
I reached home.. and weisi was telling mi.. :"shirley mummy.. jie jie hor know how to blow bubbles lei.. she know how to eat bubblegum lei." And that Zhiying dare to blow one bubble infront of mi..
The issue now is not tat i hate ppl who eat bubblegum.. the issue now tat is.. SHE is onli 8 years old.. and she is lying through her TEETH.. she dare to tell mi she bought tat bubblegum from sch when i question her.. Oh pls dun tell mi schools in Singapore sells.. WATERMELON flavour Bubblegum huh??
Im not angry tat she took my bubblegum.. seriously im not. wad im angry is tat she still dare to eat bubblegum infront of mi when she stole mine.. she still dare to tell mi tat she nv took mine.. when half of it was gone.. since i came back from JB.. im nt at home doesnt mean im blind.. cant even see HALF OF IT IS gone huh? she still dare to ask wei si come in and lie for her.. TMD im damn pissed lor..
If she asked mi for it obviously i would gif to her.. and weisi.. i had already thinking of giving them just tat im nt at home these few days.. wad im angry and super pissed rite now is tat.. How can be she lying at such a young age.. how can she still deny her actions..
Mind u.. before this.. she had oredi been taking small things from her frens.. toys.. sweets.. i mean how can she be such a thief and liar when she had so much pocket money per day.. I SIMPLY HATE her attitude man.. so tell mi wad would happen when she is older?? be a ah lian and exhort money from ppl??
Seriously educating a child is veri important.. even u work so hard gif them so much money to spend.. also no use.. the most impt thing is to impart them wit the RITE and WRONG.. i seriously hope HER DAD is reading this entry...pls spend more time wit ur kids ok.. i dun wan my weisi to get influenced by her SISTER..
Maybe this is onli a small matter to you guys.. but i seriously dun like ppl to lie to mi.. i always tell myself.. even though i might not be able to take the truth.. but i will try.. i dun like the feeling of being lied by someone.. damn..
PLS dun ever lie to mi.. i rather know the truth..
Tuesday, February 14, 2006'♥
Happy V Day..
Valentine's day just came and passed by like dat.. as the same as other festivals.. There is simply no mood at all.. normally would see ppl selling roses on the streets of Tampines Central.. but today NONE...
Unexpectedly..there is not a lot of gers.. Showing off their BIG BOUQUETS of flowers.. and cuddling their bfs.. I LOVE IT, hahaa..evil laughs.. anyway hope tat u guys enjoy ur V DAy ba.. be it at home hiding.. outside the streets the most impt thing is to be happy isnt tat so??
WRONG WRONG WRONG.. Shitty club members MS Han.. im not at home today..instead i was out in TM facing all the couples.. Went for a movie wit Mr Bullshit.. the two POOR person.. struggling to watch DICK AND JANE...and struggling to buy popcorn.. but nonetheless. the show is not wad i expected.. nt veri funni.. HA HA HA..
Dear Mr Bullshit..
U owe mi one bouquet of flowers.. pls do something abt it.. haha i wan PURPLE and BLUE ROSES tks.. 5
Sunday, February 12, 2006'♥
I'm BLESSED... With You Guys Around..
I wanna praise my daddy here today.. I was at home rotting..probably he knew tat i got NO money to go out.. he bought mi ROJAK while im there surfing the net.. was shocked.. if u know my dad..u would get shocked too.. WHY??
He is a veri veri not sensitive de DADDY.. he wont say out he loves u directly in ur face.. if u had a bad day he cant read ur face instead he pester u more.. as in ask u questions that is veri irrelevant which he oredi knew the ans himself... BUTTTTTTT.. he shows out his love by trying to entertain u wit his gong gong JOKES.. by out of a sudden buying u things which u least expected it.. and tats my dad..although he had a quick temper.. but he is fast to forget it.. im blessed wit a daddy like him.. although we sometimes will quarrel but i know he still loves mi no matter wad harsh words i said to him in the past.. im srry daddy.. i LOVE you too...
Although i might be poor for this mth.. coz of many debts tat is yet to be cleared.. but GOD is nt unfair.. he blessed mi with frens who are always there for mi.. frens who offer to help mi..frens who listen to my problems..
MR A.. finally its ur turn liao hor..long-awaited.. he offer to lend mi some money for my Bangkok trip.. even though he is nt wking now.. well.. i realli appreciate u in my heart.. even though our relationship is a LOVE HATE relationship (just jking) u still willing to help mi.. im realli thankful...hehe..
Bullshit... i tink u urself oso in debt..yet u offer to help when i most needed it..thanks for all the care and concern.. and i nv doubt ur sincerity at all...
Mr Paul.. i said wad i wanna said last nite.. tks for always treating mi these and that... but the best is if you could.. (gif mi ur mickey mouse shirt) tat would be the best hahaa...
Chelsia.. ur the best sis i ever had.. no matter how much i suan u.. u still wants it more.. i thank God for a sis like u.. ya nice being poor together wit u..
Ms han.. i also dunno y are u included here.. but ya although we are in the same shitty situation..thanks for listening to my complaints always.. thanks for being as usual da sai... May u dai sai always...
Im a blessful ger am i?? I got so much good frens around mi. tat means i shld be happy and not sad.. I shld be positive.. wo hui de.. da jia xie xie ni men de guan xing....This mth i might not be able to go shopping so much.. no more clubbing and chilling out le..no more my FAV SAKAE sushi le.. but nvm Lao niang shi ke yi ke fu zhe yi qie de...
Lord.. although i may sow in tears.. but i trust You tat i may reap in joy.. pls bless those who bless mi.. although they dunno the real reason of the SOWING part.. Lord i pray tat You will lift mi through this season.. and i pray that more BLESSINGS will come.. Amen.
Saturday, February 11, 2006'♥
I GOT A GOOD FREN...
Im so exhausted after a day trip to JB.. yesh its onli a day.. yet.. we are all so exhausted.. cant imagine..if we go to the BIGGER Newly Shopping Centre next time.. haha..
Met MR Paul at 9am and we took 969 to Woodlands.. thanks to our gong gong fren here.. we actually got down at Admiralty MRT instead of Kranji MRT.. so we had to all mit at WOODLANDS MRT in the end.. THANKS LEI.. haha..
Finally without any unforeseen circumstances.. THE THREE OF US MET!!!! YEAH!!!.. of coz the whole trip is filled wit SUAYNESS and SHITINESS haha..
Yeah we finally reached JB ard 12 noon.. so proceed to CITYSQUARE and eat our brunch.. POKEMON RESTORAN lei.. mai siao siao.. the food was not bad wor..and its soooooooo cheap lor.. ramen which is a veri big bowl for S$7 wor.. we ordered ramen.. while MR PAUL ordered his BENTO.. which in the end we regretted hahaah.. u can see it from the pic its soo yummy haha..then tat bu hui bu hao yi si de TUPPERWARE sao.. HEN HAO YI SI DE take ppl food just like dat.. haha super throw face de lei bring her out hahaha and not to mention HER JIE PINESS.. super jie pi de lor..
After brunch we went decided to watch a movie.. in the end we caught BIG MOMMA HOUSE 2 hahah..Singapore haven show it yet wor.. pls watch its super hilarious lor.. must watch must watch.. then the seats at the cinema damn shiok..its like lying down watching the show..damn it..Singapore should have this kind of seats man.. lol..
After tat show..we finally started our long-awaited shopping trip...like mad woman.. the whole mall was quite crowded.. coz of the JUE DUI SUPERSTAR supporters.. didnt know Malaysia oso bought over the Copyrights from Mediacorp to haf their own jue dui superstart hehe.. hmm some of them nt bad la.. too bad too many ppl le.. we cant stand and watch veri long.. anyway in the end i bought a tee,facial foam from Bodyshop, a t-shirt for BULLSHIT.. coz his gong gong bd coming soon, not to mention BUBBLE GUMS haha.. and a CLEO mag from MALAYSIA.. ok la..im quite happy wit wad i bought..
POOR MS Tupperware and MS HAN.. i just anyhow say onli.. saying the bag they wanted to buy will be the LAST PIECE..who know it realli happens..ahha how i wish 4D can be so zhun oso.. lol.. We went back to Singapore around 6plus.. after eating a SHA REN FANG HUO de Chicken Rice.. whcih is so tmd ex..haha..
Here are some of the photos.. enjoy viewing ba..

Must purposly show u all we went JB before hahaha...



Let laoniang zi lian abit ba...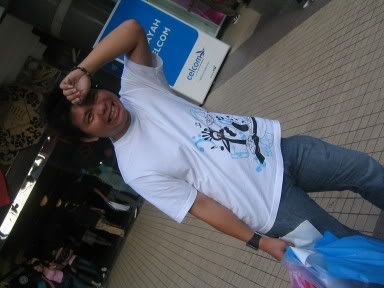 Kelian de Mr Paul help us carrying alot of stuffs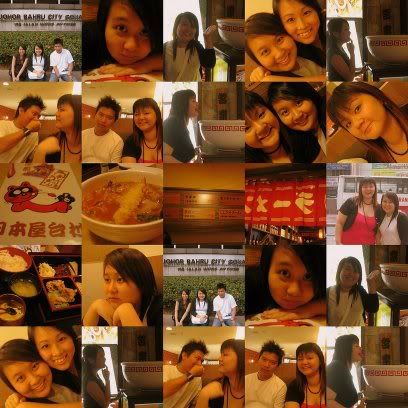 Our JB Trip..... End of story....
Wanna Thank
MR Paul
@ He took a day off for us..to pei us when his client kept calling him .
@ He treated us our brunch and our dinner.. so ex lor..
@ He shop with us without complaining..so patient waiting for us..
@ He walked wit us the whole day.. carrying our stuffs..
@ He protected the three of us (even though it looks like we are protecting him.. ) LOL
Ya lastly just wanna say a big THANK YOU LA.. thanks for all the craps u told us ..thanks for giving us UR PRECIOUS time.. lol..
BUT i said all these because..
I WANT UR MICKEY MOUSE T-SHIRT lor.. ah gong hahhaa..
Oh ya i went poly apply courses le.. my choices are...
1. Business at TP
2. Business Studies at NP
3. Business Admin at SP
4. Busines Management at NYP
5. Marketing at NYP
Pls pray for mi ok.. i love you alll.. im blessed wit a lot of good frens in my lives....
Going to check my bank account le.. see my pay credit le ma..damn...
'♥
Waiting....
Hmm at least everything went well for the application of the poly courses.. so now wad we can do is just to wait lor.. will be updating wad happen today when i go back from JB tmr..
yeah going JB tmr finally..
will miss BULLSHIT de.. remember help mi buy the 4D haha.. the one that is shared by four suay woman.. i hope i wont hai them to lose alot of money..
Shitty club members..lets get ready for a good day tmr ba....
Friday, February 10, 2006'♥
PENNILESS..
Arggghh.. so f***king pissed with the agency.. till now laoniang still havent receive my stupid pay.. tmd.. tmr going JB asked mi eat GRASS is it?? super angry lor..then called that gonggong..always in meeting.. the pay better come tmr if not i swear i will burn down the stupid agency.. tupperware i know u got kerosene rite?? might kiam siap borow mi ba....
Got this from the frenster horoscope..which is often true for mi...
Obstacles are appearing left and right. Be flexible -- you can maneuver around them.
Yes and i believe tat later when i go poly or go ITE collect my cert sure alot of problems.. NVM i will overcome it ONE BY ONE.. laoniang wont be so easily da bai de.. tmd..
I tink i better go wash up le.. long long journey back to BISHAN.. i missed my school so much.. but too bad no time to find all the teachers today..
Wish me all the best ba...
Thursday, February 09, 2006'♥
Remembering...
B told mi tat.. if u can remember a person without remembering the emotions attached to it.. that means u have suceeded in forgetting tat person..and u all can remain as frens.. can u do tat??
For the past two days im literally spending my time outside..and seriously its so tiring and oso a big hole to my pocket.. how i missed my home.. my homecooked food..not to mention my baby weisi..
Well.. lets start wit yst ba..Met up wit DAVID sao.. siang lai eh?? Joweyn lor.. although they nt officially together.. but i tink soon la.. first time mit her wor.. ya she is veri friendly wor..so we went shopping around BV.. srry if i look abit sian.. coz just finish work ma.. then no money oso la.. haha.. but anyway glad tat at least u managed to buy some stuffs...
We ate at the food court at BV.. while waiting for DAVID da ge.. and lena they all.. well tks for the treat ger.. Lena finally reached le.. wit MR K they all.. and so basically we sat down there one hr plus to chat and LA KOPI.. ahem.. ya fun chatting wit them..
Mr Bullshit was complaining abt his gong gong wisodm tooth aching.. and today he went for the op.. haha 400plus lor so ex.. and his whole face was swollen.. so cuteeeeee.. and when he called mi and talked.. his voice so funni..great.. now he cant scold mi ..onli i can suan him..yippie
Today went for bs wit ban chuan.. then went home.. sian im so pissed off wit the agency lor.. everyone got their pay le and i havent.. argggghh..when i need it de most.. im soooooo poooor poooooor ppooooooor.. who wan donate some money to mi?? tmd..
Tmr will be a busy day lor.. going to rush here and there..i cant imagine the farecard charges.. haiz.. going back to bishan.. collect COM cert..rushed down Tam mit Selyn they alll.. go TP apply courses.. hopefully this time successful.. and then rush to tiong bahru for cg.. wa.. i tink i better slp early tonite lor..sian..
Chatting wit MR A now.. tks for reading my BLOG so SECRETLY hor.. kns.. dun always come here ji siao mi hor.. haha..
To those who read my blog..kindly drop a few lines in the tagboard lor.. i didnt know my blog spread sooooooo far le ..tks..
Looking forward to SAT.. JB JB JB .. citysquare here we go......
I still remember u wit emotions attached....
Tuesday, February 07, 2006'♥
DO RE MI....
Was still feeling quite sick today.. but still i went to work.. coz there is still alot of work to be done.. somemore im taking leave on fri so i dun wan to take anymore leave le..Srry to Joweyn suppose to mit u for BUGIS wor.. haha so mit tmr wor.. dun forget haha..
Taking off on Friday.. so as to go apply for poly.. dunno this time can make it anot..and i still dunno should i work or study.. just apply and see how ba.. Shu fen will be joining mi too.she took half day too dunno go where so she will be following mi back to BISHAN to collect my COM cert..damn i hate it man..in the end still haf to go back to TP.. or maybe NP.. Ms Tupperware pls stand outside NP and HUANG YING wo ba haha..
The onli thing tat makes mi happy today is.. someone told mi he is going to buy UZAP for mi.. for VDAY present.. i kept pestering him.. but joke joke la.. then today suddenly he msged mi said he will buy.. oh well..we shall see how ba.. UZAP wo lai le..hehe..
No no no he haven dated mi for vday yet.. so now im still free.. anyone wants to pity mi.. to haf dinner wit mi on VDAY?? It's a cruel day for singles like mi.. pls sent all the flowers to my office too hahaha.. i'll pay u back..heard it MS Han?
The whole office was so hot.. stupid air con still nt ok yet.. so everyone of us went to the storeroom and snatch the fans.. yeah..managed to get the best man.. then this "AHEM WOMAN" came and told my supervisor.. hmm our side no fan lei..so hot.. (kns who ask u to be so slow..ppl take liao then u want)...arrggh..thank GOD my supervisor fight for us.. then poor woman go back wit a small small fan.. bleh who ask u always think ur the Queen of the DEPT.. duhz.. "we better lock my fan wit a password." says milk haha i seriously think we must lor..
Orite le...laoniang haf to go find all my certs and put them in a folder le..hopefully and i pray hard i can find all of them..wit none missing.. PLS KEEP ALL UR STUFFS PROPERLY...dun be like mi..always last min panic..hee...
Monday, February 06, 2006'♥
BU XIANG ZHANG DA...
I wish tat i will still remain at the age of 7.. i wish i will be still at primary one.. i wish i will nt haf so much decision to make in life.. i wish i will nt haf so much problems in life...i wish i will nt grow up...
Today was a busy day... as usual.. the whole office was like so stuffy due to something wrong wit the aircon.. i was feeling so sick... in the end i kept having cold sweat.. and resulting in vomitting out my lunch..argghh gross, i felt so giddy.. and i cant leave early coz i got so much work to do today.. times up i quickly chiong to take a cab home..
Tks MR bullshit for his concern.. was talking to him on the way home..even when i reached home..he nv fails to make mi laugh wit his stupid juju ideas..
I was reading MS HAN blog tat i saw the personality test she pasted for mi..didnt knew since when she was sooooo good haha...
Does your name begin with: S
For you, it is pleasure before business. You can be romantically idealistic to a fault and is capable of much sensuality. But you never loose control of your emotions. Once you make the commitment you stick like glue. You could get jealous and possessive. You tend to be very selfish often regarding yourself as the only human being on the planet.. You like being the centre of attention. You are very caring sensitive, private & sometimes very passive. Turned on by soft lights, romantic thoughts. When it gets down to the nitty-gritty, you are an expert. You know all the little tricks of the trade, can play any role, or any game, and take your love life very seriously. You don't fool around. You have the patience to wait for the rightperson to come along. You are very generous & giving, often selfless. You are kind nature & sweet which is found to be attractive by many. You are a good friend
wow super true lei..i admit i get jealous easily i admit im selfish sometimes.. but i cant possibly deny im SWEET and kind NATURE rite..haha..tks MS HAN i know u feel the same abt mi too....
I want go BUGIS VILLAGE buy blous..who want go wit mi.. i doubt so..suan le..i shall be a lone ranger ba.. i cant wait for sat's trip.. yes TUPPERWARE MR pick rubbish guy will protect us..
FYI.. MR PICK RUBBISH GUY = MR PAUL.. during my bd celebration..he is the onli one picking up all the rubbish while the rest is having fun...haha who want know him?? he is still single and available..willing to pick all the rubbish in ur house hahaha
Cant wait for DESPERATE HOUSEWIVES later.. ive been waiting for six long mths.. and i saw some series.tmd damn nice.. i just loved SUSAN..
Sunday, February 05, 2006'♥
I Love You...
Do not despise the power of these three words.. "I LOVE YOU" quoted from I NOT STUPID TOO.. yeah watch it yst midnite finally with MR PAUL.. heard from ppl tat its gonnna be TOUCHING..but stubborn mi die die dun believe.. coz last time ppl oso say KING KONG touching ma.. i went in without bringing tissue.. darn...who knows tears literally rolled down my cheeks at the ending of the movie.. duhz.. my eyeliner was smudge lor.. and i look like a CLOWN.. damn.. luckily after watching its 2 plus.. so we just took a cab home.. pls go and watch this show if u haven't its nice lor.. and its worth 9.50..
I hate FLYING CROAKOACHES(dunno wad stupid spelling la)let's call it MR XIAO QIANG.. i was the surfing the net the day before.. its ard 2am... then suddenly flew in from my window.. guess wad.. BIG BROWN WINGS.. and a BIG BODY.. MR Xiao Qiang came to visit me.. damn it... normal one still ok..bUT I HATE FLYING de.. its so scary.. i had no choice but to wake up my mama who is in her dreams at that time le..AFTER some fighting wit MR Xiaoqiang...MAMA won..and flushed MR Xiao Qiang 1 into the toilet bowl...
CASED CLOSED.. i went back to sleep with a smile... at around 6plus in the morning.. i felt itchy on my knee.. so i just use my hand and scratch it.. to my amaze...the thing flew away.. fluttering.. and I OPEN MY EYES and tried to find it.. i switch on the lights.. and found nothing.. thinking it's just a stupid mosquito.. i turned my back to swtich off the LIGHTS.. tats when i saw MR XIAO QIANG 2...hur hur.. and it knew how to fly too..arrrrfggghhh.. MAMA went to work at that time.. i had no fighter.. i just sat there..looking at MR xiaoqiang 2.. grandma woke up.. and tot im mad sitting down. tats when i tot of grandma as the fighter.. but the min she came in.. MR xiaoqiang 2 FLEW OUT.. arghhh. i quickly closed my door..went back to sleep..with no smile..
Its so difficult to sleep not at ease when u know somewhere out there in some corner of ur house.. MR xiao qiang is wandering around.. damn.. after tat i nv saw him anymore.. but daddy told me this moring..that he managed to find MR xiao qiang 2 hopefully its HIM.. and killed it.. BRavo DADDY.. haha...
PLS MR Xiaoqiang 2 dun bring any of ur buddies back here for a party or revenge thank you..
Anyway its had been decided tat..NEXT SAT.. the four of us will go JOHOR shopping.. so SHITTY CLUB MEMBEr.. no more unforseeen circumstances ok.. tks for ur coorperation.. we will mit at KRANJI.. hmm i oso dunno.. must ask our tour guide mr paul first.. oh ya changing money at WOODLANDS then we go in.. remember to bring passports wor..hehe tats abt all..we shall all chat in msn on FRIDAY NITE.. buai buai
Friday, February 03, 2006'♥
YU SHENG..
Hey peeps for the photos i lazy upload here.. u all can click on FLICKR the one which got alot of my photos in the main page..go there and view ba.. lao niang super tired and lazy nowadays i oso dunno why..ok la let u all haf some preview of it ba..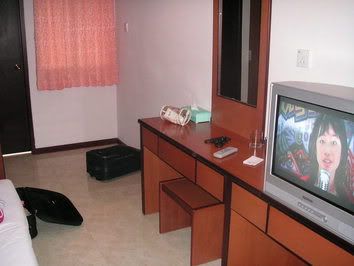 My hotel room..cheap cheap onli 40buckz nia...got discount somemore haha..BATAM veri rich nowadays.. every hotel got put fireworks..nt like us want to see fireworks haf to wait for dunno how many donkey yrs.. i love fireworks man...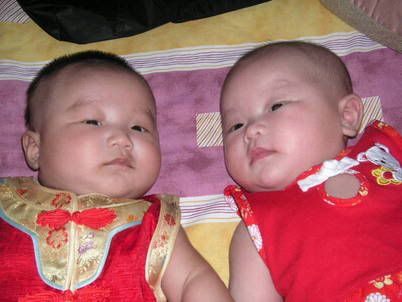 Baby JOVIN and BABY DOMINIC.. they looked like TWINS hor..but they are NOT!!!!! super BUBU COUPLE award haha
Baby DOMINIC sister..TIFFANY..she is soooooooo cute man.. gao zi bi lor in this picture.. i love her hehe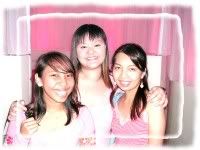 Pinkladies in MOS PURE ROOM.. haha zi lian ba.. nice place to chill out..
Pls go and see the rest of the photos ba.. i lazy upload here le..
03/02/06
This is the third time in the week that im eating yu sheng le.. so pray hard tat this yr lao niang will fa fa fa ba.. karen just bought the gong gong yu sheng from dunno which gong gong coffeeshop and it cost 28.80..wo yao yun le..seriously.. tat day i buy de onli 16 bucks wit nice nice fresh salmon.. diaoz..
SAW from someone;s blog tat THIS YR.. IM GOING TO HAF SETBACK IN LOVE.. argghhh HELPPPPPPPPP!!!!! wadever la.. just go ahead wit my feelings ba..anyway im not in love now.. i enjoy the companionship of a few guy frens..and i tink im happier tat way.. wad for go and mind how i look when i go out wit a guy.. wad for putting so much effort to make up.. wad for deciding wad to wear.. i just want to be the NATURAL ME...from now on.. I AM WHO I AM.. LOVE MI FOR WHAT I AM.. haha.. power rite..
No more UZAP le..i lost the bet of yst socceer damn it.. stupid bullshit.. oh well i nv bet la..relac i onli bet wit my dear bu llshit verbally..haha so fast and vday is coming le.. WHO WANT TO DATE MI OUT??? i KNEW IT..all SIAM RITE???? haiz.. siam nvm just buy the UZAP for mi can le.. lai ma.. bu yao bu hao yi si..
been feeling quite moody these few days.. tink its becoz of PMS ba.. hai hai hai.. oh ya.. tks lena for replying in the tagboard..u finally set my heart at ease le.. i almost lost 2kg coz i lost all my appettite tinking ur angry wit mi..hahah bullshit..but im realli abit affected la.. nvm i promise wont happen tat matter again le.. tks for being my frenn hehe..
Oh ya did i mention i got the EDUSAVE MERIT BURSARY...after graduated for how many donkey months?? mauahha..its a BIG BIG surprise man.. i didnt knew it until SELYN called mi yst nite.. yeh.. got some money liao for BANGKOK to spend hopefully it come before the trip.. Thank God for the blessings..
Oh ya.. Our dear baby bear is going to ROM on 18 Feb..which is also MR BULLSHI's birthday..which is oso a Sat which means i need to go church.. erm...was tinking how to slot in the three activties for tat day..teach mi TIME MANAGEMENT ba..haha might not be going for the ceremony but might be going to the KBOX celebrations after tat..Selyn da jie u better go oso haha.. ya congrats ah fang..finally u and MR JOHN can xin fu de zai yi qi le...
Lastly a song before i go.. by JAY CHOU..love it too much le..
枫歌词
歌手:周杰伦 专辑:十一月的萧邦
曲:周杰伦 词:方文山
乌云在我们心里刻下一块阴影
我聆听沉寂已久的心情
清晰透明 就像美丽的风景
总在回忆里才看的清
被伤透的心能不能够继续爱我
我用力牵起没温度的双手
过往温柔 已经被时间上锁
只剩挥散不去的难过
缓缓掉落的枫叶像思念
我点燃烛火温暖岁末的秋天
极光掠过天边
北风掠过想你的容颜
我把爱烧成了落叶 
却换不回熟悉的那张脸
缓缓掉落的枫叶像思念
为何挽回要赶在冬天来之前
爱你穿越时间 
两行来自秋末的眼泪
让爱渗透了地面  
我要的只是你在我身边
被伤透的心能不能够继续爱我
我用力牵起没温度的双手
过往温柔 已经被时间上锁
只剩挥散不去的难过
在山腰间飘逸的红雨
随着北风凋零 我轻轻摇曳风铃
想 唤醒被遗弃的爱情
雪花已铺满了地 
深怕窗外枫叶已结成冰
Thursday, February 02, 2006'♥
********
I feel so full rite now....went wit Selyn to SAKAE for dinner..yesh SAKAE again..im simply mad on JAP FOOD nowadays..esp SALMON fish.. tats the onli fish i love in the whole earth...if u notice tat i dun eat fish at all..haha..NO BONES..soft..sweet and tender..omg..
Mama went to watch I NOT STUPID TOO...walao.. she keep tempting mi.. keep saying the whole show is so TOUCHING.. argghh lao niang buay tahan le.. THEN...MR PAUL aka FABIAN msned...and DATE MI OUT>.whooohoo..so we are going to watch tat SHOW on SAT nite..after my church..yeah yeah yeah.. whoever who said tat SINGAPORE show are onli worth watching in VCD im going to slap their frens..
Oh ya..have been planning a BATAM or JOHOR trip wit my two beloved SHITTY CLUB member..hopefully this outing will turn out to be a success going on 11FEB..one day nia..will come back at night..who wanna join us?? PAUL will be going wit us.. coz we need his PROTECTION.. he so MACHO ma..ya(bullshit) haha he is going there to help us carry our stuffs lor..and if gt anything happen he will be our LAO DA>.haha.. i simply love him man.. MALE MARIA OF THE CENTURY wohoo..
Congrats to BULLSHIT in winning ur soccer match.. so u can buy UZAP for mi soon le hor.. hehe..

The shadows are slowly drifting away from mi..