Sunday, April 30, 2006'♥
Holding Hands...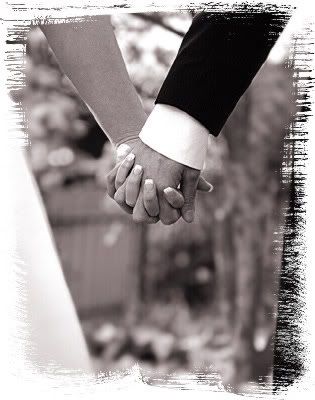 It's difficult to find back the same pair of hands of urs... I tired to find but GOD created every pair of hands to be different...
It's difficult to find back the same feeling when we are holding our hands.. I tried to find back the feelings.. but they said.. once the feelings is lost u can nv find it back...
It's difficult to find back the same comfort we had while we are holding our hands.. I tried to find back but i just cant find back the same comfort i had wit u...its different wit another person....
Short Note:
It's nv the same no matter how hard i tried....
Thursday, April 27, 2006'♥
26/04/06
Will nt be able to update my blog today..without the help of MS LENA TAN.. as she had all the pics I need.. we went to a nice and new chill out place at Mohammed Sultan today..So Ms TAN..pls zi dong yi dian hahaha..
When Ah Ber Jie was driving mi home just now.. I heard this song over the radio...
and i cant help but wonder the same question...
江美琪
亲爱的你怎么不在身边
这里的空气很新鲜
这里的小吃很特别
这里的latte 不像水
这里的夜景很有感觉
在一万英尺的天边
在有港口view的房间
在讨价还价的商店
在凌晨喧闹的三四点
可是亲爱的你怎么不在我身边
我们有多少时间能浪费
电话再甜美传真再安慰
也不足以应付不能拥抱你的遥远
我的亲爱的你怎么不在我身边
一个人过一天像过一年
海的那一边乌云一整片
我很想为了你快乐一点
可是亲爱的你怎么不在身边
在一万英尺的天边
在有港口view的房间
在讨价还价的商店
在凌晨喧闹的三四点
可是亲爱的你怎么不在我身边
我们有多少时间能浪费
电话再甜美传真再安慰
也不足以应付不能拥抱你的遥远
我的亲爱的你怎么不在我身边
一个人过一天像过一年
海的那一边乌云一整片
我很想为了你快乐一点
可是亲爱的你怎么不在我身边
Have u ever been to a place.. that u wished ur love ones was there with u also? Have you ever encounter something and wished that ur loved ones was there with u? Have u ever cried and wished that ur loved one will be the one who lend u his shoulder and wipe ur tears away from your cheeks???
I've tried all those...and true enough.. my loved ones wasn't there....(but of coz tat doesnt mean my family, friends, cousins)...

Short Note:
Truly a hug is better than a call...
Tuesday, April 25, 2006'♥
Surviving...
It's the second day since sch re-open and im glad im still surviving...
Almost most of my classes is at late afternoon..and the best part is i go sch for two hours onli...power hor..waste my time slacking the whole morning then afternoon go sch warm the seats at the lecture for two hrs then bye bye le..
Well well well..wad to do neh.. at least Thur i got no sch Yipeee (looks happily at Selyn)... Life at poly is veri fast pace...and oso independent.. u need to get ur lecture notes urself.. buy the gonggong book urself...apply ur ezlink urself...check ur exam time-table urself.. well practically everything is U URSELF and STILL urself...haha.. tink i need time to adapt to it ba.. i still missed ITE life.. at least the teachers there are more caring.. as in we mit them more.. lecturers here change every single week...and now i realli Miss AH LOH and Mrs Heng's nagging.. i miss wearing sch uniforms...i miss AH Chua's scolding, my 7 sisters, My darling Rusydi, gossiping wit the twins.. all these stuffs...
Haiz..now then i know ITE is still the best.. haha.. do u agree wit mi?? lol..
Anyway i met up wit my new classamte Jas for lunch today.. we ate MAC and then go Popular bought some staionery.. managed to know more abt her though.. but hor.. still got barrier lei..maybe im too old le.. (although my class de guys tot i same age oso) oops.. (the onli thing that makes my day..ok la they lying u all happy le ma?) haha..
Hmm..give mi some time ba.. i need to adapt to this fast environment...anyway its a long weekend this week..and im looking forward to it.. Or maybe not..coz this sat i got MAKEUP LESSON for Principle of Managment(faints)...then after tat Will be going for my ex DBS colleagues' wedding.. then church..then Shundy's Birthday chalet YIPPPPEEE..(better save some food for mi) wad a long sat man...
And for sunday.... its a blank coz... AH BER JIE....pls plan something!!!!!! mama gg GENTING and i veri xie mu her...
AND that SI ren PAUL aka LAO CHEK he jio mi go KL wit his frens.. i was sooooooooooo tempted to go..until he told mi the date... 6 MAY....argghhhhhhhhhhh ELECTIONS and BAPTISM how to go man...I asked him change date and he SAY NO!!!!! coz he will be veri busy the following week.. HEN HAO!!!!
Excuse mi now.. as i need to go and polish my Chopper now... SI PAUL u better be careful....*THIS IS A THREAT!!!* hahahhahaha...
Anyway Happy Advanced birthday to Charlotte's Mummy and Charlotte's AH yi Ms ELSIE and Christine LIM.. May u both stay pretty always...haha
Short note:
Should i or should i not?? Whatever decision i made u will be hurt....
Monday, April 24, 2006'♥
My First day in sch...
The title sounds like the Compo topic ur primary school asked u to write on ur first day of sch hor??
WELL WELLL WELL... first day of my sch just passed by like dat... yawns.. my lesson was from 4-6 today.. sucky time..
Started of with a Lect in Principals of Management.. Theory all the way.. ok la..quite my cup of tea.. at least nt accounting.. then ended wit Comm Skills one Tutorial.. yeah.. the Lecturer was a veri fun and nice lady.. she pair us to group and asked us to ask our frens.. "what would u do if u have one million" pengs...
THEN i remembered the song JI PA BAN.. pengs.. if u want tat song pls ask from mi.. its a veri stupid and funni song.. and i tink my dad and cindy's dad heard it before.. my dad always sang when he heard im playing it..lol
So wad would i do if i have 一百万?? I will used some for investment.. Bought my parents a bigger flat and then travel around the world ..starting wit Israel.. coz tats the Origin of Christianity.. i wan to see where did Jesus grew up and also the place of the CROSS.. lol Comm Skills was fun but...I WAS EXEMPTED for tat course.. yawns.. coz after the lesson went to find the Course Manager and he said i could be exempted.. got good and bad la.. so next time mon i can go home early le..hehe..
Tmr lesson was sucky too.. 3-5pm y all my lesson so late de haiz... so peeps if wan find mi lunch or dinner laoniang is veri veri free de..
Short note:
Is money realli tat impt in a relationship?? No Money = No Love?
Sunday, April 23, 2006'♥
New Phase...
Its been quite a few days since i last blogged...feeling better le.. so i tink its time for mi to share abt my wonderful life le ba..
*Warning: Long POST*
Been busy going out for the past week..(pratically its everyday) so long nv see my baby weisi oso..everyday early early go out.. mid nite like dat reached home.. i dun remembered when is the last time i had dinner at home..:p
Oh ya i enjoyed myself at Rina's place for the pyjamas party was playing the card game..RUMMY if im nt wrong..its so fun..first time playing ok..then i team up wit AH BER JIE.. she veri good de hor...we onli lose one time...Ed is super funni one..he kanna draw the most in the end...LENA Da jie oso haha..she got mostache lei..mai siao siao.. hao ba show u all the pics ba....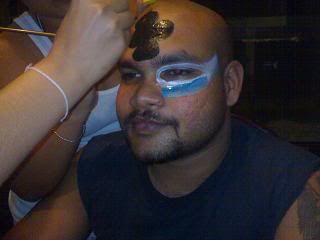 This is EDmund..u see he so ke lian...haha..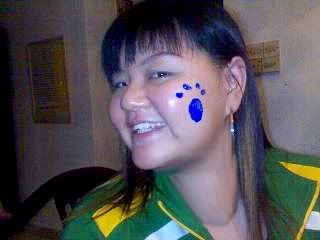 THis is LAONIANG.. cute hor my PAW drew by AH BER JIE...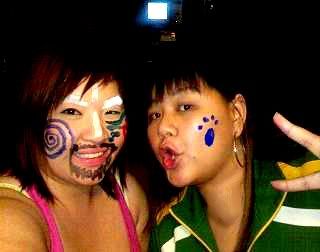 This is LENA DA JIE and MI..scary ba her face haha..SHE IS THE "WINNER" of all lol...
Realli enjoyed myself wit them.. at least for once.. all my problems are lifted away from mi...
Then on that day i went to my BABY CHARLOTTE house...to see her..she is soooooo naughty now.. keep wanting to eat and eat..i scared she inherited my GENES..OPPPS no no i got nothing to do wit the baby haha..then i saw AH KEONG at the coffeeshop at their house downstairs..she is my fren's ex.. he cant recognise mi man..and thanks he tot tats my baby... yawns...Zhen helped mi to curl my hair using her curler.. coz i wanted to see how i look like when i permed my hair.. well i tink its still ok la.. if longer better hehe
Then we went to TB plaza and take neo print.. coz the stupid machine is in jap.. we forgot to press something..then this guy who work there rushed to our rescue and then we became frens haaa.. like dat oso can hor..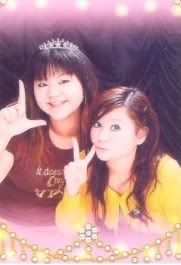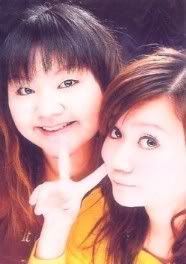 Mi and Mummy Charlotte...Enjoyed my day wit her.. although its just a simple day but somehow tat place had been my refuge camp..everytime im sad or wad i go there and visit my God daughter...and her mum will always be there to console mi....i love you two.. my dearest...
Well..coz of the sch..mi and Selyn went out Last TUE to buy all the stuffs resulting..we spent 100 over dollars the whole day.. bought bag, jeans, tees, stationery all those.. haiz one poly is enough to make us go bankrupt .. thank GOD for the Progress Package ahha...
Wed met up wit Bennie and we had Genki sushi...was looking for a pair of sneakers for my orientation and poor bennie went ard the whole tamp wit mi just to find a pair tat is cheap and nice haha..coz no working le ma.. no money haf to shen shen shen...
Thur first day of orientation.. ya we all know how orientation is rite.. ONE WORD... BORING....i tink we planned better orientation programmes when we are in ITE correct Selyn?? lol.. becoz the group is too big le.. this yr business intake 1500 ppl largest in history and cut off pt for our course is 15pts lor..so u can imagine im studying wit a bunch of smart kids lor..Dun expect mi to stay throughout the whole orientation programme coz tats nt my style..went off during lunch for both days..my classmates thinks i no HOPE le..haha but who cares?? lol
Get to know a few frens during the two day programme.. and im happy tat they tot im the same age as them lol....(hide behind and laugh) my class got two other gers from ITE BISHAN too..but the guys all younger.. sian 1/2 i tink i better make my way to ENGINEERING school for lunch ahhahaa..overall ok la.. needs time to adapt.and i love my teacher he is so corny..lol but too bad darling Selyn nt same class wit mi.. i in class 2 she is class 16 power rite ...lol..
Time-table is ok la.. this week super slack coz no tutorial lesson ma..so lao niang thur no school lei hehehe.. and then hor can u imagine fri 4-6pm.. yawns.. all my class starts quite late.. i tink i can sleep like a pig everyday..lol..
Thur went for the MAKE UP CONTEST held by our church.. and dear JASMINE aka LENA SIS was my model.. lol.. this ger hor..she everytime nv fails to quarrel wit mi de lei..but realli wanna thank her la..coz she sacrifice her time all the way go down to JURONG WEST for the contest... ya long time nv go down to JURONG west le.. kinda of miss tat place..and alot of memories oso... ate my fav chicken rice there...lol...nan de got this chance..
THe theme for tat day is rainbow colours... pengs.. alot of professional participated so i tink we already no hope le la.. anyway its a nice experience la.. coz at least now i know THE MAKE UP STORE at MARINA got nice eye shadows haha..THANKS HOR ONCE AGAIN MISS JASMINE HOPE U DUN HAF ANY PIMPLES hahaha...
Yst went church as usual and after tat we went to BEDOK 85 for supper wit BC, ADELE and her niece CHLOE...its veri fun and i missed the Oyster there so much lor.. its a miracle BC nv get lost..and i gave good direction yst nite.. i tink i can be a street directory soon le.. coz BC always get lost when he drove to the EAST ahha.. ya he is going for his LASIK operation tmr will pray for u de...lol...
Today (wah..veri long post liao hor..but i dun care carry on reading ba) went out wit SELYN to do some last min shopping.. got myself a nice pencil case from OP, blouse from Bossini and FOX..(as usual witch is there oppps..spies is still ard) some ankle socks and mascara..ya quite happy wit the shou huo...
then... we saw a nice BLING BLING (our language) GUESS BAG...omg... veri nice lei..but hor.. $169 im fainting le..hahah.. first time mi and Selyn liked a GUESS bag together.. lol..
THE GUESS BAG
then i went to the watch shop..and i asked abt the watch..coz the one i like is white in colour the strap..but often see blue and pink onli..then the uncle said NO STOCK LE...another BLOW...faints -__-... but i saw another nice one $155 might consider getting tat..so now its between..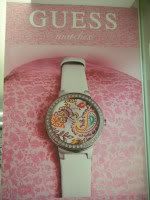 THIS and

THAT
HAHA see how ba.. see got ppl sponsor boh.. lol
HAO LE la..tats abt all long entry.. sian tmr starting lesson at 2pm...yawns..
BIG NEWS
And im getting BAPTISED on 6 MAY the day of election..haha i tink my the other name will call KERIN..so next time my name wil be SHIRLEY KERIN..power rite..haha nt confirm yet let mi see see first...
SHORT NOTE:
No matter how hard ur heart is... being loved can makes ur heart melts.. sincerity is the key to open up ur heart....


无能为力
醒了我却还是闭着眼睛
只有这样才能留住梦境
还看见我最爱的眼睛
还有你偷偷亲吻我的情景
醒了我都不会挣开眼睛
是怕泪水慢慢吞噬心情
原以为我们有了约定
就能够听见朋友祝福的声音
还来不及和你和你在一起
数着天空里坠落的星星
你已经离我而去爱没有继续
原来我根本不是你的唯一
我紧闭双眼摒住呼吸
根本就不敢在夜里想你
谁知道在白天遇见了你
看见你新的唯一靠在你怀里
我留给眼泪不能呼吸
我无法面对最后这个结局
曾经我们有过无数话题
爱到最后我们对爱竟会无能为力
醒了我都不会挣开眼睛
是怕泪水慢慢吞噬心情
原以为我们有了约定
就能够听见朋友祝福的声音
还来不及和你和你在一起
记住属于你的一点一滴
你已经离我而去爱没有继续
原来我根本不是你的唯一
我紧闭双眼摒住呼吸
根本就不敢在夜里想你
谁知道在白天遇见了你
看见你新的唯一靠在你怀里
我留给眼泪不能呼吸
我无法面对最后这个结局
谁会想到曾经相爱的人
还没到最后我们对爱已经无能为力
Tuesday, April 18, 2006'♥
Contridicting??
Today i made a guy cried...and at the same time i cried for a guy....
It's so contridicting...
Everything happened too fast...and if u will excuse mi.. i would like to go and catch my breath and get myself clear of wad is happening ......
Currently my fav song...

Short note:
a leopard will nv change its spots..
Monday, April 17, 2006'♥
Memories 17/04/06
Firstly wanted to wish Mervin..Happy 23 Birthday... Ur QUIT SMOKING campaign starts today...So u better dun let mi see u with a cigarette..fine 10 bucks...Johnathan is the witness...lol
The pyjamas party was sucessful will blog more abt it at a later time...today i went to visit my bubu zai..she is soooo naughty but still i LOVE HER...
There are some ppl in ur life.. no matter wad wrongs they did...how bad they treated u...how they betrayed u.. Ur LOVE for them will always be the same...
No matter how bad they are.. u still welcome them wit ur open arms...is this foolish? or is this just PURE LOVE?? Ppl might said that ur stupid..ppl might scold u for being a fool.. but still.. Love this word is simple...but the meaning is complicated...
Today i went to a place.. a place full of memories.. i knew that i would be gg there...i know memories are still there.. but yet i chose to go back there...I just wish to revive back the memories..the happy times i had there...
I saw the shops we went into.. i saw the bus we took together...even the road where i hailed the cab....every little place put up the BIG PICTURE of the both of us...
I wondered.. when u past by there everyday..would u feel the same too.. have u move on?? or am i still veri slow behind??
I know that there is onli one ans to this question that is in my heart...i know that nothing will change even if it still goes on...but im a just a ger... a ger who is soft-hearted...a ger who needs time.....
依然是朋友
宇恒
情人节的前一天,他离开你身边
却剩下你到至今的想念,
那一夜我陪着你,你哭了一整夜
你是否知道我对他一样很想念
直到有一天我和他碰面
在那间我们常去的咖啡店
才知道有些感受
我和他谁都不曾说出口
我们之间隐藏了什么
除了我自己没人懂
可是你,你怎么说
你知道好事不是从此避开我
哦,我一样难过
多希望我们不曾相识过
才知道有些感受
我和他谁都不曾说出口
我们都是最好的朋友
谁会有勇气去开口
不在乎不再难过
我们还有好大好大的借口喔~
故事的最后
我们都不曾失去过什么
我们依然是朋友
噢~
Short note:
I hate Possessive Guys...
Sunday, April 16, 2006'♥
Easter 2006
<
Happy Easter Sunday.. A day where 2000 yrs ago...Jesus died and was reserrecuted..A day which split BC into AD....alot of ppl have been asking y is the egg invovle in JESUS' Reserrecution?? Well pardon mi if im wrong..coz the egg speaks of the HOLY TRINITY.. The Shelf, the EGG WHITE and the EGG YOLK...
The EASTER DRAMA is fantastic man... although its abt the same story every yr..but it sure touched mi when Jesus was being whip and beaten up by the Roman Soldiers and when they nailed His hands onto the cross..my tears nv failed to roll down my cheeks at that scene..but today is a happy day rite..coz He is still alive at the RIGHT HAND of GOD, the FATHER...
Brought my mum to church today..together wit BC.. and i nearly cant wake up.. i was dreaming when my alarm rang..and i continue wit my dreams..and dunno y i suddenly wake up..and its already 8.45..suppose to mit BC at 9 ohoh...haha so i rushed like a mad woman...happy to see many ppl receive their salvation and rededicate their lives to GOD..so afterall Jesus didnt died for nothing... He died so to save us...
Well these few days as wad i've mention was busy... i pratically had onli a few hours of sleep everyday...Starting from last TUESDAY.. pengs...
Met up wit alot of ppl...and on Thurs I met MERVIN...whoohoo my lao qingren..and we went to watch REINCARNATION...diaoz.. not nice and scary at all..LAONIANG nv close my eyes at all..LISTEN UP..i nv CLOSE my eyes wor..hehe.. and when it comes to the exciting part.. MERVIN's contact lense dunno roll to which part of his eyes.. and he gtg to the toilet to take it out..so pratically LAONIANG WAS WATCHING THE SHOW ALONE WOR!!! Li hai ba.. first time i watch a scary movie myself..woohoo..but of coz after tat he came back la..lol..
Then we went Coffeebean to chill out.. until 2.30 power hor.. from 9 plus until 2plus..realli seems tat we long time boh chat le.. we talked abt the past.. then jeremy and johnathan came and join us.. (they are both AH BENGS) wit alot of tatoos.. first time saw johnathan and nv knew he is so crappy de...haha.. nice knowing them...
I tot i would not go out on GOOD FRIDAY de.. but who knw BC called mi and ask the cg to mit at PS for some admin stuffs.. so i met them at TCC..and the HAZELNUT LATTE is so nice.. after tat i went shopping wit BC awhile.. and went to find zhen who is working there.. haha no mask to take liao la.. onli chat wit her.. waiting for ah ber jie to call mi.. coz before tat LENA DA JIE asked whether want mit anot..
AH ber jie came and then we drove to her house..first time went there wor.and saw little junior..too bad he nv show mi how he hump that pig hahah...then we went to fetch LENA, JEFF and KENJI uncle...went to CHIPS...and they drank "GET F***ked" eh i nv scold hor..the drink name realli like dat.. i was too hungry to drink anything so i just ordered Heineken...then we decided to go DEVILS BAR..LENA DA JIE wore her BOOTS so chio wor....the crowd there tat nite not alot..i nv drink at all..onli drank SODA..coz i totally got YIN YING on LIQUOUR lor..die liao..i tink forever like dat de..hehe like dat oso good la..at least im sober..
Mi and uncle played HEI BAI CHEI..haha he veri play cheat de...but too bad uncle dat day veri sick...so he oso veri ke lian...then i buay tong liao..si beh sian.. there onli mi and JEFF got dance de.. so we both go dancefloor..heng got him..if not i like one mad woman dancing onli haha..
Oh ya.. dun worry the floor nv cracked tat day haha.. too bad LENA JIE dun wan dance...coz she not HIGH enough next time i'll make sure u like JEFF like dat super high.. coz i kept pouring into Jeff's glass.. hahaha "look at LENA" better be careful..ur the NEXT ONE lol!!!.. oh ya the nightlife crew was there..so we got took some pics there..whooo...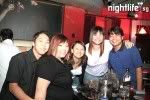 The five of us.. DID u see mi as the EXTRA one ...ya i seriously tink so.. I HATE COUPLES!!!! humph..hahaha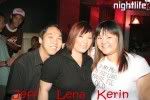 Ya ya ya ..extra one again ..kai xin ma...lol..anyway wanna thank AH BER JIE she sent mi home tat nite.. Hey AH BER JIE...remember u are not alone...love ya...
Yst after church service i went CHANGI AIRPORT.. its great hanging out wit church frens...and we brought the KIDS along.."THE KIDS" meaning my members...who is 13-16 yrs old de.. they practically behvaing like kids.. playing wit the TROLLEY as if its a supermarket trolley..got no breath to scold them too..if ur at CHANGI AIRPORT yst....pls..i do not know them at all...haha.. ya did haf a great time talking to BC and CHELSIA...and im happier...hehe..
Hao le tats abt all le... i tink im going out again le.. miting my new bf le.. wan an....
Oh ya gg to the PYJAMAS PARTY set up by AH BER JIE they all.. dun miss mi will onli be back tmr ba.. hope its veri fun will post up pics de...haf to wear sexy sexy pyjamas go there and seduce them le..haa.. for more info refer to AH BER's BLOG ba.. wan an da jia..
Short note:
The feeling of being wooed is veri shiok... free bluetooth earpiece..free battery....ahhaha... but i still prefer being single..dont ya agree??
Saturday, April 15, 2006'♥
BUSY...
Been busy these few days... miting frens... go chill out..chat abt lives everything..although im tired..but im happy.. coz i met alot of frens these few days..i find that FRENS are the most impt ppl in life after family..dont u agree?
When ur heartbroken..they are there... when ur happy..they are there to share ur joy...when u need help..they are there too....no matter wad occassion..happy or sad..frens are there... sometimes they are even better than ur BF or GF...
Well...of coz we haf to accommodate to each other.. becoz everyone got diff characters...diff tempers... sometimes there might be disagreement..but sometimes yi ren rang yi bu..wouldnt the world be a nicer place? Humble pies doesn't taste good.. but someone eventually haf to take it.. coz that is wad frenship are for?? if u cherish this friendship.. if u still want repect ur fren... wad is a humble pie?? correct??
Haha of coz.. now i dun haf any disagreement wit frens la.. tat is from my past experience u know? As we grow older..we get more such experiences.. its an important lesson if life...i tink everyone haf to go thru it..
Alrite enough of all the philosophy...let mi show u my precious now ba...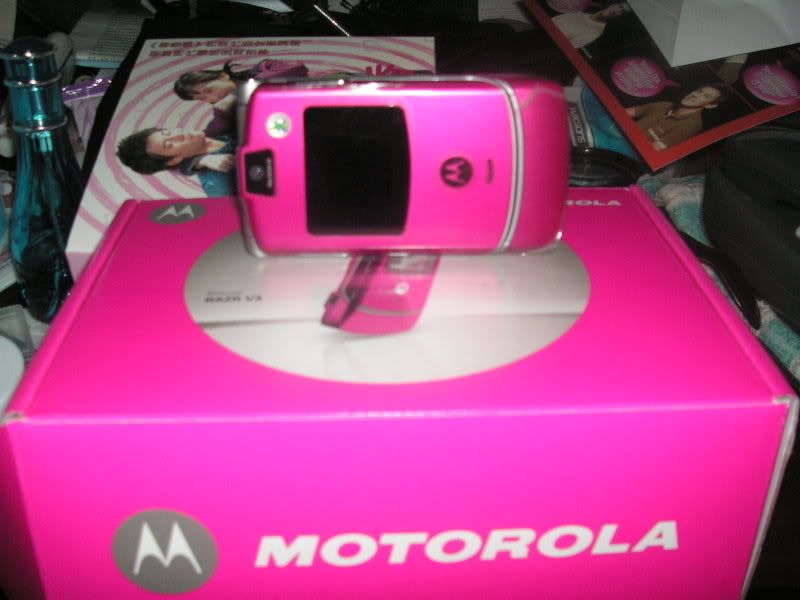 Hehe i finally bought it.. at a veri cheap price u know.. less than 100 and someone sponsored mi for 20 bucks..so in every sense i ZHUAN DAO LE...wohooo...
Hao le today gonna be a busy day for mi again... EASTER SERVICE wor... gonna be a bunny haha no la.. i tink ppl will run away if they see tat..lol...hao ba..lao niang gt to go le...anyway
HAPPY 21st BIRTHDAY..MS Han...enjoy ur batam trip wit ur MR C wor... and remember my MANDI LURLUR hahah....
short note: i tink im ready ....
Friday, April 14, 2006'♥
Denying the facts...
Sometimes even we knew the ending.. even we knew what would happen... we chose to live in our deception.. we chose to deny the facts.. we chose to forget everything.. but the fact is.. the problem is still there.. it will still be there until we realli dealt with the roots of the problem...
Im a happy ger today (or rather not..becoz of someone).. coz i bought something for myself.. (ok not realli la..someone sponsored mi 20 bucks for it)..something that i always wanted.. shall post up the pics soon..
Im too tired.. just got home after being out the whole day since afternoon...
Short note: Dont let ur heart rule ur life....
Thursday, April 13, 2006'♥
Happy??
Wed le..so fast.. Slacking day No 3..well did nothing basically..except watch the KOREAN Drama i bought yst.. well.. ya its kinda of funni.. the two couples like to bicker..and for once they cant "XING PING QI HE" and talked... reminds mi and someone...
Oh ya.. in the afternoon i actually wanted to msged Aaron..and guessed who i msged?? My MR A...duhz.. and he replied " Hi this is Aaron Chin here, heng u nv msged other things if not i killed u..blah blah blah" haha i felt so stupid ...heng lor.. i nv flirt wit AARON haha...
Wanna apologise to Baobei and Vic.. srry i cant make it for the gatehring today..coz something last min cropped up.. when i finished it, its already 7plus... Shufen called mi.. asked mi out for dinner..since i haven ate so i went to TM to mit her..
There is this ZA fair there.. bought a foundation and it comes wit a package..so you zhuan dao le.. haha.. went NTUC bought pasta again..tmr going to cook carbonara..hehe for who? MYSELF la.. duhz.. Saw the DA CHANG JIN vcd sets at $50 and i was so so so so tempted to buy it.. but i know if i buy i onli watch a few times then chuck it aside..called up MR A and see what advise he would tell mi...and after wad he said i totally gif up liao.. he said go find got pirated one anot..then he go and buy.. i nearly fainted (yeah its realli just a joke) pengs..
oh ya and i bought a nice dress for my bubu zai(look below for pic)... veri sweet horz.. looked like a little princess.. this gan ma always see nice clothes sure buy for bubu zai de.. hehe.. come to think of it.. i realli miss my baby Charlotte now.. hmmpph...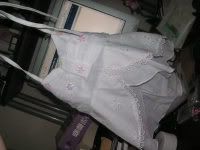 I reached home..and mama told mi that i got a surprise present from someone.. .guess wad is it??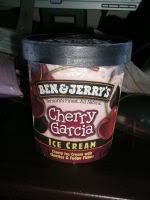 Cherry Garcia!!!!!!
Omg.. its like a dream come true.. my mama said.. kelvin came and delivered the ice-cream to my house.. no wonder he kept calling mi just now to go home early... hehe tks ah my hao jie mei... i tot no one will satisfy my craving de... hehe...
Hao lei.. i wan go savour my nice creamy delicious yummy ice-cream le.. hehe.. can u imagine cherry and ice cream together??? HEAVENLY!!! haha.. gg PS tmr to buy some stuffs from spotlight for the EASTER CELEBRATION this SAT and oso to mit my best fren Charlotte's mummy for lunch.. hmmm gotta wake up early.. yawns... wan an...
Im a happy ger tonite....
Wednesday, April 12, 2006'♥
I'm waiting.. watiting for that SMS...waiting for you to ask mi that question.. But u nv did...and that SMS would nv come...




short note: Sometimes dun put high expectation on some ppl.. coz the truth always hurts...
Tuesday, April 11, 2006'♥
The Five Love Languages
My primary love language is probably
Quality Time
with a secondary love language being
Words of Affirmation
.
Complete set of results
| | | |
| --- | --- | --- |
| Quality Time: | | 9 |
| Words of Affirmation: | | 8 |
| Acts of Service: | | 6 |
| Physical Touch: | | 5 |
| Receiving Gifts: | | 2 |
Information
Unhappiness in relationships, according to Dr. Gary Chapman, is often due to the fact that we speak different love languages. Sometimes we don't understand our partner's requirements, or even our own. We all have a "love tank" that needs to be filled in order for us to express love to others, but there are different means by which our tank can be filled, and there are different ways that we can express love to others.
Take the quiz
I saw this test on someone's else blog.. i read this book before..and i realli tink its a nice book.. "The Five Love Languages".. its important to know which kind of category u and ur partner belongs to.. so that there wont be so much conflicts or arguements going around...So what is urs??
For mi.. i tink that spending quality time together is important... U dun need to shower mi with gifts...dun need to go to expensive restaurant wit mi... just a stroll by the beach... walking home together..makes mi feel loved...wad matters most is the time is spent wit u... spent wit the person u loved...if u realli love a person no matter how busy u are.. u will squeeze out some time for tat person...isnt that so??
Ya of coz i need affirmation from u.. maybe im someone who does nt haf a sense of security... i dun need u to tell mi u love mi every single day.. but sometimes praising mi.. tellin mi how much u appreciate mi..realli makes my day...and i tink it makes mi love you more than ever...
Well well to each may differ...Trust and honesty is the most impt factor in a relationship.. so if u want to salvage ur relationship..u better do this quiz haha..
yay tmr is wed le...finally mid of the week..and im half way rotting tru...gonna be busy for wed and thur ..i tink im going to buy some vcds home to help mi in my rotting process...and i will be miting my dear Ms Zhu tonite as she is the KOREAN DRAMA QUEEN...miting her for dinner and some shoppping...woohoo...
Oh ya.. im now arguing wit BC which ice cream is the best..and i cant believe this gonggong actually tink Anderson is the best..he is such a gonggong.. B&J is the best follow by BUDS...pls update urself la..BUDS is not a small brand ice-cream hahah....i can bring u to SAKAE and u treat mi ok hehe..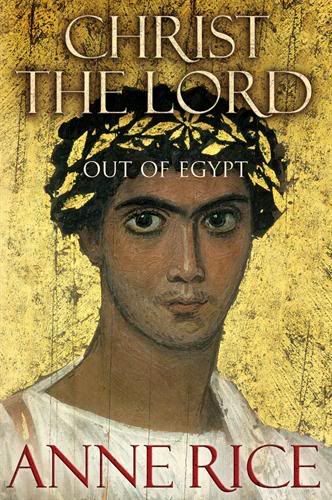 A novel depicting the childhood of Jesus from Alexandria to Galilee in the turbulent 1st century – a boy who was born to be King of the Jews. Incomparable in its boldness and daring, shockingly timely in its evocation of the Middle Eastern world in another era, this great novel by Anne Rice is a unique and palpable rendering of part of the greatest story ever told. Evoking this crucial time in the life of Jesus and based on the Gospels as well as her intensive research into the period, Anne Rice had amazingly recreated these years of drama, confusion, and enlightenment all into one book. Get this and be moved as we see Jesus coming face to face with the truth about his past and the challenge of his future.
Been wanting to get this book..but then too ex le.. It's a veri nice book like an adventure of Jesus from His own point of view....haiz but look at the price its 44.50..diaoz.. with financial situation like mi..wont be able to get that.. Which kind soul wants to bless mi with this..*Hint at Cindy See*...hahaha im willing to wash ur dogs for two months?? deal?? lol

Short note: Some things are better left unsaid...
Monday, April 10, 2006'♥
MY FIRST SLACKING DAY....
Well..actually to be a slacker is nt easy u know.. i realli pei fu those ppl who dun need to work and can slack at home everyday..esp those rich ppl.. first day of slacking and im so sian of it le..hehe...
Had a great day yst... I went out wit...Samson and Sufen again.. the trio pair.. haha.. we went to PS one of my fav place nowadays.. went to find my best fren Zhen at her wk place.. bought a concealer and make up remover.. and she gave mi tonnes of free samples, masks, bag, etc.. so heavy lor.. its good to haf a best fren wking in this line..i remembered tat time she worked for another brand she gave mi two big bags of mask..haha so my mask always dun need to buy de..cheapo hor..
Then we went to Secret recipe for my fave cordon bleu.. nt liquour.. its a type of chicken inside gt cheese and ham..wow so filling lor.. chat chat awhile..then Mr S said that he wanted to watch movie.. i was like.. huh i just watch the day before lei.. but he said he treat lei.. SO THE CASE IS DIFFERENT.. haha so JIAN rite... so here we are watching ICE AGE 2.. i tell u hor..its super hilarious lor..I tell u hor..if u bad mood go in .. come out sure veri happy de.. i love it so much..
Well back to today.. i was at home the whole day.. slacking..and its onli one day..and im so sian of it le..tell mi how to get used to the next 14 days? haha.. I woke up ard 1pm..then i cooked pasta...dunno y suddenly haf the "FEEL" then i was sitting in front of my com the whole day liao..
and i found this....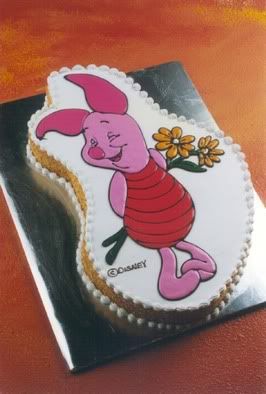 Omg its so cute lor... i cant help but smile when i saw it.. i felt like buying it lor.. but then i tink..for wad purpose?? my birthday still veri long lei..how how how..help mi tink of a reason lei.. maybe i shld use it for celebration that i got the progress package?? lol... dunno la.. which kind soul wants to buy that for mi?? ahem.....*Look at Samson* still owe mi birthday present hor haha...
Well i tink i need to continue playing my golf le..nowadays i simple gt no mood to blog much hahaa... will be miting my beloved for dinner on wed .. stay tuned for pics ba...
Sunday, April 09, 2006'♥
My Days...
Well havent been blogging much abt my live these few days.. simply too busy.. been going out over the past few days...
Thursday i went PS wit Sufen after work.. firstly is to mit LENA to help my colleagues take her stuffs from ON..nt bad she loved it veri much.. then we went to BMC to take a look at the courses there..coz she felt like studying..and i gave her some advices.. ya studying is better.. i tink everyone agrees to that..
After tat we went to PS to shop shop walk walk.. being the super broke mi.. just browse here and there nia.. then we went to a shop called.. "Outfitter girls".. Omg the tee there is soo nice... first time went in there and the SA is so damn friendly.. went to try on the tees and i realli liked it.. so Sufen being the super nice girl of the day ..She bought mi two tees.. another one i pay abit la.. i was a happy ger tat day... then we went to DP ...haiz another killer place.. saw SHUNDY there.. wit her bf.. woohoo..so loving ah.. saw quite a few top that is nice...BUT.. TOO EX la.. diaoz.. after tat just went home lor.. had a nice long chat wit sufen.. coz the next day is my last day at work le ma..of coz we haf been frens for 7 yrs le.. we will still see each other de..
Friday... my last day at work.. trying so hard not to think of it..Early morning my supervisor bought mi breakfast..which is so unexpected...and i realli appreciate it... came back from lunch.. and i saw a BIG BOMB on my desk.. its a MOO MOO (cow Soft toy) from BUM EQUIPMENT..and its from a the FD TEAM..which i onli a few ppl.. and im so touched..coz i onli veri shou wit a few of them... then my dear AMINAH.. she bought mi the one gt ur name de can hang on ur phone(pics up later) and im loved it so much..quickly replace the OLD BEAR from my hp.. A NEW START ba..(coz tat bear got story de)...I bought them FERERRO ROCHE(remember im still broke), AMERICAN CARROT CAKE and gave them the self made CARD from mi..great to see that they hang in on their desk...and someone of them was so happy to see their face on their card haha.. then Gan Chiong spider and team bought mi necklace and nice earrings.. Elaine made a self made card for mi too.. (i just teach her how to use clip art half an hour ago) and she made for mi.. and got her fav precious HELLO KITTY STICKER..(fyi although she is old, she still like a kid, her sticker nv anyhow gif ppl de) i nearly cried then.. although its just a piece of paper..but i can see the effort lor..
Time passed super fast, and its 6.15 le.. For the last time im going to be there.. when i was leaving.. THEY all shouted: " BYE BYE SHIRLEY" ...wo yao yun le.. its sooooo hard to hold back my tears.. of coz i nv cried(act strong ma) but there were tears in my eyes.. NINE LONG MONTHS just passed by like dat.. Cleared my stuff and i realised i've hidden ONG BIG BAG of rubbish in my desk.. SNACKS, CUP NOODLE, Christmas gifts etc.. nv take all back coz of the BIG HARRY POTTER BOOK, so now i got excuse to go back again le wor..heheh.. thanks guys i realli love you all veri much...
As usual yst afternoon went to church.. then at nite met Bennie up for movie.. we went to Starbucks and chatted for two hours..haha.. and i saw my CHU LIAN QING REN DANIL there.. omg..and he smiled smiled to mi.. hahhaha...those were the days.. had a great chat wit her... (fyi BENNIE is a ger, alot of ppl mistaken ok hehe)...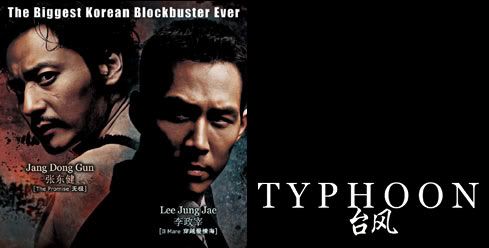 Then we proceeded to watch "TYPHOON"...i seldom watch KOREA SHOW de lei.. but no show le coz all watch before le.. yeah its not a bad show..u just need to catch the ending urself..haha.and the guy is so HANDSOME lor..omg..Which one u prefer.. sure alot of ppl like the Lieutenant..but i prefer the ZHANG DONG JIAN... i like guys wit GOATEE or Moustache haha...more MAN ma...
SIAn lor starting of the show..the ppl sitting behind us got some arguements wit the staffs of GV coz of the food they brought into cinema..nowadays GV veri strict hor.. no OUTSIDE food they will come in check de...heng ah xiang dang nian laoniang always bring SUSHI go in de..if kanna caught its so bloody paiseh haha...
Finished show le ard 2.30am.. wanna say sorry to MR A...he waited for mi the whole nite to be back home.. but i tot he go slp le...until he smsed mi.. well bu hao yi si hor.. Calvin came to fetch us home...tks ah.. Slept at 4am after coming home.. i come home to play my fav game nowadays.. play golf..woohoo..and i got to know a young didi inside.. imagine he waited for mi to online until 3am? lol...
To BENNIE: " realli happy to go out wit u wor.. hope got more chance, we all got things to be decisive on..i hope u and mi will be strong enough to make a good decision hehe...Love ya"
Sunday.. mummy went church, daddy went qing ming.. tats the first news i knoe when i got up.. im soooooo lonely now at home.. who want to come rescue mi??
Short note: I had a veri long dream yst nite.. dreamt of someone killing mi.. and the person is someone i loved, scary hor hehe...
Saturday, April 08, 2006'♥
Ben And Jerry's Ice-cream
Im sooooooooo jealous of someone now.. she onli said that she feel like eaintg Ben and Jerry's Ice-cream and she got it..and that person is none other than MS HAN..who is happily in love now..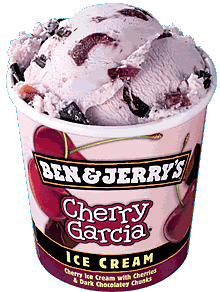 Haiz i oso feel like eaing Ben and Jerry's Cherry Garcia... WHY ?? WHY nobody buy for mi.. haiz tong ren bu tong ming...
Ah nash msned mi and said "hmm this brand ice-cream is nice." When he saw my msn pic..then i asked him "U want to buy for mi??" sobz..he JITAO reply " I buy.. i eat..then giv u the cup"...WALAO.. with frens like these u dun need enemies lor..jiatao peng man.. u better dun let mi see u.. dun forget i know ur full CHINESE NAME HOR..'threaten look'
Now i can onli see the pic and hua mei zhi ke... sobz sobz....
Wednesday, April 05, 2006'♥
ELEPHANTS and DINOSAURS...
Grrr.. Im so cold now.. its raining CATS AND DOGS outside... NONO NONO.. shld be ELEPHANTS AND DINOSAURS.. coz its reaining so HEAVILY lor.. The Smart Alec mi.. nv brought my umbrella out.. (well, in fact i nv bring brolly out de la) i went to Tam mall to collect my photos.. and i was stuck there.. coz clever mi tot that TAMP is such a good place where everywhere would haf shelter..actually wanted to go interchange take bus.. and guessed who i saw.. STEVEN LEI.. not STEVEN LIM.. but STEVEN ZHOU.. walao he veri scary de.. he came to knw mi last time when i workin in bubble tea shop.. since then he's been stalking mi.. i finally managed to shake him off after a few mths haha..
Then every now and then i always saw him de.. suay.. so today.. clever de me.. decided to go the nearest bus stop take bus.. so that i wont be the same bus as him...I STOPPED when i reached the traffic lights.. shit NO MORE SHELTER!!! which idiot build shelter then stop at zebra crossing de... wo yao yun le.. so here i am stucked there.. wind so cold.. helpless.. Called up shufen and complained. THEN.. i tink someone heard my conversation.. its a guy... wit a brolly..(yes i feel guilty hao bu hao) He said " U crossing over? ..i replied "YES" THEN Being the most gentlemen guy , he said " I crossing over too, cross together ba..".. walao look like DRAMA hor?? I oso cant believe it man.. where got so good de nan ren nowadays?
Ya to whoever he is.. just wanna say thank you to you... u make my day.. thanks for helping mi when im so helpless..
Oh ya.. im the middle of a BIG PROJECT.. handmaking something for my precious colleagues and im so tired at work today.. coz of too much golfing yst nite wooho..
Specially for AH ber.. this is the link wor..http://www.pangyasea.com/index.aspx
Hao le i need to go back to my project le.. YEsh and im going to GENTING AND KL soon.. woohooo..
'♥
Simple day..
Its a realli simple day.. everything went on so simply.. haha...
Some of them treated mi to Swensen for lunch.. i feel so loved and blessed todya.. took some pics wit them..decided to handmade gifts for them wit the photos we took.. hopefully everything turns out well ba..
Dinner time went to the famous $1 chicken rice stall at 800plus..ya not bad.. then its home sweet home time..im so tired man..
Then i remembered MS HAN blogged in her blog that she got addicted to this GOLF GAME..since lao niang is going to start my SLACKING LIFE le..so i asked her for the link and dl it.. omg its so fun..and im starting to get addicted to it le.. PEEPS if u all got more RPG game pls send mi the link wor..
Happy to heard from MR A that he is getting well in his job.. most importantly he is happy there.. poor him work until 3 then eat lunch.. duhz..trying to fight my "WO JUE DING" project is it??
Tadah tatas the end of my day.. boring hor.. coz no money lei.. i tink i giong to do someting to my hair soon.. muahaha..
Short note:

Got two person said that i haf changed recently.. is that so? just wanna KAN KAI YI DIAN ma.. then someone said i keeping all the things to myself.. well.. whatever it is.. that someone realli understands mi..but i realli feel happier these few days wor..
Monday, April 03, 2006'♥
Drunkard??
One idiot.. (alrite i mean KELVIN) sent mi this survey to my email.. this is wad he said...
Oei siao eh.. i tink this survey suits u alot and every question you sure will have an answer to it de.. coz ur CHIVAS QUEEN lei..Enjoy doing the questions cause it will certainly remind u of ur beautiful and wonderful past...

Love
Kelvin
Wow realli wanna thank him lei.. KAM SIA for all the compliments lor..but out of curiousity i decided to gif it a try..MIND U IM BORED OK!!!...
THE DRUNKARD SURVEY..
Name three kinds of liquour that you tried before..
* Vodka
* Chivas Regal
* Jack Daniel's
Name three kinds of Cocktails that you tired before...
* Magaritta
* Sex on the Beach
* Tequila Sunrise
Name three pubs that you went clubbing before...
* MOS
* MOMO
* Chinablack
What are the three actions u will do when ur Drunk??
* Keep laughing
* Super friendly eg Talk to Stranger
* Lost my bag..(sad case)
What would u do When ur sad and drunk??
* Call or sms rubbish to the person i loved
* Hug someone and cry
* Dance..(ahha...)
Name three of your fav mixer...
* Green Tea
* Soda
* Coke
Name three of ur best drinking khakis..
* Still got who of coz my Batam Cousins
* Lena and group
* Chelsia(oops i leaked out her name le)
Do you have any liquour or beer in ur house?
* YES
Name some of them..
* Five bottles of Heineken
* Two cans of ABC(my dad de hor..)
* One VODKA PEACH (someone put at my hm the time being..pls trust mi)
When do u start drinking?
* When im ard 8? Cny time haha..
When do you start dating?
* huh? got related meh? 14 lor?
Is it u started drinking before you date?
* Erm..yes..then?
Congrats your realli a HARDCORE DRUNKARD...You love to party and have fun.. especially when there are good friends around...But when ur feeling down, do try to limit yourself..as you tend to lose ur emotions after ur drunk..
Name three persons that you hope will do this survey
* Lena
* Ah ber
* Ah Jin
===========================================================================
Super LAME lei.. buay tahan.. wad start drinking before u date means ur a drunkard? pengs..
Oh ya.. i got a stressful day today.. coz MILK is on her BLOCKED LEAVE..a new auntie take over her.. and oso mi la..coz im leaving le..so got to teach her.. pengs.. today high volume of PB somemore got to teach her.. walao i sibeh stress lor.. i bought MCFLURRY..and it melted on the table until i noticed it its already 6pm le.. damn it waste my money..
Hope tmr will be better ba.. the other gang is treating mi to SWENSENS tmr.. so i got BETTER ICE-CREAM i guessed haha.. ya kinda of sad...after tmr three more days to go le..will surely missed them veri much...everywhere i got they all said" wa FRI last day le hor.."..haiz..
Yst was the campus superstar final...lao niang dun even bother to watch lor.. coz sad no ADRIANO and somehow know who will win de la..heng he won if tat ger won..i swear ill burn down the stage haha..
Might be going over to GENTING this weekend if nt other places ba.. just wanted to get some fresh air before i start my school.. and slacking khakis get ready i going to join u all soon le..hehe
I wanted to start everything afresh.. A FRESH START can i ?
Sunday, April 02, 2006'♥
GAYS...
Weekend just passed by like dat.. and dunno since when i started to drag weekends...well for some personal reasons of coz.. well this week for mi is a super long week... nothing much happen..
Suppose to go uncle David BBQ yst.. but becoz of some unforseen circumstances.. i did not go..bu hao yi si wor.. i realli missed the marshmellow man.. haiz..
It's April fool's yst.. so did u all get fooled by anyone?? Damn it no one even tried to fool mi..and im so sad..is it becoz im tooo old le? hehe.. well but i manage to fool some ppl
Yst nite.. veri last min de.. I went KTVing.. with two guys.. one is i see until veri sian liao..but first time went ktv wit him..the other is i onli see him for the first time...and they are....
Yesh ur eyes nv see wrongly.. MR AH JIN.. and his army fren..ASHZ aka Weiliang..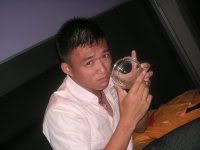 MR Ash and his ASh tray.. oopz forgot he dun like ppl say he is ASH haha..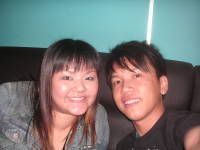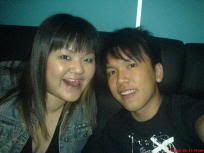 Me and my long long buddy MR AH JIN...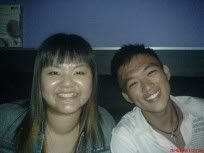 Me and Weiliang..walao dun act shy la.. lol..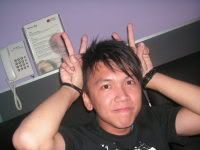 Ya u nv see wrongly.. i cant believe guys like to act cute too..somemore veri zi lian keep taking pics of himself when we are singing haiz..wad can i say?
surprise rite to see this combination?? Esp Ms HAn rite.. ur cute boy lei.. hahaha.. At first i tot Mr Ah Jin is playing his APRIL FOOL's JOKE on mi.. then he said "are u still in primary sch?" diaoz.. haha so we went to KBOX Tamp..
I tink the staff see mi oso sian coz for two consecutive weeks i went there woohooo... Ya its fun singing wit them.. can u imagine.. Weiliang he veri good at singing JIA YING.. better than mi lor.. u know the Jay song rite the huo yuan jia..walao he can sing the opera part veri well lei.. make mi laugh until pengs.. shit i shld haf video tat down and show u all..haha..
Thanks jin for being the joker of nite ..somehow our character are the same..coz ur ONLI YOUNGER THAN MI one DAY!!! lol.. so if i say ur humourous means i am too lol..
Both of them going to TAIWAN on TUE for army field trip le.. PLS AHEM ZI DONG YI DIAN.. mai gei gao hor.. lol..ya will miss u all de provided.. (presents ) lol.. ya i enjoyed myself yst nite.. and dun sing tat WU BAI song hor AH JIN.. u sing until so sucky no feeling at all de..lol
Before i got show u all one video of them singing ba..quite dark but can hear can liao..before tat pls check whether ur window is strong enough ma.. in case they break..Note: that er xin de laughter is mine de.. lol
This song is they sing de yst.. as usual the female part sang by Weiliang..ahha im starting to fall in love with this song le.. its sooo nice...
'♥
戴佩妮
街角的祝福
多少个秋多少个冬
我几乎快要被治愈好
但还是会只因为一个重覆的话题
就无心自扰
也曾想过
若真遇见我们应该如何是好
我想我还是会站在某一个街角
不让你看到
只因为我不想打扰
只因为怕你解释不了
只因为现在你的眼睛里
她比我还重要
我只好假装我看不到
看不到你和她在对街拥抱
你的快乐我可以感受得到
这样的见面方式对谁都好
我只好假装我听不到
听不到别人口中的她好不好
再不想问也不想被通知到
反正你的世界我管不了
若不想问若不想被通知到
就把祝福留在街角