Sunday, September 10, 2006'♥
09/09/09
Been a few days since i've blogged...finally today is a day for mi to catch a breath...
Started my job on Thurs...initially was feeling damn nervous...as i tot of how lonely i am to go lunch alone on the first day... But God is good...When i reached the work place i realised...im not the only one who is working for this project!!! hehe..there is another three of them...and one of them is my schmates from TP...yeah.. so we clicked well haha.. the other two aunties..one of them happened to haf the same name as me...-_- were friendly and helpful too...coz they did the previous project before...
Overall..work is fine...we are supposed to confirm the attendance of the ppl attending the event...i got in touched with alot of CEO, analyst, managers...etc...i tell u its damn fun lor.. most of them are veri friendly..and it's not so boring like admin job....hehe.. and throughout the day.. me and tupperware and oso my cousin mi jie... we were communicating through email.. haha.. i pitited the both of them, they haf no internet access...awwww..how sad hahahaha...anyway we motivate each other esp in the afternoon when we are falling aslp hahaha.. my schmate, QL..she looked so exactly like MS TUPPERWARE lor... we sat face to face and i always nearly call her Cindy hahahaha..
Worked for two days...and its weekend...haha..and for the whole of Sat i have no chance to take a rest.. rushing from here to there...it's Angie matrimony at a church in Serangoon.. oh man..how romantic can that be..I was the usher...therefore need to reach early...and help out with quite a lot of stuffs...Overall the wedding took place smoothly and i felt happy for her and Wenquan too...he is a nice and kind guy...Saw Jasmine there..and i was quite surprise.. totally forgot she know Wenquan haha..reception was delicious..and i loved the fruit tart so much..tat i almost tabao the whole tray haha...
Been with Amos and Matt the whole day.. they nv failed to bring laughter to my life...and Del was so jealous that she said i pangseh hahaha..After the reception, we rushed down to service, Pst preached abt how impt communication is... indeed as one miscommunication will lead to an unforseen consequences...
After the service, we rushed to Changi Airport.. coz BC had vouchers for Sakae Sushi... 40bucks lei.. and we had a great time of fellowhipping..total billed up to 80bucks..and BC who is veri kind... paid the remaning amt..and i did not paid a single cent lei...omg...he is so goood..haha..Took quite alot of pics for yest...and i enjoyed myself alot though im damn tired and lied flat on my bed...haha
Mon again.. monday blues...not abt my job but the wakin up early part..sianz.. but nvm i know MS Tupperware is waiting eagerly for my email tmr.. I sacrifice my sleep for her ba...lolz...
Orite..Time for pictures le.. i know u have been waiting for that rite..hehe..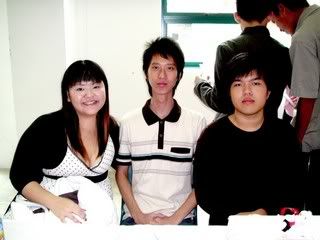 Matt me and Amos... they are forever so LAME hahaa.love them lots!!!!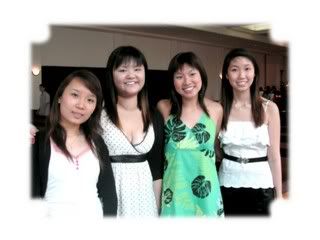 Liyun, Me , Irene and Sharon.. felt so stressed besides them....all chio bu hahaha.. my ex members...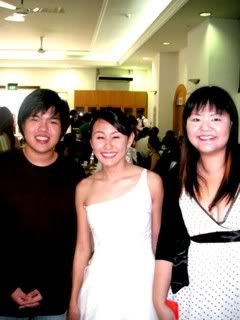 Amos, Angie and me...she looked so young hao bu hao.. but from yest onwards she is MRS LEE hehe...tks Angie for all ur guidance last time..ur my Second Leader...love ya...
Del, Me and YC... we are damn zi lian inside the toilet..more to come haha..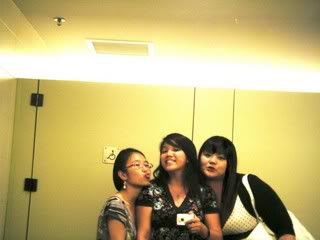 Us again.. told ya.. we are mad yest haha..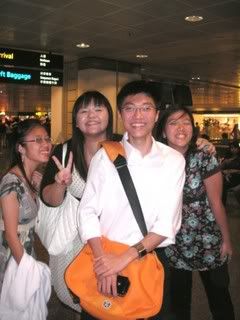 Mai siao siao...Kelvin taking photos with us haha...all the St Marg's gers must be envious of me..that their MR CHUA is taking photo wit us haha..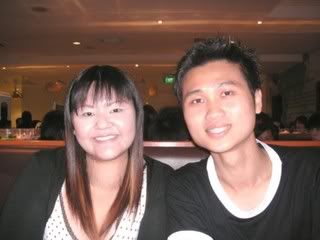 Me and Bc... see his gonggong face..haiz...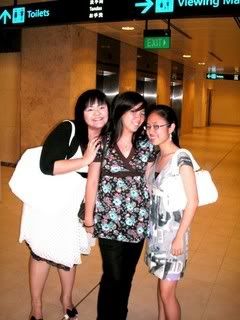 We three mad woman...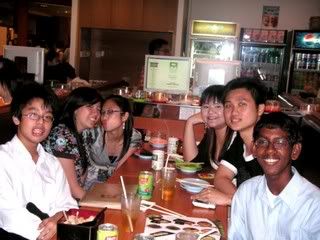 My cg...hehee.. poor chelsia got tummy ache and cant join us...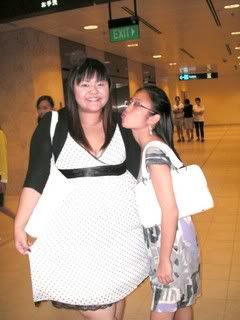 Ya la ya la i look like pregnant woman la..haha...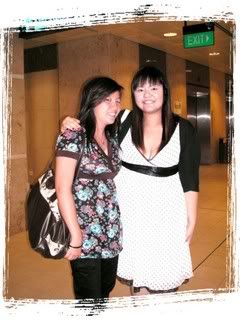 Last but not least DEL AND ME.. i designed her outfit for yest de ok.. from head to toe...haha...
____________________________________________________________________________
Short note: 09/09/09...will tat day ever come true.. let's wait and see....