Tuesday, June 13, 2006'♥
Soccer News...
Hi Hi welcome to the
SOCCER FIESTA
once again.. This is Shirley here reporting live from her Tampines flat...
Yst we had three matches..
Australia vs Japan
USA vs Czech Republic
Italy vs Ghana
and all of them are veri exciting ESP the FIRST MATCH...
Australia Vs Japan
Y is it in BOLD?? Becoz i almost got a heart attack from that match.. U know y? Coz Me supported Japan.. and during the first half of the match.. Jap was leading by 1-0...even during the initial part of the second half.. Ms Shirley already tot of wad time she is going to take her money...until...at the 84th min of the game.. The AUSSIE goal on goal.. Ms Shirley sighed a heave of relief.. all rite not so bad.. at least still got some left.. BUTTTTTTTTTTTTT... after a few mins.. one or two mins to be precise.. AUSSIE SCORED 2 more GOALS... amazing rite.. WAH... MS Shirley almost fainted..anyway from now on
i HATE KANGAROOS
...
Her best coussie Mi Jie oso fainted... i tink alot of ppl fainted yst....
All rite back to the topic..
For the Czech match.. Poor Koller was injured at his hemstring... did u see his face of agony?? omg but when Ms Shirley interviewed him.. he said he will be alrite soon.. let's pray that he will be up and ready for the next match which is four days later ba...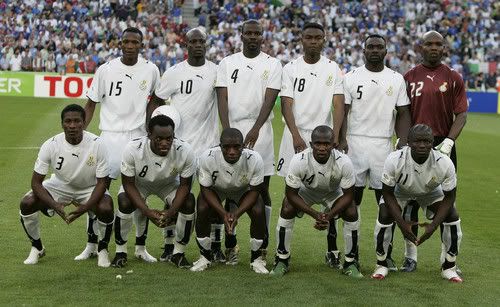 ITALY vs Ghana guessed not many ppl would get heart attack ba.. coz its predicted that ITALY would win... did u see all the handsome guys on the field?? Thank GOD Ghana wore white jerssey if not we wont be able to see cleary who is who.. correct mi jie?? haha...
Today we will have three more exciting matches.. my partner, Mr ah jin, aka mr coward aka mr lazybones will be reporting live from his Simei home tmr..
THE matches for today are:
Korea vs Togo
France vs Switzerland
Brazil vs Croatia
Did u see the bold match?? its my fav Team BRAZIL.. i waited and waited finally they are going to kick off tonite at 3am... so that means....
Brazil kick off = shirley's watching = Shirley nt at home= shirley no sleep = shirley old!!!...
Well its ok.. its worth it..coz it happens once every four yrs.. one mth later i can use SK3 haha...
Anyway Reporter Shirley would nt be at home tonite.. she will be gg to stay overnight at one of her cousin's place.. wearing her brazil jersey...lol.. so please stay tunned to mrstea blog or SOCCER FIESTA (onli for this mth) for more live actions...
Meanwhile since alot of ppl are predicting the score of the match
Laoniang oso want...
Korea vs Togo 2-0
France vs Switzerland 2-1
Brazil vs Croatia 4-1
If not zhun pls dun scold mi im onli a small fry reporter ok...
Ok got to prepare to li jia chu zou le.. seems like this mth lao niang always run away from home haha...anyway wanna thank my partner in action MR COWARD aka Mr LAZY aka Mr AH JIN, he left mi a testimonial which left mi smiling hahah... fyi we everyday discuss who will win.. but some ppl dun dare to act on it.. oppps.. i nv mention who rite..haha
I might go back Batam this weekend again.. Im totally addicted there...at least im not so stress over there.. love my cousins and dun worry im not isolating myself ok.. hehe..
Take care ba everyone
Short note:
Mr JIN, pls spell my name correctly.. forever de.. its SHIRLEY no SHIRELY..kam sia ur cooperation is apprecitated...