Monday, June 12, 2006'♥
GO GO GO GO GO GO
Yooohoooo... Im back finally... Reached Singapore at 11.45pm.. too tired le..so took a cab str home.. Home is still the best.. hehe... Just stepped into the cab..received a sms.. "Hey Shirley i tink Jas got msg u..tmr we will be doing our CSA and Econs project at 12 in sch,pls reply ok?"..walao pengs..i just come back lei...holiday is always the best..but coming back is so sianz ..arrgggghhhhh still haf to do stupid projects.. arghhh ECONS...*Pull my hair*
Anyway I feel so happy during these few days... of coz i missed my parents 4days nv see them le... Last thur went to stay over at Charlotte's mummy house.. and we had lots of fun making sushi, chatting... but the onli thing is.. I SWEAR i dun wan to slp with SHAO MEI anymore.. she veri power de lei.. her legs and hands always over mi de.. until i nearly suffocate hahaha wah tell u hor..tat nite LAO NIANG totally bo koon u know... haha..
Fri afternoon.. Went to FILA to get some Soccer Tee.. and we chose here and there i tink the GUY is veri good..he veri patient lor.and throughout something funni happen and i shall not mention here.. tmd so throw face haha..and i can said IM REALLI VERI DAI SAI lor!!!!...if i got the GEMS card i will realli gif it to that guy lor..haha after tat Mi jie and I went to the Harry's pub haf some drinks first before we go back.. and we are nearly LATE for the Ferry... sibeh gan chiong lor...haha..
First nite: We went to CITY CAFE.. BATAM version of BALCONY haha.. there got a big screen for socceer.. everyone was so excited.. but the crowd onli ard 25ppl nia... our table is the most front one.. Germany vs Costa Rica.. nt a bad start for GERMANY.. but i can say Costa tried veri hard oso.. drank my fav Heineken beer..and i had a good nite sleep man...
Second Day: Stayed at home in the afternoon..watched a few DvDs... Election 2, When a Stranger Calls, House of Wax...and i nv expected ELECTION 2 to be so gross de hahaa...wanted to watch Brokeback moutain but tat gonggong Mi jie says its stupid and slow lol...Mi, DA sao, Mi Jie and Ah Qing we FOUR GERS go CITY CAFE and watch the match ENGLAND vs Paraguay.Power rite..all gers lei.. . alot of ENGLAND's fans been waiting for this match..and i got onli one word to describe this match.. sucks lor.. haha.. if not becoz of the Paraguay guy tyco ball they wont win de lor.. and i can say alot of ENGLAND's fans was veri disappointed coz i tink they can do better than this lor.. haiz.. but nvm i always nv support ENGLAND de..haha.. so im still ok la..
Third Day: Da sao brought us to Mega Mall.. and we had Pizza at Pizzahut in the afternoon. Then we went to the HYPERMART and get some stuffs..guess wad i bought? MANDI LUR LUR.. Xh u must be veri happy rite? but i onli bought two bu hao yi si ma.. they paying for mi haha..then we went A&W get desserts ...oh how i missed A&W man... At nite we had western food at home then we all watched Holland vs Serbia... nt a bad match and Robben realli tried veri hard and i can say he realli RUN veri veri fast..good goal man hahah...
Overall i enjoyed myself these few days.. its a good BREAK for mi.. and i realli nv tot of anything except to eat sleep and lead a carefree life these few days lol... and i dreamt of someone yst nite..which i tink its impossible to happen in reality de..lol..
Anyway tonite match is AUSTRALIA VS JAPAN, USA vs CZECH, ITALY VS GHANA.... wooohoo all nice nice match..and JAPAN must win or draw cause whether i can buy the MASK kao ta le..hahaha and the best is
TMR match.. my BRAZIL vs CROATIA... omg ive been waiting for so long.....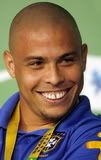 RONALDO must win ok? haha..
Oh..y do i feel like my blog is all abt SOCCER?? paiseh u all tolerate for one mth ba.. hahahahaha..
Short note:
Wad is it telling mi??