Monday, May 01, 2006'♥
Wouldn't it be nice....
I had a wierd dream yst.. i dreamt that i went clubbing and in the end i missed my lecture....and that club is just inside my school...
Wouldn't it be nice tat if my school inside had a pub..that we students, when we are veri stress after a long day of school..can relax oursevles after tat...partying.. gossiping... drinking to our hearts' content..haha am i tinking too much or is it tat im too stressed up in school??
Nevertheless... i tink its time for mi to enter back into my korean drama scene..im so so so in loved wit korean dramas nowadays.. u named it and i haf it.. haha nah i nv spent much on it.. we haf form a partnership out of it.. which consisted of mi, zhu and zhen..together we are the KOREAN SISTERS...lol..
Excuse mi now will ya....dun pin too much hope on mi updating my blog nowadays..coz im a busy woman ok??
Meanwhile before i forget..some overdues pics of mi and my colleagues on my last day at DBS...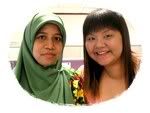 ME and Aminah my best colleague ever nv fails to make mi laugh...i love her...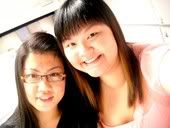 Me and Sufen.. my best fren and colleague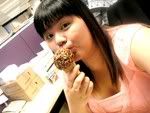 In the office slacking...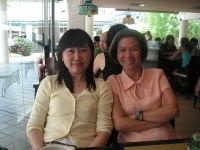 Cassandra and Elaine...
Meanwhile on Sat i attended Cassandra's wedding, it was fun and i saw many of my ex colleague there.. alot of funni things happen there...and i simply loved all of them....
The Video of the Groom and the Bride... both are my colleagues and its and inter-racial marriage..(somthing like dat la) the bride is a chinese.. Enjoy ba..
Short note:
Twinkle twinkle little stars.. how i wonder what you are..