Sunday, May 21, 2006'♥
Summerbreeze......
When one of my fren saw my blog... he msged mi.. "Oei.. u gg overseas is it?, why u put in ur blog u gg to a place near the sea, mai chong dong lei."
Haha..i tink my fren must have tot im gg on the holiday myself as wad i blogged abt in the previous entry... lol.. nt yet.. i tink that will happen in the mth of JUNE during my two weeks break...
Well..actually suppose to go MOS yst nite..coz got the Corona event.. i got free entry for two ppl...but i back out the last min... dunno y.. sian of this kind of nightlife le ba... too noisy for ah sao like mi...
But i dun wan to spend my SAT nite, munching on potato chips...looking at the com screen...neither do my fren.. so we came up with a lot of places to spend our night..and the conclusion.....
Fisherman Village...
How lucky am i to be staying in the east..and fisherman village is just 20mins away...a place to chill out... a place to enjoy the breeze...and a place to listen to the waves...
In case u dunno...its one whole stretch of food cum chill out cafe...or beach cafe i must say.. coz u will surely get in touch with the sand...After dinner there.. we decided to go to one of the chill out beach cafe...and in the end we chose Summer Breeze... On the outside.. the exterior look veri high class.. with dim lights..and candles on every table.. and the best is there is a pavilion...with sofa beds..(yes beds again) this time made of wood.. facing the sea...ohhhh...tell mi hw could u resist the temptations of mother nature?
We found a place at the pavilion... got our menus..at first tot its suppose to be veri ex...BUT!!!!! the price there is so reasonable...with no service charge and stuffs....Ordered RED wine, one jug of San Miguel Beer, nachos, Ice hazelnut coffee for warm up first....after tat 1/2 dozen of Carlsberg(complimentary) read on to find out why.....
and our bill added up to be less than 50 bucks..COOOLLL....i seriously love the atmosphere there.. the music was fantastic..oldies...*yes laoniang admit im old le hao bu hao*...oh ya not to mention the company was great too.. u would have not imagined tat Chel and Laochek would get along so well.. and as usual lao chek tried to entertain ppl with his LAME JOKES...
Was admiring the sea when suddenly someone called out my name... It's one of my colleagues at DBS...and guessed what she said when she saw mi? "eh u nv go Chiong ah tonite?" (one of my khakis for DEVILS BAR half a yr ago).. I replied: " I prefer plain porridge with salted vege nowadays." and she laughed like mad there...lol..chatted with her and her fren..they are all so friendly..lol.. and forgot to mention FREE 1/2 dozen Carlsberg from MS GOOD EX-COLLEAGUE..xie le...
Orite time for some pics le...Too bad too dark cant see the beautiful sea...
Start with MR GONGGONG LAO CHEK first ba...see his new pose...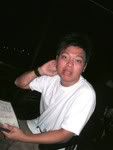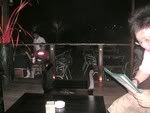 THE below part of the cafe...
Loook closely and u will find MS GOOD COLLEAUGE and her fren lol...
Me and Chel... the best sista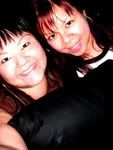 Us again...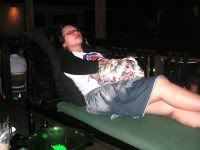 Chel will kill mi if she saw this.. oopps...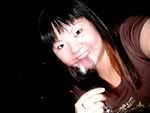 Laoniang and my red wine.. wooo shiok...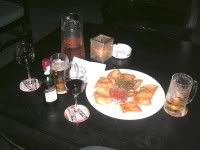 THE drinks....initial part...
HAHA oh ya got some overdue pics to show u all..bu hao yi si..oredi expire liao..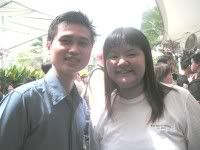 Me and BC before my baptism
THE most sacred moment... Im BORN AGAIN...
Went out with my sec sch frens, finally some sort of reunion...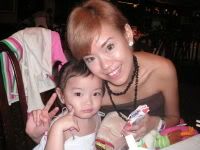 Jas and her daughter Lorraine.. if i nv spell wrongly.. one of my best fren in sec sch...modern mum hor..
After having our brunch at Riverview hotel..we went to a sec sch fren's malay wedding.. u see la.. i realli veri old liao..all start family le..haiz...
Hao ba tats abt all.. lazy to upload the rest...wan an da jia..
Short note:
No point wasting ur time on something tat is irrelevant