Tuesday, May 16, 2006'♥
A Holiday...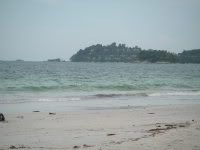 THE thought of going for a short trip lingers in my mind the past few days...I feel like going on a holiday....Ppl have been coming back from their trips telling mi how fun it is....and i wanted to thk Ms Huilian...she bought a necklace back for mi from BKK...im realli veri happy cause we are not those veri close frens..but yet she tot of mi...tks ah lian jie haha...well come to think of it...how i wish i can go on a holiday oso hehe...
TO where??
No need to be veri far...i dun mind gg to JB, Batam,Bintan or even Pulau Ubin...ujust somewhere im familiar with...just somewhere i can rest and relax...not that im veri stress just tat i wanted sometime to be away.. to have sometime with myself...to explore new places...
SO dun be surprise if suddenly some day u find mi go MIA....suddenly im not online for more than 3 days..coz i might go alone for a short weekend myself...and this shall be the breakthrough in my life...
Short note:
The Answer does'nt look veri good