Sunday, April 23, 2006'♥
New Phase...
Its been quite a few days since i last blogged...feeling better le.. so i tink its time for mi to share abt my wonderful life le ba..
*Warning: Long POST*
Been busy going out for the past week..(pratically its everyday) so long nv see my baby weisi oso..everyday early early go out.. mid nite like dat reached home.. i dun remembered when is the last time i had dinner at home..:p
Oh ya i enjoyed myself at Rina's place for the pyjamas party was playing the card game..RUMMY if im nt wrong..its so fun..first time playing ok..then i team up wit AH BER JIE.. she veri good de hor...we onli lose one time...Ed is super funni one..he kanna draw the most in the end...LENA Da jie oso haha..she got mostache lei..mai siao siao.. hao ba show u all the pics ba....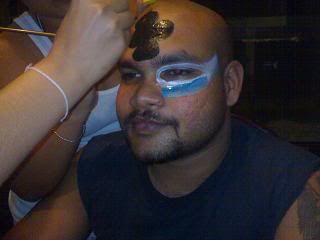 This is EDmund..u see he so ke lian...haha..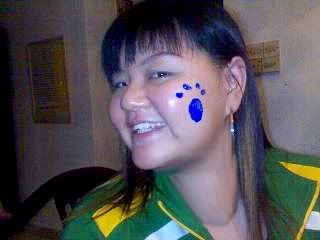 THis is LAONIANG.. cute hor my PAW drew by AH BER JIE...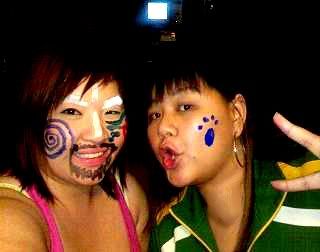 This is LENA DA JIE and MI..scary ba her face haha..SHE IS THE "WINNER" of all lol...
Realli enjoyed myself wit them.. at least for once.. all my problems are lifted away from mi...
Then on that day i went to my BABY CHARLOTTE house...to see her..she is soooooo naughty now.. keep wanting to eat and eat..i scared she inherited my GENES..OPPPS no no i got nothing to do wit the baby haha..then i saw AH KEONG at the coffeeshop at their house downstairs..she is my fren's ex.. he cant recognise mi man..and thanks he tot tats my baby... yawns...Zhen helped mi to curl my hair using her curler.. coz i wanted to see how i look like when i permed my hair.. well i tink its still ok la.. if longer better hehe
Then we went to TB plaza and take neo print.. coz the stupid machine is in jap.. we forgot to press something..then this guy who work there rushed to our rescue and then we became frens haaa.. like dat oso can hor..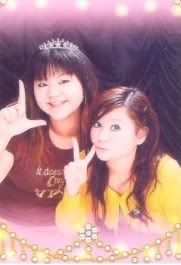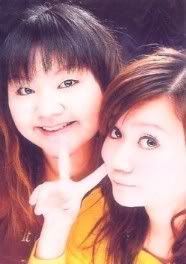 Mi and Mummy Charlotte...Enjoyed my day wit her.. although its just a simple day but somehow tat place had been my refuge camp..everytime im sad or wad i go there and visit my God daughter...and her mum will always be there to console mi....i love you two.. my dearest...
Well..coz of the sch..mi and Selyn went out Last TUE to buy all the stuffs resulting..we spent 100 over dollars the whole day.. bought bag, jeans, tees, stationery all those.. haiz one poly is enough to make us go bankrupt .. thank GOD for the Progress Package ahha...
Wed met up wit Bennie and we had Genki sushi...was looking for a pair of sneakers for my orientation and poor bennie went ard the whole tamp wit mi just to find a pair tat is cheap and nice haha..coz no working le ma.. no money haf to shen shen shen...
Thur first day of orientation.. ya we all know how orientation is rite.. ONE WORD... BORING....i tink we planned better orientation programmes when we are in ITE correct Selyn?? lol.. becoz the group is too big le.. this yr business intake 1500 ppl largest in history and cut off pt for our course is 15pts lor..so u can imagine im studying wit a bunch of smart kids lor..Dun expect mi to stay throughout the whole orientation programme coz tats nt my style..went off during lunch for both days..my classmates thinks i no HOPE le..haha but who cares?? lol
Get to know a few frens during the two day programme.. and im happy tat they tot im the same age as them lol....(hide behind and laugh) my class got two other gers from ITE BISHAN too..but the guys all younger.. sian 1/2 i tink i better make my way to ENGINEERING school for lunch ahhahaa..overall ok la.. needs time to adapt.and i love my teacher he is so corny..lol but too bad darling Selyn nt same class wit mi.. i in class 2 she is class 16 power rite ...lol..
Time-table is ok la.. this week super slack coz no tutorial lesson ma..so lao niang thur no school lei hehehe.. and then hor can u imagine fri 4-6pm.. yawns.. all my class starts quite late.. i tink i can sleep like a pig everyday..lol..
Thur went for the MAKE UP CONTEST held by our church.. and dear JASMINE aka LENA SIS was my model.. lol.. this ger hor..she everytime nv fails to quarrel wit mi de lei..but realli wanna thank her la..coz she sacrifice her time all the way go down to JURONG WEST for the contest... ya long time nv go down to JURONG west le.. kinda of miss tat place..and alot of memories oso... ate my fav chicken rice there...lol...nan de got this chance..
THe theme for tat day is rainbow colours... pengs.. alot of professional participated so i tink we already no hope le la.. anyway its a nice experience la.. coz at least now i know THE MAKE UP STORE at MARINA got nice eye shadows haha..THANKS HOR ONCE AGAIN MISS JASMINE HOPE U DUN HAF ANY PIMPLES hahaha...
Yst went church as usual and after tat we went to BEDOK 85 for supper wit BC, ADELE and her niece CHLOE...its veri fun and i missed the Oyster there so much lor.. its a miracle BC nv get lost..and i gave good direction yst nite.. i tink i can be a street directory soon le.. coz BC always get lost when he drove to the EAST ahha.. ya he is going for his LASIK operation tmr will pray for u de...lol...
Today (wah..veri long post liao hor..but i dun care carry on reading ba) went out wit SELYN to do some last min shopping.. got myself a nice pencil case from OP, blouse from Bossini and FOX..(as usual witch is there oppps..spies is still ard) some ankle socks and mascara..ya quite happy wit the shou huo...
then... we saw a nice BLING BLING (our language) GUESS BAG...omg... veri nice lei..but hor.. $169 im fainting le..hahah.. first time mi and Selyn liked a GUESS bag together.. lol..
THE GUESS BAG
then i went to the watch shop..and i asked abt the watch..coz the one i like is white in colour the strap..but often see blue and pink onli..then the uncle said NO STOCK LE...another BLOW...faints -__-... but i saw another nice one $155 might consider getting tat..so now its between..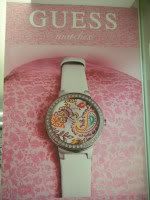 THIS and

THAT
HAHA see how ba.. see got ppl sponsor boh.. lol
HAO LE la..tats abt all long entry.. sian tmr starting lesson at 2pm...yawns..
BIG NEWS
And im getting BAPTISED on 6 MAY the day of election..haha i tink my the other name will call KERIN..so next time my name wil be SHIRLEY KERIN..power rite..haha nt confirm yet let mi see see first...
SHORT NOTE:
No matter how hard ur heart is... being loved can makes ur heart melts.. sincerity is the key to open up ur heart....


无能为力
醒了我却还是闭着眼睛
只有这样才能留住梦境
还看见我最爱的眼睛
还有你偷偷亲吻我的情景
醒了我都不会挣开眼睛
是怕泪水慢慢吞噬心情
原以为我们有了约定
就能够听见朋友祝福的声音
还来不及和你和你在一起
数着天空里坠落的星星
你已经离我而去爱没有继续
原来我根本不是你的唯一
我紧闭双眼摒住呼吸
根本就不敢在夜里想你
谁知道在白天遇见了你
看见你新的唯一靠在你怀里
我留给眼泪不能呼吸
我无法面对最后这个结局
曾经我们有过无数话题
爱到最后我们对爱竟会无能为力
醒了我都不会挣开眼睛
是怕泪水慢慢吞噬心情
原以为我们有了约定
就能够听见朋友祝福的声音
还来不及和你和你在一起
记住属于你的一点一滴
你已经离我而去爱没有继续
原来我根本不是你的唯一
我紧闭双眼摒住呼吸
根本就不敢在夜里想你
谁知道在白天遇见了你
看见你新的唯一靠在你怀里
我留给眼泪不能呼吸
我无法面对最后这个结局
谁会想到曾经相爱的人
还没到最后我们对爱已经无能为力