Sunday, April 09, 2006'♥
My Days...
Well havent been blogging much abt my live these few days.. simply too busy.. been going out over the past few days...
Thursday i went PS wit Sufen after work.. firstly is to mit LENA to help my colleagues take her stuffs from ON..nt bad she loved it veri much.. then we went to BMC to take a look at the courses there..coz she felt like studying..and i gave her some advices.. ya studying is better.. i tink everyone agrees to that..
After tat we went to PS to shop shop walk walk.. being the super broke mi.. just browse here and there nia.. then we went to a shop called.. "Outfitter girls".. Omg the tee there is soo nice... first time went in there and the SA is so damn friendly.. went to try on the tees and i realli liked it.. so Sufen being the super nice girl of the day ..She bought mi two tees.. another one i pay abit la.. i was a happy ger tat day... then we went to DP ...haiz another killer place.. saw SHUNDY there.. wit her bf.. woohoo..so loving ah.. saw quite a few top that is nice...BUT.. TOO EX la.. diaoz.. after tat just went home lor.. had a nice long chat wit sufen.. coz the next day is my last day at work le ma..of coz we haf been frens for 7 yrs le.. we will still see each other de..
Friday... my last day at work.. trying so hard not to think of it..Early morning my supervisor bought mi breakfast..which is so unexpected...and i realli appreciate it... came back from lunch.. and i saw a BIG BOMB on my desk.. its a MOO MOO (cow Soft toy) from BUM EQUIPMENT..and its from a the FD TEAM..which i onli a few ppl.. and im so touched..coz i onli veri shou wit a few of them... then my dear AMINAH.. she bought mi the one gt ur name de can hang on ur phone(pics up later) and im loved it so much..quickly replace the OLD BEAR from my hp.. A NEW START ba..(coz tat bear got story de)...I bought them FERERRO ROCHE(remember im still broke), AMERICAN CARROT CAKE and gave them the self made CARD from mi..great to see that they hang in on their desk...and someone of them was so happy to see their face on their card haha.. then Gan Chiong spider and team bought mi necklace and nice earrings.. Elaine made a self made card for mi too.. (i just teach her how to use clip art half an hour ago) and she made for mi.. and got her fav precious HELLO KITTY STICKER..(fyi although she is old, she still like a kid, her sticker nv anyhow gif ppl de) i nearly cried then.. although its just a piece of paper..but i can see the effort lor..
Time passed super fast, and its 6.15 le.. For the last time im going to be there.. when i was leaving.. THEY all shouted: " BYE BYE SHIRLEY" ...wo yao yun le.. its sooooo hard to hold back my tears.. of coz i nv cried(act strong ma) but there were tears in my eyes.. NINE LONG MONTHS just passed by like dat.. Cleared my stuff and i realised i've hidden ONG BIG BAG of rubbish in my desk.. SNACKS, CUP NOODLE, Christmas gifts etc.. nv take all back coz of the BIG HARRY POTTER BOOK, so now i got excuse to go back again le wor..heheh.. thanks guys i realli love you all veri much...
As usual yst afternoon went to church.. then at nite met Bennie up for movie.. we went to Starbucks and chatted for two hours..haha.. and i saw my CHU LIAN QING REN DANIL there.. omg..and he smiled smiled to mi.. hahhaha...those were the days.. had a great chat wit her... (fyi BENNIE is a ger, alot of ppl mistaken ok hehe)...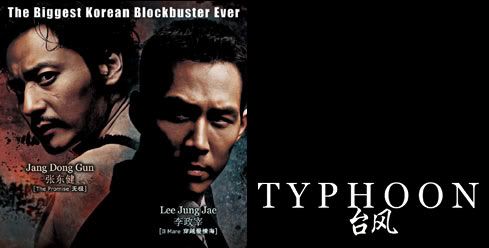 Then we proceeded to watch "TYPHOON"...i seldom watch KOREA SHOW de lei.. but no show le coz all watch before le.. yeah its not a bad show..u just need to catch the ending urself..haha.and the guy is so HANDSOME lor..omg..Which one u prefer.. sure alot of ppl like the Lieutenant..but i prefer the ZHANG DONG JIAN... i like guys wit GOATEE or Moustache haha...more MAN ma...
SIAn lor starting of the show..the ppl sitting behind us got some arguements wit the staffs of GV coz of the food they brought into cinema..nowadays GV veri strict hor.. no OUTSIDE food they will come in check de...heng ah xiang dang nian laoniang always bring SUSHI go in de..if kanna caught its so bloody paiseh haha...
Finished show le ard 2.30am.. wanna say sorry to MR A...he waited for mi the whole nite to be back home.. but i tot he go slp le...until he smsed mi.. well bu hao yi si hor.. Calvin came to fetch us home...tks ah.. Slept at 4am after coming home.. i come home to play my fav game nowadays.. play golf..woohoo..and i got to know a young didi inside.. imagine he waited for mi to online until 3am? lol...
To BENNIE: " realli happy to go out wit u wor.. hope got more chance, we all got things to be decisive on..i hope u and mi will be strong enough to make a good decision hehe...Love ya"
Sunday.. mummy went church, daddy went qing ming.. tats the first news i knoe when i got up.. im soooooo lonely now at home.. who want to come rescue mi??
Short note: I had a veri long dream yst nite.. dreamt of someone killing mi.. and the person is someone i loved, scary hor hehe...