Thursday, April 13, 2006'♥
Happy??
Wed le..so fast.. Slacking day No 3..well did nothing basically..except watch the KOREAN Drama i bought yst.. well.. ya its kinda of funni.. the two couples like to bicker..and for once they cant "XING PING QI HE" and talked... reminds mi and someone...
Oh ya.. in the afternoon i actually wanted to msged Aaron..and guessed who i msged?? My MR A...duhz.. and he replied " Hi this is Aaron Chin here, heng u nv msged other things if not i killed u..blah blah blah" haha i felt so stupid ...heng lor.. i nv flirt wit AARON haha...
Wanna apologise to Baobei and Vic.. srry i cant make it for the gatehring today..coz something last min cropped up.. when i finished it, its already 7plus... Shufen called mi.. asked mi out for dinner..since i haven ate so i went to TM to mit her..
There is this ZA fair there.. bought a foundation and it comes wit a package..so you zhuan dao le.. haha.. went NTUC bought pasta again..tmr going to cook carbonara..hehe for who? MYSELF la.. duhz.. Saw the DA CHANG JIN vcd sets at $50 and i was so so so so tempted to buy it.. but i know if i buy i onli watch a few times then chuck it aside..called up MR A and see what advise he would tell mi...and after wad he said i totally gif up liao.. he said go find got pirated one anot..then he go and buy.. i nearly fainted (yeah its realli just a joke) pengs..
oh ya and i bought a nice dress for my bubu zai(look below for pic)... veri sweet horz.. looked like a little princess.. this gan ma always see nice clothes sure buy for bubu zai de.. hehe.. come to think of it.. i realli miss my baby Charlotte now.. hmmpph...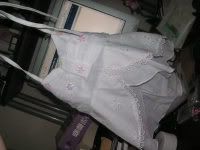 I reached home..and mama told mi that i got a surprise present from someone.. .guess wad is it??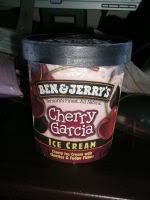 Cherry Garcia!!!!!!
Omg.. its like a dream come true.. my mama said.. kelvin came and delivered the ice-cream to my house.. no wonder he kept calling mi just now to go home early... hehe tks ah my hao jie mei... i tot no one will satisfy my craving de... hehe...
Hao lei.. i wan go savour my nice creamy delicious yummy ice-cream le.. hehe.. can u imagine cherry and ice cream together??? HEAVENLY!!! haha.. gg PS tmr to buy some stuffs from spotlight for the EASTER CELEBRATION this SAT and oso to mit my best fren Charlotte's mummy for lunch.. hmmm gotta wake up early.. yawns... wan an...
Im a happy ger tonite....