Sunday, April 02, 2006'♥
GAYS...
Weekend just passed by like dat.. and dunno since when i started to drag weekends...well for some personal reasons of coz.. well this week for mi is a super long week... nothing much happen..
Suppose to go uncle David BBQ yst.. but becoz of some unforseen circumstances.. i did not go..bu hao yi si wor.. i realli missed the marshmellow man.. haiz..
It's April fool's yst.. so did u all get fooled by anyone?? Damn it no one even tried to fool mi..and im so sad..is it becoz im tooo old le? hehe.. well but i manage to fool some ppl
Yst nite.. veri last min de.. I went KTVing.. with two guys.. one is i see until veri sian liao..but first time went ktv wit him..the other is i onli see him for the first time...and they are....
Yesh ur eyes nv see wrongly.. MR AH JIN.. and his army fren..ASHZ aka Weiliang..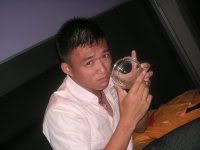 MR Ash and his ASh tray.. oopz forgot he dun like ppl say he is ASH haha..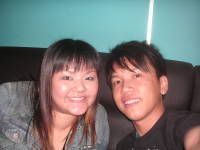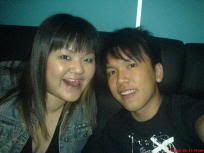 Me and my long long buddy MR AH JIN...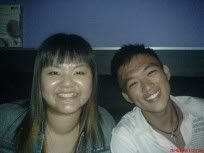 Me and Weiliang..walao dun act shy la.. lol..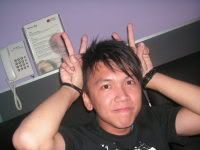 Ya u nv see wrongly.. i cant believe guys like to act cute too..somemore veri zi lian keep taking pics of himself when we are singing haiz..wad can i say?
surprise rite to see this combination?? Esp Ms HAn rite.. ur cute boy lei.. hahaha.. At first i tot Mr Ah Jin is playing his APRIL FOOL's JOKE on mi.. then he said "are u still in primary sch?" diaoz.. haha so we went to KBOX Tamp..
I tink the staff see mi oso sian coz for two consecutive weeks i went there woohooo... Ya its fun singing wit them.. can u imagine.. Weiliang he veri good at singing JIA YING.. better than mi lor.. u know the Jay song rite the huo yuan jia..walao he can sing the opera part veri well lei.. make mi laugh until pengs.. shit i shld haf video tat down and show u all..haha..
Thanks jin for being the joker of nite ..somehow our character are the same..coz ur ONLI YOUNGER THAN MI one DAY!!! lol.. so if i say ur humourous means i am too lol..
Both of them going to TAIWAN on TUE for army field trip le.. PLS AHEM ZI DONG YI DIAN.. mai gei gao hor.. lol..ya will miss u all de provided.. (presents ) lol.. ya i enjoyed myself yst nite.. and dun sing tat WU BAI song hor AH JIN.. u sing until so sucky no feeling at all de..lol
Before i got show u all one video of them singing ba..quite dark but can hear can liao..before tat pls check whether ur window is strong enough ma.. in case they break..Note: that er xin de laughter is mine de.. lol
This song is they sing de yst.. as usual the female part sang by Weiliang..ahha im starting to fall in love with this song le.. its sooo nice...