Sunday, March 26, 2006'♥
永远永远 - 李翊君
一直以为自己可以很坚强
原来和你一样害怕著孤单
没有你的夜晚
星星和我一样彷徨
挂在天上忽明又忽暗
不知不觉窗外的天已变亮
原来醒的时间越来越长
没有你的异乡
只有冷风陪我流浪
我怕我的思念游不过这片海洋
别对我说永远
永远永远
永远是太昂贵的誓言
我握不住也看不见
最后随著浪涛消失不见
别对我说永远
永远永远
永远不是我要的明天
你爱过我就已足够
就算到了最后爱已搁浅
只求你留我在你心田
别对我说永远
永远永远
别对我说永远
永远永远
别对我说永远
永远永远
Thanks Lena for the song.. i love the song alot though its quite an oldies..
Its been long since ive blogged.. but ive been regularly updating on my personal blog..there is so much i wan to say but i just dunno how to express out myself.. well nvm abt tat...
I met out wit Rong today.. She asked mi out when i was happily watching one of the repeated Korean show on the tv...Actually i oredi planned out my NO LIFE day today le.. but then still i decided to mit her since she willing to come tamp mall haha..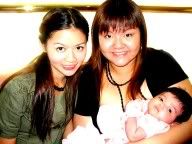 (use this photo as we bth nv take photo today hehe)
Two Lonely woman.. Two No Life Woman.. Two in same SHIT situation woman.. What can we do?? Went for our late lunch at Crystal jade.. yummy!!! thanks to Ms Rong for sponsoring.
Ya i haf found another shitty member for our SHITTY CLUB le.. tat is Ms Rong.. we are as usual dai sai.. We are both in the same type of relationship..so therefore i announce her as the NEW MEMBER...
Daisai= Waste 9.50 to watch a stupid and boring show that her fren recommended.. i realli gonna hack her fren if i saw him again.. we watch V= Vendatta(pardon for the wrong spelling) as i dun even care man.. So Far this is the most shittiest movie i watched this yr.. LONG and BO LIAO LOR.. need to tink and tink.. haiz lucky im clever but MS RONG dun even understand the whole show..diaos..
Went Starbucks after tat for some chilling out cum talking session..haiz.. we even throw coin to decide on something hahah..Going out wit her always make mi laugh.. coz she is one of my best sista..
To RONG:
Do wad ur heart tells u to.. and dun hurt the innocent...hehe..
Yst nite went KBOX wit Kelvin and Ah boy they all.. *got gers ok*...ya so long nv see their names on this blog le hor.. as usual our ktv session is CRAZY.. nv drank alot yst.. but im happy tat i can sing.. coz its been so long that i went KTV... Going ktv wit them is good..coz ill be the onli one singing when they are drinking woohoo..Sang and sang until its 2am.. walao damn freaking fast..i still haf ard 20plus songs haven sing lei.. dun care le..must go again...and talking abt that.. i actually missed going ktv wit ah ber.. Lena they all.. provided they all dun sank into depression la.. and no VODKA ORANGE...kam sia...
Oh ya ive joined a MAKEUP contest in Emerge one the youth events in church mid june.. Im supposed to find a model.. and guessed who i chose?? JASMINE TAN... Lena's sister..hehe cant help but deny she is chio la..(puke, just to make her happy) ya i will be given a photo and im supposed to do the same makeup for Jasmine and chose an outfit that match the make up..GAO NAN DU ba?? all tks to BC who signed mi up while im in BINTAN GREAT?? so from now on must see more magazine le haha.. wonder wads the first prize?? One yr supply of fake eyelashes?? hehe..
Hao le tink i updated enough le.. enjoy reading ba..