Thursday, March 16, 2006'♥
Our First outing..
I was woken up by the chattering voices of ppl.. I woke up and took a look out of the window..its 3.30am then..
Saw two fire engine and a crowd of ppl standing downstairs.. Soon enough.. the police came to knock on our door asking everyone to go evacuate.. my house downstairs was on fire.. thick smoke can be seen at the corridor....my dad went down first.. while mi and mum change our sleeping gown.. but mama is super ridiculous..she even go comb her hair.. go toilet and pee.. by the time we went down.. we were the last.. and everyone from the block look at us as if we are like superstar.. tks mama..
There is this guy ah di who collect cardboard to sell as a form of living.. but he nv came for two days le.. coz he went on holiday (amazing rite.. i tink next time i shld be the one collecting instead) so the fire broke off either ppl throw cigareette butt or the wire too hot le.. resulting in such a big fire.. my whole block was black now.. until level 4 so u can roughly imagine it.. so we stood there like gonggong until the fire subsidies.. pengs..so ppl who smoke pls dont anyhow throw ur ciggie butt hor.. like dat can harm alot of ppl de lor.. xiang dang nian i smoke i make sure the flame went off de lor.. (pls be like mi be considerate ok hehe)
So there goes my beauty slp.. i fell asleep at 5am lucky i took off today coz of the sentosa trip today
Yeah i finally went SENTOSA wit no Dai sainess.. the weather was good man..we bought this package at 25.90..super wu hua lor...
The package includes..
Cable car two way return
The Merlion
Calsberg sky tower
Fort Siloso
Its free and easy lor... so on and off we went to the beach.. Images of singapore and so on... Sentosa realli changes alot and im realli enjoying myself today.. total took 203 photos.. power rite.. haha..
Well i tot i go Sentosa sure got privacy de.. coz wont so heng see familiar ppl.. BUT..who knows.. i saw victor who is my ex member from Gloria Jeans.. and he shouted "Auntie Shirley" damn it...tmd makes mi so malu..tks lei..manage to run away from him coz i was on the tram haha..tot nothing like this would happen when...
I alight from the tram i saw.. Kitty..wit her bf i tink.. omg.. at first i dunno de until she shouted "Eh Kerin" diaoz.. hahha so funni rite.. i didnt know on a weekdays like these so many ppl are so fun de they actually went SENTOSA coz i expected a lesser crowd..
Then we went to THE MERLION.. guess wad.. the ger at the gift shop asked mi.."Hi ur Singaporean rite..I tink i remember seeing u in ITE BISHAN..u from there rite?" GREAT.. my identity once again was exposed pengs..
BUT anyway its good to see frens in an island that u seldom went hahaha.. im super sleepy and tired le.. here goes some of the photos.. haven realli go edit them.. tmr then do ba..or maybe after im back from BINTAN ...yeah will be leaving on SAT to SUN.. hehe
Next week going to be busy week..got Jasmine's chalet.. got tickets from Sufen to go MEDIACORP watch Campus Superstar..omg ADRIANO i soooo sssoooo love u hahaha....
So here goes some of the pics...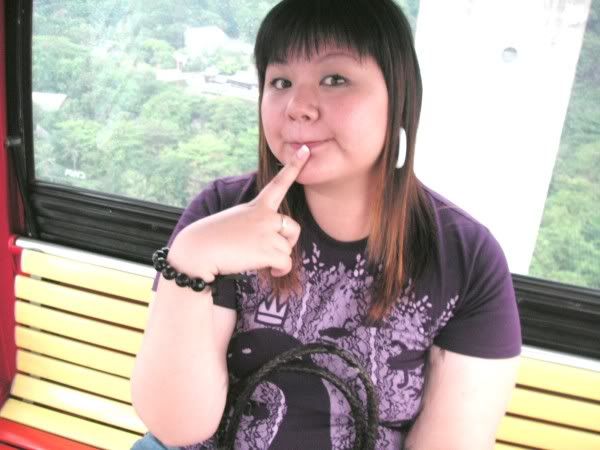 First time taking CABLE CAR wor.. mai chio la..kns hehe..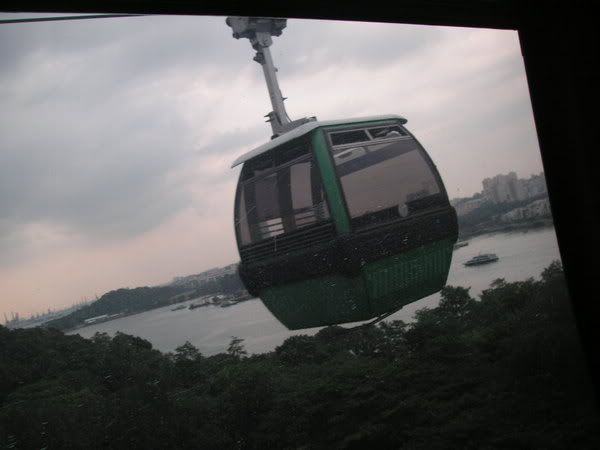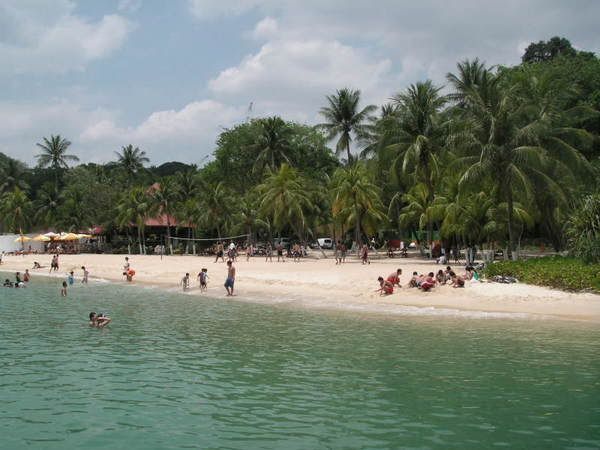 BEACH!!!! a place to relax man.. i love the BEACHHHHHHHHHHHHHHHHHHHH
My backview hehe..
GUess who is he??
ANS : MR A
Us....
Nice bridge outside MERLION
HEHE ok la laoniang super tired and sleepy super buay tong le..upload others photos another day.. pls be patient haha..
Short note:
I realli addicted to DA CHANG JIN le..any kinds souls wan lend mi vcd or sponsor.. pls sms mi hor..hehe