Tuesday, March 07, 2006'♥
MY BKK Trip...
Bu hao yi si now then update.. super lazy and tired after coming back from BKK.. Words to describe the whole trip..
FUN, EXCITING, RELAXING, ENJOYING.. and most importanly.. CHEAP CHEAP CHEAP..things there were so cheap.. we spent whole day shopping and shopping.. and if got chance end of the yr..hope to go there again wor..
Hao le dun waste time le.. let us go straight to the photos ba..
CHANGI AIRPORT..
We boarded SK972 SCANDANAVIA AIRLINES.. hmmm nt bad wor.. at least better than budget airline lor...wanna thank MR A for sending mi off at the airport..hehe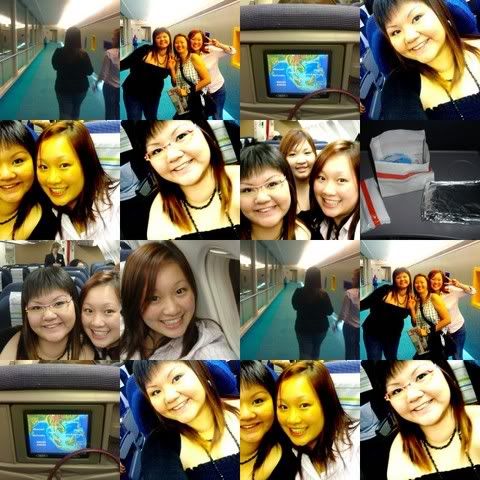 See ba we are so mad taking pics in the plane..and becoz i soooooo long nv take plane le.. jasmine first time taking..so we both veri excited when the plane taking off.. machiam like FINAL DESTINATION 1 like dat hahah..
We reached Bangkok around 1plus in the morning..proceeded to check in at TWIN TOWERS HOTEL.. wah. nt as i expected.. i tot its more sleezy type..who knows its so grand.. yeah.. jasmine and i was so happy wit our rooomm that once we reached we str away jump onto our bed haha..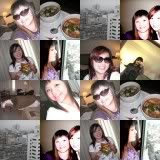 But we did not str away go say bye bye to the night.we ordered the ever famous TOM YUM SOUP at 2 in the morning.. haha mad ba... when the rest was like snoring away lol...
FIRST DAY..PLANTINUM AND MBK
HAd our breakfast.. i surely will miss the scrambled eggs.. yummy.. then we proceeeded to PLANTINUIUM PLAZA.. a newly opened mall.. suppose to go shopping in a grp..but mi and jas tooo excited liao..so we went shopping the both of us.. bought quite alot of stuffs then we took a cab to MBK..The cab in BKK veri power de.. some got GT WINGS lei.. mai siao.. more cabs than private car lor.. hehe..we loved the pink cab so much..but nv got the chance to take it..
MBK to our surprise..quite boring lei..at first we tot can buy alot of stuffs..end up i onli bought a pair of super high heels.. (PS: the gers there all wear super high heels de so power rite).. we had our lunch which consisted of Shark's fin soup and BIRD NEST..real one hor.. there realli veri cheap lor.. love the bird nest so much wor...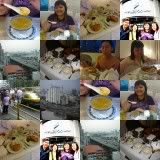 U YES U MAI DRIP UR SALIVA HOR..dun tink i dunno hahaha
Well then our MS Jasmine went to mit her fren TERENCE who is from our church too.. he brought her shopping together wit a thai fren JOY.. hehe i wanted so much to go too BUTTTTT>> my feets are so aching pain lor..shit.. then went back hotel rest rest.. then MS LENA.. called mi asked mi want eat room service ma.. hmm nt a bad idea.. so mi and her and jeff we haf threesome in the room..OHHHH PAISEH iTS eating la.. wad u tinking lol.. shiok rite see the above pictures.. so grand hor the layout of the room service.. i feel like a princss lei
we went to PAT PONG the nite market.. oso famous for ahem..TIGER SHOW>. dunno wad is tiger show?? go and ask ur mama ba.. haha.. walao alot of ppl lei.. tmd.. then they keep pulling us.. yes i mean practically PULLING OUR ARMS grabbing us to go in lor..heng i nv bring camera..later kanna rob...now veri power lei..got MAN SHOW OSO.. tmd so tempted to go and see.. hahahaha.. in the end we oso sian coz the nite market things all the same..so we went back hotel.. and after much discussion ber mi and kenji go and do something veri relaxing.. TMD ask u dun always think so dirty liao lor..
WE go and MASSAGE... wohoo.. my first time lei.. tried the aromatherapy costs us 1000baht but its worth it la... super relaxing.. BUT i keep laughing coz we are suppose to strip naked..and some parts u know..veri de.. u know..itchy ahhahaha.. but then its veri shiok wor.. had a good nite slp that nite..
LONG AWAITED CHATUCHAK
I tell u hor.. if u ever go CHATUCHAK.. u need these...
MONEY... HAIRBAND... TISSUE... CAN OF BEER... FAN... SUNGLASS...SLIPPER...
At first hor i tot ppl are exaggerating lor.. say veri hot.. but when i go there i kanna the power lor..its soooooo big there.. they say must take 2 days to finsih the whole market.. we walked for one whole day..keep buying and buying.. until i know how to say 1-10 in thai power ba..poor terrence jeff..all the guys..they realli lose alot of weight after this trip haha carrying heavy weight for five hours lei.. muscle big big liao..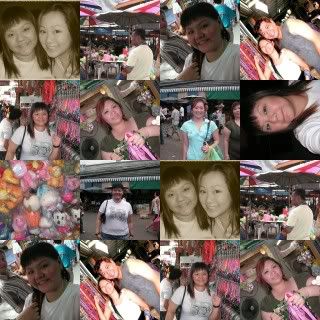 If u asked mi why i nv mention eating .. its becoz we keep shopping that we had no time to eat..the onli thing we sure eat everyday is... PINEAPPLE.. walao the pineapple there super sweet lor..we bought that almost everyday power ba..
After CTC we went back hotel rest and my roomate sleep like a pig.. asked her wake up dunno one day must ask how many times de.. ppl knock door she dunno ppl call she dunno.. everyting is LAO NIANG Do de haiz..hahah then we went to eat at the roadside for dinnner.. nice tom yum again.. so off we go to the MEMORIAL ST nite market...its fun lor.. after tat we went back hotel and str away goooooo MASSAGE again.. yeah.. too shiok liao.. Ber and Me was sooooo ADDICTED to it.. this time we tried the foot massage and THAI MASSAGE... in case u didnt know.. THAI MASSAGE is those will makes ur bone.. CRACK CRACK CRACK de.. wooooooooowwww its so fun when everyone of us are massagging together in the same room...and the massager(haha bu hui spell la..mai laugh la) is so friendly and funni.. everytime she touch certain part then i curled up she will say YANG YANG is it hahahah.. tat day i realli enjoyed myself alot
Mi and Jas went out on our own the next morning..coz the rest went to THAI TEMPLE.. so we went back to our PLANTINUM PLAZA to get stuffs we tat day forgot to buy.. its like amazing race lor..we had to get back to the hotel by 1 1/2 hours time.. so we rushed like mad.. and we finally fulfill my wish le.. TAKE TUKTUK back to hotel...woohoo its so exciting sitting on the TUKTUK and the driver even helped us take photos..hhaah
Reached THAI AIRPORT and realised our plane is delayed..SUPER THANKS.. so we went to a cafe and had some coffee and food... UNCLE KENJI super boliao..u can see in the pic below.. use biscuit and form words lei..diaoz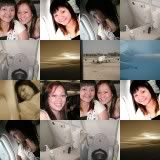 Of coz even though we are going back le.. we still will take pics de..haha..Wanna thank all my frens for letting mi had an enjoyable trip to BKK ..and i realli get to know u guys more.. Esp JASMINE.. the PIG.. and Uncle Kenji ur powerful coffeeshop story.. tat makes us go ..WOW...hahaha lol hope next time got time go trip wit u all again..
I watched FD3 yst and i realised the whole show is damn sian lor.. nt like i expected de.. pratccally the whole show is like the female actor getting splashed by other ppl blood ahhhahaa..so funni.. but who cares abt the movie?? its the companion that is intersting rite?? hehe
Before i go and retire for the nite..laoniang show u all a video i take ba.. NO NO NO
NT my own sex video la.. kns.. hahah