Friday, February 03, 2006'♥
YU SHENG..
Hey peeps for the photos i lazy upload here.. u all can click on FLICKR the one which got alot of my photos in the main page..go there and view ba.. lao niang super tired and lazy nowadays i oso dunno why..ok la let u all haf some preview of it ba..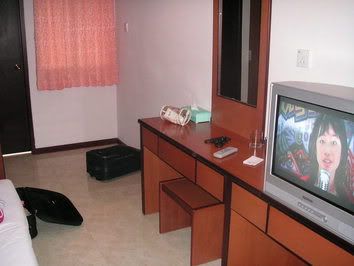 My hotel room..cheap cheap onli 40buckz nia...got discount somemore haha..BATAM veri rich nowadays.. every hotel got put fireworks..nt like us want to see fireworks haf to wait for dunno how many donkey yrs.. i love fireworks man...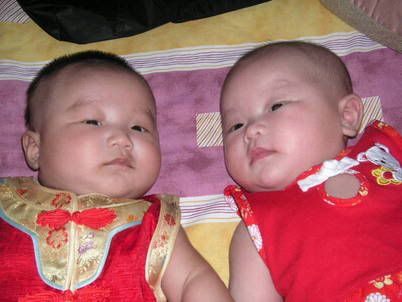 Baby JOVIN and BABY DOMINIC.. they looked like TWINS hor..but they are NOT!!!!! super BUBU COUPLE award haha
Baby DOMINIC sister..TIFFANY..she is soooooooo cute man.. gao zi bi lor in this picture.. i love her hehe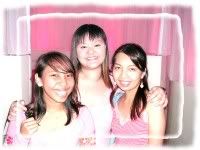 Pinkladies in MOS PURE ROOM.. haha zi lian ba.. nice place to chill out..
Pls go and see the rest of the photos ba.. i lazy upload here le..
03/02/06
This is the third time in the week that im eating yu sheng le.. so pray hard tat this yr lao niang will fa fa fa ba.. karen just bought the gong gong yu sheng from dunno which gong gong coffeeshop and it cost 28.80..wo yao yun le..seriously.. tat day i buy de onli 16 bucks wit nice nice fresh salmon.. diaoz..
SAW from someone;s blog tat THIS YR.. IM GOING TO HAF SETBACK IN LOVE.. argghhh HELPPPPPPPPP!!!!! wadever la.. just go ahead wit my feelings ba..anyway im not in love now.. i enjoy the companionship of a few guy frens..and i tink im happier tat way.. wad for go and mind how i look when i go out wit a guy.. wad for putting so much effort to make up.. wad for deciding wad to wear.. i just want to be the NATURAL ME...from now on.. I AM WHO I AM.. LOVE MI FOR WHAT I AM.. haha.. power rite..
No more UZAP le..i lost the bet of yst socceer damn it.. stupid bullshit.. oh well i nv bet la..relac i onli bet wit my dear bu llshit verbally..haha so fast and vday is coming le.. WHO WANT TO DATE MI OUT??? i KNEW IT..all SIAM RITE???? haiz.. siam nvm just buy the UZAP for mi can le.. lai ma.. bu yao bu hao yi si..
been feeling quite moody these few days.. tink its becoz of PMS ba.. hai hai hai.. oh ya.. tks lena for replying in the tagboard..u finally set my heart at ease le.. i almost lost 2kg coz i lost all my appettite tinking ur angry wit mi..hahah bullshit..but im realli abit affected la.. nvm i promise wont happen tat matter again le.. tks for being my frenn hehe..
Oh ya did i mention i got the EDUSAVE MERIT BURSARY...after graduated for how many donkey months?? mauahha..its a BIG BIG surprise man.. i didnt knew it until SELYN called mi yst nite.. yeh.. got some money liao for BANGKOK to spend hopefully it come before the trip.. Thank God for the blessings..
Oh ya.. Our dear baby bear is going to ROM on 18 Feb..which is also MR BULLSHI's birthday..which is oso a Sat which means i need to go church.. erm...was tinking how to slot in the three activties for tat day..teach mi TIME MANAGEMENT ba..haha might not be going for the ceremony but might be going to the KBOX celebrations after tat..Selyn da jie u better go oso haha.. ya congrats ah fang..finally u and MR JOHN can xin fu de zai yi qi le...
Lastly a song before i go.. by JAY CHOU..love it too much le..
枫歌词
歌手:周杰伦 专辑:十一月的萧邦
曲:周杰伦 词:方文山
乌云在我们心里刻下一块阴影
我聆听沉寂已久的心情
清晰透明 就像美丽的风景
总在回忆里才看的清
被伤透的心能不能够继续爱我
我用力牵起没温度的双手
过往温柔 已经被时间上锁
只剩挥散不去的难过
缓缓掉落的枫叶像思念
我点燃烛火温暖岁末的秋天
极光掠过天边
北风掠过想你的容颜
我把爱烧成了落叶 
却换不回熟悉的那张脸
缓缓掉落的枫叶像思念
为何挽回要赶在冬天来之前
爱你穿越时间 
两行来自秋末的眼泪
让爱渗透了地面  
我要的只是你在我身边
被伤透的心能不能够继续爱我
我用力牵起没温度的双手
过往温柔 已经被时间上锁
只剩挥散不去的难过
在山腰间飘逸的红雨
随着北风凋零 我轻轻摇曳风铃
想 唤醒被遗弃的爱情
雪花已铺满了地 
深怕窗外枫叶已结成冰