Monday, February 27, 2006'♥
My onli happiness..

THE onli thing tat makes mi smile today is...
Dear See Xue Li Shirley,

We wish to inform you that your application status has changed as follows;

* Your application form has been received
* We will notify you of the outcome of your application by post.
(for ITE qualifications - Mar 15; for SPM/STPM - end Mar)

For JPAE application enquiry, please contact your first choice Polytechnic


Thank you,

JPAE Administrator
I know its onli a simple email.. but i just feel happy lor.. at least they tell mi they receive my application..and not LOST IT.. aiyah u all wont understand de la.. 15 MARCH..My future depends on that.. Whether u will see mi on this earth anymore depends on that day..haiz..
Want to ask mi how is my first day at CHAI CHEE??
Great.. first day of work.. in a totally new environment.. totally like a new staff.. totally confused of wad to do.. tats my FIRST DAY AT CHAI CHEE today..
Didnt get to eat my breakfast.. went home at 7.30.. wanted to go trim eyebrow.. but the shop closed.. having gastric pain.. hungry.. TAT goes to show HOW GREAT IS MY DAY today..
Actually put it in simple terms.. one word to summarise the whole day.. SUCKS!!!.. ppl there dun communicate.. too many restrictions.. like to push blame to others.. and most importantly EXCEPT PPL TO WORK OT for the first day.. marvellous rite.. Sk and i were dumbfounded.. SHOCKED.. by the amt of work we had to do.. BUT the others were happily chatting around.. fooling ard.. NOW we KNEW y there is so much backlog to clear.. Was so busy tat i didnt even realise its time to go home.. my breakfast is still in my bag.. veri exaggerating hor? u come and u will know..
I super look forward to my SHORT VACATION on THUR.. cant wait to get out of here.. but at the same time.. i surely will miss someone.. well some of u gave mi the ans for the quiz.. but too bad tats not the ANSWER.. try again ba..
Anyway.. forget abt SENTOSA.. yst wanted to go..but due to someone who is veri daisai.. the weather was like going to rain.. so we cancelled it off..and went TOWN shopping instead..
I bought a watch for myself.. and i loved it so much..onli 9.90 nia so dun gif mi tat " U SPEND ALOT LOOK" thanks.. Went to Lucky Plaza to change THAI BAHT.. all thanks to SOMEONE recommnedation tat tat place rates nt bad.. IN THE END its the worst in the whole ORCHARD lor..tks lei.. both of us brought cam so we took a total of 150plus photos..can u imagine?? oh i realli hope no one will find our cam or steal them..if nt we sure get famous over the net as "PHOTOBITCH" hahaha..
Went to my fav chill out place.. BALCONY.. so nice.. but i itchy hand go order TEQUILLA SUNRISE.. instead of my usual MAGARITTA.. see la.. in the end the drink sux.. reminds mi of VODKA ORANGE.. PUIIIII... i onli drank on e sip.. and i said bye bye to it.. damn!!!!!..
Laoniang super shag le.. so let mi now award u wit our photos yst.. of coz not all la.. u MAD AH??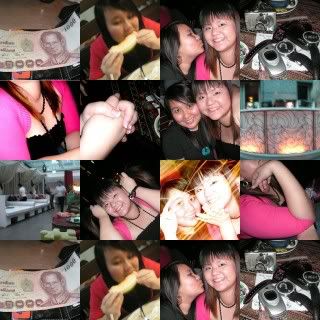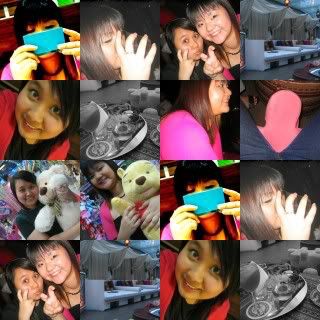 Short note: Whenever im down.. angry i will look at him.. and smile.. he nv fails to make mi smile...He is so powerful..there is nothing that he cant do..


Complete wit this song it will be the MOST perfect Stress Killer on EARTh...LAUGH BA>>>>KAi XING de Xiao Ba...