Saturday, February 11, 2006'♥
I GOT A GOOD FREN...
Im so exhausted after a day trip to JB.. yesh its onli a day.. yet.. we are all so exhausted.. cant imagine..if we go to the BIGGER Newly Shopping Centre next time.. haha..
Met MR Paul at 9am and we took 969 to Woodlands.. thanks to our gong gong fren here.. we actually got down at Admiralty MRT instead of Kranji MRT.. so we had to all mit at WOODLANDS MRT in the end.. THANKS LEI.. haha..
Finally without any unforeseen circumstances.. THE THREE OF US MET!!!! YEAH!!!.. of coz the whole trip is filled wit SUAYNESS and SHITINESS haha..
Yeah we finally reached JB ard 12 noon.. so proceed to CITYSQUARE and eat our brunch.. POKEMON RESTORAN lei.. mai siao siao.. the food was not bad wor..and its soooooooo cheap lor.. ramen which is a veri big bowl for S$7 wor.. we ordered ramen.. while MR PAUL ordered his BENTO.. which in the end we regretted hahaah.. u can see it from the pic its soo yummy haha..then tat bu hui bu hao yi si de TUPPERWARE sao.. HEN HAO YI SI DE take ppl food just like dat.. haha super throw face de lei bring her out hahaha and not to mention HER JIE PINESS.. super jie pi de lor..
After brunch we went decided to watch a movie.. in the end we caught BIG MOMMA HOUSE 2 hahah..Singapore haven show it yet wor.. pls watch its super hilarious lor.. must watch must watch.. then the seats at the cinema damn shiok..its like lying down watching the show..damn it..Singapore should have this kind of seats man.. lol..
After tat show..we finally started our long-awaited shopping trip...like mad woman.. the whole mall was quite crowded.. coz of the JUE DUI SUPERSTAR supporters.. didnt know Malaysia oso bought over the Copyrights from Mediacorp to haf their own jue dui superstart hehe.. hmm some of them nt bad la.. too bad too many ppl le.. we cant stand and watch veri long.. anyway in the end i bought a tee,facial foam from Bodyshop, a t-shirt for BULLSHIT.. coz his gong gong bd coming soon, not to mention BUBBLE GUMS haha.. and a CLEO mag from MALAYSIA.. ok la..im quite happy wit wad i bought..
POOR MS Tupperware and MS HAN.. i just anyhow say onli.. saying the bag they wanted to buy will be the LAST PIECE..who know it realli happens..ahha how i wish 4D can be so zhun oso.. lol.. We went back to Singapore around 6plus.. after eating a SHA REN FANG HUO de Chicken Rice.. whcih is so tmd ex..haha..
Here are some of the photos.. enjoy viewing ba..

Must purposly show u all we went JB before hahaha...



Let laoniang zi lian abit ba...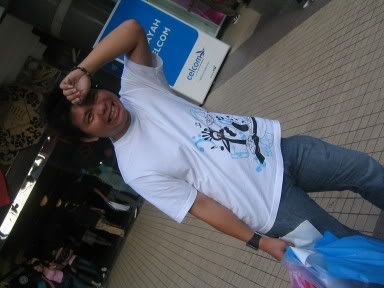 Kelian de Mr Paul help us carrying alot of stuffs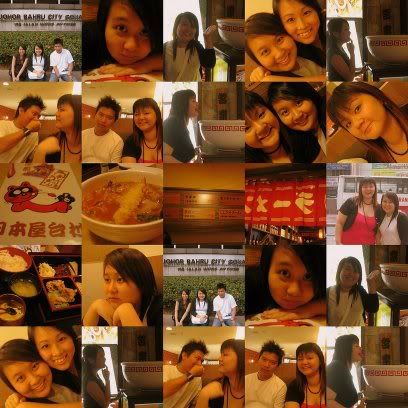 Our JB Trip..... End of story....
Wanna Thank
MR Paul
@ He took a day off for us..to pei us when his client kept calling him .
@ He treated us our brunch and our dinner.. so ex lor..
@ He shop with us without complaining..so patient waiting for us..
@ He walked wit us the whole day.. carrying our stuffs..
@ He protected the three of us (even though it looks like we are protecting him.. ) LOL
Ya lastly just wanna say a big THANK YOU LA.. thanks for all the craps u told us ..thanks for giving us UR PRECIOUS time.. lol..
BUT i said all these because..
I WANT UR MICKEY MOUSE T-SHIRT lor.. ah gong hahhaa..
Oh ya i went poly apply courses le.. my choices are...
1. Business at TP
2. Business Studies at NP
3. Business Admin at SP
4. Busines Management at NYP
5. Marketing at NYP
Pls pray for mi ok.. i love you alll.. im blessed wit a lot of good frens in my lives....
Going to check my bank account le.. see my pay credit le ma..damn...