Sunday, February 26, 2006'♥
GETAWAY...
Having an outing wit Shitty Club member, MS Han in less than 24 hours..onli the two of us.. its a last min thingy.. we decided not to go to the usual Orchard, Suntec for shopping.. coz we might not be able to control our spending habits..
Wanted to go to a place which can save money.. take loads of pictures and fun...
We cracked our brains.. thought of places like the beach.. but its like too far for her.. then neighbourhood shopping malls...whcih is like damn sian.. then.... SUDDENLY.. i tot of a place..
Which is in the Central
Can take super nice pictures there
Have the SEA....
Can wear our sunglasses there
Able to relax and enjoy...
And the place is none other than....
SENTOSA.... yeah man.. Shirley is so clever hor?? been so long since i last went there.. think its at OCT or Sept ba.. anyway.. this time round will be diff.. coz i always go there by car ma.. this time round i requested.....

YESH CABLE CAR.. tell u all one secret hor.. laoniang for the past 22yrs nv sit on CABLE CAR before hor.. nt becoz i scare it will spoilt la.. no chance la.. haha.. TMD so exicted..sure take the scenery de wohoooo...This yr is realli a yr for BREAKTHROUGH man... haha but y so romantic de things i always with the WRONG COMPANY?? lol...
YESH i cant wait man.. think laoniang going to get some beauty slp and get prepared for the adventure tmr le...whooohoo... SENTOSA wo lai le...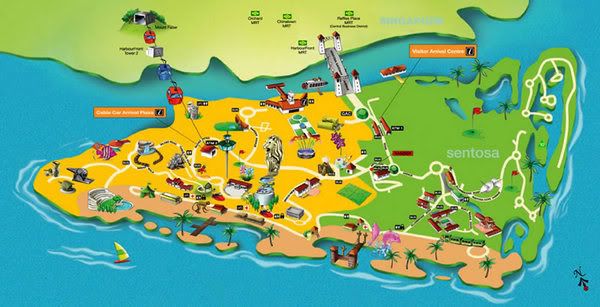 PS: GOD pls dun let it rain tmr.. Xie Xie!!!!!