Wednesday, January 18, 2006'♥
Tian Hui..
Have u ever experienced before the sky is so dark tat u dunno whether it will rain anot?? Same as life.. have u ever experienced before.. tat u dun even know wad will ur future be?? what will ur path be?? where u need to make a decision in a mth's time??
Confused is the word.. I dunno whether should i apply for poly this yr?? or whether should i convert to Permanent and continue working and take up private diploma courses...
Why i dun wan to go poly..
* Three yrs.. and i'll be 25 its nt abt e age actually..but at that three yrs i can earn quite alot of money.. instead of studying
* My parents are old.. yupz a few more yrs and its time for them to retire le.. even now they are complaining abt here pain there pain le.. how cruel will i be.. if i still continue to study and not to provide for the family..im their onlu daughter.. im nt like some other ppl they got older sis and brother to support the family.. my parents seriously needs mi to help out..
* How am i going to survive the sch fees?? my parents got not much CPF left..the onli way is to take a loan.. even if i started working at 25 i still need to repay the loan and support family.. i will sure go berserk de..
Why i go poly??
Onli for one reason.. because of the stupid diploma.. its a practical world...even with diploma the pay is onli like $1400 onwards.. everywhere is diploma.. and diploma...
I dunno i realli dunno .. wad shld i do.. of coz if now im much younger i would haf str away go poly and study.. those of u who know mi..u know tats my dreams..but rite now..things are so complicated.. for those who are studying rite now.. STUDY HARD while ur still young ba.. ive made too many mistakes in my life le.. dun be like mi.. up till now want to study still have to consider so many things..
I thought of getting a diploma from BMC.. i went to enquire the course details together wit LENA and Shundy this afternoon.. course fees ard $1700 but there is a subsidy scheme provided i convert to permanent staff.. its Diploma in Marketing.. will be stuyding PR.. Advertising and SALES.. which is wad i always wished to study..
Im still considering..
Anyway shall update u guys on my shopping spreee today ba.. ya current status : SUPER BROKE.. lucky chinese new yr is 10days away.. pls donate some of ur ang pow to mi ba...
Went to this SALES wit LENA and her sis JASMINE.. its near bras basah..and every clothes is selling at $3 per piece.. reached there ard 10.30(sales started at 9.30) u can imagine the amt of ppl in there.. mostly ahem..big sized girls la.. so we quickly chiong to find and dig for our stuffs.. below are the pics..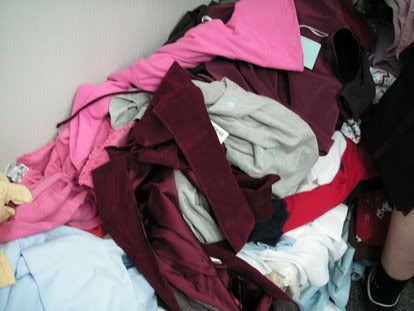 see its so messy the whole place...
Dear jasmine..pls zhu yi ur yi tai.. dun keep digging and digging like an auntie hehe...
The two lovely sisters..in the midst of all the clothes...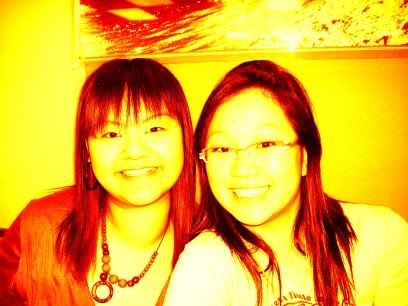 Me wit Jasmine xiao jie
WE found so much stuffs that we used a box to put in our stuffs as our hands is to tired to carry all le.. .mad rite..dun gif us this look.. alot of ppl buy boxes home lor..we onli carry plastic bags hor..
Total..I bought six pieces 18 bucks nia.. two were free coz of the marking..so good rite they gave it for free.. ya quite alot of pyjamas there.. and sportswear..but i manage to dig out a capri pants there..wohoo.. its fun.. coz we gt to know some frens there..and we keep sharing what we dun wan to ppl..vice versa....
I loved this sweater the most lor.. coz its so sweet and the best thing is its $3 nia haha..
My pile of clothes.. oops i didnt know i bought so much pinkish stuffs..arghghh...
After tat went Lena's house coz she bought alot and cant take it out for shopping lor.. first time went her house not bad wor.. saw COCO and JUNIOR.. i screamed..when COCO was near me.. coz im afraid of dogs..and she is super hyper de..she ran so fast and im not prepared haha.. after awhile i got used to it.. haha.. actually they quite cute la.. and PS: LENA stop hiting ur COCO i might report u to SPCA hahhaa...
Lena and her coco...
Laoniang wit COCO.. haha finally nt scared of her le..
Me wit junior..he super cute de.. run here and there..wit the small small tail.. like MOUSSEY.. PS: ah ber pls BATHE HIM !!! he is stinko lor.. so smelly.. two wks nv BATH U KNOW.. hahaa
Then we went to mit SHUNDY.. well well she is the lao baniang of the nice nice strawsbag.. her shop is in BUGIS VILLAGE SECOND FLOOR.. pls go duo duo zhi chi.. loved all her bags there.. we went BMC..coz the both of them enrolling for DIP in ACCOUNTING.. woohoo congrats ah.. finally can study le..LENA JIA YOU JIA YOU..
THen went to ICA and collect my new passports.. let's take a look at the difference ba...
1996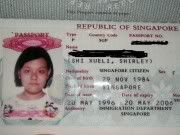 No la this is not ur MARIA from Phillippines la..its LAONIANG when im P6 ok.. tmd chao lao..
2006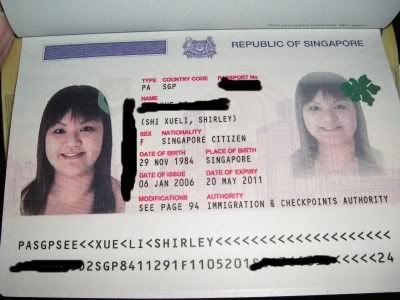 Better liao hor.. i just loved the auntie at LEVEL 5 but our pooor MS HAN she went and auntie on holiday muahhaa..how shit can she be??
Went BUGIS village after tat.. bought a denim skirt and a tube and i loved it alot..tks to LENA good recommendation.. after all had a great day of shopping im so tired man..sian tmr got to wk again..somemore auditors coming..duhz..
PS: LENA jia you jia you.. ni xing de.. be strong ok.. hope the BKK trip will cheer u up.. dun forget frens are always here de...
PS: MS HAN my baby weisi's daddy bought BA KWA for us.. and nv cut to small small pieces hor.. a big square one..so shiok man..im eating it as im typing now.. dun jealous wor.. hahaa...