Sunday, January 08, 2006'♥
RaiNy SuNDay....
Yoohoo.. wad a cold and nice to sleep sunday.. I slept until 11.30am then wake up.. jealous ba..Miss Han..the weather is so good that i did not want to wake up..It's been raining since yst...i wonder is our reservoirs FULL wit water le ma??
Anyway wanna congratulate AH LENG jie today.. coz its her wedding.. FYI she's my best fren's de da jie.. last time we veri scared of her de.. she did invite mi for da wedding today but..laoniang no money so nv go..hehee..anyway just smsed her my greetings...
Well well well let mi blog abt yst Shopping SPREE wit MISS HAN ba...
We are suppose to mit at 5pm...and one of my new yr resolution is to be PUNCTUAL..so i reached tere ard 4.45pm..called MISS HAN..and guessed wad..SHE JUST BOARDED the train..woooo HOW GREAT..so in the end laoniang went shopping alone.. luckily LIAN came and passed mi the stuffs we ordered for TORRID.. she's going for her hair appt..hehe.tks ger..
Shop halfway finally MISS HAN arrived so we started our shopping spree for new yr's clothes.. actually i still got two more which haven arrived so i dun intend to buy alot yst.. went MILADY and we each bought a BLOUSE.. i like mine wit the flowers de..BUT LATER I ABIT HOU HUI haiz..read on ba..
We happened to pass by this shop and MISS HAN is looking at the coat there..so i just waited for her and browsed thru the stuffs there.. THEN THIS KILLER AUNTIE came and stuff mi wit alot of blouse.. and not to mention the ALI BABA PANTS..tks MISS HAN FOR choosing a shop tat the auntie is so ENTHU...walao all the blouse so er xing lor.. i went to the fitting room without trying any..haha. i onli tired on the ali baba pants.. ok la.. so i bought it...BUT when i went home just now i tried again.. i tink not nice.. so WHO WANT ALI BABA pants..pls TAG mi.. i can sell u at a cheaper price.. duhz.. if nt i wear for sleeping ba..haha..
Finally struggled our way out of the PIRATE shop haha.. then we went shop shop ard.. can u imagine the whole day we were in FAR EAST..duhz.. then went up to level 2..saw a top which is nice..BUT THE FLOWER IS THE SAME AS THE ONE I BOUGHT IN MILADY...hur hur... tried to psycho the auntie to change the flower but she said cannot.. but i realli like the top how?? SO IN THE END LAONIANG bought the TOP and i got one more extra flower..duhs..maybe i shld set up an auction booth in yahoo.. i got so many stuffs to sell..haha i will if i get my digi cam first lol..
Then i bought a bag...Miss HAn bought a pair of sweet heels..(i meant the heels u see)...so tired after one whole day of shopping.. total EXPENSES..
$108!!!!!... arrgghhh.. nvm i tink i will be more hardworking in chinese new yr.. go more house to PAY VISIT haha.. pls ask all ur mama to be at home ok...
We went THE BALCONY at HEEREN..been wanting to go there le since it first opened...woohoo wad i can said its ITS SO NICE..the atmosphere is good, the drinks great and the sofa is so comfy wit big cushion..DIDNT took much pics..coz tat Someone did nt brought her cam haha.. onli used her hp to take some pics..
I ordered Magarita, while she ordered ICED MOCHA..haha budget..the finger food there was nt too bad la..but ex..haha..then we began chatting abt our previous POST..primary sch days..omg.. we were laughing like mad woman in there.. THE LOUDEST Though.. told her my hao wai..which i nv blogged out..tmd paiseh.. then suddenly i tot of MR PAUL aka FABIAN TEO.. so i called him... some ppl veri NO LIFE..slacking at home.. asked him to join us.. and he realli came..
He ordered magarita copy cat..i meant he is a copy cat la..nt there is a drink called magarita copy cat haha.. then we chattted and he nv failed to entertain us wit HIS SHITTY ISSUE too haaha.. so funny.. ya tks ah coming here and entertain us all the way..xin ku ni le..
MR PAUL was hungry so we went CUPPAGE there for supper at a SUPER SWEET TEH TARIK stall..arghh.. miss han made the RIGHT choice of ordering ROTI PRATA..we both orderd shitty stuff.. MAGGIE MEE.. which mama's is still the best..we discussed abt our BANGKOK trip there.. asked him along too.. MAIN PURPOSE is to help us CARRY STUFFS BACK hahah..so jian rite.. hope he will be able to take off ba.. so NOW AHEM MS HAN and I will try our best to save money wohoo..shopping shopping..and hopefully lian and her fren can join us..coz they veri familar wit the place..oh ya if everything turns out well we will be going on 13FEB and spent our VDAY there..REASON..TAO Bi la..still got wad..scared tat when we see couples here we might KILLED them haha..
Sent MS han to take her super long awaited bus.. then both of us took cab home.. tks ah MR PAUL..for sponsoring cab fare..hehe heng we both live near.. poor MS HAN she must be cursing and swearing for living in BOON LAY rite hehe..
ok PHOTOS time..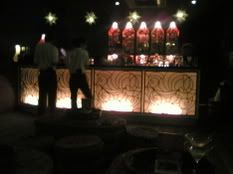 Nice lighting we got at BALCONY...
Using Miss Han's phone.. wit no flash and the lighting sucks haha..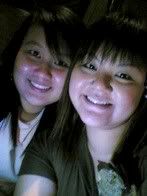 Jiu ming en ren lai le.. he saved us wit his FLASH..haha..
Last pic of the day wohoo..i simply loved balcony...
Yeah ..few more days to my DIGI CAM..and i cant believe it on FRIDAY mi jie asked mi to accompany her for her new yr clothes shopping spree..SHIET@@ thou shall not be tempted hehe..
Sian MON BLUES..and MILK went on leave which leaves me to be wit GAN CHIONG SPIDER..argghh i shrugged at tat thought.. oh ya forgot to thank MILK tat day she sent mi home wit her nicenice Honda civic SIR...wit sunroof wor..orite.orite hope tmr will be a bettter day.. afterall TUES is OFF..whoohoo will be miting 7 sista hopefully for dinner ba..
AND MISS HAN PLS CONFIRM UR ATTENDANCE FOR OUR COUSSIE DINNER WIT MS TUPPERWARE
thank you..so we can RSVP as soon as possible..did i mention MOS is having EVENT again on MON NITE.. damn it
THOU SHALL NT BE TEMPTED..