Wednesday, January 04, 2006'♥
P.M.S
Is it becoz of PMS.. or is it or other stupid things..tat recently so many ppl pissed mi off.. wit their actions...attitude.. Ya who dun haf attitude..ME oso haf ma.. BUT pls dun vent ur ANGER on ME when ur SUPER STRESS..as if im ur granny i shld be there to gif u sweets when u roll on the floor and throw tantrums..Pls dun say sacarstic remarks and act as if THE WHOLE WORLD onli U HAVE THE ACCESS to some CERTAIN info when someone ask u something..
Well ENOUGH.. its the starting of a new yr.. so maybe i shld TAKE A DEEP BREATH>>and count to 20 ...tats wad MISS SELYN is asking mi to do.. when i complain to her tat day.. Well i certainly haf to thank you for being the LAST MIN EXTRA..hehe.. watch ELIZABETH TOWN and its a nice show..simple and sweet...
OH YA did i mention my husband is starring as the MALE LEAD ACTOR? MR BLOOM.. we just had our honeymoon over at STATES and he asked mi to fly back here first.. anyway I LOVE U BLOOM...
Pics are here for the countodwn party at DEVIL"S ..but thks to LAO CHEK fren he deleted some.. or i meant MOST OF IT..due to lack of MEMORY SPACE.. I SWEAR im going to buy a SUPER DUPER BIG mEMORY CARD if i got the CAMERA.. DAMN IT..so we are onli left wit TWO OR THREE PATHETIC SHOTS...arghh..nevertheless.. HERE THEY ARE...
THE FOUR WOMANs...or i shld rephrase MAD WOMAN in DB.. if u happen to see us again in DB.. pls runaway ..we are realli crazy tat nite...
ME and my beloved LAOCHEK.. and his...ermmmmm FREN BRYAN..(im still angry wit the photos thingy)...Pardon us for being SILLY here...
LAST BUT NOT LEAST>> EXTRA EXTRA SEE ALL ABT IT>....
WE caught two gays on the camera at DB tat day.. super disgusted by their actions man..trying to KISS when everyone is there...Shhhh..dun tell anyone we caught them on camera..if nt later they SUE me hor....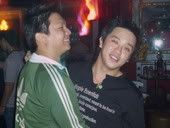 Of couse in order to protect their privacy we had decided to only upload the one they are HUGGING TOGETHER.. if nt my head sure ROLL>.next time no more FREE TREATS liao hehe...
tmr miting the SHITTY CLUB..hopefully we will be able to catch up wit each other..and enjoy..
LET 2006 be a NEW YR.. let every bad thing that happen BE FORGOTTEN AND FORGIVEN....