Tuesday, January 10, 2006'♥
After Five....
Yst when i reached my workplace..i almost fainted...210 passbooks waiting for mi.. diaoz..its nt abt the amt of passbooks..its..Y DOES THIS HAPPEN WHEN IM WORKING WIT MISS GAN CHIIONG SPIDER?? duhz.. first time hit so high de record ok.. damn..stress.. and TKS TO MISS GAN CHIONG SPIDER"S suayness.. the printer got stuck.. her com spoilt.. thks seriously.. so it was delay for a moment.. I told her.. "eh how suay can u be (in a jokingly manner)?" She replied "Haiz im always so suay de..everytime i do sure got things happen." Then from then on.. I NAMED HER DAI SAI QUEEN..lolz.. but in the end after the two of us sacrificing our lunch hour.. we manged to finish it on time.. THANK GOD!!1 i dun wanna do OT OK..Lunch was just cup noodles how sad rite..
There is suppose to be an ANNUAL COUSIN's MEETING yst.. BUT>....
DUE TO UNFORSEEN CIRCUMSTANCES
this time nt my fault le..haha Ms Tupperware cant make it.. (PLS GO AND ORGANISE ONE QUICK.. though its CURSED tat we cant mit always) .. but nonetheless..the two of us mi and MS HAN carried on our usual plan.. Coz THE EVE of a holiday is veri precious to WOKING PPL like us.. hehe dun wanna stay at home and rot man..
So we went to CAN CAFE... its a quite vintage kinda of cafe.. there were lots of poster of last time de singers.. and to my disappointment MS HAN CANT RECONGISE MR MICHAEL JACKSON..coz her nian dai de ..all onli see him wearing sunglass and nv show the full face...BUT its so blooody obvious its him.. AFTER HE ahem.. TRANSFIGURE.. tmd she keep wanting to argue wit mi..lao niang ke shi got listen to his songs de ok in the past.. and in order to PROVE how gong she is..and IM NOT LYING TO HER.. lets see how do MICHAEL JACKSON look like in the past..
GOT A SHOCKED LE BA?? hehe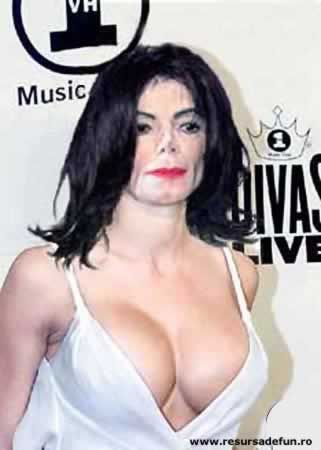 MORE POWER RITE??
So Miss HAN pls transfer one dollar to my account ba ..tks ..hhaa
Anyway.. after can cafe mi jie my cousin msged mi..she asked mi wan to AFTER 5 ma the pub which one of my aunties open de.. so since we had nothing to do...we went.. Before tat saw the porridge stall near there..tmd suddenly got the urge..so we ordered a few dish.. omg Porridge is the best thing to eat when u got hangover...when ur poor.. when u nt veri hungry.. shiok lei..hehe
Reached tere ard 10 plus.. saw most of my cousin yst.. Dajie came to Singapore coz Jovin need to check doctor.. i still haven seen this Biao Niece of mine..saw from the hp..she is so bubu cute.and she shares the same chinese birthday wit mi..hopefully her life will nt be as shit as mine haha.. so i aske da jie.. WHY U CHONG CHU JIANG HU?? then she said no la..i onli XIA SHAN CAI YAO.. (which means long long time comeout walk walk onli) haha.. but the crowd in AFTER 5 yst was abit...erm.OLD??.. coz the last time i went at least better..yst is so crowded.. maybe becoz of one the UNCLE's Birthday..the whole pub celebrated for him...and he gave us his Birthday cake from BREAD TALK..friendly uncle who smiled to everyone..haha
Was telling wawa now u know my family's background so complicated ba.. One side always fight de(my dad's side all my uncles all ah bengs de) another side always Drink de (they drink Chivas like drinking water)...so im neutral haha.. And both of us onli drink green tea yst haha.. though someone was quite tempted to.. but she didnt coz today she needs to wake up early.. Wonder when we are 30 or 40 yrs old will we stil be clubbing like those uncles and aunties...haha i tink maybe lor.. coz they seems so happy like dat.. but anyway coz we nv drink and smoke, we feel like a fool yst haha.. doing nothing except eating tidbits.. and sing two songs onli..coz of the stupid mic.. i tink WAYNE purposly dun let us sing so loud when its our turn hahah.. orite then pics up now..
Me and Da jie.. my fav cousin..hehe too bad now she gt family le..so seldom joined us le..hehhe..
Me and er jie.. da jie's younger sis..they looked alike ma?? and her new bf joined us too..He looked like AH XIn from SHIN haha..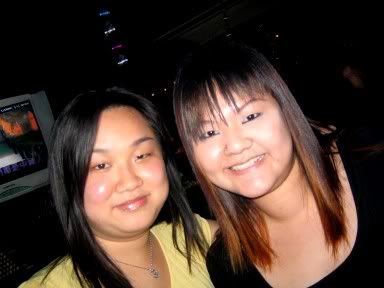 Me and mi jie.. my clubbing khaki..always jio mi here and there de..
Me and u know who liao la.. see oso sian rite the face..so many times haha. she is from my dad's side de...relationship cant be defined haha..
Killer chivas haha.. their plain water.. yucks i cant stand de smell anymore nowadays...
Caught in action liao la.. u see stil wan jia jia strike pose .lol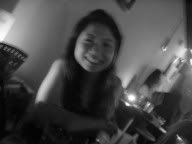 Er jie alone.. chio hor...
Lao niang alone.. hmmm no comments pls haha..
Me and Ms han again.. coz we simply got NOTHING to do there...
Haha anyway glad to see my cousins yst..although still alot nv turned up.. but when i buy digi cam le.. new yr i go back snap snap snap for u all to see ba..hahaha...
sian ah..these few days keep raining.. duhz.. spoilt my mood of going out.. rain rain go away..come again another time..
Lastly..
happy hari raya haji..