Monday, November 07, 2005'♥
IT'S NOT LV....
Frens have been asking mi..y are u so sad becoz ur bag is lost?? it's nt as if its a LV bag... y bother so much.. since its lost liao.. haiz.. ya la maybe im being abit emotional over a bag.. but i realli loved it alot ma..who says a human cant love a bag neh?? Hao bu rong yi found it..and its the last piece and i asked the staff purposly to transfer it from Marina Square to Century Square lor.. u know how much effort is it ma?? and yet.. i onli used it for two days.. haiz... i rather the person who took the bag..return it to mi.. u can take everthing lor.. just return my bag and IC pls....
Dun wish to blog so much.. below are some photos...
Me and Wendy in KTV tat nite.. tks for taking care of mi wor..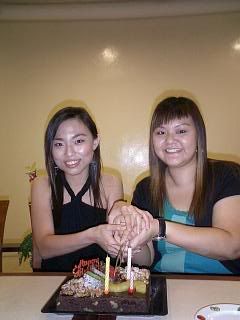 Our birthday Celebration...Mine is still early la..hehe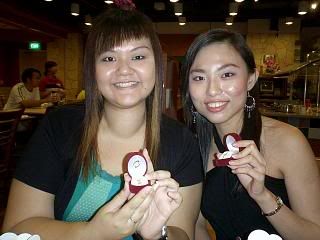 Present time!! They propose to us.. cant see the present actually its gold pendant wit key wor.. IM FREE!!!...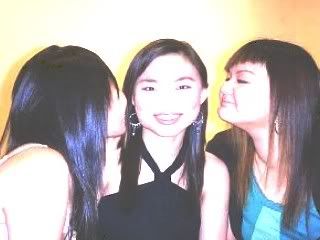 kanna kiss by mi xing fu rite u.. Paranoid Queen...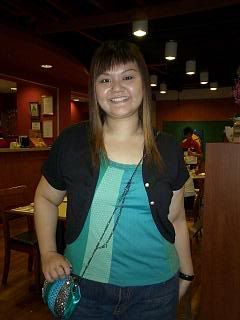 Me and my beloved bag.. haiz.. if saw pls tell mi..rewards will be given..
Orite im lazy to post liao oso.. lazy to do anything.. just came home after watching ZAI SHUO YI CI AI NI.. Andy Lau show.. veri nice nice nice.. although i didnt cry la.. there were couples everywhere.and due to weekday u can realli count how many couples are there...guess who i watched it wit?? i met Andrew to watch it.. Remember the DATE thingy?? ya our FIRST DATE..no worries ok.. we are FRENS...but anyway back to the show...ANDY LAU is sooooo man.. and im falling in love wit him le.. seriously lor.. he so shuai.. and so romantic in the movie.. shld go and watch ok.. recommended by mi.. but pls choose cinema which dun haf so much couples.. veri sian de lei.. where all the gers will lie on their bf shoulders.. argghhh
Its been long since im at home le...its been long since i had home cooked food.. im always outside.. running away ...away from reality...