Saturday, September 24, 2005'♥
<<<<
>>>>


Due to the influence of AH JIN...I'VE been addicted to MAC delivery le... haha..yst nite nv had dinner.. reached home super de hungry... so i picked up my courage and dialed the number haha... before dat i consulted AH JIN on the procedure..its good to have a mastercard..lolz.. i dun wan to eat too much (in fact supper its oredi consider eating alot)haha contridicting rite.. anyway i order a HAPPY MEAL SET...after half an hour of consideration...

so WHY HAPPY MEAL?????

$$ its cheap
$$ its not too full
$$ somemore im still young ma

MOST IMPORTANTLY... GOT FREE TOY>>>yeahhhhhhh where to get such cheap deal u tell mi?? haha of coz onli happy meal provides u wit tat happiness and surprise..hehehe.. abit paiseh la.imagine the operator must have tot this siao eh so old liao still buy happy meal..but who cares hahaa...

waited for ard 30 mins then my meal finally came.. wanted to took photos of it..but before i knew it..i gobbled up all of it liao..onli left the sole survivor... tat is....





Grimace...look at his gong gong face like so bu yuan yi to take photos like dat...but i still FORCED HIM TO TAKE!!!!! do he have a choice?? HELL NO!!!!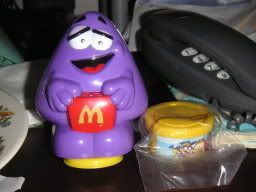 lols... anyway its a play doh thingy.. u put inside his butt there comes the fries out of his hand..damn gross rite..tink it shouldnt be allowed for kids to play.. coz its... ahem..wad if kids took their shit and make to fries??? orite im being LAME here..

Was chatting on msn then ALLAN came and msged mi.. eh y u nv jio mi go momo.. funny qns.. normally i would reply.. hehe forget lor...



but today i reply....


U????? HOW I KNOW U GOT GO MOMO??? u tink I GOT a SCHEDULE OF WHO GOING WHERE MEH!!! wooohooo damn fierce lei.. i tink he got a shock.. y did i response like dat....reason is because...

**** tat time i jio him he pangseh mi....
**** when he got drunk he always say he like mi...
**** veri de yaya got money....

so i came to a conclusion tat y shld i bother to jio him....hahahaaaa...

ORite dun worry its still a good day for mi.. gonna mit ex chairman and tupperware later.. for KSTER session.. we always change plans de la. diaoz.. mititng them at boon lay mrt..better dun be late hor..(always im the one) all my frens knew tat.. but lao niang today will TRY DE...i mean try my best to be early de...jio tat ah jin go..u know wad he say?? i scare i go wit u all i dun have the chance to hold the mic.. orite...well said.. 100 pts to Griffindor... ahhaha ya u wont get a chance seriously..coz we are oredi fighting wit each other.. dun be surprised if u see our pics on the newspapers hahaha...

Lao niang going to go makeup le.. veri vain hor.. hehe.. tats mi.. if u are shocked to see tat.. GO OUT WIT MI MORE BA>>>>

Orite here are the list of frens i missed...

@ SELYN
@ MI JIE
@ YONG SHUN
@ BAOBEI
@ AARON..both harrypotter and jie mei
@ TRICIA


dun worry if ur not in the list.. coz i now stomache want go shit le..so i cant type alot..orite orite..miss u k.. muackz...