Saturday, September 24, 2005'♥
Not going to write so much tired lei..so i shall comment the photos one by one ba...
Ya overall the whole retreat is fun...of coz with the companion of my beloved baobei.. we stil cant get over the fact tat we are leaving..but i tink we shall saved now to make it a monthly affair..oopz did i meant affair?? haha coz its so cheap..the hotel is great... the neighbours are even greater.. haha so i gave 4 over 5 stars man..
Lets keep the drum rolling.....
WHEN WE JUST REACHED>>>>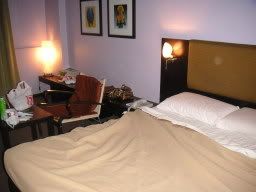 This is our room..haha srry abit luan la..coz hor we were so excited tat we roll here and there on the bed..this room is spacious..actually the hotel staff gave us the wrong room at first...its much prettier..but of coz we both like to snuggle together so we requested for a QUEEN size bedroom haha but its still nt tat bad wor...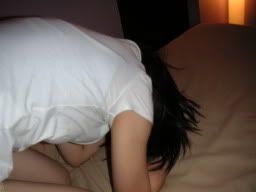 Hmm..the moment she stepped in the room she shouted, screamed, and oso worship the bed.. i tink she is pratically mad.. too bad cam is low batt tat time.. poor neighbours they must have tot we did something immoral there..hahah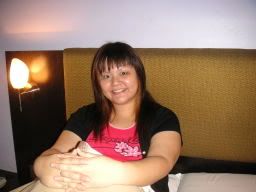 Lao niang on the bed..hehehe

Its pom pom time.. time to get ready for clubbin le..nice hor somemore got bathtub lei..HOTEL 81 dun have at all hehee...
GETTING READY FOR CLUBBING>>>>>

Baobei..COOL RITE>>>>

not to mention LAO NIANG la..hehehe
MOMO TIME>>>>>

mi and Jiwan(STEPH) Baobei's fren....

Three Muskerteers....

WE again.. wooHOOOO...
MOMO was nice...esp the songs.. the whole place is nicely renovated esp the TOILETS...got small cushion for us ladies to sit.. so good lor..imagine wear heels until the feet so painful le.. but the crowd is toooooooo mcuh le yst.. it was so stuffy.. but we did enjoy ourselves la... saw ah ru's fren there.. jocelyn oso got went.. but in the end we lost them..haha.. its so nice to be single..u can know anyone..wit no obligation.. lolz
After clubbin baobei and i rushed back to hotel..coz we buay tahan liaoo so tired.. went 7-11 buy cup noodles.. and in the lift saw one couple.. ard our age..the guy face was so drunk and red.. haha had a little chat then i said bye bye to them... i tink im abit mad too..as if im their fren.. woohoo.. its so nice to step back to hotel.. so cosy and cooling.. Kelvin called mi.. and asked mi hows life in hotel..haha then his fren ah boy..whom i nv knew came and snatched his phone and chatted wit mi for a while..so now i got one more new fren le..haha.. veri de ah beng de...

We are so sad reluctant to know tat are leaving..tat sucidal thoughts are on our mind.. after checkingout we went for our breakfast..then we went our seperate ways..baobei i missed u..hehee.. went home put my stuff.. didnt even had a chance to rest..then i went to mit sufen..she took half day off just to mit mi go shpping.. so i shall not disappoint her.. spare mi of all the typing.. here are the photos haha...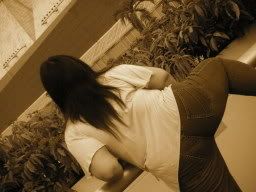 Oh Man.. Bu yao ZHU ZHI wo... haha DEPRESSION LEI>>>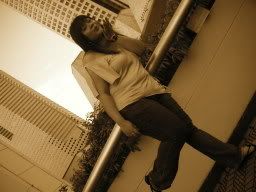 DO i lOOK LIKE OSTRICH?? haha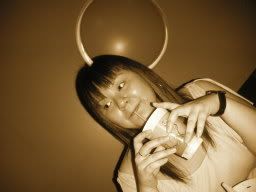 The I DUN GIVE A DAMN LOOK hahahaa....
Mi and SUFEN MUMMY hahaha...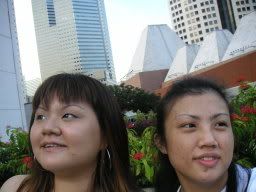 Artisitc hor.. this place gt alot of memories de lei..haha guo qu rang ta guo qu...
ORite la..laoniang tired le.. anyway..tats abt it all.. enojy myself these two days.. how i dragged MONDAY..hehe tmr will be miting cindy tupperware for dinner hopefully tat ex chairman can join us.. hehe..miss u guys...