Tuesday, September 06, 2005'♥
Haha im i in a dangerous position when i blogged this out.. haha coz if the person saw it sure kill mi de.. lolz..
Going to post up my god daughter pics on her full month celebration.. and her mum which is my best fren.. keep reminding not to show her pic.. if not she sure kill mi.. but....
I DUN CARE HAHAHHAHAHHAAH... i cross my finger tat she wont find out abt this lol..
orite this is my cute little god daughter wit her daddy..(look so much Alike)
She look like indian hor?? hehe so bubu de face...
Now for the dangerous PART... mummy and daughter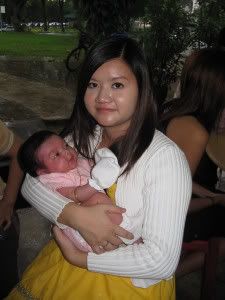 So conclusion she look like who neh?? i seriously tink she look like her daddy do u tink so??
Today was a normal day at work.. been relaxing myself while working..coz too bo liao le.. onli need to key in Earmark.. so happened tat ah zhu called mi so we chatted for half an hour.. recommend her to my co too.. tink i can be an agent myself le.. i have recommend so much ppl tat rose tot tat i have so many frens..hahaha
after work met up wit xiaohan..as usual alot of siao siao thing will happen.. pls refer to her gong gong blog for more details.. we went Genki Sushi for dinner.. the chef have attitude problem..
Then we went To Sasa..bought some mask..old liao must bao yang abit..haha..after tat i dun wan to blog liao..coz its simply to paiseh le..anyway tks xiao han for saving mi.. muazk.. tupperware when u free?? we are waiting for u lei.. everytimg we go out to eat.. will tink of u lei.. tink of u wit all the books infront of u..oooppps so sad.. ahhah how evil am i man?
orite going to do my mask le.. tmr will be a better day.. pay day is three more days to go.. and i will go and shop shop shop...nonnononono i will go and save save save...'
~~~tried to accept but our thinking is realli different~~~~