Monday, August 15, 2005'♥
First part of the day did not went veri well..felt like crying in the office man.. i made some silly mistakes.. which i shouldnt coz im working in a bank..and bank is veri particular abt minor mistakes.. duhz.. luckily Cheryl helped mi wit it.. she asked mi to stay calmed.. and when Suihaila came back from lunch i tot she would scold mi...but lucky she did not..instead she helped mi.. thank GOD for tat.. maybe coz yst i did not slept well ba.. keep waking up in the middle of the nite.. i oso dunno y..too stress??? coz i know today monday sure veri busy de..
I promise to be more careful le..and to slp early now...
The horoscope in friendster is veri accurate..it depicts wads happening in my life everyday...what it says for today:
Ah, responsibilities. We all have to deal with them. This just happens to be your day. Pay close attention to the details surrounding a project you're working on. Something small may represent the key turning point.

After work Jo came to wait for mi at my workplace.. today he booked out.. so wanna jio mi out.. missed him so much..he realli brightens up my day and he looked so different le.. in fact we both looked so different le.. then Mary and Angela came and tat mad Jo suddenly said he felt like eating sushi..we were all shocked haha..then he go withdraw money..(at first tot he joking)realli hor.. haha..then we went to Sakae Sushi..so long i nv been there liao.. and we ate until 74 buckz lor.. wow can u imagine he treated us all man.. now is his time to bao da mi liao..xiang dang nian..i always bought things for him.. treated him to eat wooohooo.. so glad and he realli did mature abit..i mean abit nia.. tmr is his first yr anniversary wit gigi.. woo so fast man.. and im happy for him..although jo talked nonsense abt wanting to break soon..i sure slapped him if he do tat.. tink he joking onli ba..hahah wadever.. cherish ur loved ones ba before they left u.. hur hur..speak right from my heart lei..
see how differnt we looked last time and now...(argh my face so disgusting)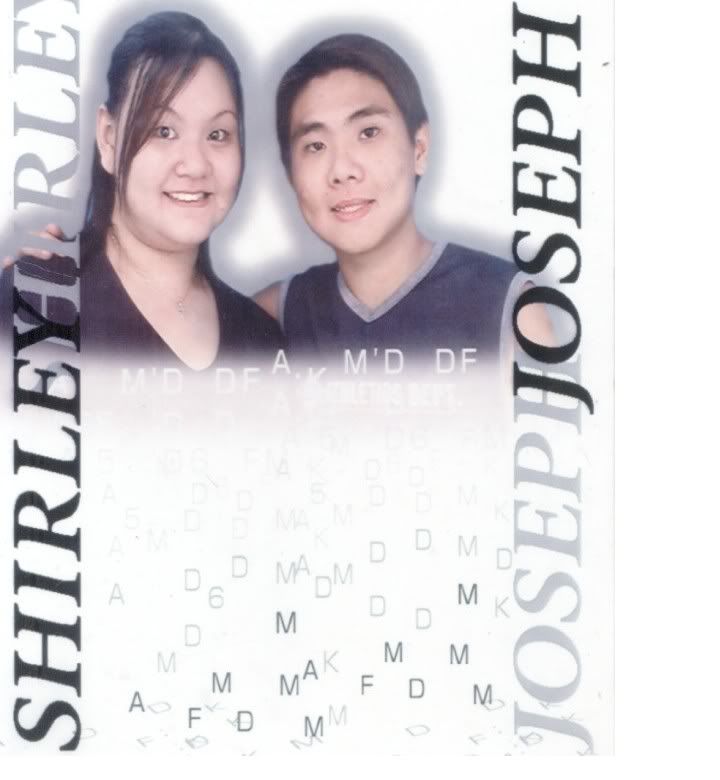 NOW:...

Yst went to watch BEWITCHED wit my cousin tat gong gong.. haiz.. wanted to watch WEDDING CRASHER and i even hinted to her..send her the link of the synops..but she insisted and guessed wad..we ended up faking our smiles.. stupid show.. wit gong gong audience laughing their hearts out..dun find it funni at all..wasted my 9.50 haiz.. haha but tt fish and co lady say LETS JUST CONTINUE TO WATCH BA..haha so in the end not onll wasted money and my butt hurts too..if onli i got the magic to turn back time haha...
So she treated mi to AJISEN.. ahha so sweet of her ..awww.. tks ah.. and of course going out wit her always makes mi laugh..she kept eating the popocorn..then there was this auntie telling her daughter.."eh dun buy la see so big packet..cannot eat finish de la" while our fish and co lady oredi eating half way through le..its an insult to us man..hahahha laugh until we peng..
Realli wanna say sorry to Kelvin.. srry on ur 21st bd i said those things to u..i didnt acc on ur bd.. i know its all my fault..i know i spoilt ur bd.. but i dun wan u to have any false hope..im not ready..and i wld appreciate u as a veri good fren..
Things are nt the same.. i felt so distant from u... time realli makes a great differnce..........