Wednesday, August 17, 2005'♥
Before i started blogging.. bear wit mi ba..this is gonna be a long long entry haha..got a lot of photos wor.. k ba..lets start the story now ba..
TUPPERWARE's BD on 16/8/05
Came up wit a plan wanted to gif tupperware a surprise.. lied to her tat im not going le..coz need to work OT// but our gong gong FRYING PAN dunno how to act de.. our TUPPERWARE was not disappointed at all..although i know deep in her heart if its true she sure cry de rite..hehe
We had our dinner at the Suntec buffet..as usual..wooo so many things to eat..during the course of dinner..something veri funni happened..
FIRST INCIDENT: THE EGG MURDERER
I wanted to eat the eggs.. so i asked our dear FRYING PAN to crack the egg into my soup..i wanted it whole..not beaten..so i tell her i wan yi zheng li de.. guess wad.. the gong gong ger.. suddenly dump the whole egg into my laksa soup?? I was shocked at tat moment.. EYES OPENED WIDE.. WAD?? how can she throw the whole egg in.. i mean its no sense at all rite..im not eating HARDBOILED EGG in LAKSA SOUP?? i tink everyone had a shocked and we were laughing like mad.. the waiter is staring at us..omg..
feel like strangling her at tat moment man..hahaha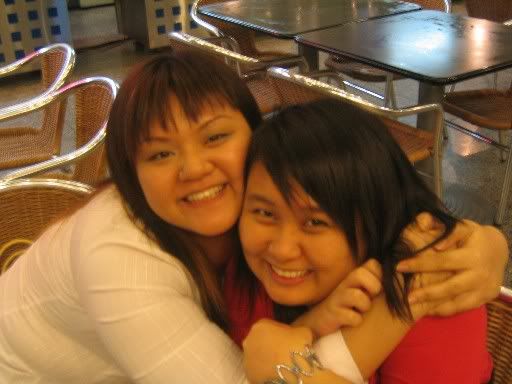 INCIDENT NO 2: I was too excited keep taking food to TUPPERWARE.. resulted in her water is full wit bee hoon...laksa gravy.. all those stupid stuff.. for TWO TIMES she changes her water..so in the end.. she cannot tahan anymore she used the pot cover of the steamboat pot and cover her drink..like those ah pek drink tea like dat.. haha it was so funni if u saw her drinking from there.. and realli even she cover her drink in the end the pot cover is full of gravy too..lucky she cover it early..hehe
We ate until veri full in the end guess who is the SOLE SURVIVOR..keep saying aiyoh heng bao lei..but her chopsticks nv fails to move..as well as her mouth..and the sole survivor is....
NONE OTHER THAN...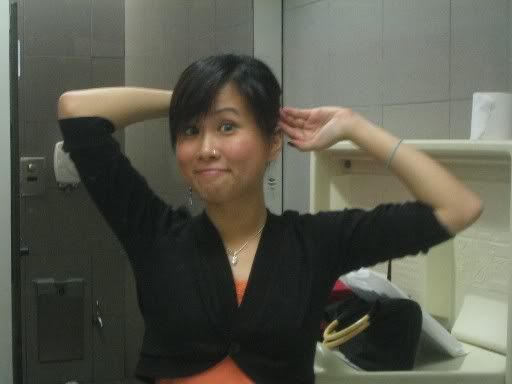 Applause man.. she is super yao gui.. too bad nv brought her TUPPERWARE ALONG mAN>>if not super throw face...
Some of the pics we took:
si lesbian haha...trying to kiss mi no way?? not reserved for U TWO haha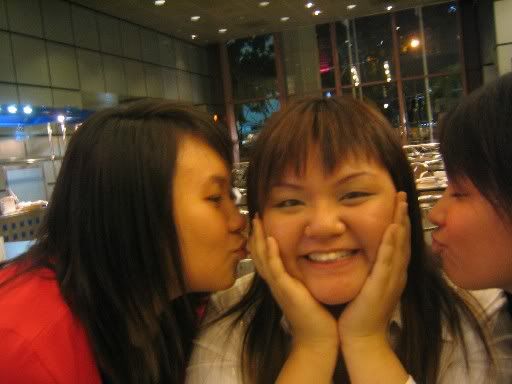 Premium members of SINGLEHOOD CLUB
haha realli did enjoy ourselves yst.. the next time we hoped to save up money and booked a hotel at town and stayed in for a nite..woo tat will be fun..nv knew single can be so fun too..hehe
Tmr wil be taking half day off from my work.. coz going for the graduation ceremony.. at first dun feel like going de..but ras they all keep msging mi..so i decided to go ba.. missed them too much.. but abit sad lor..no family going wit mi.. haha..
Oh ya..Fab is going back Malaysia.. haiz.. he cant find a job here.. poor him.. hope he can find one soon.. becoz i will sure missed my lao chek de..if he go back le.. no one cheers mi up anymore le..hur hur
My wrk.. now is getting better le.. know more ppl there.. and some are friendly even though their face so aarogant.. working realli adds on alot of experience for mi.. able to learn new things...but one thing will nv change..PPL ALWAYS REMEMBER THE BAD AND NOT THE GOOD...well tats life ba..
Going back to BATAM ON FRIDAY NITE>. i know u all sure missed mi de rite?? well its kinda of release for mi ba..the past month happened too mauch things le.. at a certain pt of time i tot i cant take it liao.. thank GOD FOR FRENS>FAMILY>and God too.. these ppl nv fails to stand by my side.. What is LOVE if u bears to see the loved ones of URS sad and hurt.. dun talked abt everlasting, long lasting relationship if u fails to understand this simple pt.. indeed ive moved on..and im proud of myself.. rite now..i just wanna enjoy my life to the fullest.. as for relationship wise... i wanted to take a break.. ONCE BITTEN TWICE SHY...
OH ya lastly wanna thank SELYN coming all the way to my hse downstairs and passed mi her camera..will be using it for tmr and my BATAM HOLIDAYS.. tks ger even though u worked OT yet u still came.. so long nv see u liao..haiz we better go out ba..if not we realli soon will be veri distant liao..missed ya alot..and my bubu weisi veri cute rite..hehe