Thursday, May 18, 2006'♥
Adversity...
All thanks to Ms LENA.. im influenced by her... I LIKE THIS SONG too!!!!...Sad song indeed..can sense the singer's "FEELING" inside the song..well DONE Kang Kang...
Anyway srry for the lack of updates... pratically nothing much.. sch life is veri routine de... everyday go sch.. come back do tutorial.. next day go sch.. discuss project...and go home again...
BORING hor... more and more projects coming up le.. haiz... veri stress ah..and the best part is for POM im grouping with AH beng 1 and 2.. BEST lei.. but hor they both veri funni la.. had our first discussion today..and i must say tat both of them are realli veri clever wor..can u imagin ah beng no 1 got A2 for his ENGLISH ...power ba..
Ya CAMPUS CARE NETWORK DAY is fixed on NEXT FRI.. we had to open one stall and decide on wad to sell.. the profits earned will be donated for some charity purposes... and guessed wad is our class doing?? MANICURE and MAKEOVER lei...cool... although SELLING FOOD sure earned better de lor...but nvm la.. as long the whole class participated and have fun lor..
Im one of the in-charge for the make up... GOD BLESS MI ba...hope tat everything turns out well wor.. going to buy all the stuffs next week..so its gonna be a busy week for mi...
Anyway i met up with the two DAI SAI QUEEN on TUE....we went to CRYSTAL JADE KOREAN RESTAURANT...coz i went once before and also the review there not bad..just tat its quite ex lor.. but overall the service is veri good..and most importantly i wan to use the metal chopsticks..but to my disappointment they use plastic chopstick..duhz..
MS TUPPERWARE commented tat the one of the WAITER is CUTE over there..duhz.. so the threee of us...DAI SAI QUEEN or DA CHANG JIN wadever had our dinner there....and as usual MS TUPPERWARE made us sibeh malu
SHE took out one styrofoam box... inside its A packet full of IKAN BILIS lei.. she dapao..or i must say her boss dapao for her..coz previously her co got NASI LEMAK BUFFET...can u imagine how cheapo she is??
AND u nv see her biao qing..she looks so satisfied with herself..and i tink she tink she veri li hai lor...the smell is killing us there..poor mi and wawa have to tahan her for the rest of the dinner..lucky she nv take out and pei fan... haha
Here are the pics...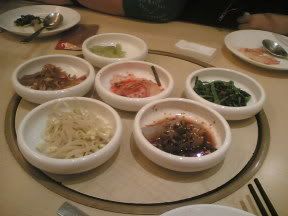 The starters.. totally free wor.. maybe coz its too ex le for other dishes...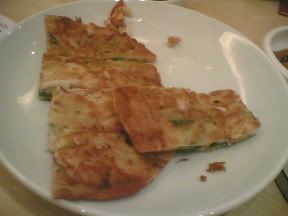 Our fav Seafood pancake..which we were pratically fighting over it..and i got the last piece woohoo...$15 must lick until the plate is clean...
Our bim bib bap....if nv spell wrongly.. but this is nt mine..coz mine i stir until veri nice..hahah.. its quite nice..and taste like claypot rice...hahaha..
After dinner went to find TAMAGOTCHI..the new version according to expert MS HAN... heard some raves abt it.. but too bad all out of stocks..im tinking of getting one too.. at least when im bored i can go TAMATOWN haha.. but 30bucks lei..so ex..haiz..
Overall a nice outing with them since our last outing.. too bad we had to rush home to watch DA CHANG JIN...Pls organise another one soon.. MS TUPPERWARE..tis time dun bring any tupperware along..and im serious hor hahahaa....
Short Note:
I am who I am.. Love mi for who I am..