Wednesday, March 29, 2006'♥
WATER= RELATIONSHIP
FOREWORD...THIS IS GOING TO BE A LONG ENTRY..pls endure it thru ok??
A relationship is like an empty glass.. u start from the scratch..you choose who to be.. a GIVER or a TAKER?? to be the one who always gif ur veri best in the relationship? love the person wholeheartedly, sacrifce ur time... or to be the someone who just take advantage of the other party's love??
You slowly u fill the cup with love, care, promise, understanding, time, patience, praise etc... it takes time to let the water flow into the cup.. If ur too impatient, too possessive, too negative..indecisive...the water might flow out of the cup... in the end u end up with nothing..
MORAL of the STORY.. u need to give and take in a relationship.. coz who knows the giver might be tired after sometime.. And always remember tat FREEDOM and TRUST is veri important in a relationship..
Oh ya.. dun look at this entry like.."Oh my GOD, this ger got depression again?" No la.. i just typed out how i feel abt relationship after i saw tat picture.. its a revelation man.. Erm.. and im nt facing the above problems now..coz currently im quite happy wit my relationship.. yeah.!!
Firstly wanna congratulate SOMEONE.. who haf found a job today.. finally le wohoo.. im oso happy for him when he called mi in the afternoon (of coz i cant believe it la.. but too bad ppl gt a gonggong face ma,act innocent onli la)... and its at a travel agency wor.. HUI ZHUO REN LE BA.. hehe.. i dun mind some tickets to GENTING kamsia..lol..
Anyway.. i want to blog abt a movie i watched yst.. I TELL u hor.. it's one of the best movie i watched at 2006...tadah its....
Went to watch this show wit my DEAR SELYN.. ya after our pre enrolment checkup at a gong gong clinic..which is less than 10 mins.. duhz.. waste my off day onli.. but anyway after tat we went suntec to watch this show..its FREEEEEEEE!!! coz that ger got free movie pass..tks wor hehe..
OMG and wo realli zhuan dao le..coz its such a nice show.. exciting, amazing, gross, Gruesome, SUPER SADDIST (worst than SAW 2), great storyline man.. Although half of the show i was covering my face..(eh dun gif mi tat kind of look hor.. fat ppl cannot dan xiao ah) but its realli veri NICE lor.. tmd surely 100% better than tat gonggong V-Venedtta show.. hahaha. strongly recommended if got chance i wan watch again man.. who wan sponsor..lol..
Oh ya storyline was abt this family they wanted to go holiday.. then hor.suaysuay stucked in dessert(actually its ppl hai ta men stucked in there)... then they found out that actually there was SOME OTHER "CREATURES OR PPL wadever u called it.. living in there..and they are not friendly at all.. whooooo go watch ba.. dun expect mi to write out the whole story here..u cheapo, stingy little gonggong..
After the movie we went to Suntec for Buffet...our usual fav dining place.. more variety of food..got JAP SOBA somemore..whoohoo and teppanyaki etc..
Hao ba bu duo shuo le.. show u all the pics ba.. lol...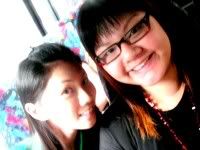 Forgot to tell u all we went GENTING yst too.. haha bu hao xiao hor.. i oso tink so lei.. no la us in the gonggong SUNTEC SHUTTLE BUS..lol..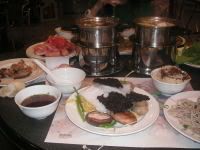 FOOD FOOD FOOD.. Chicken Herbal Soup is the best wor...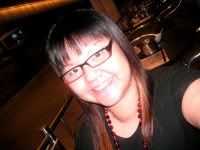 Lai Lai Lai..commercial break time.. rang lao niang ZI LIAN yi Xia..hehe..
Hao la i knw u all dun like see mi..let u all see mei nu lor..sobz..
Haha bu yao gei ni kan le..nanny nanny poo poo...lol see my nice nice manicure nails ba..nanannanana...lol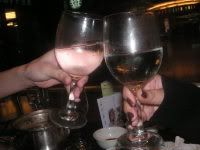 CHEERSSSSS!!! Nice glass lei..but no wine?? who say de...hahaha..
Tadah!!! JACK DANIEL'S Minature.. haha.. MS Selyn yap went HK and bought this for mi.. YYYYYYYYYYYYYY??? I gt DRUNKARD FACE meh? lol..(tmd shld haf bought CHIVAS ma.. oppps) haha..anyway i loved it alot.. promise to taste it soon and replaced it wit TEA ok..hehe.. tks ah...
Wah..veri long post lei.. type until my hands so suan.. im leaving the company on the 7th Apr.. duhz.. veri veri sad.. i dunno will i cry on that day.. they haf been realli nice colleagues to mi..and i nv realised i actually worked there for nine long months le.. enough to gif birth to a baby le.. opps wad am i talking abt?? hehe..
Just got back home nt long ago.. nv went dinner.. Ah boy came to Tam find his sister so met him up for COFFEE BEAN.. then went home for mama home cooked dinner.. seaweed soup.. although my stomach is full of coffeee.. i still manage to drink the soup onli haha..Oh ya..Vic msged mi today.. after like five mths "WANT go ______________ clubbing tonite ma?"
Haha SO long since i went clubbing on WED nite le.. LADIES somemore..how i missed those times.. esp baobei..(are u still alive) hehe.. ya and not to mention AARON my jie mei..hehe.. i tink its time we had some gathering le.. HEARD IT BOH all the CHEC ppl?? hehe..
I tink its realli a veri long post..and im worrying will BLOGGER HANG LATER?? i better stop now..
Short note: Ur gonggong mee goreng still here wor.. pls try to get it back haha...