Tuesday, November 01, 2005'♥
Yeah.. Happy Halloween to all of ya!!!... actually wanted to go Indochine for the party today and celebrate de.. but then stupid Ken was sick.. so nv go lor..hehe...
So instead i met ah boy and longcheng...and we went to a secret place.. guess where is it ok??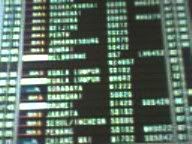 Hmm so obvious rite.. if u still cant guess it.. hmm i understand ur SLOW la.. hehe..ok la..another pic.. if u still cant guess it go BANG THE WALL ba..lol!!!.....
Tadah... sure u all sure know liao rite.. yesh yesh.. its the place tat Singaporeans are PROUD of....lol..our one and onli CHANGI AIRPORT....and whose idea is it to go there???
OF coz its LAO NIANG la..hehe... coz super long nv go there le.. went there when i was having my exams in ITE...hmm ard 6mths le ba.. missed there so much.. so my both beloved nan ren... followed mi there ahha reluctantly...lol... The place changed alot... wit more shops and restaurant...we ate at FISH AND CO...omg the SEAFOOD PLATTERS tasted HEAVENLY...and not to mention my fav MUSSELS...yummy!!!...
THen we went to T1... wow so many ppl.. esp Indians..i tink they are rushing back to their country for the new yr ba... hehe... the feeling is so nice there.. ppl are so happy... saw the whole platoon of army guys going overseas...wow tats alot of ppl wor... their frens, family members wit them.. saw a particular couple.. the gf face shows it all... all the yi yi bu she... haiz.. nvm la.. onli for awhile nia ma...lol... Ah boy acted wit Long Cheng tat particular scene...its was tmd funny hahaha....
Then we suddenly got the craving of ICE CREAM...yes and of coz where shld we go except SWENSENS?? ordered my all time FAV... COOKIES SUMMIT!!! woohoo.. seldom got one day can tasted all the heavenly food at one go lei..!!! ah boy ordered the stupid banana boat.. NO CREATIVE AT ALL MAN!!!.. then our MR LONG CHENG act CLASSY ABIT>>> ordered the Happy BIRTHDAY SUNDAE... then the staff asked us.. is there any one of u celebrating ur birthday.. at this pt of time in order to hide from their embarrasement.. they ALL SABO mi..and said its MINE BD... HOW GREAT IT IS MAN!!!!... so the whole restaurant staff came and sang HAPPY BIRTHDAY to MI>>>where my bd is still 29 DAYS away!!!! argh... tks lei.. dunno how to repay ur kindness lei.. si LONG CHENG...
Last stop was the viewing mall....hmm sadly not much planes to see... but the atmosphere was certainly romantic.. but when i turned over.. saw the two MONKEYS..haiz spoilt everything.. saw alot of families bringing their kids there...so nice man... to have a walk there...how i wish to go there wit the man i loved bringing our kids along....woohoo... its the family warmth man....
WAKE UP SHIRLEY!!! dun night dream anymore...ooppss hahah.. well tell mi which one of u gers out there dun wished to lead this kind of life??? haha..if u said no.. means ur living in SELF-DENIAL!!!! hahaha...
Went home early.. coz both monkeys got something on.... their so called..zhu peng gou you got some stupid problems..so two yaya so called HEROES going down to saved him??? no ur reading my blog...nt those Mediacorp synopses....haha dunno them la..veri mad de la...
Anyway i took a pic wit sufen during lunch time... she is my mama..always take care of mi de wor...she is also one of my true frens wor... notice the word TRUE FRENS and not GOOD OR BEST FREN....if she got trouble i will also go save her de wor.. shit.. y am i acting like those two monkeys??
Lols realli got tat MAMA look rite..lolz.. will be miting My other TRUE fren tmr.. CHELSIA CHAN..woohoo finally she is FREE coz of her wking schedule.. the whole mth of NOV SHE IS FREE... after one yr of waiting...lol i finally can booked her le.. yes SHE IS MINE... she shall pei mi lol... yeah... she is someone whom i called while im crying..someone i wont hide my feelings from....hehe.. hmm wad abt wed?? wed might be going clubbing... such a nice day...why waste it??? the next day HOLIDAY lei...walao damn shiok... THUR will be going HAVELOCk for a gathering at MELVIN's HOUSE... then after tat miting the 7 jie mei...HOPEFULLY ba..tink they are going to celebrate my bd... DIAOS again?? haha another early celebration..haha but i dun mind la.. in case later my bd too many ppl oso..he.he....still left FRI and SAT nite.. who want to book?? haha...
You said: Ask and You shall Receive.....
What if i ask for him??
Will he be mine???
I love my life rite now.. i dun wan to have another day to shed my tears again....