Sunday, November 27, 2005'♥
Bye Bye Strand....
Ya finally put all my stuffs down..had a good hot bath.. pack all my stuffs and now sitting in front of the comp.. had been a long long day.. home is still the best.. hehe..
Finally the celebration ended today.. oh ya.. i actually enjoyed myself.. although more GERS than GUYS.. but surely we all had fun and laughter together.. except for two person.. who is so spoiler.. slept so early de.. but one of them failed.. the other one..slept like a pig even if the whole hotel caught fire i tink she wont know.. haha still got who??? TUPPERWARE SEE la.. first to take the fodd when ppl just bought back..first to sleep first to makeup...everything first de lei..haha..
Lots of things to blog abt.. but without photos veri difficult.. so i shall wait for nini to send mi the photos first.. and im reali veri veri tired loh.. served whole day in Gloria Jeans.. carry tonnes of presents.. haha not tonnes la..but two BIG BAGS.. and a super duper heavy bag..wit all my barangs barangs for the stay....
Hehe let u all had a sneak preview of my presents tat i received ba..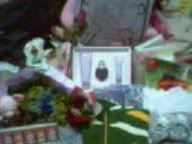 Alrite shall blog more tmr.. going to orh orh le.. oh ya forgot to tell u all ... IM HAPPY!!!!