Sunday, September 25, 2005'♥
Paiseh WOr now then UPDATE.. anyway i did enjoy myself yst nite wit the SINGLEHOOD GANG...new member BENJAMIN SEE brother of TUPPERWARE SEE joined us yst... and nt to mention the si duo bu yao zou de EX-CHAIRMAN...hahha..so the four of us went to MINDS cafe to conquere the games there...hehe...
Suppose to mit them at 7.30 and 7.45 respectively and THANKS lei..laoniang first time so early then they all LATE!!!!! can u imagine i was at BOON LAY MRT...and there were so many...AHEM U KNOE WAD...keep staring at mi..si bei buay tahan lei..so after wating for exchairman for 20 mins i decided to take the train to JURONG EAST to mit Tupperware first...
Tks lei..once i boarded the train she reacehed.. and tks for TELLING MI the best thing.. She saw him when she went in the train...if onli i were to wait for her 3 more mins... i would have saw him... maybe we realli have no fate le ba... suan le..hehe...but everyone asked mi so wad if u see him...wad can u do...
Ya true..wad can i do.. say hi..act silly smile..how are u?? or go and hug him and say hey i miss u damn much lei tat time (the past)...or take my heels up and knock his head?? (eh u made mi cried so much for u tat time lei) haha hilarious rite... LAME...well wadever it is its all in the past le la....
Reached there ard 8 plus liao...then the whole place was like quite full le...luckily we managed to get a seat..ordered the package..which is 36 buckz..for a lot of things and two hours of fun..there we are started wit the first game...TABOOO
We are supposed to let ppl guess the word by nt saying a few things.. onli mi and wawa were so enthu at first..we were like mad woman.. then tat tupperware and ben becoz they are siblings they have mo qi..so its like they are playing wit themselves..yawns..after a few warm-up its ok le...hahha quite fun.. and we ate while playing.. and tat ben veri funni de.. he let us have the clue so we guess according to the clue..then in the end he say its not relavant de..diaoz.. we laugh like mad woman there..loudest in the cafe i tink..hahaa....
PICS of TABOO...
We still got play a few games like Charades, Lord of the ring monopoly..(onli for one pathetic round..) Halli..A fruit game wit bell but super funii.. ben was like so enthu in this game tat he kept snatching away the bell..punishment is one cup of ice water...lolz...Im the boss...the poor waiter explained so much to us..although its like damn boring but we gei gei entertained him by playing one round..then when he turned his back we faster keep the gamn..hahah i tink he super pissed off man.lloolll... so funni....Jenga..true or dare.. its nt bad game except tat the DARE part is repeating itself..nontheless..our act queen tupperware realli loves to take dare..tink she can enrol in MING XING OU XIANG LE>>two hours passed by veri fast onli managed to play a few games nia haha... but overall its fun...some of the pics...
THE ALTOGETHER PICS...hehe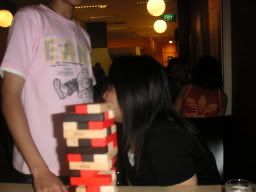 omg wad are they doing.. eee xiaohan got fettish for young boi...haha its a DARE tat she acted our blow wind into someone tummy..u all tink too much le la.. dirty minded freaks hahaha
orite i didnt take much pics..for more info pls refer to xiaohan blog..she gt more pics....
We went home ard 11.30 damn too early for mi le.. somemore i wan to take 65M home..coz it reached directly under my block so can u imagine i waited one whole hr for tat bloody slow bus.. alone in the busstop so sad rite..somemore the bus stop no seats de... called ah jin up and chatted awhile this gong gong enojying himself in bbq shiok lor.. hahaha..then i saw allan..wad the F**K so qiao when i just blogged abt him in the afternoon.. then he appear in front of mi..he just came back from PARKLANE go there play billard..duhz.. then he asked mi to join him for supper wit his frens..eeeekkk dun wan la..all so tiko looking de..hahha somemore all i dunno at all..so i rejceted lor..continue to wait and wait..........
1245 then the gong gong bus came.. sat down alone in the busstop..so lonely..where other gers gt bf to acc them.. haiz.. LONLINESS is an emotion tat Satan used to tempt ppl.. if u fall into it..then a lot of ppl will get hurt... aiyah so chim u all wont understand wad i say de la.. lao niang kan bu qi ni men..hahaha...
reached home took a few photos lor..veri sian lei..ya la ya la..ZI LIAN QUEEN can ma..haha
im so expressive hahaha....
Dun lie to mi hor my eyes will be wit u ...lolz
Lastly mmmemememememeememememememmeem hehe...
chatted wit ah nash on msn.. got to know some truths for him... im so confused now.. but of coz i will find more evidence de... tks nash for being the neutral party....
anyway pls go listen to DUN LIE from BLACK EYE PEAS... its nice and so suitable for PPL WHO LIED>>>>