Monday, September 26, 2005'♥
Before i blogged.. Let mi warned u before hand..i wil be exposing my childhood pics.. so if u wanna order pls call...1800-iwankopisohphotos thank you.. payment can be made by cheque or account transfer.. orite oso some pics might make u feel nauseous.. so pls refrain urself from vomiting onto the screen..pls run to the toilet..thank you for your co-operation...
<<<
>>>





It all started wit them.. that laoniang came to this world.. how?? i shall not elaborate..if ur realli dunno.. go read abt THE BIRDS AND BEES ba..

well well .. im going to come out le.. so take a deep breath k.....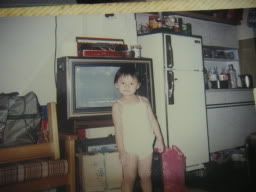 Tada... who say i nv thin before.. neh its mi dun doubt ur eyes..haha all becos of this tat mama was so worried tat she brought mi to see doc.. she scare i got worms in my tummy...and look on to see wad happen...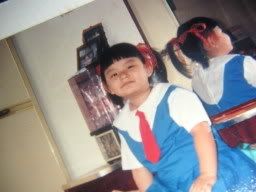 Li hai ba.. totally change figure liao.. tks lei to the doctor..and if my mum got a choice she promised she WONT DO TAT again.. hahahaha.. since then i kept eating and eating... and see wad happen to mi....but i look so cute rite..feel like pinching my cheeks rite.. qu si ba..i hate it last time..hahaha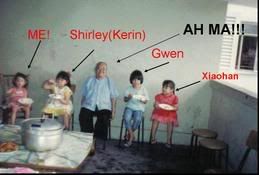 EVEN when i took pics i oso eat eat eat.. i cant stop.. fyi this pic is sent by tupperware so the ME is not mi.. if not u sure faint de..haha.. if u got read tupperware's blog.. u wld know her whole childhood consisted of tearing magazine...wad abt mine?? it consisted of stuffing my mouth full wit food..i always got this mentality tat ppl will snatch my food away from mi.. damn it i tink its the side effect of tat bloody pills..hahahha...

Well well..tupperware lived on the fifth floor while im on the sixth..though we are near we seldom played together..coz she is like a monkey to mi so tiny and skinnny..and last time they always say her buay si tiam one.. so i got my own khakis of frenn.. haha she is so lonely lonely..haha.. and i dun care abt her de..woohooo...as for wawa she is like a gong gong doll sitting at one corner.. i dun like nerds tat time muahahaa....

Grow older liao.. we got contact more.. and all thks to ah de's wedding i tink we got much closer le...we always write letter to one another.. and tat yaya tupperware will yaya her typewritter while im there writing until so xin ku,,tmd hahhaa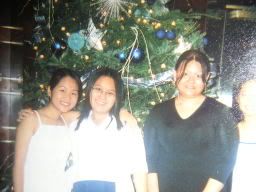 Lol...see la we dun have any dress sense at all.. so er xing.. mind u its Swissotel ok?? seriously need extreme makeover tat time hahaha..

NEXT PLS....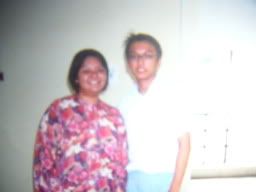 Always hear mi say ah jin ah jin.. tats him lor.. haha of coz i look like an macik beside him.. if u gers wanna know mi.. pls tell mi coz im his jing ji ren.. i tink i will have no more hapy meal from him le..he sure kill mi de hahaha...

Well i went church at 2000 when im onli 16...lets see how i looked like ba....dun faint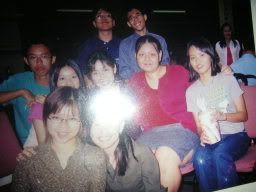 Oh gosh.. i tink i look like 26 tat time lor..tmd old... somemore the face like drug addict like dat.. no wonder nobody jio mi tat time..sob sob...

Another pic...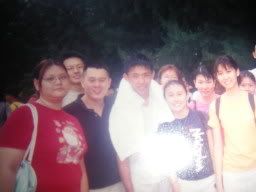 Whose tat obasang in red at sam's Baptism service?? walao eh.. u all better dun order this pic hor hahaa...


Guess u all want to know where i got to know baobei??? tada....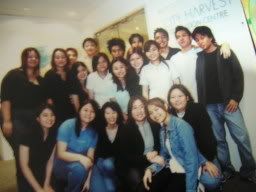 Its at the private sch man.. sure can spot mi rite.so big man.. i tot i paid the photographer to photoshopped all my fats away??? oops secrets out..damn... and y am i not standing near to baobei..ahah coz tat time quarrel lei.. so stupid lor..but dun worry we are still so loving now..muackz..hahahaa.....


Orite..BONUS BONUS.. show u all how i look like wearing sari ba.. this pic onli comes in the package if u order the aboved pics..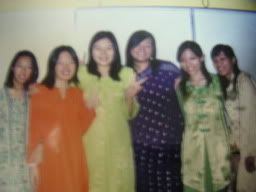 Tats all folks.. if ur from XXX sliming centre and want mi to promote ur co for u.. pls dial.. 1800-plspromotemycom or make ur cheque payable to SOF promote my com...thank you xie xie..all proceeds from the photo ordering session will proceeds to SOF...just in case u forgot..its SHIRLEY's OWN FOUNDATION.. thank you for your generosity....

Saw all these pics all the good memories... and when cindy yst sent mi tat photos..tears are in my eyes.. i want back tat kind of life.. full of fun..carefree and no hurts at all...

But sadly tats life isn't it??

Happiness makes u smile
Sucess makes u glow
Failure makes u humble
Prayer keeps u going...

And i shall say Amen to tat....