Saturday, June 25, 2005'♥
Saw this game from the forum..and i tink its cute..give it a try ba...
The LINK (Draw a PIG)...
http://drawapig.desktopcreatures.com/gallery/large.asp?id=541704&p=0&hof=1&q=personality+test

My RESULTS....
Toward the top of the paper, you are positive and optimistic.
Facing left, you believe in tradition, are friendly, and remember dates (birthdays, etc.)
With few details, you are emotional and naive, they care little for details and are a risk-taker.
With less than 4 legs, they are insecure or are living through a period of major change.
The size of the ears indicates how good a listener you are.
The bigger the better. You drew medium sized ears, you are a good listener
The length of the tail indicates the quality of your sex life.
And again more is better! You drew small tail :)
Lastly this is how my PIGGY LOOK LIKE..hahah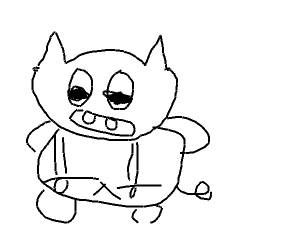 my pig like suffer from depression like dat..so ke lian..haha